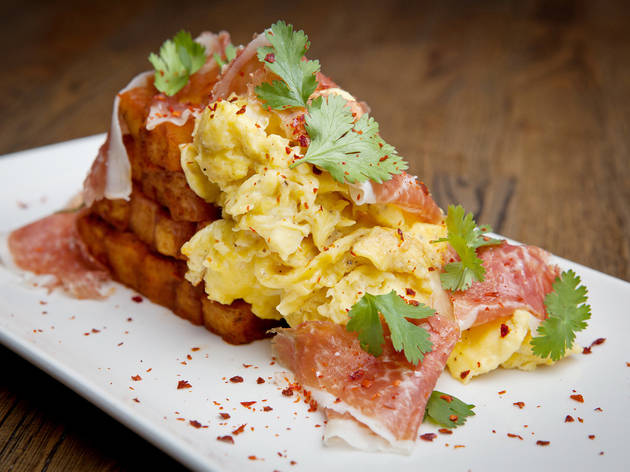 1/8
Credit: Zach Johnston
Takito Kitchen's Spanish ham and eggs comes with a stack of patatas bravas.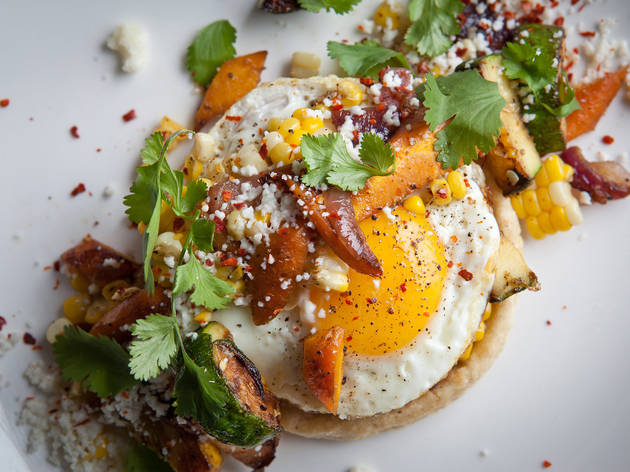 2/8
Credit: Zach Johnston
Takito Kitchen's vegetable sope includes a fried egg and queso fresco.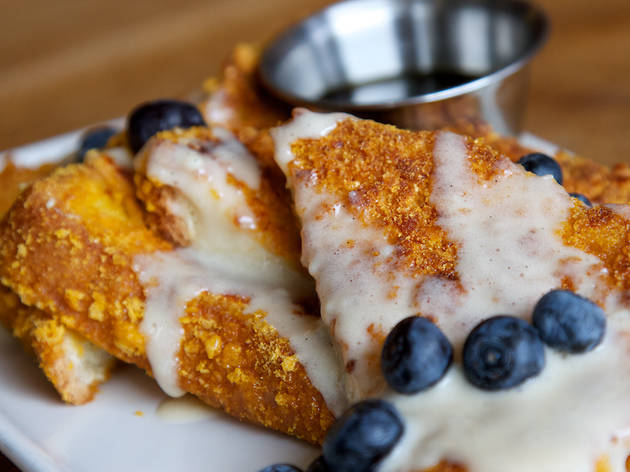 3/8
Photo courtesy DryHop Brewers
DryHop Brewer's Captain's French toast is crusted with Cap'n Crunch and topped with liquid cheesecake.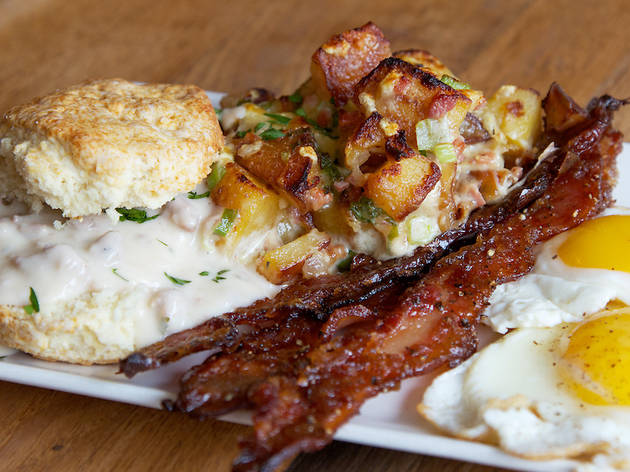 4/8
Photo courtesy DryHop Brewers
Hank's Plate at DryHop Brewers includes eggs, brown sugar-glazed bacon, potato casserole and biscuits and gravy.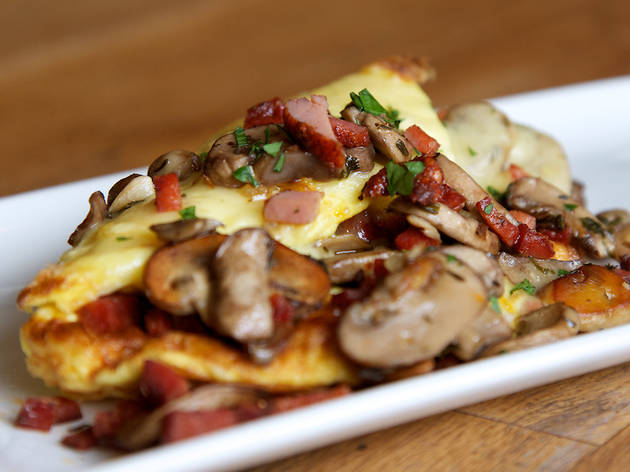 5/8
Photo courtesy DryHop Brewers
DryHop Brewers has three omelets on the brunch menu, including one with mushrooms and Thuringer sausage.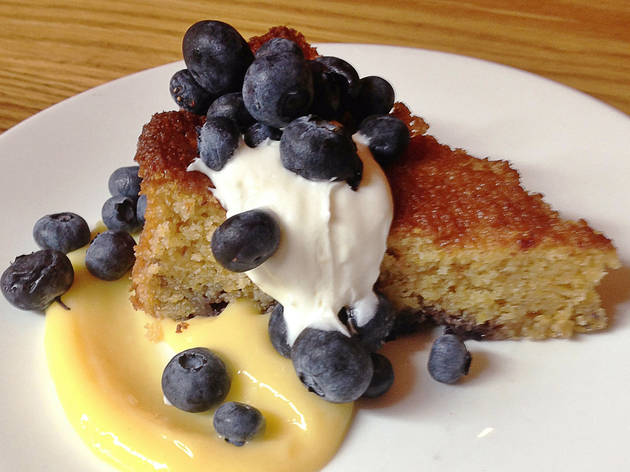 6/8
Photo courtesy Avec
Avec's brunch menu includes blueberry polenta coffee cake with basil lemon curd and whipped cream cheese.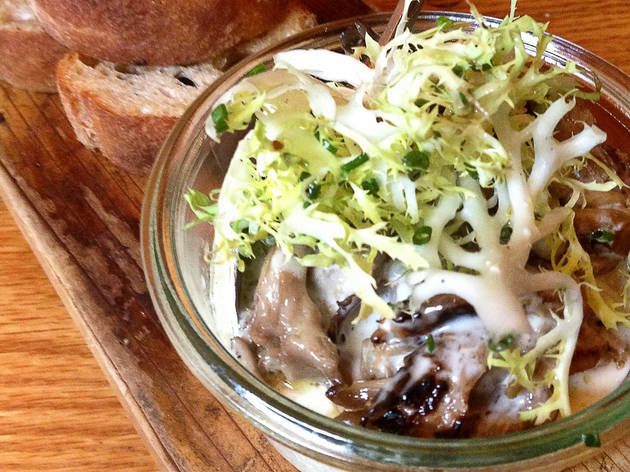 7/8
Photo courtesy Avec
Avec's brunch menu includes coddled eggs with roasted mushrooms, taleggio fonduta, bitter greens and garlic crostini.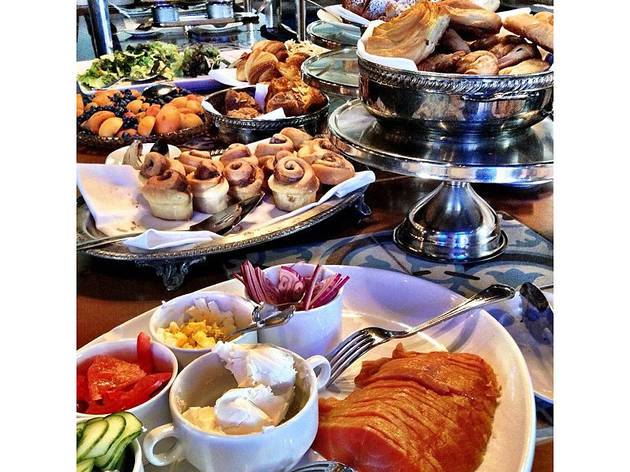 8/8
Photo courtesy RM Champagne Salon
RM Champagne Salon features a brunch buffet every Sunday afternoon.
New brunch reviews: tacos, beer and bagels for brunch
We review the new weekend brunches available at avec, Takito Kitchen, DryHop Brewers and RM Champagne Salon.
In these final fleeting moments of summer we're desperately trying to cling to every moment outdoors, so the patio at RM Champagne Salon seemed like the perfect spot for brunch one recent Sunday morning. And it was. But the food wasn't the perfect accompaniment to the nicely hidden spot off Randolph Street. Brunch is served buffet-style inside the restaurant and consists of chafing dishes filled with barely warm potatoes, French toast, bacon, bread pudding and more. The end of the buffet table is filled with a puzzling assortment of couscous, bagels and lox, vegetables and pastries. The two eggs that come with the buffet are the only items made to order and they come to the table lifeless and seemingly missing salt and pepper. The lack of flavor was a common theme throughout the buffet, especially in the French toast that tasted like something you might find at the carnival. The housemade pastries and cocktails were easily the highlight of the meal, which we have a hard time calling brunch, considering service doesn't even start until 1pm. For a Champagne-focused restaurant we were expecting more than the usual mimosa on the drink menu, but were pleasantly surprised with the not-too-sweet Parisian lemonade and the boozy coffee-laced frappe.—Erin Delahanty
RECOMMENDED: Full guide to brunch in Chicago
The food fared much better at Takito Kitchen, where sopes (corn masa cakes) and Spanish ham and eggs mingle with tacos and salsas off the regular menu. Plus the brunch here is also available on Friday afternoons, and we will always condone ducking out of work early for salty bites of Serrano ham served with cheddar eggs and a side of patatas bravas. Seriously, this spin on home fries is genius. We also liked the chicken pepian sope, a great hangover dish, thanks to pickles, a runny egg and shredded chicken. Order a trio of tacos for the table—we're partial to the redfish with carrot-jalapeno slaw—and a spicy sangrienta, a tequila and chartreuse tomato cocktail, and you're ready for an afternoon nap.—Amy Cavanaugh
We're smitten with the burger at DryHop Brewers, and our love affair continues into brunch. The burger is available (and you can add an egg on it, of course), but at brunch we're going to cheat on it with the Captain's French toast, challah bread soaked in a rum and cream batter and crusted with Cap'n Crunch cereal. The liquid cheesecake and warm bourbon maple syrup further make us wonder why we usually go savory at brunch. If you do, though, make sure your meal includes Grandma's buttermilk potato casserole, with country ham and emmental cheese, a much better side dish than the too-dry biscuits with weak gravy. And you're in a brewery, so you're pretty much required to get a small pour of draft beer (we like the wheat IPA Shark Meets Hipster) alongside your bloody mary.—AC
It's no surprise to see "deluxe" focaccia on the Sunday brunch menu at avec. Forget Kuma's recent use of communion wafers; for avec-ites of the world, the light, taleggio and herb–stuffed bread is the real holy event. Still, we approached the recently launched brunch program eager to try new things. Chef Perry Hendrix insists the brunch is just an extended service, but it's more than that. New was the relative quiet and calm of avec's typically packed, bustling dining room. Sipping a refreshing Juan Collins (agave de oro and limonata) in the sun-filled, sauna-like space felt like a welcome return to summer. The menu features the customary shareable small plates and—also no surprise—skews toward the savory. The French toast du jour, oven-baked and topped with a delicious poached peach jam and triple crème fraîche, was not too sweet (too often gussied-up French toast is), and the poached eggs, served on 'nduja-smeared olive bruschetta were a nice prelude to the anise-marinated hanger steak atop a fried egg and summer squash. Featuring homey flavors and gracefully executed, the latter dish felt more fittingly fall. My companion and I were capping off our meal with coffee when a diner sitting at the other end of our communal table asked if we'd care to help her finish her focaccia. How could we resist? Breaking bread together with strangers: avec on a Sunday afternoon may be our new church.—Laura Pearson
RM Champagne Salon, 116 N Green St; Sun 1-5pm. • Takito Kitchen, 2013 W Division St; Fri–Sun 12-3pm. • DryHop Brewers, 3155 N Broadway; Sat, Sun 11am–3pm. • Avec, 615 W Randolph St; Sun 10am–2pm.