Minneapolis, MN
Spend a fall weekend in this friendly Northern city-before the harsh winter hits.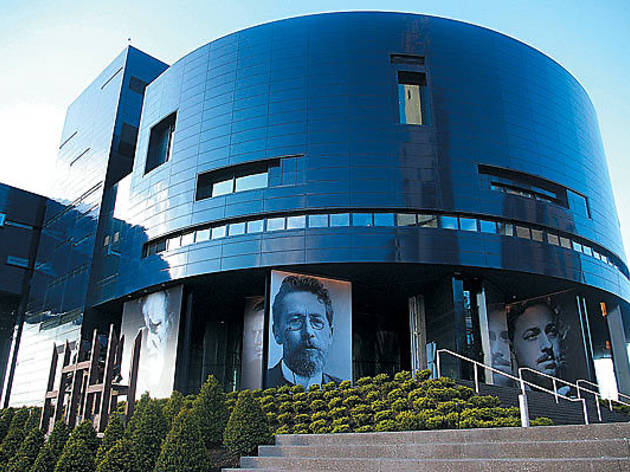 Minnesota is known for its cold winters, übernice residents, Prince and, uh, cold winters. But that's not all it has to offer. Head north this fall for a visit to its urban hub, Minneapolis, for a vacation filled with vibrant culture, Mother Nature and heaping helpings of Northern niceness.
With the current inflating state of airfare, a flight to Minneapolis can cost up to $300—for just 50 minutes in the air. Instead, hop on transportation savior Megabus for tickets that start as low as $1. Or, if you've got a car, just throw your bags in the trunk and hit the road. The seven-hour trip is best during the fall, when Wisconsin trees brim with jaw-dropping autumnal colors.
Once you're in town, drop off your luggage at one of the swank, new hotels that opened its doors in time to accommodate McCain and pals for the recent Republican National Convention. The W Hotel(821 Marquette Ave, 612-215-3700; rates average $300 per night) recently debuted in the historic Foshay Tower, a former office building and staple of the Minneapolis skyline since 1929. Along similarly historic lines is the Marriott Renaissance hotel at the Depot(225 3rd Ave, 612-375-1700; rates start at $139). The restored building was once home to the Milwaukee Road Line, a hub of train travel in the early 20th century, but now also houses restaurants, an indoor water park and a seasonal ice rink, while maintaining old-fashioned appeal.
Don't spend too much time in your room, because in the land of 10,000 lakes, nature abounds, and there's no better way to see it than on the Chain of Lakes. This 12-mile bike/walk path, just south of downtown, connects five lakes: Cedar, Brownie, Calhoun, Harriet and Lake of the Isles. Each lake has its own vibe and personality, so get a bike from Calhoun Rental (1622 W Lake St, 612-827-8231) and hit up each one via the chain. If boating is more your style, scoop up a kayak, canoe or paddleboat from Wheel Fun Rentals(3000 Calhoun Parkway, 612-823-5765) and view the changing leaves from the water. FYI: Post–Labor Day, both rental shops are open only on weekends.
When you've had your outdoor fill, tour the abundant Minneapolis cultural scene. The nationally renowned Guthrie Theater(pictured above, 818 S 2nd St, 612-377-2224), a staple since 1963, recently took up new digs in a stunning Jean Nouvel–designed building on the banks of the Mississippi River. The Walker Art Center(pictured, 1750 Hennepin Ave, 612-375-7600) is a modern art museum that encompasses visual art, music, lectures, theater, film, design and dance. It's worth a trip just to walk through the neighboring outdoor Sculpture Garden, home to nearly 50 art installations including the iconic Spoonbridge and Cherry sculpture–water fountain. For live music, your mecca is undoubtedly First Avenue(701 1st Ave, 612-338-8388). Almost every notable Twin Cities musician started out playing this club, from Prince to Soul Asylum to Atmosphere, and most bands grace the stage when in town. Adjoined little sibling 7th Street Entry hosts lesser-known bands.
One Minneapolis destination everyone has heard of is the Mall of America. While the idea of 500 stores in one building sounds droolworthy to any shopaholic, after 10 minutes battling crowds and dodging hyper kids (on their way to the midmall amusement park), the experience feels more like a nightmare. Instead, native Minnesotans opt for two classier spots. The hip Uptown neighborhood offers the ideal balance of independent boutiques and chain stores. Pick up an artfully chic ensemble from a local designer at Local Motion(2813 Hennepin Ave, 612-871-8436), then head down the street for more mainstream accessories at stores like Urban Outfitters. For more luxe shopping options, navigate the bus system to neighboring suburb Edina, where the intersection of 50th Street and France Avenue offers boutique options like the dapper Belleson's(3908 W 50th St, 952-927-4694) for men, Bluebird(3909 W 50th St, 952-746-8675) for women and the Monique Lhuillier flagship bridal boutique(3928 W 50th St, 612-929-0747).
When it comes to nightlife, Minneapolis delivers on all levels: food and drink; posh and divetastic. For a swank night out, venture downtown to the Chambers Kitchen in the Chambers Hotel (901 Hennepin Ave, 612-767-6999) for deliciously innovative Asian cuisine, like red-curry duck with sambal sauce or tempura salt-and-pepper walleye. Then head upstairs and continue the evening on its not-to-be-missed rooftop lounge. Uptown is also a prime nightlife destination, where Chino Latino(pictured, 2916 Hennepin Ave, 612-824-7878), a trendy restaurant and lounge with shimmering signage and glam interior, serves upscale Asian and Latin street food. For something a little quainter, walk a few blocks to Barbette(1600 W Lake St, 612-827-5710), an European-inspired café where wine and charcuterie top the bill. Dive-bar devotees will enjoy the CC Club(2600 Lyndale Ave, 612-874-7226), a traditional dark, beer-filled dive; as well as the Red Dragon(2116 Lyndale Ave, 612-874-8877), an old-school Chinese bar–restaurant that offers the legendary "wonderous punch." More than one round of the punch may find you crawling down the streets of Minneapolis. But don't worry—a nice Minnesotan will most likely help you find the nearest bus bench.
THE TAB

Two nights, two people
Bus Ticket (average) $25
+ Hotel $450
+ Meals $300
TOTAL $775