Reykjavík, Iceland
This country still rocks-even though its economy has hit rock bottom.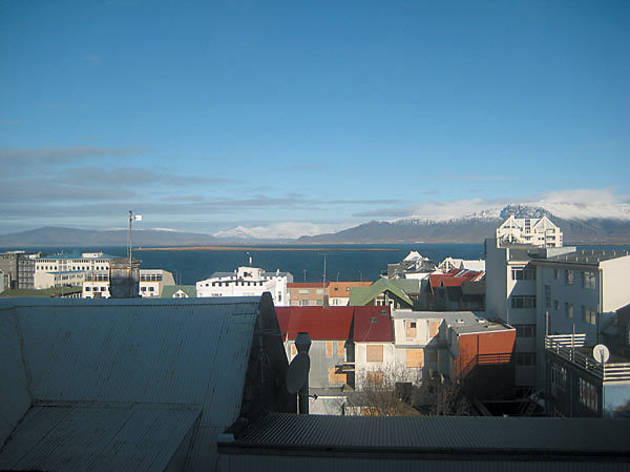 What a difference a year—and national bankruptcy—makes. Last year, before all three of Iceland's banks collapsed, one local beer ($10) pummeled the wallet, but now prices are slashed in half. In the wake of the economic troubles, Iceland has become one of the most affordable countries in Europe, belying its long-held reputation as one of the most expensive. Iceland's financial crisis is acutely felt, but it's a boon for tourists. The island welcomes foreigners; tourism accounts for a good chunk of the economy—and Iceland needs the dough. In addition to offering more bang for your buck (one dollar garners a whopping 122 in Icelandic kronur—practically double the 2007 exchange rate), Reykjavík is a world-class capital city with small-town charm.
Music lovers and night owls should hit Iceland Airwaves, the annual music fest held in October. Even though it just wrapped up, you can start planning for next year very soon: IcelandAir will have packages with hotel, airfare and festival passes for one low price starting in January. All genres—but particularly indie rock and electronica—abound at the fest, which draws an international crowd that parties till the sun rises.
Sleep is rarely a priority in this city, but there are gorgeous accommodations, including CenterHotel Thingholt (ingholtsstræti 5, +354 595 8530, rates start at $79 per person, double occupancy). Steps from Laugavegur, the main artery to which all city paths lead, Thingholt is a beautifully appointed, modern boutique hotel with decor inspired by Icelandic nature. Nearby Room With a View (Laugavegur 18, +354 896 2559, rates start at $60, 10 percent discount for extended stays) offers what its name implies: spectacular vantages of the ocean, which is beside the city.
Once you've dropped off your bags, stave off jet lag and stroll Laugavegur to peruse chic shops, encounter street art and admire graffiti adorning walls throughout the area. Take a brisk walk by the ocean via the harbor pedestrian path, where you'll happen across a modern Viking ship sculpture and view ice-capped mountains in the near distance. Then duck into the Hallgrímskirkja Church (Skólavör uholti, 121 Reykjavík, +354 510 1000) for warmth and organ music. The strangely phallic-shaped Lutheran cathedral's exterior is being renovated, but the inside is intact.
For adventurous noshing and frugal shopping, head to the Kolaporti Flea Market (Tryggvagötu 19, +354 562 5030, weekends only) to discover a myriad of baubles, clothing, records and handmade woolens. In the food court, you'll find the infamous hákarl—the shark snack traditionally fermented in brine and buried underground. Wash or choke it down—most people gag immediately when trying it, including chef Anthony Bordain, who ate it on an episode of No Reservations—with Brennivín, the bitter "original Icelandic schnapps."
For non-grimace-inducing Icelandic dishes, opt for Segurmo/Boston (Laugavegur 28b, +354 517 7816), which serves kjötsúpa, a hearty lamb soup, and plokkfiskur, a thick, creamy fish stew. The restaurant has a funky interior and its chef, Númi Thomasson, served as Björk's tour cook. Vegetarians fear not: While lamb and seafood are delicious Icelandic staples, tasty vegetarian restaurants also abound. Ecstasy's Heart-Garden (Klapparstigur 37, +354-5612345, lunch only) serves one daily special, and Á Næstu Grösum (Laugavegur 20b, +354-5528410) provides vegan options.
Reykjavík's nightlife pumps through every season, with bands such as Slug playing nightly. Find well-known groups at the cavernous NASA (101 Reykjavík, +354 511 1313); lesser-known artists play the cozy Iðnó (Vonarstræti 3, +354 562 9700). Bars, such as Iceland's oldest coffeehouse Prikið (Bankastræti 12, +354 551 2866), Kaffibarinn (Bergstaðastræti 1, +354 551 2866), and 22 (Laugavegur 22, +354 578 7800), which serve as hip after-party spots during Airwaves, remain popular year round. Partake in the local Viking beer, lava-rock-filtered Reyka vodka, or medicinal-tasting salt- or menthol-infused vodkas. A late-night requirement is Baejarins Beztu Pylsur (Posthusstraeti). The hot-dog stand, located near Kolaportið Flea Market, is an institution, serving flavorful lamb hot dogs smothered in spicy mustard, ketchup and rémoulade, with fresh and crisped-fried onions.
After a late night of carousing, the Icelandic countryside (about an hour outside the city via car) is a must-see. Steam bubbles forth at random, and the stark beauty of rock formations, with scattered moss covering them, is unlike anywhere else on Earth. You'll experience the mystical vibe first-hand during the morning Golden Circle Tour (purchase tickets at icelandair.com, $108). Departing from all Reykjavík hotels, it stops at Geysir, from which the word "Geyser" was derived; Gulfoss, one of the country's largest waterfalls; and the breathtaking Þingvellir, where the Icelandic parliament Alþingi was established in 930 and where North America's and Europe's tectonic plates continually separate.
A dip in the Blue Lagoon is imperative for its enchanting beauty, but the natural hot spring also is said to cure hangovers. Glowing an incandescent aquamarine, its gauzy, steam-swirling surface tantalizes. Navigate hot spots to find a temperature to your liking, don some complimentary mud from the self-service station or relax in the wooden sauna. It's the ideal respite after late partying nights and days spent stimulating the economy in Reykjavík.
THE TAB

Three nights/four full days, two people:
Flights $1508*
Hotel $474
+Meals $150
TOTAL $2132

* IcelandAir Boston to Reykjavík, $473 per person, roundtrip; American Airlines Airfare from Chicago to Boston in $281, per person roundtrip.
** New airfare specials and other deals are posted on IcelandAir.com on Wednesdays