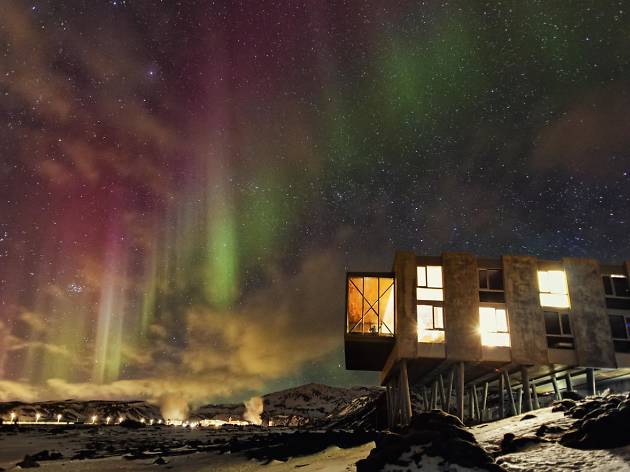 The 10 best hotels in Iceland
Here's your guide to very best hotels in Iceland, including those with views of the Northern Lights
Grazing the Arctic Circle and straddling two tectonic plates, Iceland offers a visual feast of volcanic landscapes, spurting geysers and Northern Lights that have not gone unnoticed by Instagrammers or Game of Thrones location scouts. There are some great stopover deals on transatlantic flights, which have contributed to a surge in hotel-building; but demand still outstrips supply and prices are high. Accommodation is concentrated in Reykjavik and the west, but with the increasing interest in outdoor activities and exploration of the island's more remote, ethereally beautiful regions, lodgings are now spreading far and wide. Many are built in the local prefab style, but remote designer digs such as Deplar Farm and ION Adventure are upping the architectural ante.
Best hotels in Iceland
Photograph: Courtesy Booking.com
1. Retreat at the Blue Lagoon
The famous Blue Lagoon, a steam-shrouded, mineral-rich, lake-sized natural hot pool, features on every Iceland itinerary and can consequently feel a bit overcrowded and institutional. The new and stunning Retreat nearby offers the select few who can afford it an alternative: a private bathing lagoon of their own, along with a spa complete with lava-heated steam room. The design is soberly stylish, the atmosphere serene (no TVs!) and the ethos eco-friendly, and all the supersleek rooms offer dramatic views through picture windows.
Photograph: Courtesy Booking.com
The tiny port town of Seyðisfjörður, gateway to eastern Iceland, is small but perfectly formed –mainly of buildings whose history speaks of changing ways of life. The Aldan comprises three separate hotels, the Old Bank, the Old School (now apartments) and Snæfell, a former post office, scenically set at the river mouth. All share charming vintage-chic decor, a sushi bar and a restaurant set – you guessed it – in an old shop where there is no such thing as yesterday's fish.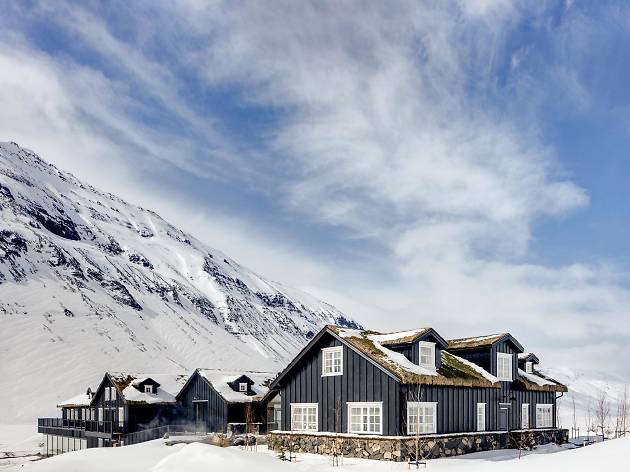 Photograph: Courtesy Deplar Farm
This converted sheep farm, with its stone-coloured cladding and living roof, might look unassuming, but this reflects the discretion of its wealthy clientele rather than the simple life. Quite the contrary: the gorgeous 13-room lodge offers every designer luxury you can imagine, from flotation tanks to two helipads – though, to be fair, the road journey is a bit of a schlepp. Of necessity: Deplar is in the back-country of the mountainous Tröllaskagi peninsula, a prime summer location for salmon-fishing, hiking and sea-kayaking. In winter, you can snowshoe, heli-ski or try your legs at snowcycling… or just float in the geothermal pool and watch for the Northern Lights.
Photograph: Courtesy Booking.com
ION offers an accessible – geographically, if not financially – wilderness experience just 40 minutes away from Reykjavik. A stunning glass-and-grey box projecting from the hillside over lava fields, it's a design retreat of the highest order, and sustainably built, to boot. A variety of adventure, sightseeing and wildlife tours can be done from the door; on your return you could relax with an Icelandic-herb massage or enjoy Nordic cuisine in the distinctly non-rustic restaurant/bar.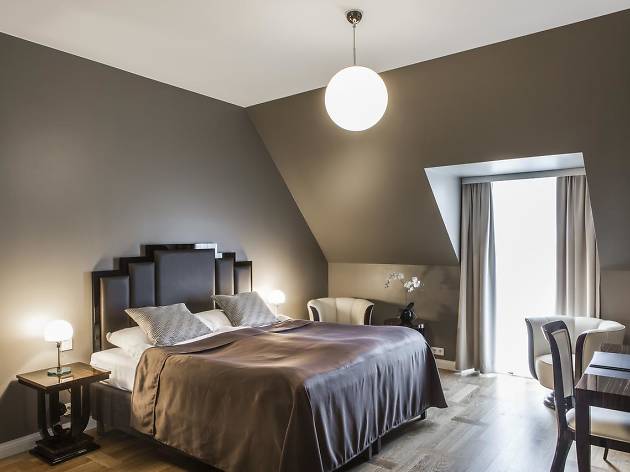 Photograph: Courtesy Booking.com
Reykjavik's first luxury hotel, which opened in the 1930s, still trails the rest in its elegant Art Deco wake. The grand white building houses a spa, gym, plenty of period detail and a 'Jamie's Italian' restaurant. Rooms are silvery taupe in tone, Deco in style and equipped with the usual high-end comforts. Great central location and good views, particularly from the suites (Northern Lights watchers please note).
Photograph: Courtesy Booking.com
One of Iceland's nicest hostels (with private rooms, too) is in its second city, Akureyri, the capital of Northern Iceland province. It's pretty and pristine, and well located among the cafes and restaurants of the main street next to the port, where you might spot a visiting whale. A good base for trips to Lake Mývatn and into the northern wilderness, along with whalewatching and Northern Lights tours.
Photograph: Courtesy Booking.com
Even if you're normally a hotel habitué, given Iceland's volcanic accommodation prices it can make good financial sense to bed down in a hostel. Especially one as good as this Reykjavik staple (and note that it offers private rooms). Kex is a former biscuit factory, welcoming, atmospheric and eclectically furnished in a louchely hip style. At its heart is a gastropub; there's also a gym, communal kitchen, tour desk and even a vintage-style tiled barbershop.
Photograph: Courtesy Booking.com
As grey, stark and geometric as the landscapes it inhabits, the low and long UMI is about inhospitality outdoors and hospitality within. It's located along a dramatic stretch of black-sand beaches, surrounded by windswept heath and backed by granite crags. Inside, the public areas are clean and elegant, with huge windows bringing the outside in; imaginative cocktails and toddies from the bar will warm you up if the bleakness gets too much. Rooms are simple, but they have all you'll need, and prices are keen. There's a good on-site restaurant and staff are notably friendly.
Photograph: Courtesy Booking.com
9. Kirkjuból í Bjarnardal
Iceland's Westfjords are remote and rugged and you will have most of them to yourselves. Base yourself at this family-run farm guesthouse in a dramatic dale and plan on unforgettable road trips to waterfalls and beach-fringed fjords. Back home, you can cook in the guest kitchen or order at the restaurant then curl up around a rustic hearth before retiring to your simple white-painted room. Both the hospitality and the communal atmosphere are warm and genuine.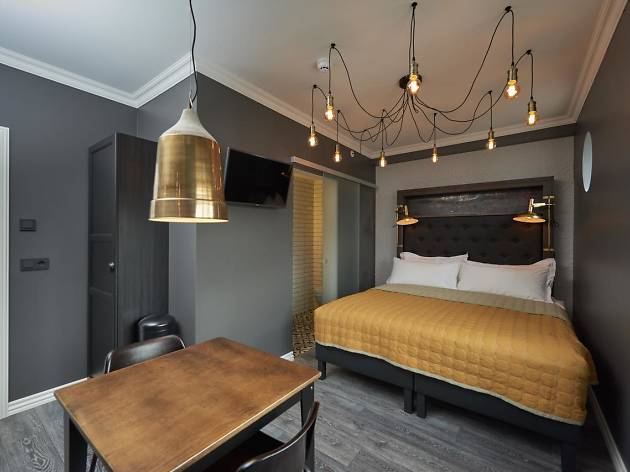 Photograph: Courtesy Booking.com
10. 105 – A Townhouse Hotel
Forego some full-service hotel perks and stay at this apartment/hotel hybrid to get a stylish room with good facilities for a really reasonable price. Reception closes in the afternoon, but there's an easy key-pickup system, and the location, a 15-minute walk away from the centre, brings with it free parking. The kitchenettes are clever, cute and fully specced and in the attic studios the comfy beds nestle in a romantic nook. Ask nicely for a view over the harbour.