Cincinnati road trip
Visit Cin City for French cafés and adorable nabes.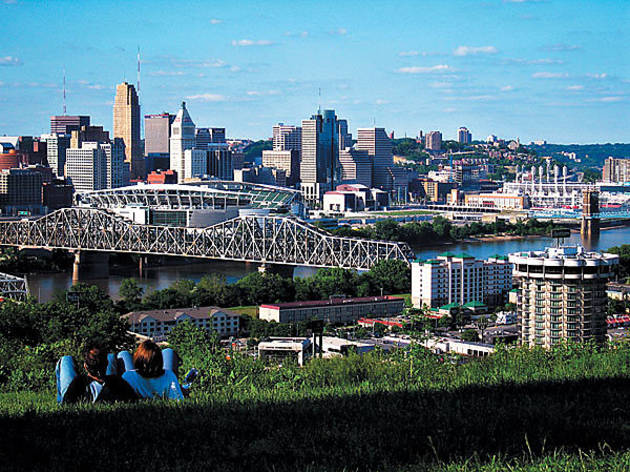 Midway through my five-hour drive to Cincinnati—or Cin City, as I'd begun calling it—I stuck my arm out the car window. Behind me, torrential rains and a high of 60 plagued Chicago. But all I saw were clear skies, and my arm was met with a balmy, 72-degree day. I roared into Cincinnati at dusk and was greeted by an alluring midsize city set amid seven hills and bordered by the Ohio River; I was starting to think this might be my kind of town.
I checked in at the Cincinnatian Hotel (601 Vine St, 513-381-3000; from $139/night), a downtown charmer open since 1882. Aside from its brick facade, little of its Victorian heritage remains, not that I was complaining: My spacious room had been modernized with amenities like high-speed Internet and a DVD player. I would have stuck around awhile to revel in the space, but I was hungry as hell.
A smiley concierge pointed toward a restaurant in the Mt. Adams neighborhood called Teak Thai and Sushi (1051 St. Gregory St, 513-665-9800), noting that Mt. Adams is the "San Francisco of Cincinnati." I bristled at the claim, but the switchback roads and hairpin turns did remind me of my former stomping grounds, as did the steep gradients and precipitously perched homes and buildings. It's a visually stunning and happening 'hood, but a dearth of gays and youthful beggars made me wonder if it can rightly be compared to the City by the Bay.
At Teak Thai, mixologist Derrick bragged that Teak has been voted best Thai nine years in a row (by whom, he didn't say). I gobbled tiny dumplings topped with chives and dried garlic, and wolfed down the Teak Trio, a combination of pork, beef and chicken in a spicy sauce augmented by plump mushrooms and tomatoes. Meanwhile, I tried to ignore the guy next to me, who kept ordering saki bombs for the ladies he was with and using phrases like "touché, honky."
I needed a drink. Derrick sent me down the street to Yesterday's (930 Hatch St, 513-421-9998), an unpretentious taproom with an outdoor patio where I felt like a fancy boy for ordering a pink and delicious libation while everyone else drank beer. After updating my Facebook status ("Jason has arrived in Cincinnati. Paradise!"), I called it a night.
The next morning, I discovered a response to my cheeky update: A friend, a northern Kentucky native now many years departed, wrote "check out Covington—that's where it's at!" Covington, Kentucky, is on the south side of the Ohio River, just a stone's throw from downtown Cincy. It oozes historic charm, although from a retail standpoint, it has seen better times. Its key feature these days is MainStrasse, a short albeit pleasing stretch of bars, restaurants and shops. I was thrilled to unearth Covington Chili (707 Madison Ave, 859-261-6066), a 73-year-old dive serving five-way chili (spaghetti with chili, cheese, onions and beans)—a regional classic. The food was dirt cheap and delicious, and the crowd looked as old as the restaurant, including one couple who told me they'd been dining here for more than 50 years.
"I came here to taste real Cincinnati chili," I told them.
They sucked on their cigarettes (no cessation laws in Kentucky) and shook their heads. "This is Covington chili!" the husband barked.
My server was a bit more gentle. She pointed me back to Cincinnati's Krohn Conservatory (1501 Eden Park Dr, 513-421-4086) in Eden Park. The park—a shutterbug's delight full of breathtaking vistas—houses several cultural institutions, including the Cincinnati Art Museum and the Playhouse in the Park. The free conservatory offered a pleasant respite. Outside, a friendly family recommended exploring Hyde Park, a historic, upper-middle-class nabe anchored by a pleasant shopping district and the lovely Kilgour Fountain. It was here that I stumbled upon Graeter's (2704 Erie Ave, 513-321-6221), a local ice-cream franchise ballyhooed by both locals and Oprah. I relished my scoop of handmade peanut-butter chocolate-chip ice cream—so smooth and creamy. (Although considering how much Oprah yaks about her weight, I wondered why she doesn't just stick to the low-fat fro-yo we have at home).
I retreated to the Cincinnatian to sleep off my sugar coma, but a couple of hours later was back on the road again. This time I headed to Ludlow Avenue, a sleepy-chic street in the Clifton Heights 'hood. I dashed right through Ludlow Avenue. It's pretty and looks to have some worthy eateries, but it's too small to merit more than a few minutes' time. I was feeling restless for more, so I wandered around the University of Cincinnati campus and meandered through student-filled McMillan Street. Here I discovered central European gastro-excellence at Christy's & Lenhardt's (151 W. McMillan Ave, 513-281-3600), a German-Hungarian restaurant housed in a historic mansion. This place is super old-school and serves simple and delicious German classics like goulash and wienerschnitzels with spaetzle (coupled with molasses-slow service). A fan of the Berghoff? You'll be holding back tears.
I drove back downtown via surface streets so I could absorb more of the city. I'm glad I did, because I stumbled upon a formerly crumbling neighborhood called Over-the-Rhine that suffered three days of race riots in 2001 after a police officer shot an unarmed African-American teenager. The city has since poured $93 million into revitalization efforts and renamed it Gateway Quarter. The efforts are slowly paying off: The intersection of 12th and Vine bustles with chic shops and hipster eateries like Lavomatic Cafe (1211 Vine St, 513-621-1999), an "urban wine bar" and restaurant where I indulged in outstanding French silk pie and wished I had time to return for a full meal (especially if I could eat it on the rooftop patio). I asked around for a place to imbibe, and a server noted that the staff usually hits either nearby Below Zero Lounge (1122 Walnut St, 513-421-9376), a swanky martini bar, or the Northside neighborhood, a hipster mecca. At Below Zero, I was greeted by the thumping of Madonna's "Vogue" and about two-dozen thirtysomething males swilling cocktails and canoodling. My advice: Stay for the good, gay times, but pass on the revolting coffee martini. Afterward, I drove to Hamilton Avenue, the hub of the Northside neighborhood and a spirited mix of dive bars, vegan coffee shops, beer-heavy taprooms and indie record shops. It was too late at night to settle in for a drink, and too late in the weekend to return the next day. But dammit if Cincinnati didn't give me with a compelling reason to pay it another visit.
GETTING THERE 5 hours (296 miles) / $70 of gas round trip. Plane 1 hour / from $212 round trip. Megabus 6 hours / from $40 round trip.