The best restaurants in Cincinnati
From incredible ice-cream parlors to hotspots serving swanky shellfish, here's our pick of the best restaurants in Cincinnati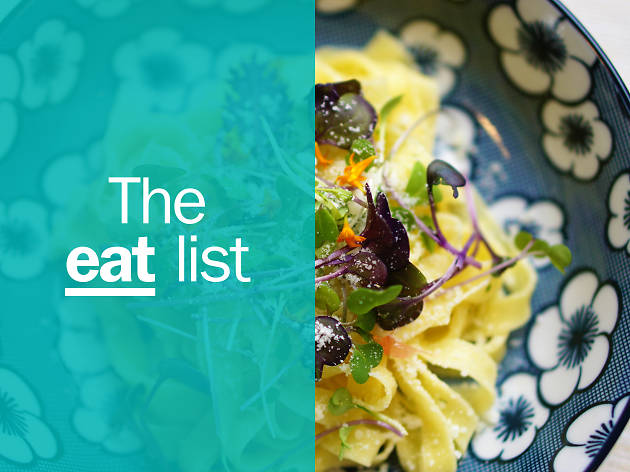 In the last decade, Cincinnati has risen in prominence among foodies, becoming a hub for craft brewers, mixologists, skilled artisans and celebrity chefs. Hundreds of new restaurants have cropped up in the city in recent years to take advantage of Cincinnati's rise to culinary fame. USA Today and Food & Wine have taken notice, recently naming Cincinnati's food scene among the best in American small cities.
Cincy's rich cultural history and regional status as a "border city" between the Midwest and the American South contributes to its growing dining scene. With an eclectic melting pot of immigrant populations serving up various cuisines, Germanic roots, Midwestern sensibility and Southern flair, you're sure to find unique takes on staples (Cincinnati chili, anyone?) and bold new flavors in The Queen City.
The best restaurants in Cincinnati
Yelp
What Is It
Gorgeously laid out in the Hilton Cincinnati Netherland Plaza and with Executive Chef Maxime Kien at the helm, Orchids at Palm Court has received accolades across the board. The excellent service and stunning setting make for a fabulous night on the town.
Why Go
You can't go wrong with the chef's seasonally rotating menu of appetizers, cheeses, main courses, and desserts. There are plenty of nods to Ohio in the menu, too, like the green apple sorbet with Ohio apple butter.
Price range: Blowout
yelp
What Is It
Eighth & English, in historic O'Bryonville, has gotten major cred as one of Cincinnati's hottest new restaurants. The raw bar curated by Chef Chase Blowers, with rotating selections of oysters, prawns, crab and other seafood, has gotten its fair share of attention, as have the homemade pastas.
Why Go
Come with friends to taste a wide variety of dishes, make reservations and prepare to be adventurous. The Italian-inspired seafood small plates rotate regularly, depending on season, availability, and the chef's whims.
Price range: Pricey
What Is It
Located atop Price Hill, it's hard to beat Cincinnati gastropub Incline Public House in terms of views. The seasonal outdoor deck provides a stunning overlook of the Cincinnati skyline, making for a romantic backdrop for craft cocktails, local foods and a lengthy beer list.
Why Go
Incline Public House is known for its sweeping panoramic views, but its brick oven pizzas might very well be the best in Cincinnati. You won't regret taking a bite out of the prosciutto fig pie.
Price range: Average
Yelp
What Is It
Moerlein Lager House is a working microbrewery and brewpub in Smale Riverfront Park. The killer views and 80 beers alone are worth the trip, but the New American food is to die for, too. The boards, served with your choice of smoked meats and cheeses, get rave reviews.
Why Go
Cincinnati is a beer town, and Moerlein is one of the city's flagship breweries. Have a drink and a soft pretzel with beer cheese and mustard in honor of Cincy's German heritage.
Price range: Average
Yelp
What Is It
The history of Cincinnati chili—seasoned with a distinct mix of spices, like cinnamon and cumin—began with a Greek immigrant, Nicholas Lambrinides, who named his restaurant after Cincy's skyline. Skyline Chili locations throughout the region serve this filling, affordable regional favorite.
Why Go
No visit to The Queen City would be complete without Cincinnati chili. Love it or hate it, you've got to try it! If you're extra hungry, try a 3-Way (chili, cheese, and pasta) or a Coney chili dog.
Price range: Bargain
What Is It
It might seem odd to include ice cream parlors that also sell gasoline on a best-restaurant list, but that's Cincy for you. With 200 stores serving up hand-dipped ice cream, shakes, and farm-fresh dairy, United Dairy Farmers (UDF) has been a local mainstay for 75 years.
Why Go
UDF is a must if you're on a road trip. Try the Dinosaur Egg—green vanilla crammed with egg-shaped cake bites—or Tropical Truth, a beery flavor crafted with Cincinnati brewery Rhinegeist.
Price range: Bargain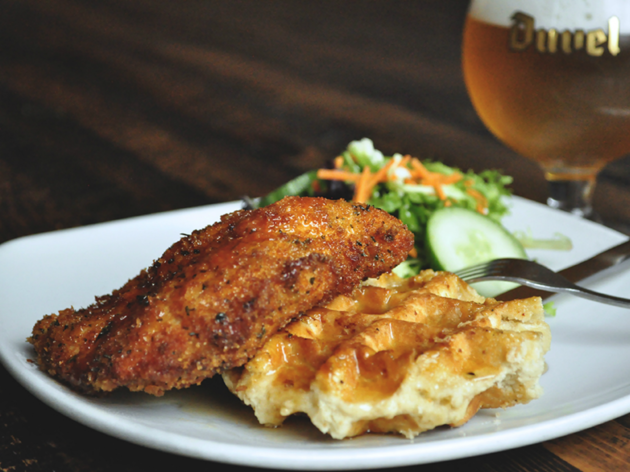 What Is It
This Belgian/American hybrid eatery is most famous for its sweet-and-savory brunches, with Belgian waffles cooked to perfection as the centerpiece. Taste of Belgium has lively bistros at Over-the-Rhine and near Findlay Market, both perfect for people-watching and mimosa-downing.
Why Go
In addition to waffles, The Taste of Belgium is a great place to sample Cincinnati classics like goetta—a German-inspired meat-and grain sausage. The goetta hash, with eggs, frites, pepper and onions, is one of the best goetta dishes in the city.
Price range: Average
yelp
What Is It
In the neighborhood of Northside sits one of Cincinnati's healthiest restaurants, Melt Eclectic Café. Melt has a funky, cheery vibe and a lengthy menu of fresh-made sandwiches, salads, soups, sweets, mac and cheese, vegan black bean chili and cocktails.
Why Go
Melt Eclectic Café is perfect for vegan/vegetarian diners (and their carnivorous companions, too). The delectable vegan cashew cheeze, vegan mayo, and seitan are made in-house, and there are plenty of gluten-free and nut-free options for those with specific dietary needs.
Price range: Average
yelp
What Is It
Eli's BBQ knows how to do classics up right—and affordably. A pulled pork sandwich with Eli's signature BBQ sauce, creamy mac and cheese and a generous portion of mashed potatoes will cost you less than $10. The flagship location also has a fun outdoor hangout spot, perfect for mingling, and live music.
Why Go
Cincinnati is known for its barbeque, and Eli's BBQ is the best around. Insider tip: Order the off-menu "January" for extra pork at the same price.
Price range: Bargain
Boca
What Is It
Chef and Owner David Falk, who's worked in Rome, Florence and Chicago, has crafted a fine dining experience at Boca as diversified as Cincy itself. Enjoy Italian- and French-influenced steaks, seafood and pasta alongside seasonal sides.
Why Go
The "Golden Crouton" is one pricey snack, but it's worth it, with Royal Osetra caviar and brioche. And even the most upscale restaurant in Cincinnati has got to have the Ohio classic: buckeyes! This one is served up with peanut butter nougat and gelato.
Price range: Blowout
Yelp
What Is It
Chef Jose Salazar calls the menu at Over-the-Rhine hotspot Salazar "farm-inspired," reflecting a Cincinnati both old and new. Most menu items are sourced from regional farmers, from chicken with fingerling potatoes from Ohio's Amish country to Indiana duck breast with sunchokes and strawberry-rhubarb puree.
Why Go
Salazar's food is delicious, but the craft cocktail list is really killer. Favorites include Sunset Key, with tequila, blood orange, Fresno chili and Prosecco, and Mass Appeal: roasted peanut-infused vodka, Concord grape juice and Meyer lemon.
Price range: Pricey
More of the best in Cincinnati
The Queen City (as it's often called) has a unique spirit that matches Germanic Midwestern roots with Southern flair, small-town loyalty with cosmopolitan arts and amenities, and a river-view skyline with inland rent prices.