Detroit road trip
Try this Michigan city for a cheap, close trip from Chicago.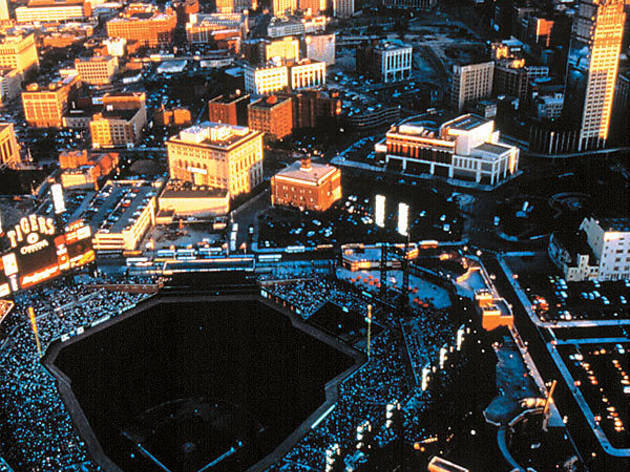 I was lucky to be behind the wheel of a Pontiac as I arrived at Detroit's Inn on Ferry Street (84 E Ferry St, 313-871-6000; from $161/night) at 2am on a Saturday. In Motor City, how you roll isn't as important as what you're rolling in.
"Hey, Pontiac!" greeted Mike, the genial gent who oversees the weekend graveyard shift of the hotel's free downtown shuttle service. "Look over there and you might see the General Motors building," he said, taking my bag and pointing at the Detroit skyline twinkling on the horizon.
The desk attendant, a self-described Trekkie named Torrence, breathlessly recommended the new Star Trek exhibit at the Detroit Science Center (5020 John R St, 313-577-8400). "I didn't dress up like Spock to go see the movie, but I had a great time," he said. Note taken.
It was 2:30, and my intention was to sleep and tackle those Trekkies in the morning. But Mike was determined to shuttle me downtown to a casino. "I know how you kids love to party," he said. If Mike—about 20 years my senior—could be up for it, then dammit, so could I.
The MGM Grand (1777 Third St, 877-888-2121), the largest of Detroit's three casinos, brings ridonkulous Vegas-style excess to the city with a bumping megaclub, sushi lounge and three bars ranging in vibe from meat market to classy piano bar. The gaming floor is vast, but the crowd skews younger than the usual blue-hairs puffing on impossibly long Pall Malls.
Down $20 at a $5 blackjack table, I caught a cab back to the hotel. In the early morning light, the grandeur of my B&B—a half-block-long row of elegant Victorian homes and a pair of carriage houses—was in full view. The rooms (more spacious than most Chicago studio apartments) have a quaint Grandma's-house feel—if Granny blew her Social Security checks on an interior designer. Patterned carpets and rugs, ornate wood banisters, bright linens with lace borders and lofty four-post beds dominate. The biggest plus: The hotel is within walking distance of the city's museum campus, including the Museum of Contemporary Art Detroit (4454 Woodward Ave, 313-832-6622), located in a building that formerly housed an auto dealership. (Très Detroit!)
After nibbling at Ferry Street's complimentary breakfast buffet (think basics like scrambled eggs, make-your-own waffles and fruit slices), I boldly went where many Detroit residents have gone before, the Science Center's opportunistically timed "Star Trek: the Exhibition." It isn't necessary to have a Jean-Luc Picard tattoo to like this one, but, as with the Museum of Science and Industry's "Harry Potter: the Exhibition," you have to be okay with strolling through a life-size brand campaign. Though, as pop-culture marketing schemes go, this one's pretty effective: Standing on a teleporter, I felt a dopamine rush in the nerd center of my brain as I uttered (in halting, Shatnerian cadence, of course), "Beam me up, Scotty!"
Alas, I was not beamed anywhere. So I headed across the street to breeze through the Detroit Institute of Arts (5200 Woodward Ave, 313-833-7900). The sun-drenched Garden Court features one of the city's signature works: Mexican artist Diego Rivera's breathtaking mural Detroit Industry (1933), which was controversial in its time thanks to Rivera's communist leanings.
Rivera's painting presaged the rise of Motown, the legendary racially integrated record company founded by Barry Gordy Jr., a former Ford employee who applied Detroit's assembly-line manufacturing mentality to the music business. With that in mind, I headed to the Motown Historical Museum (2648 W Grand Blvd, 313-875-2264). Halfway there, I was beckoned by the twin sight of American Coney Island (15 Michigan Ave, 313-961-7758) and Lafayette Coney Island (118 W Lafayette Blvd, 313-964-8198)—two neighboring hot-dog dives. American's coney dog (a D-Town specialty topped with mustard, onions and chili) was solid, but I sought something more refined. Jerry, a jolly American waiter in a grease-stained apron, discreetly suggested Good Girls Go To Paris Crepes (2 John R St, 313-964-2023), a tiny shack four blocks away where affable Mary manned the griddle, dishing out delicious sweet and savory crêpes—like the "Sarah" (mushroom, chèvre, spinach and red pepper)—to Wayne State University students.
Full at last, I boogied on over to the Motown Museum, which fills two modest houses where artists like the Supremes, Smokey Robinson and Stevie Wonder recorded scads of chart toppers (hence the HITSVILLE U.S.A. banner). It's always strange to encounter lively arts frozen in time, but brassy-voiced docent Peter, as schooled as he was fiery and funny, gave the 90-minute tour soul; at several points the sometime musician belted out numbers and even busted a move (moonwalk, anyone?). Inside storied "Studio A," Peter directed attention to the Steinway where Marvin Gaye arranged "Let's Get It On": "Before you leave, make sure to rub the piano and give thanks," he cracked. "It's partially responsible for your birth."
After being inundated with classic soul and R&B, the only logical thing to do is hit a record store. Because of its Motown roots and garage-rock lineage, Detroit is fertile ground for dirt-cheap crate digging. Crêpe shack Mary's endorsement of Peoples Records (3161 Woodward Ave, 313-831-0864) paid off. It's a vinyl hound's paradise, with a dedicated Motown section and boxes of budget-friendly, hard-to-find 45s. As I checked out, cashier Mike—a less mopey version of John Cusack in High Fidelity—asked if I was "going to see Rodriguez at the Stick tonight." Conveniently, the Magic Stick (4120–4140 Woodward Ave, 313-833-9700), a second-floor rock club housed, along with a restaurant and bowling alley, inside the Majestic Theater Center, was just a few blocks away. The joint is best known as the location of a fight (White Stripes frontman Jack White vs. Von Bondies singer Jason Stollsteimer), but faced with the '70s psych-folk stylings of Sixto Rodriguez, the cool-kid crowd behaved like a bunch of tranq'd rhinos.
I slept through breakfast the next morning. And lunch. Then I drove to D-Town's Alley equivalent, Showtime Clothing (5708 Woodward Ave, 313-875-9280), a warehouse-size store of vintage and alterna threads, and another crêpe shack Mary recommendation. With my new cheap, Ray-Ban–style shades in tow, I made my way to the Henry Ford Museum (20900 Oakwood Blvd, Dearborn, 313-982-6001). Horsepower has never revved my engine, but I did eye JFK's Dallas presidential limo for blood-spatter patterns.
Last stop: meat lover's paradise Roast (1128 Washington Blvd, 313-961-2500), which is helmed by James Beard Award–winning Iron Chef Michael Symon. The memory of the tender, flavorful suckling pig still induces Pavlovian mouth watering. I'd seriously consider hopping in the Pontiac and driving the four hours and 30 minutes back to Detroit to have that dish a second time. Talk about leaving a good taste in your mouth.
GETTING THERE 4 hours and 30 minutes (285 miles) / $70 of gas round trip. Plane 70 minutes / from $169 round trip. Megabus 6 hours / from $50 round trip.