Heartland, artland
A "big five" collection of modern art, a Frank Gehry–designed museum and top-ranked regional theater? The only challenge is how to see it all in one weekend.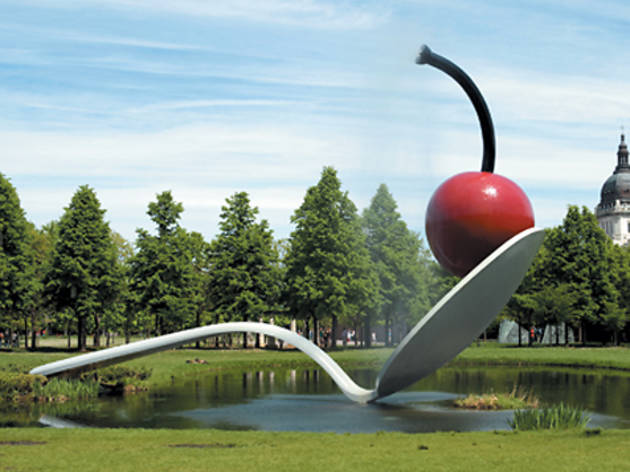 1/6
Photograph: Andrew Nawrocki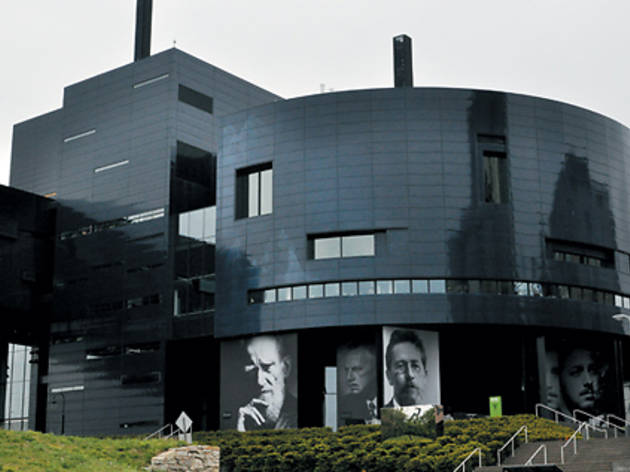 2/6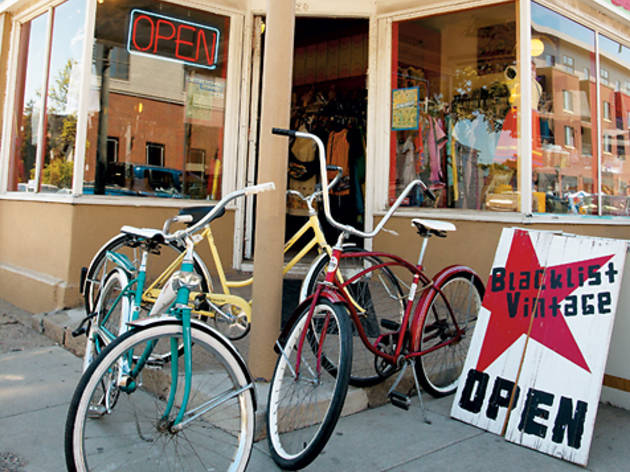 3/6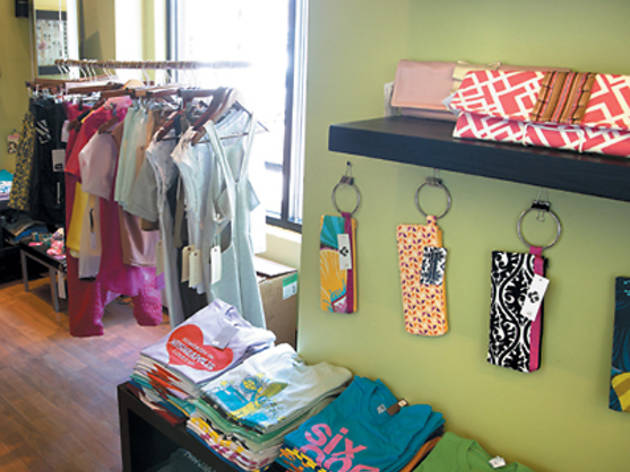 4/6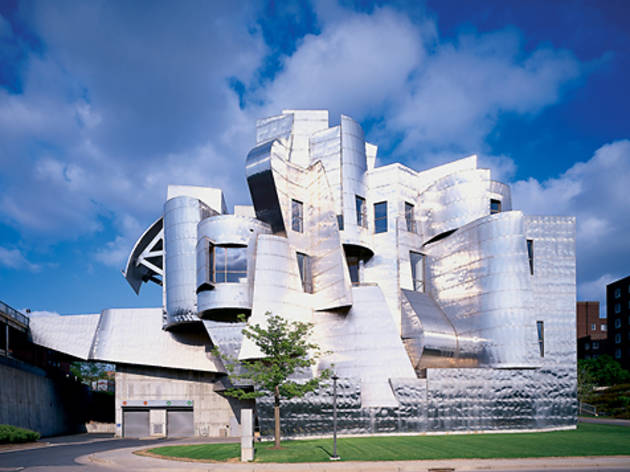 5/6
Photograph: Andrew Nawrocki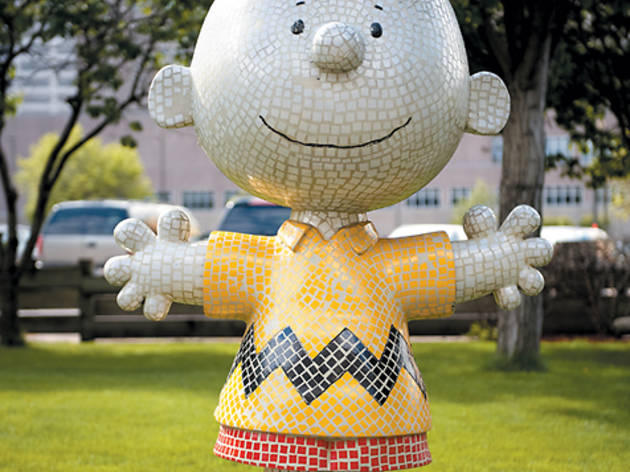 6/6
GETTING THERE By train Amtrak from Union Station (800-872-7245, amtrak.com) Time 8.25 hours Price $134 round-trip [2010]
Somewhere outside the Dells, I'm sharing a half-bottle of Italian wine with a stranger, the fiftysomething lawyer from Chicago who's seated next to me in the communal dining car of the Empire Builder, Amtrak's northwest passage from Chicago to Seattle. I'll be left off along the way in St. Paul around 10:30pm, but in the meantime, I watch a patchwork of fields flit by and marvel at the menu's claim that the pan-seared walleye over Minnesota wild rice I ordered will "harmonize admirably with our chilled, crisp pinot grigio." Well paired, Amtrak: It does.
If kitten-calendar wisdom holds true and life really is about the journey, then my Minnesota arts and culture trip is already a success: The ride is smooth, with only the light chatter of college kids, elderly couples and a few Amish people adding to the rolling whir of the train's heavy wheels. Between the ample legroom, bow-tied stewards and the glass-walled sightseeing car outfitted with a bar, I wonder how bus companies can compete. (The answer, of course, is the lousy one-train-per-day schedule, the inconvenience of being left off in an industrial corner of St. Paul, and ticket prices of $58 to $128 each way—more than twice the price of a bus ticket.)
But the journey goes by quickly, and I arrive ready for sleep. A morning brunch at Colossal Café, a cozy, 14-seat neighborhood café, brings housemade baked goods and oddly delicious creations such as pancakes swimming in maple syrup, apples, walnuts and Brie; and its specialty, ridiculously indulgent pancake sandwiches dubbed Flappers.
Sated, we're ready to take on the Walker Art Center, the crown jewel of Minneapolis's arts offerings. We'll have to pace ourselves, as there's plenty else in town to see: Over the past five years, more than $230 million has been invested in radical revamps of the Walker, the Guthrie Theater and the Weisman Art Museum alone (the latter project is still under way).
At the Walker, a volunteer sends us up the elevator to the sixth floor of the light, airy building, suggesting we work our way down to take in pieces by modern and contemporary artists such as Alberto Giacometti, Picasso, Dan Flavin, Sol LeWitt and dozens of other art history–class icons.
The nine-story museum, known as much for organizing ambitious touring exhibitions as for its striking geometric metal-and-glass 2005 expansion, is ranked with New York's MoMA and Guggenheim museums as one of the nation's "big five" museums for modern art. Yet it's surprisingly conquerable, with about half its space dedicated to performances, events and refreshments, including the new Open Lounge outdoor bar. Of course, no Walker visit would be complete without snapping a few photos across the street in front of Claes Oldenburg and Coosje van Bruggen's iconic Spoonbridge and Cherry, the centerpiece of the Minneapolis Sculpture Garden.
Full of art but hungry for some of St. Paul's notoriously delicious and ubiquitous Vietnamese cuisine, we cross the river to Ngon Vietnamese Bistro in the Frogtown neighborhood. Specializing in local and sustainable fare, the casually elegant spot is run by a Vietnamese-American and his Minnesotan wife who have fused their cultures on the menu. Take the elk medallions, for example, served with bacon daikon cake and hoisin ginger sauce. But the real draw is the beef pho, heralded by many critics as the best in the Twin Cities.
We finish the night back in Minneapolis at Donny Dirk's Zombie Den, a bar with a retro Vegas-lounge vibe in an industrial zone off the highway. Pseudo-scary B flicks like Piranha add to the Halloween-like feel as friendly bartenders decked out in blood-spattered Shaun of the Dead–style shirts and ties shake up mystery cocktails from a menu that reads like a series of name-that-horror-film riddles.
Day two starts at 10am with a 45-minute backstage tour ($10) of the Guthrie Theater, an impressive rounded black behemoth The New York Times dubbed a "first-rate repertory theater." Built into the side of a hill along the river, the 2006 Jean Nouvel design looks as if it could've been dropped here by an alien civilization—but the attitude inside is nothing but down to earth. The Guthrie's website encourages ticketless visitors to make use of the free Wi-Fi or just hang out and enjoy the view, especially from the cantilevered lobby that juts out toward the Mississippi. Guided architecture tours are also available ($20).
Our next stop is the University of Minnesota–run Weisman Art Museum [note: museum will be closed through Fall 2011 due to renovation] . While the free museum's collection, specializing in American modernist paintings, can't compare to the Walker's, the Weisman stuns with its silver, Frank Gehry–designed exterior, reportedly the architect's first shot at piecing together an art museum with massive metallic panels (take that, Bilbao).
We shake off the arts frenzy with some shopping at Cliché, featuring a well-curated mix of local and national designers. Prices seem reasonable by Chicago standards, with dresses running between $50 and $150. Minneapolis's vintage scene is worth a look, too. Recently opened Blacklist Vintage houses a remarkable selection of mint-condition mod and retro outfits. For 100 percent Minnesota-made goods, we hit Design Collective, a trove of clever Minneapolis-themed T-shirts and jewelry, plus locally designed clothing and accessories.
To raise a glass to all of Minneapolis's incredible arts and culture offerings—which seem outlandishly disproportionate to the city's size—I spend my last night in town in the lounge of La Belle Vie across the street from the Walker. Tim McKee, the restaurant's chef-owner, won a James Beard Award last year, but in typically accessible Minnesota fashion, we walk right in on a Saturday night, sit down and order a round of cocktails and dessert.
WHERE TO FIND IT
Blacklist Vintage 25 E 26th St (612-872-8552, blacklistvintage.com)
Cliché 2403 Lyndale Ave South (612-870-0420, clichempls.com)
Colossal Café 1839 E 42nd St (612-729-2377, colossalcafe.com)
Design Collective 1311 26th St (612-377-1000, designcollective.com)
Donny Dirk's Zombie Den 2027 N 2nd St (612-588-9700, donnydirks.com)
Guthrie Theater tours 818 S 2nd St (612-377-2224, guthrietheater.org)
La Belle Vie 510 Groveland Ave (612-874-6440, labellevie.us)
Ngon Vietnamese Bistro 799 University Ave West, St. Paul (651-222-3301, ngonbistro.com)
Walker Art Center 1750 Hennepin Ave (612-375-7600, walkerart.org)
Weisman Art Museum 333 E River Pkwy (612-625-9494, weisman.umn.edu)