Near, but not dear | Michigan's Harbor Country
Less than a 90-minute trip from the Loop, Michigan's Harbor Country is light on the wallet, heavy on the sun and booze.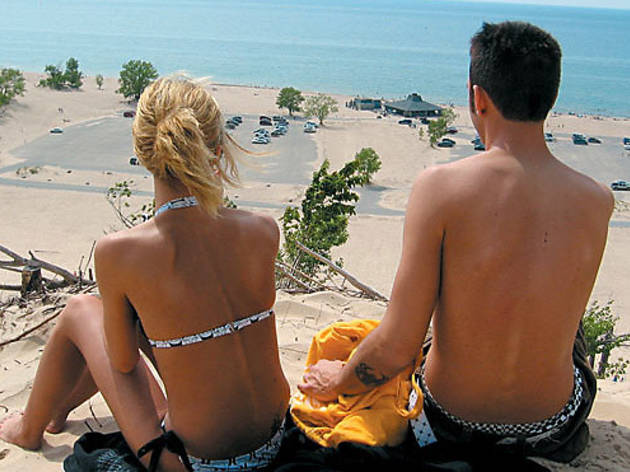 Round-trip 150 miles
Gas $18
A city's weekend getaway spot can say a lot about its character. New Yorkers have the glitzy, elites-only Hamptons, and Chicagoans have unfussy, come-as-you-are Harbor Country. Made up of eight towns (and lovely beaches) hugging Lake Michigan just above the Indiana border, Harbor Country has a chill vibe perfect for perennially jeans-clad Chicagoans.
The beaches are the main draw. New Buffalo Public Beach, with its wide swath of pebbly sand and smokestacks looming on the horizon, feels much like a city beach. On the plus side, there's parking (up to $10 for the day), lifeguards and a concession stand featuring ice cream from local spot Nancy's By The Lake. But since the beach is next to the marina and boat inlet, the waters can be a boat jam on weekends. Just a block from the water, Whittaker Street is lined with cafés perfect for a quick bite pre- or post-beach. Try Bentwood Tavern (600 W Water St, 877-945-8600), a gastropub with a sunny patio. Located in the Marina Grand resort, Bentwood serves pizzas from a wood-burning oven and piadini, pizza crust stuffed with salmon or spinach, plus microbrews and local wine.
After lazing on the marina deck (service is friendly but slow), work off your pizza with a little paddling. The Third Coast Surf Shop (22 S Smith St, 269-932-4575) rents kayaks and boards, from surf to boogie to paddle. Outpost Sports (105 W Buffalo St, 269-469-4210) will drop you and your kayak off on the Galien River for a two-hour paddle back to the beach ($50 per kayak).
Warren Dunes State Park in Sawyer has a nicer public beach—the sand is smooth and fine, with tiny pebbles at the water's edge. Up and down the coast, there's nothing but sand and trees, kids building sand castles, and couples reading or sleeping on towels. A 240-foot dune makes for great climbing before you hit the water.
People hoping to avoid the piercing screeches of children frolicking in the sand can hit up local hotels that offer access to quieter, less-trafficked beaches. The Inn at Union Pier (9708 Berrien St, 269-469-4700; $155/night and up) features 16 rooms (our fave is the summer-themed room with creamy yellow walls and a wood-framed bed) and a fantastic breakfast, and it's steps from the lake. At this beach, the sand turns from a moist dark gray to a finer, paler blond as you make your way to the water. Spend the day luxuriating in the sun and pretend one of the million-dollar homes lining the beach is yours.
If you dig the glassy stare of mounted animal heads, head to the quintessential 1920s lodge/hotel Lakeside Inn (15251 Lakeshore Rd, Lakeside, 269-469-0600; $115/night and up), featuring a front porch lined with rocking chairs and original stone fireplaces. Lakeside's sister digs, the Gordon Beach Inn (16220 Lakeshore Rd, Union Pier, 269-469-0800; $85/night and up), is home to fine-dining restaurant Timothy's (16220 Lakeshore Road, 269-469-0900), a spot to splurge on fresh seafood and creative dishes like lamb with Worcestershire-mint sauce.
Once you tire of sand between your toes, head inland for culture and vino. Three Oaks, six miles from New Buffalo, is home to a burgeoning arts community. The Acorn Theater (107 Generations Dr, 269-756-3879), a live-performance space in a former corset factory, hosts acts ranging from cabaret to rock. Elsewhere in town, the Vickers Theatre (6 N Elm St, 269-756-3522) shows indie films and at Nelson's Saloon (18 S Elm St, 269-756-6161), bartenders do double duty by cooking your burger.
Soak up some rays—and some wine—by riding the Lake Michigan Shore Wine Trail. Rent your two-wheeler at Dewey Cannon Trading Company (3 Dewey Cannon Ave, 269-756-3361) and grab a map of the area, which lists mileage and tips (such as hit only four stops per day and designate a driver to haul your drunken self and your bike back to town). Stops include Domaine Berrien (398 E Lemon Creek Rd, Berrien Springs, 269-473-9463) and Round Barn Winery (10983 Hills Rd, Baroda, 800-716-9463), whose weekend-only café with outdoor seating serves dishes like ratatouille pizza and asparagus gazpacho—perfect for absorbing several glasses of wine so you can hop back on that bike.