Travel to Harbor Country, Michigan
These lakefront cities in Michigan offer a quaint escape without giving up amazing amenities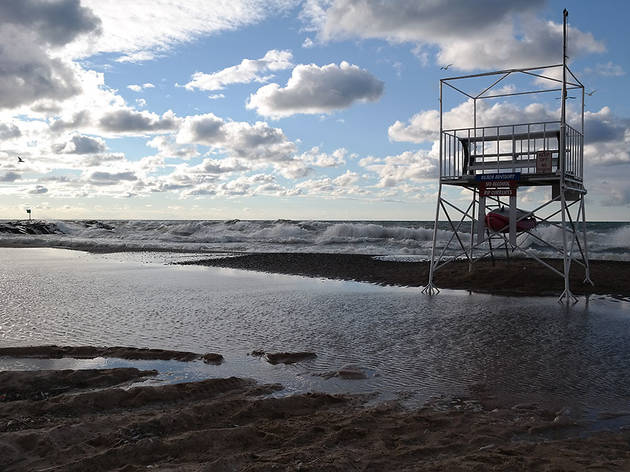 RECOMMENDED: More weekend getaways from Chicago
The drive to New Buffalo is a breeze—about an hour and 15 minutes from Chicago whether you drive or take Amtrak. With a population of less than 2,000 permanent residents, the small city on the water feels like every bit of an old resort town (complete with yachts and floppy hats) during summer, but a journey to this southwest corner of Michigan in winter is a perfect escape from the holiday hubbub.
If traveling by train, Amtrak will drop you off near The Harbor Grand (111 W Water St, 269-469-7700, harborgrand.com), where a stay feels like home but cozier, with an in-room fireplace and harbor view (or glimpse of frozen lake). Visit the hotel's Terrace Room for a comforting Italian dish like spaghetti and meatballs (described as Grandma's family recipe with sweet marinara) and a Journeyman's Tuscan Tea (like a Long Island with bourbon, it'll keep you warm). Or pop over to Bentwood Tavern (600 W Water St, 269-469-1699) and watch the fire roar around your wood-fired pizza in the open kitchen.
A quick jaunt (seven miles) north takes you to Three Oaks, a small village that's home to Journeyman Distillery (109 Generation Dr, 269-820-2050, journeymandistillery.com), where you might prefer to sit all day and sip a flight of whiskeys. But you'd also be remiss not to try the Cable Car (Featherbone bourbon, lemon, simply syrup and ginger beer) or the Butcher's Bloody Mary. The intimate space is warm and inviting, with a laid-back bar and rustic tables by windows and exposed brick walls. Order the pulled pork (it's like the best Sloppy Joe you've ever had) or garden veggie sandwich on pretzel buns.
Walk it off by visiting some of the area's best stores, like Blais Design (1 Oak St, Three Oaks, facebook.com/blaisdesign), offering up everything from crafty knick-knacks and cookbooks to jewelry, purses and vintage-style lamps in an old train station setting. If you've got lots of time to kill (and money to blow) Trilogy Antiques & Designs (19 S Elm Street, Three Oaks, 269.756.3300, trilogyantiques.com) is a mega-must. But simply calling the 5,000-square-foot co-op an antique store feels wrong. It's more like a fantastically curated gallery with modern paintings, strange artifacts from faraway lands, maps and more. Take home a giant robot made of ductwork, a dinosaur carved in wood, elegant pottery, rustic furniture and more. If you're looking for an edible souvenir instead, check out Froehlich's Bakery (26 N Elm St, Three Oaks, 269.756.6002, shopfroehlichs.com) for jams, jellies, marinades or other snacks.
Suffice it to say you could easily spend a weekend exploring all this area has to offer. In the morning, hit the open highway and head north through the trees toward Harbert, where you'll want to stop for Swedish pancakes with lingonberries at Luisa's Café (13698 Red Arrow Highway, 269-469-9037, harbertswedishbakery.com). Just over a mile away in Sawyer, make a pit stop at Sojourn (12908 Red Arrow Hwy, 269.426.4247, sojournastore.com) if you want to outfit your abode with the hippest furniture, rugs and coffee table books and maybe even buy yourself a funky little piece of handmade jewelry.
Cap off your adventure with a visit to Greenbush Brewing (5885 Sawyer Rd, Sawyer, 269-405-1076, greenbushbrewing.com), where you'll likely plop down in a barstool in the industrial-style taproom for hours (especially if you're drinking the Distorter, a cross between a rich porter and a stout that clocks in at 7.2% ABV). When it's time to go home, you can take a little piece of Harbor Country with you when you stop into the Greenbush annex across the street and build a six-pack or take home another brewery souvenir like a T-shirt, pint glass or even beer soap.