Travel to Holland, Michigan
Holland, Michigan is the perfect getaway from Chicago this spring, complete with wooden shoes, tulips and windmills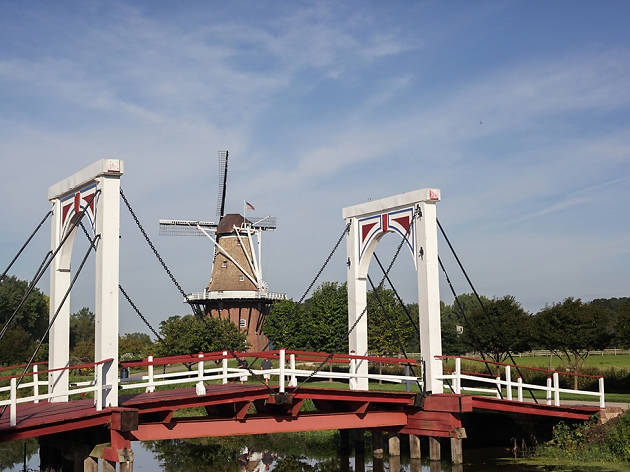 RECOMMENDED: More weekend getaways from Chicago
You don't have to travel over the ocean to explore Dutch history. Go Dutch in a couple of hours when you drive (or travel three hours by Amtrak) to Holland, Michigan, near the eastern shore of Lake Michigan on Lake Macatawa.
Since the mid-19th century, when Calvinist separatists arrived from the Netherlands, this small city has been home to wooden shoes and tulips. Get a real sense of the color and culture during the Tulip Time Festival (May 7–14; tuliptime.com), and spend hours visiting the Windmill Island Gardens (windmillisland.org). Explore a working 250-year-old Dutch windmill—"De Zwaan," a.k.a. "graceful bird"—or stroll 36 acres of pristine lawns; bring your picnic blanket and a camera—the canals are Instagram-worthy. During the day, you can catch a tour of the 125-foot windmill from a guide in traditional plaid Dutch garb. Need even more flowers? See more than 5 million in bloom in April and May at Veldheer Tulip Gardens (12755 Quincy St; 616-399-1900, veldheer.com). To take home a piece of Holland, though, you must not miss De Klomp Wooden Shoe and Delft Factory (12755 Quincy St, 616-399-1900) where you can also enjoy a free tour of the famous, centuries-old pottery maker from the Netherlands.
If you want to see how the early settlers lived, visit the Holland Museum (31 W 10th St; 616-392-9084, hollandmuseum.org; $7). The more than century-old Dutch architectural style building with grand columns also includes a permanent gallery featuring more than 1,000 Dutch artifacts and photos, from paintings to exhibits that date back to the Netherlands Pavilion at the 1939 New York World's Fair.
But Holland isn't all quaint cuteness. You can wine and dine well here, too. Throw back a Mad Hatter IPA and have a hearty burger (or tempeh, if you prefer) at New Holland Brewing Company (66 E 8th St; 616-355-6422, newhollandbrew.com). For dessert, beeline for the Dutch sugar bread from deBoer Bakkerij (360 Douglas Ave; 616-396-2253, deboerbakery.com). Counting calories? A 20-minute drive takes you to the challenging (but not too challenging) hike at Saugatuck Dunes State Park (6575 138th Ave). Surrounded by 300 acres of nature and dunes that rise up to more than 200 feet tall, you won't have a care in the world walking along this long, sandy shore.