Heads up! We're working hard to be accurate – but these are unusual times, so please always check before heading out.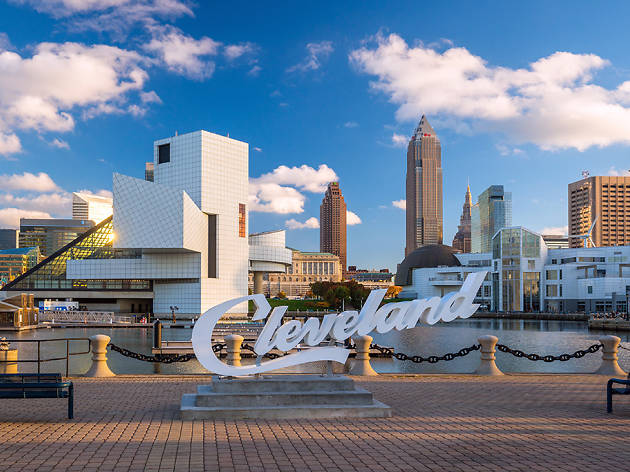 24 awesome things to do in Cleveland
Exactly where the East meets the Midwest, Cleveland is a must-visit. Here are the best things to do while in town.
The word is out by now: Cleveland is actually kind of cool. Lauded as the Comeback City, it's a place in the process of reinventing itself without forgetting the things that have always made it great. Situated at a geographical and cultural crossroads, Cleveland is the point in the country where the East meets the Midwest—and the restaurants, hotels and activities that make the city unique reflect just that.
So, are you ready to explore the town properly? We're here to help: Check out our list of the best things to do in Cleveland, curated by local experts but in no particular order (we couldn't rank this list—they're all must-dos!), for a guaranteed fun time.
Best things to do in Cleveland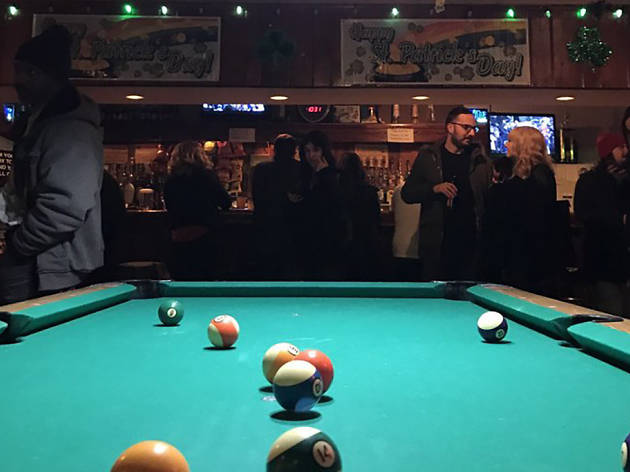 Photograph: Courtesy Yelp/Rosa Y.
Tina's Nite Club is about as unpretentious as it gets: a windowless, cinder block square of a building sitting just off the main drag of the Gordon Square arts district. Those who brave the inside, though, will be rewarded with the most eclectic karaoke the city has to offer. Did we mention three bucks for a beer from Great Lakes Brewing Company? Tina's is a perfectly Cleveland way to cap off a night out—just be sure to put in your song requests early… or not at all?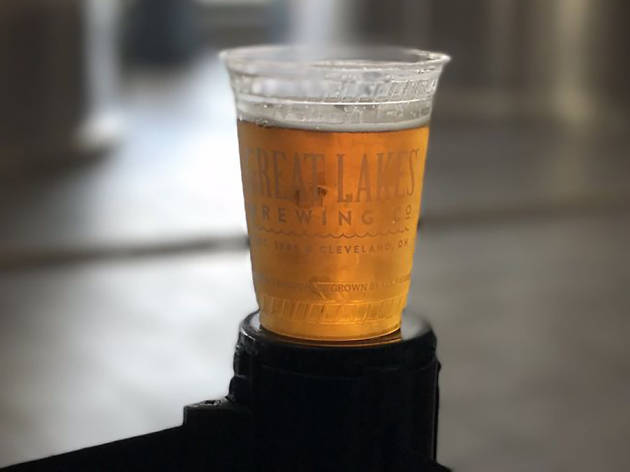 Photograph: Courtesy Yelp/Gerry S.
2. Great Lakes Brewing Company
West 25th Street has earned the nickname "The Walking Hangover" for the abundant presence of bars and breweries all over it. Great Lakes Brewing Company, which helped pave the way for the craft beer movement, calls the neighborhood its home, and you can snag an informative tour with generous beer samples for only $5. Worthy neighbors Hansa Brewery and Market Garden offer tours and samples as well.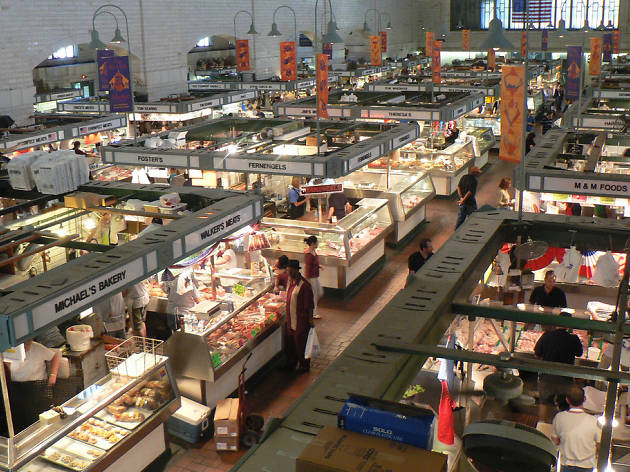 Photograph: Courtesy CC/Flickr/stu_spivack
At over 100 years old, the West Side Market continues to be Cleveland's greatest and most exciting food tradition. More than 100 food stalls offer a dizzying array of smoked meats, seafood and spices from Cleveland and all over the world. With its high-ceilinged Byzantine architecture, the Market feels like a temple of food—which is almost exactly what it is. Pay homage.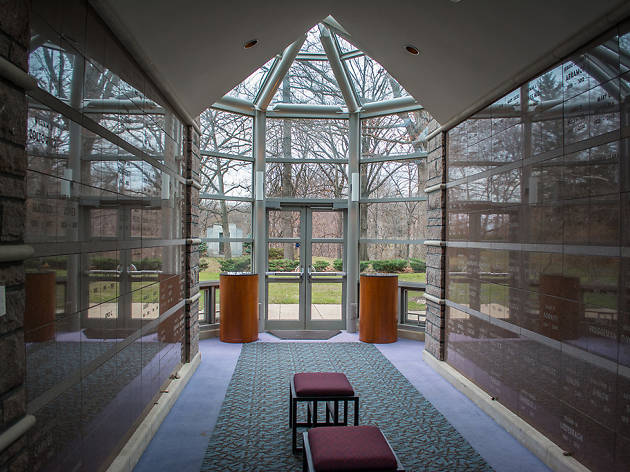 Photograph: Courtesy CC/Flickr/Tim Evanson
Sitting on 285 acres on the hills east of downtown, Cleveland's Lake View Cemetery is like a city into itself. Among its famous residents are Eliot Ness, James A. Garfield and John D. Rockefeller. Visitors will find beautiful landscapes, elaborate architecture in the monuments and chapels, and free concerts during the summer.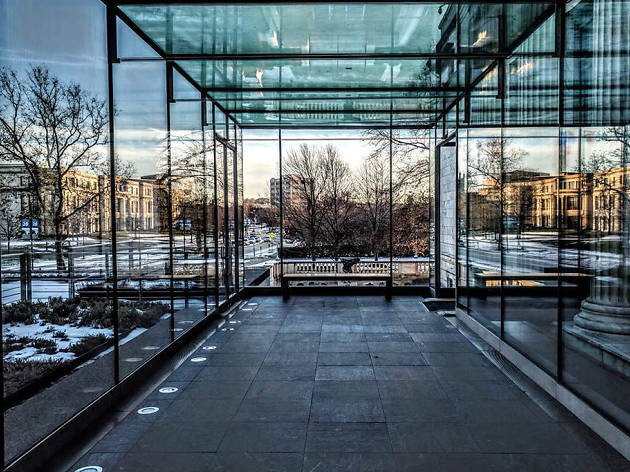 Photograph: Courtesy CC/Flickr/junaidrao
5. Cleveland Museum of Art
One of the nation's last great free art museums, the Cleveland Museum of Art is perhaps the city's crowning cultural gem. The enormous collection spans thousands of years and features well-known works from Picasso, Dali and Monet. If that's not enough, Provenance offers brunch as an excellent prelude to browsing, and the monthly MIX party lets you dance in the world-class atrium.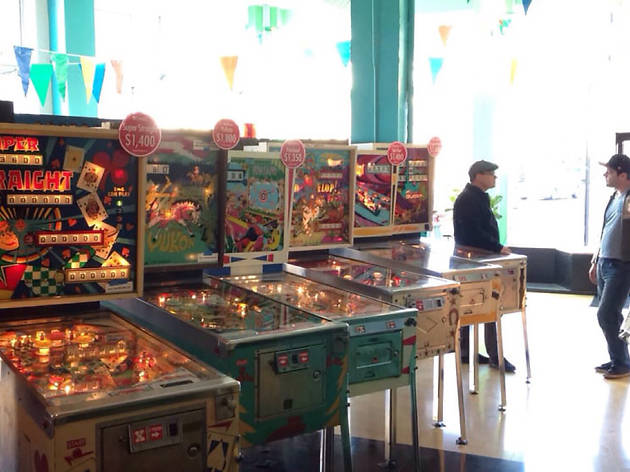 Courtesy Yelp/Amy K.
6. Superelectric Pinball Parlor
Sometimes, old-school games are the best ones. Situated amid the avant-garde theaters and hip restaurants of Gordon Square, Superelectric Pinball Parlor offers pinball and other arcade classics both retro and current. Bring your quarters, or more: the units are on sale, which means you could be leaving with an amazing addition to your living room.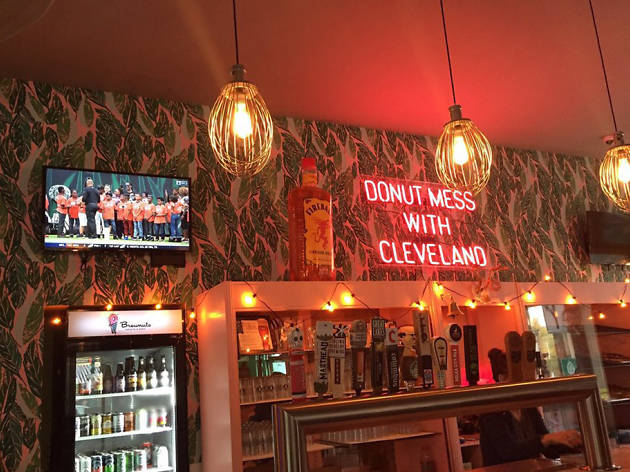 Photograph: Courtesy Yelp/Diana L.
Travelers searching for a way to enjoy both beer and fried dough need look no further. Cleveland's Brewnuts is open in the morning for doughnuts and the evenings for beer (or vice versa—we don't judge!). The décor is goofy fun, the rotating drafts are local and national, and the seasonal doughnuts, which regularly incorporate bacon and/or breakfast cereals, are creative and delicious. What else could you ever dream of?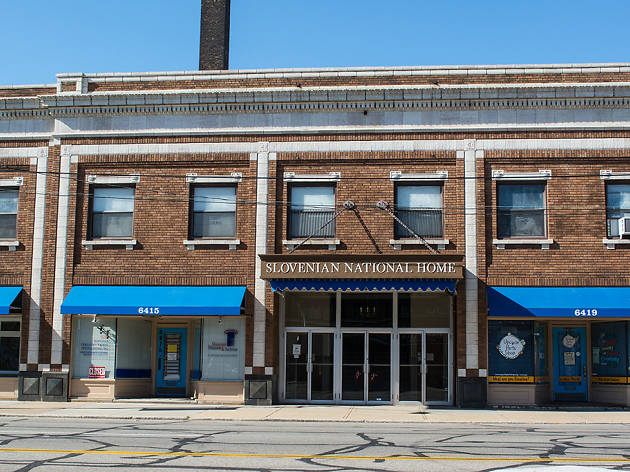 Photograph: Courtesy CC/Flickr/Tim Evanson
8. Slovenian National Home
Cleveland, long a haven for migrant Slovenes, is where you'll find the hundred-year-old Slovenian National Home. The inconspicuous St. Clair-Superior institution isn't always open to the public but watch out for killer fish fry events hosted during Lent and Social Nights and special happenings at least once a month throughout the year. If walking into this charmingly dated space doesn't convince you you've stepped back in time, perhaps the ultra-low beer prices will.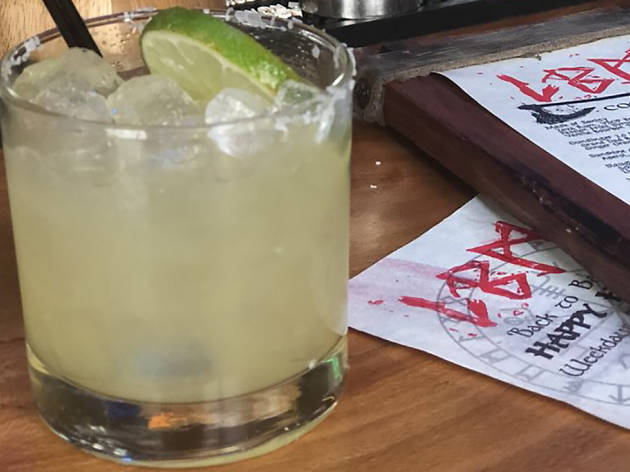 Photograph: Courtesy Yelp/Renee B.
Cleveland has a great craft cocktail scene, from the early trailblazer Velvet Tango Room to the national tiki darling Porco. But there's only one cocktail bar where you can drink like a Viking—and no, we do not mean the Minnesota football team. LBM (customers have to guess what that stands for) is decked out like the coolest bar in Valhalla. The drinks are hyper-seasonal, eminently affordable and will have you toasting to Odin in no time.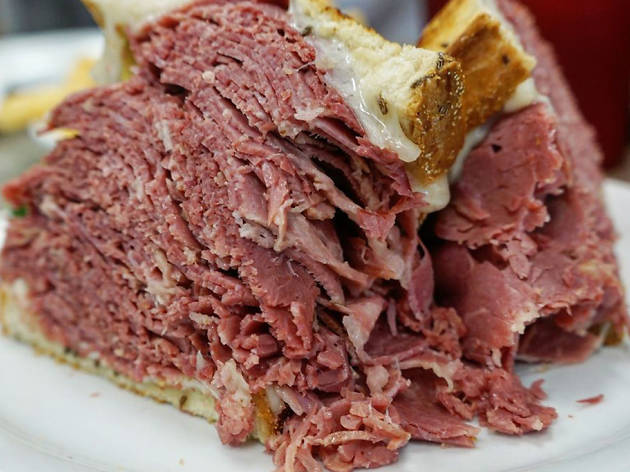 Photograph: Courtesy Yelp/Monica B.
New York can keep Carnegie Deli. Cleveland has Slyman's. This stalwart deli of the St. Clair-Superior neighborhood is famous for stacking its salt-kissed corn beef sandwiches to the approximate height of a small mountain. Slyman's is no-frills, old-school deli dining at its finest—a quintessential Cleveland experience.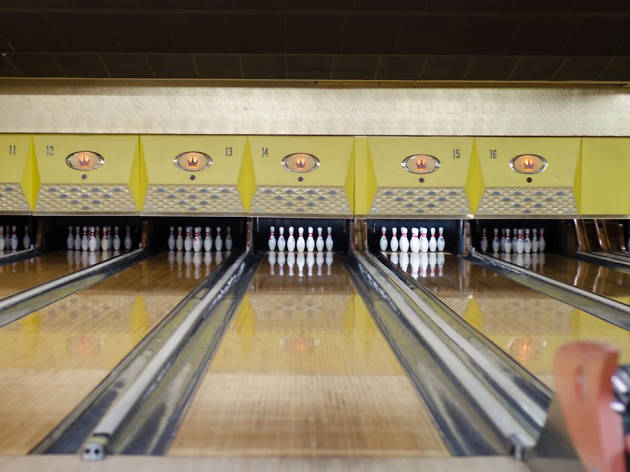 Photograph: Courtesy Yelp/Jed C.
Mahall's in Lakewood has some variety for you. It's the only Cleveland venue where you can bowl on vintage lanes, order farm-to-table fried chicken and catch a band or some stand-up comedy, all without leaving the building. It's hard to be a venue this truly eclectic and pull it off so well, but Mahall's does it with aplomb.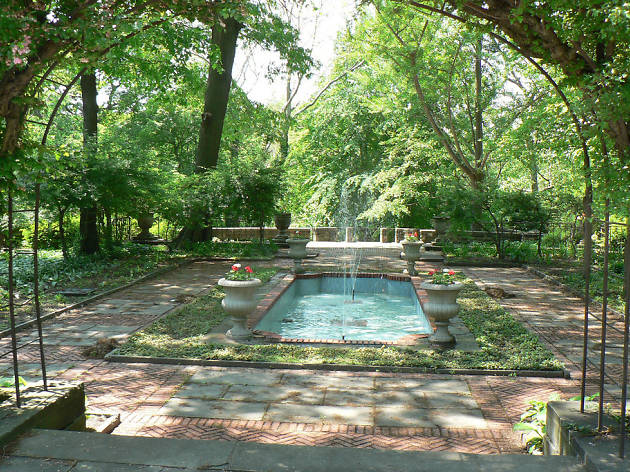 Courtesy CC/Flickr/stu_spivack
12. Cleveland Cultural Gardens
Cleveland is a city of immigrants, as proven by the Cleveland Cultural Gardens. Settled on a miles-long stretch of Rockefeller Park, the site is home to over thirty gardens, each one celebrating an immigrant group in the city. Most people drive through it, but the best way to appreciate the beauty of these gardens is by bike or on foot.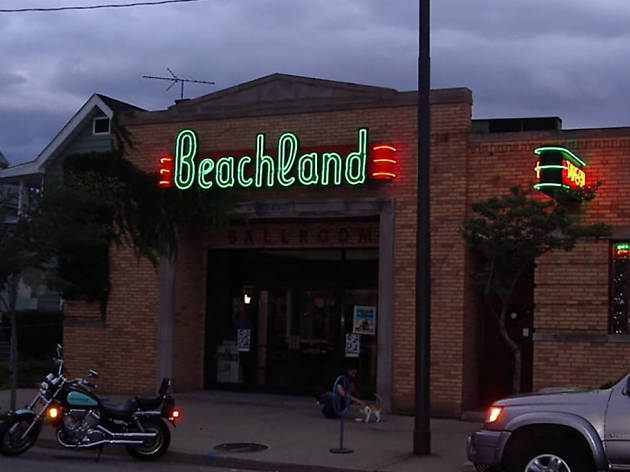 Photograph: Courtesy Yelp/Jarrod B.
13. Waterloo Arts District
Audiophiles, rejoice: there may be no better street for music and art lovers in Cleveland than the main drag of the Waterloo Arts District. It's home to the Beachland Ballroom, a standout among the city's excellent music venues that also happens to serve the best brunch in Cleveland. Just a block or so away stands Blue Arrow Records, an essential vinyl shop that also houses a record label, and a string of industrial-themed art galleries.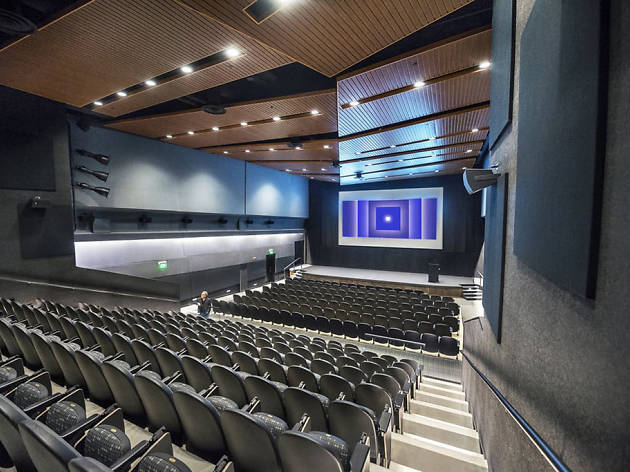 Photograph: Courtesy Yelp/The Cleveland Institute of Art Cinematheque
14. Cleveland Institute of Arts Cinematheque
Recognized by The New York Times as one of the nation's best repertory movie theaters, the Cleveland Institute of Arts Cinematheque has been screening the best foreign films, obscure classics and avant-garde releases since its founding in 1986. It moved down the street to its current location in 2015 and, we have to say, the seats are a lot comfier. Bring your own popcorn (it's encouraged!) and enjoy a movie-going experience guaranteed to be 100% superhero-free.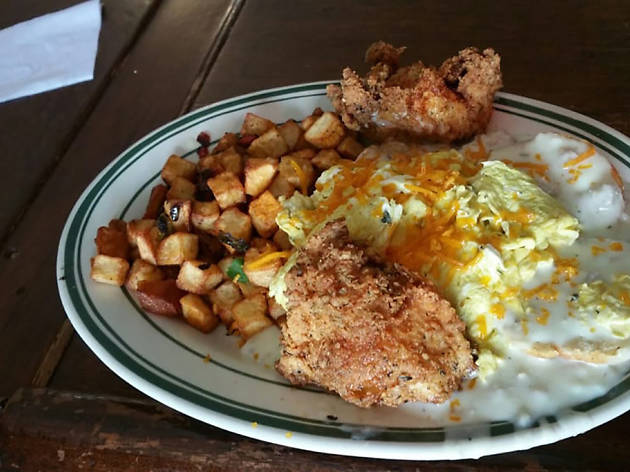 Photograph: Courtesy Yelp/Sol B.
15. Prosperity Social Club
Cleveland is a city of many ethnic enclaves and the folks at Prosperity Social Club are well aware of that. The Tremont bar mixes old school and new with its wonderfully restored, 1920s wood-panel interior, a fantastic Polish beer selection and a kitchen serving killer wings and pierogis. Every Wednesday features live polka and ethnic specialties like kielbasa and cabbage noodles.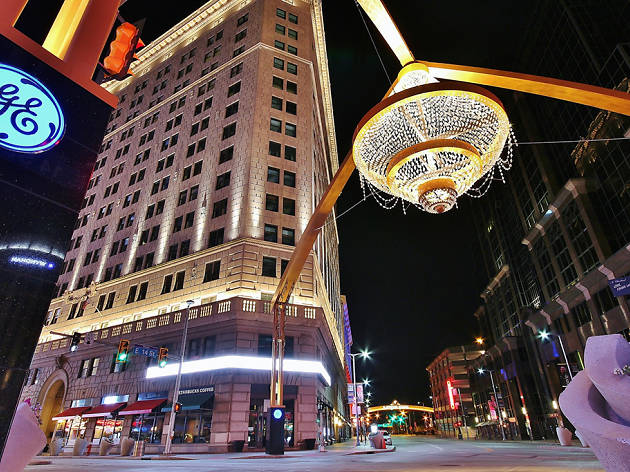 Photograph: Courtesy CC/Flickr/k_e_lewis
When you see the giant chandelier hanging above Euclid Avenue, you'll know you've reached Playhouse Square. As Cleveland's premiere theater district, Playhouse Square claims to be the largest performing arts center outside New York's Lincoln Center. It plays host to touring Broadway shows, dramatic productions from the outstanding Cleveland Play House and the odd comedian or live podcast recording. And let's not forget the largest outdoor chandelier in the world!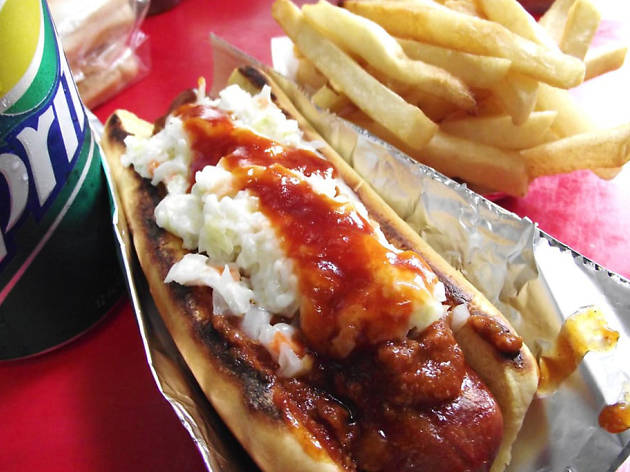 Photograph: Courtesy Yelp/Seti M.
The Polish Boy is a uniquely Northeast Ohio creation. Smoked sausage shares a bun with slaw, fries and sweet barbecue sauce. Polish food meets soul food: it's Cleveland on a bun. You'll have to do some legwork to track down Seti's Polish Boys, one of the greatest purveyors of this local food: they're on a roving food truck. Lucky for us, the Facebook page carries regular updates of their mostly near-West Side whereabouts.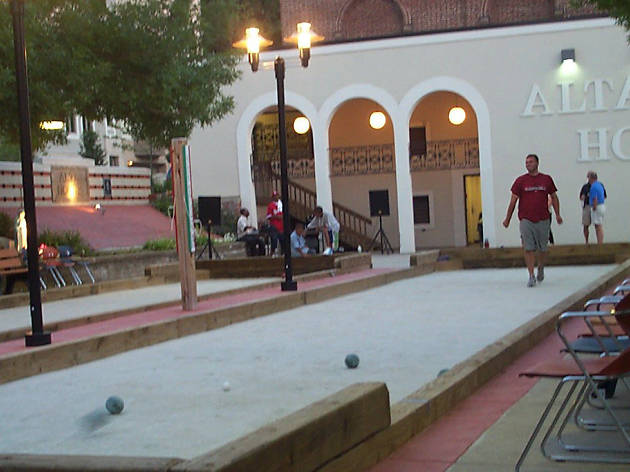 Photograph: Courtesy CC/Flickr/stu_spivack
With its red brick buildings, narrow street and bakeries on every corner, Cleveland's Little Italy is a neighborhood straight out of The Godfather Part II. The Alta House at the base of Murray Hill provides courts for that quintessential Italian-American lawn activity: bocce. Invest in a bocce set, go on a warm summer night (avoid league nights Tuesdays and Thursdays) and don't forget the cigars.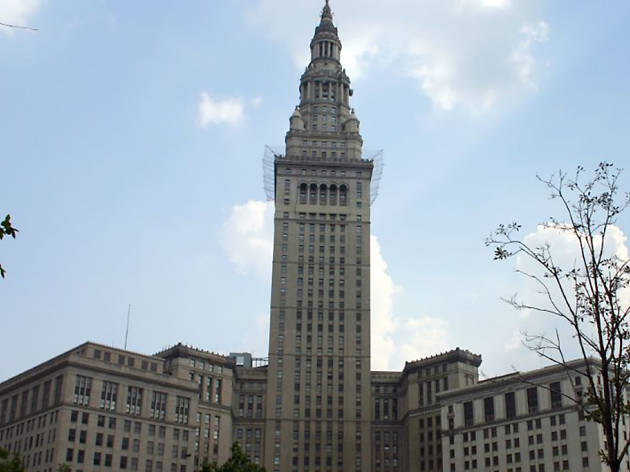 Photograph: Courtesy CC/Flickr/Alexey Sidorenko
Located at the heart of downtown, Cleveland's Gateway District is more than just a place to hang out before a Cavs or Indians game (which we highly recommend). The East 4th Corridor is home to some of the finest dining in the city. From there, it's a short walk to the Terminal Tower, the city's striking original skyscraper, and to the newly revitalized Public Square.
Photograph: Courtesy CC/Flickr/davjdavies
Cleveland's museums don't end at the Museum of Art. In University Circle, you'll find the Museum of Contemporary Art with its breathtakingly sleek design. The Museum of Natural History has a T-Rex fossil and the taxidermied remains of heroic sled dog Balto on display. The Dittrick Medical History Center, lesser known even among locals, is well worth a visit for its fascinating and occasionally stomach-churning exhibit on the history of contraception. Ready or not, a whole lot of art awaits.
Photograph: Courtesy CC/Flickr/Erik Drost
Ranked among the top ten orchestras in the world, the Cleveland Orchestra is known for producing musical excellence. Severance Hall, the orchestra's glorious home base, takes a pleasantly un-stuffy and welcoming approach to first-timers and infrequent orchestra visitors. In the summer, you can catch the orchestra south of the city at Blossom Music Center playing accompaniment to movies like Superman and Star Wars.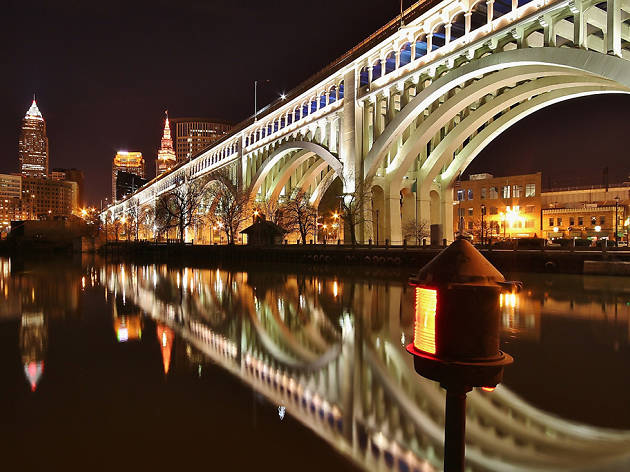 Photograph: Courtesy CC/Flickr/k_e_lewis
The Flats are something of a microcosm of Cleveland itself. A collection of bars and restaurants on the banks of the crooked Cuyahoga River, The Flats have been up and down as the city struggled to find its footing through the latter half of the twentieth century. Now, Cleveland's in a renaissance, and The Flats are too. Fun venues like Punch Bowl and Collision Bend Brewery create a booze-fueled meeting place for the city's river-divided East and West Sides.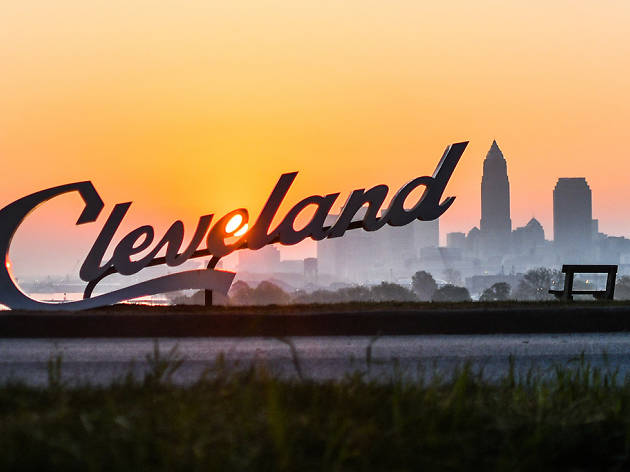 Photograph: Courtesy CC/Flickr/Erik Drost
Lake Erie is an abundant resource for Cleveland, and there's precious few public points of access within city limits. But you could spend an entire day walking among lakefront attractions at the Northcoast Harbor. The famed Rock and Roll Hall of Fame looms large and its neighbor, the Great Lakes Science Center, is a worthwhile visit for families or anyone with a mind for curiosity and fun. Maritime attractions like the USS Cod submarine and the William G. Mather Steamship round out a waterfront day.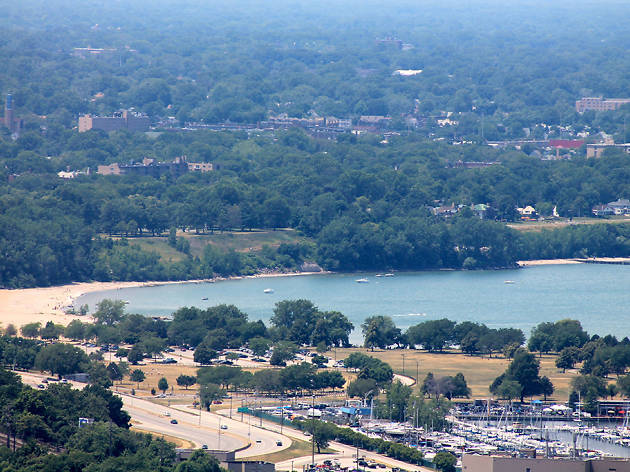 Photograph: Courtesy CC/Flickr/Jon Dawson
Anyone who still thinks of Cleveland as a dirty city hasn't spent much time at Edgewater Beach. Part of the city's nationally recognized Metroparks chain, Edgewater Beach sits just west of downtown. They don't call the lakes "Great" for nothing: Lake Erie is so vast, you'd be forgiven for thinking you were looking out over a freshwater ocean. A beachouse with local beers and a weekly free concert series make for great accompaniment to the sand and sun.
More of the best in Cleveland
Cleveland is in the midst of a "rust belt revival" and food is a big part of its comeback. From the Italian butchers and Jewish delis of its ethnic East Side to the farm-to-table innovations of its West Side, these are the best restaurants in town.