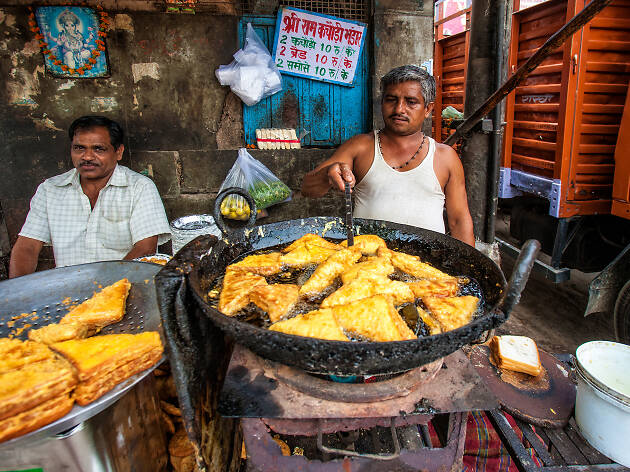 The best Delhi street food
Expect a tasty mixture of cultures and cuisines when searching for (and devouring) the very best Delhi street food
Delhi is a megacity bustling with people. It is overwhelming: the heat, dust, noise and crowds can make the most seasoned traveler wary. But India's capital is also a melting pot of history and culture, filled with exciting things to do and see, including markets, museums and cafés all influenced by the steady influx of traders and immigrants that have shaped the city for centuries.
Delhi's culinary epicenter has undoubtedly been affected by the diversity as well. Food here is a mix of many styles, cuisines, cultures and communities: Middle Eastern recipes brought by the Mughals are married to Punjabi and Sindhi ones originating in Pakistan and Iran. Tibetan and North-East Indian flavours meanwhile add interesting twists. The result is a mind-boggling, tongue-tickling array of offerings that one can only find in Delhi.
Feeding millions of immigrant workers, shoppers, office goers, students and housewives, the Delhi street food served in these stalls is woven into the fabric of the city like its air and water. There is no way you can experience the real Delhi without sampling its street treats, so get going.
Best Delhi street food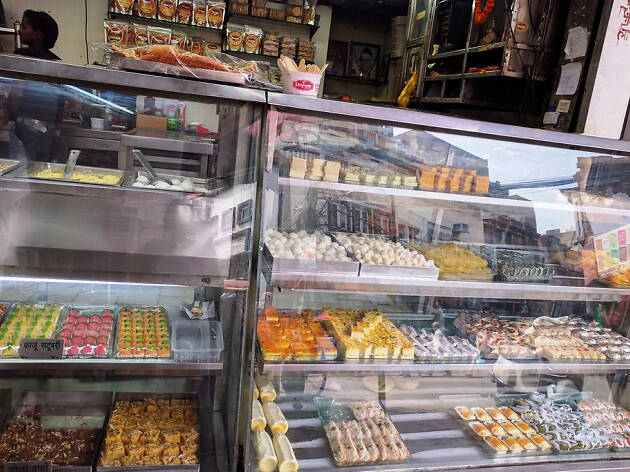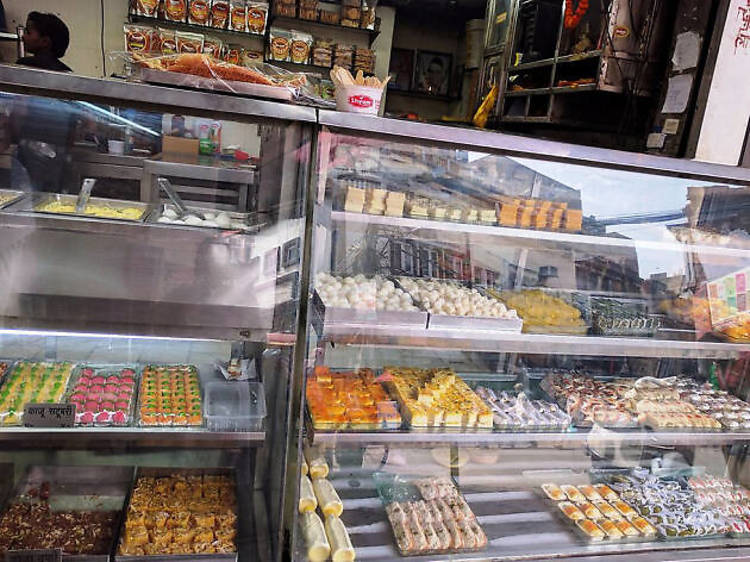 Photograph: Courtesy Tripadvisor/Madhulika L.
This Old Delhi wholesale market specializes in customized wedding cards. It is also the hub of all things Delhi: meandering lanes, crowded crossings, intricate buildings and many, many food stalls. Those who love breakfast must sample the nagori halwa and puri at Shyam Sweets, followed by bedmi kachauri and daulat ki chaat, a frothy soufflé. If you prefer to step out after sunset, though, sampling chaat at Ashok Chaat Bhandar is a must. The best way to end any meal here is with kulfi at kuremal, a 100-year-old shop. Mango, apple, orange, rose, fig or just cream, you can try any flavour you like—or all of them at once.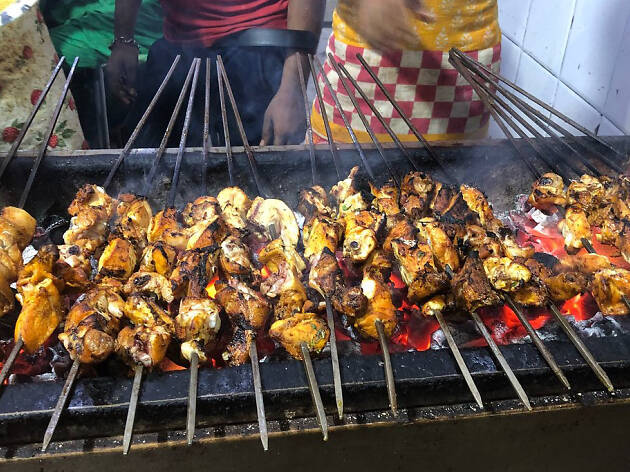 Photograph: Courtesy Tripadvisor/Ankita Chandel
Non-vegetarians can rejoice for this city serves meat like none other. Highly influenced by the cuisine of the Mughal rulers, this area is lined with stalls and carts selling everything from kababs to biryanis to curries, kormas, fried fish, chicken and much more. We recommend butter chicken at Aslam: barbecued chicken served with a sauce of melted butter and mild spices. If the meat gets to be too much, treat yourself to pyar mohabbat maza, a drink made with chilled milk, diced watermelon and water. Finish it all off with shahi tukda, a dessert made with deep fried bread soaked in sugar syrup and topped with reduced milk and nuts.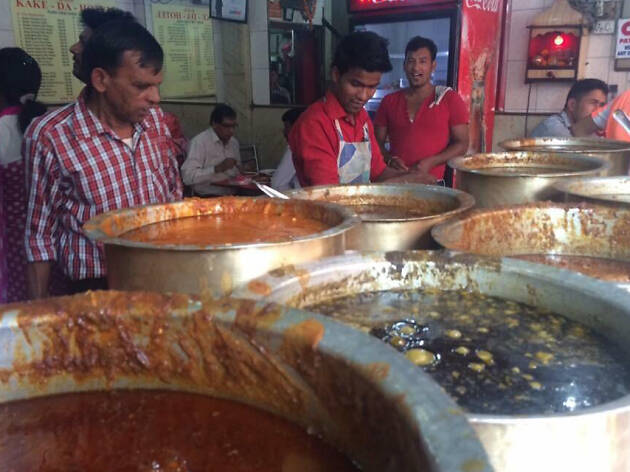 Photograph: Courtesy Tripadvisor/brittany s
A hub of offices, one of the most premium shopping districts and a must-do on every tourist's itinerary, Connaught Place is Delhi's Times Square—only, it is a circle. The many concentric rings of Connaught Place are home to some of the most varied food offerings in town. We suggest some perennial favourites like the mutton curry at Kake Da Hotel and the rajma chawal at Shankar Market. To fuel your shopping and sightseeing expedition, indulge in hot curry with rice, accompanied by a fresh salad.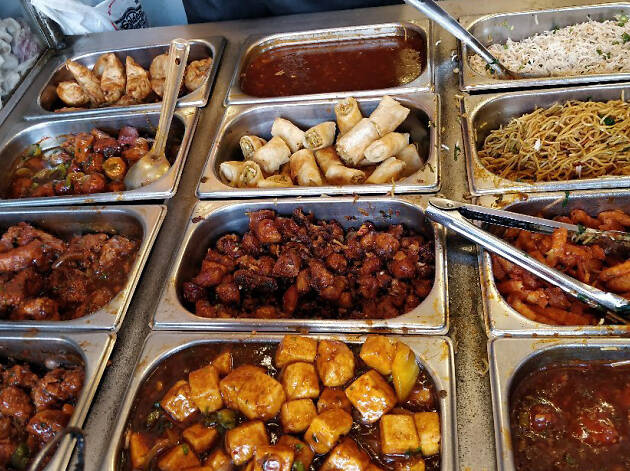 Photograph: Courtesy Tripadvisor/thesizzlingdiary
This shopping district is Delhi's food heaven. A hub for Punjabi snacks like chole bhature, bread pakoda, ram laddoo and chole-kulche, the market is frequented by local families and solo tourists alike. It also serves Delhi's best sandwiches and street-side Chinese: we recommend sausage and salami sandwiches, overflowing with butter, cheese and mayonnaise at Golden Fiesta. Sampling piping hot ram ladoo, deep fried dumpling served with grated radish and a tangy green chutney, is best done at a nameless cart next to Khanna Jewelers at the main market street.
Yashwant Place is an important part of the city's culinary map. Once boasting Delhi's first fast-food chains, it is now known for its pocket-friendly yet delectable food options. Visit Yashwant Place for a wide variety of stalls that serve street versions of Indo-Tibetan fare like spicy noodles, curries, soups and momos. Try the chicken thukpa and steamed or fried momos if you are in the mood to snack on something but opt for a meal of chow mein and chilli chicken on a chilly winter evening.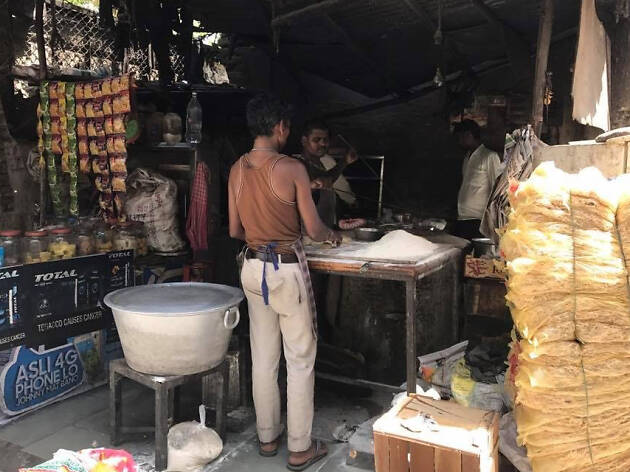 Photograph: Courtesy Tripadvisor/Calle K
6. INA Market and Dilli Haat
The hub of all things food, INA Market is home to the best fresh produce in town. It is also where you'll find many small South-Indian eateries. Completely different from their North Indian counterparts, these places serve authentic meals and snacks. Meanwhile, across the road, the al fresco food court at Dilli Haat is an amalgamation of all kinds of Indian cuisines. Stalls dedicated to regional food serve everything in this handicrafts market and many people come here only to eat. Dosas, kachoris, kahwa, chuski, appams, curries, samosas: the offerings here are seemingly endless.
Home to world famous Urdu poet Mirza Ghalib and millions of refugees from undivided Punjab, this Old Delhi neighbourhood is a treasure trove of centuries-old recipes. Walking through the crowded lanes, sampling kababs, chicken and other street treats prepares you for the feast that awaits at the Manzoor Hotel. Chicken kofta, brain curry, dal gosht and nihari served from large pots must be eaten with khameeri roti, thick fresh bread made in coal fired ovens. On your way back, we suggest you stop at the Old Kheer Shop to try the velvety pudding made by stirring rice and milk together overnight, prepared the same way since 1880.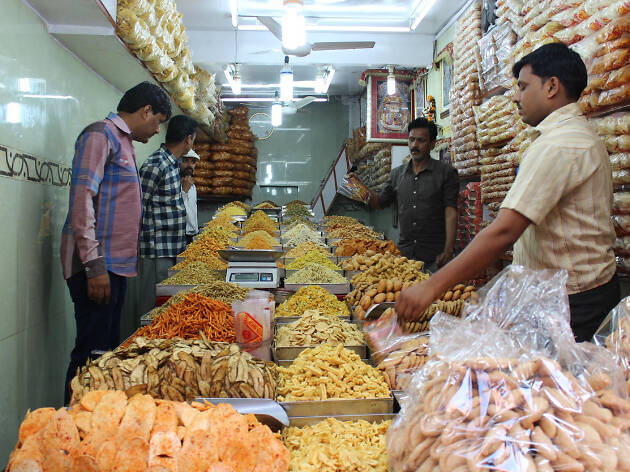 Photograph: Courtesy Tripadvisor/Missynat1125
Delhi's street food is incomplete without the sweets and savouries of Chandni Chowk. Once an elite marketplace of the Mughal Courts, the place is now abuzz with wholesale shops and the world's biggest spice market. Sample parathas at Pundit Gaya Prasad Shiv Charan, a no-frills shop in Parathewali Gali. Made with uncountable kinds of fillings, the parathas here are served with a light curry of potatoes, a preparation of pumpkin and a tangy tamarind sauce. Natraj Dahi Bhalla Corner and Chaina Ram Sweets should be next on your list. While Natraj serves some of the best dahi bhallas in town, Chaina Ram Sweets is famous for its samosas and mithais.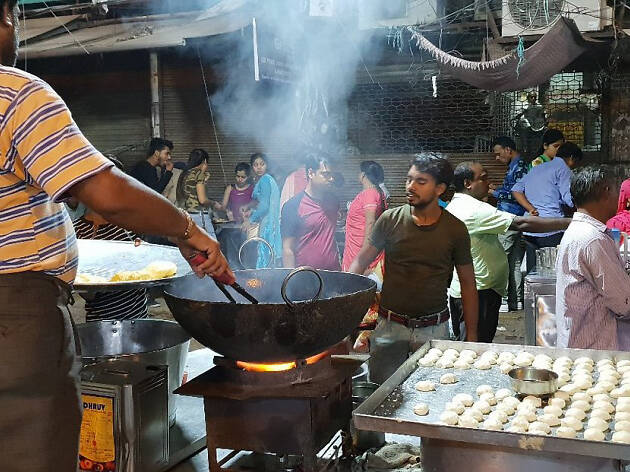 Photograph: Courtesy Tripadvisor/Rosamaria S
Another shopper's paradise, Karol Bagh, is home to designer boutiques, roadside stalls, branded showrooms, hawkers selling cheap rip-offs and, of course, street food vendors dishing out one delicacy after another. Watching people indulge in their favourite food is an interesting way to spend some time here. Trying some food yourself is another. Tera Hotel, a small place that serves fresh dal makhani, a lentil preparation made with cream and butter, is highly recommended. Chole bhature and kulfi at the legendary Roshan di Kulfi should not be missed either. While the chole, boiled and spiced chickpeas in a sauce, can up the heat, the chilled and sweet kulfi with saffron and pistachios will help cool things down.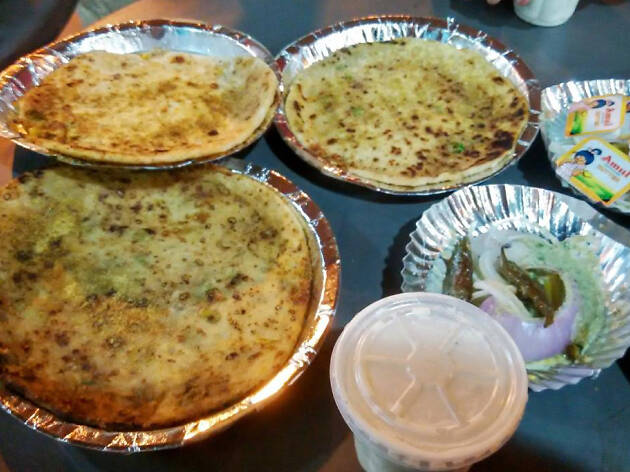 Photograph: Courtesy Tripadvisor/Delhifundos
Parathas are Delhi's staple food. These thick, stuffed discs of dough are rolled and shallow-fried until crisp. Served with a dollop of butter or a bowl of yogurt, they feed thousands every day all over the city. You'll find the very best ones at Moolchand Parantha. What started as a small stall many years ago is now a full-fledged joint with dozens of variants of the humble paratha and beverages to go along with them. Best sampled late at night, these piping hot aloo, paneer and mixed parathas eaten with burning fingertips are the quintessential Delhi treat.
Looking for a more traditional dining experience?
The city's most delicious eateries include an expansive spread of Asian, Mediterranean, European and, of course, Indian meals. This hand-picked list promises the most delicious: from award-winning fine dining venues to trendy new joints and little spots to visit during historic market walks.