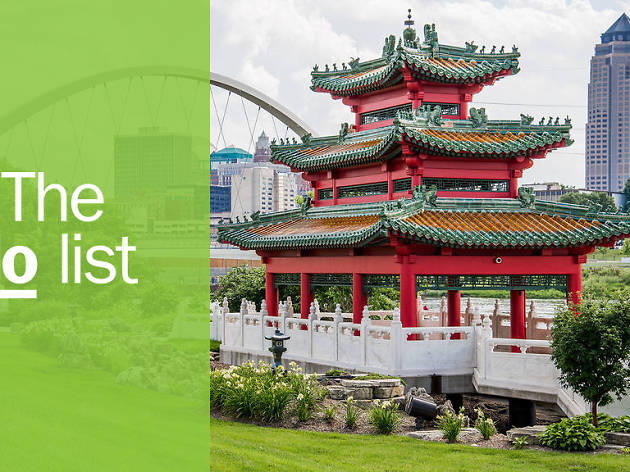 12 guaranteed fun things to do in Des Moines
From a bustling farmers' market to walking and biking trails, the best things to do in Des Moines cover all bases
True, Des Moines gets a moment in the sun every four years during the presidential caucus season. But the city doesn't slow down during the three years between elections, either. Home to one of the most bustling farmers' markets in the Midwest (with about 25,000 attendees each Saturday), a big chunk of delicious restaurants serving fried foods on a stick (and then some) and some truly beautiful hotels, Des Moines is an ideal place to take up residence in or visit. Whether you're a local or it's your first time experiencing "Iowa nice," these are the absolute must things to do in Des Moines.
Done something on this list and loved it? Share it with the hashtag #TimeOutDoList and tag @TimeOutEverywhere.
Find out more about how Time Out selects the very best things to do all over the world.
Best things to do in Des Moines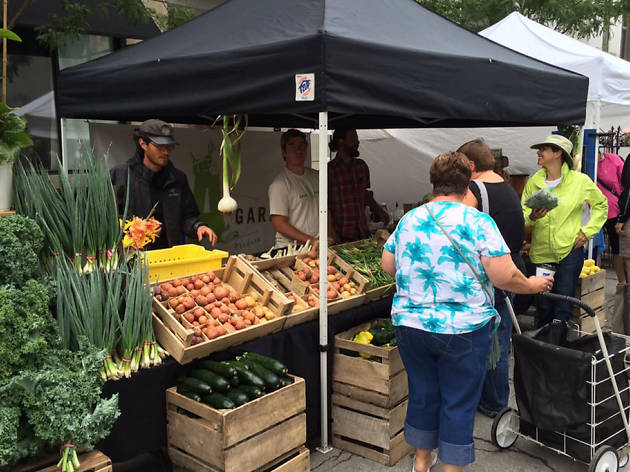 Photograph: Courtesy Yelp/Ashley T.
1. Downtown Farmers' Market
What is it: From May to October, every Saturday starts with five hours filled with beautiful flower bouquets, giftable handmade crafts, fully-loaded breakfast tacos and, oh yes, some of the freshest produce you'll ever eat. Stroll through blocks and blocks filled with more than 300 vendors who travel from all corners of the state to share what's good to grow that week at the Downtown Farmers' Market.
Why go: Fuel up for a morning of shopping with a nitro-infused coffee from Watershed Cold Brew, then get your comfort food fix with a cheese-stuffed papusa from Papusas El Salvador. After you fill your tote with tomatoes and berries and before the noon market swan song, be sure to snag a sure-doesn't-taste-gluten-free cinnamon-sugar doughnut from Sweet Treats Without Wheat. It ranks right up there with the best doughnuts in the metro.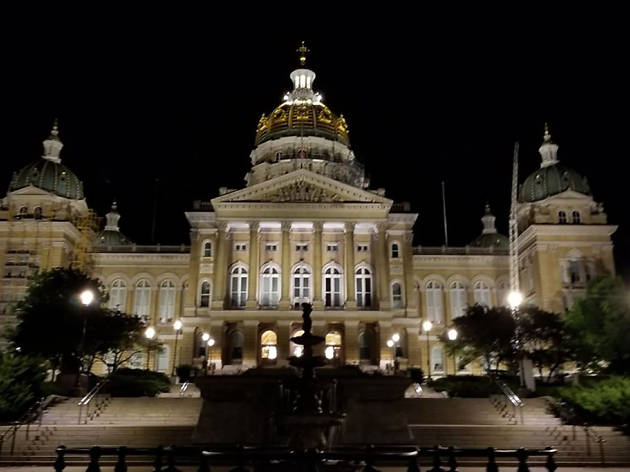 Photograph: Courtesy Yelp/Chi H.
What is it: The iconic gold dome can be found on many murals and T-shirts around town, but none of those likenesses can compare to the grandeur of the actual architecture. Located on the edge of the East Village since 1886, the 109-room Capitol is where the political movers and shakers convene and create new laws.
Why go: Free tours are available daily Monday through Saturday so you can learn more about the building's history. On the tour, you can step foot inside the house of representatives, stare up at the inner dome that celebrates Iowa's support of the union forces in the Civil War and revel in the smell of history in the stunning and sprawling State Law Library (fun fact: it's home to more than 100,000 volumes!).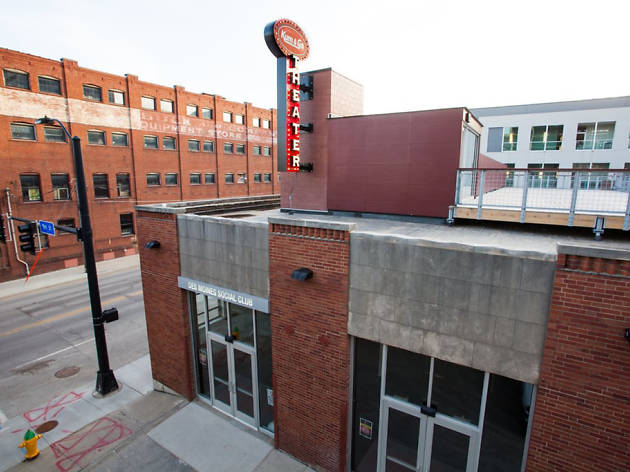 Photograph: Courtesy Yelp/Jill H.
3. Des Moines Social Club
What is it: Two buildings plus an outdoor courtyard, music venue, restaurant, art gallery, coffee shop and several classrooms make up this, well, social club. It's a non-profit aimed at supporting local artists, all while hosting open-to-the-public events.
Why go: From break dancing lessons for the under 18 set to cocktail classes for those over 21, there's a nearly neverending list of educational—and fun!—activities offered at the Des Moines Social Club.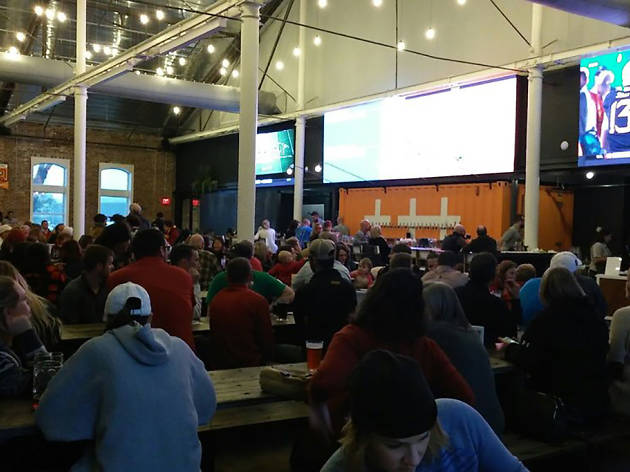 Photograph: Courtesy Yelp/Ken U.
What is it: What used to be a railroad maintenance shop (circa 1890) is now a gathering place for young and old in Historic Valley Junction just west of Des Moines city limits. Board games and big TV screens entertain the kiddos while the kids-at-heart can sample from 54 brews on tap and the menu of custom cocktails.
Why go: Come for beer yoga, trivia and to enjoy cuisine from the rotating crop of food trucks that fuel The Hall guests. Fun fact: 10% of every dollar spent at The Hall supports The Kitchen, the venue's soon-to-open culinary workspace that will act as a communal kitchen for the food trucks and provide job training and kitchen career placement for those in need.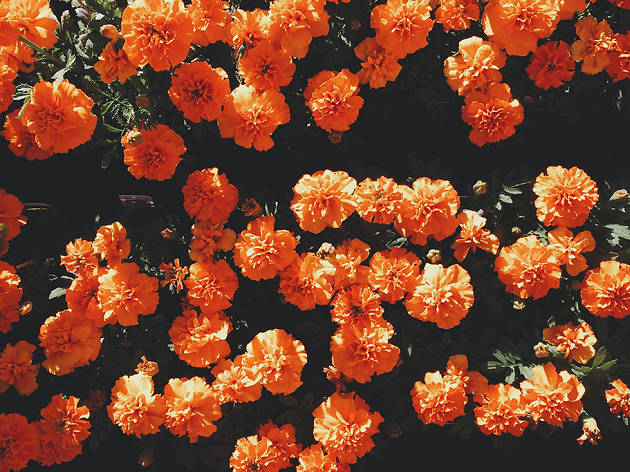 What is it: Located in the heart of the Western Gateway in downtown Des Moines, this outstanding half-acre garden is where Better Homes & Gardens magazine and other Meredith gardening publications research ideal planting strategies, maintenance techniques and more. Shrubs, roses, hydrangeas and a variety of herbs are just some of the 2,500 plants on premise.
Why go: Pack a picnic lunch to enjoy amidst the blooming begonias any Friday from 11am to 2pm from May through October. The Test Garden's manager Sandra Gerdes will likely be out tending to her plants—and available to fill you in on the history and tests currently in progress on the grounds.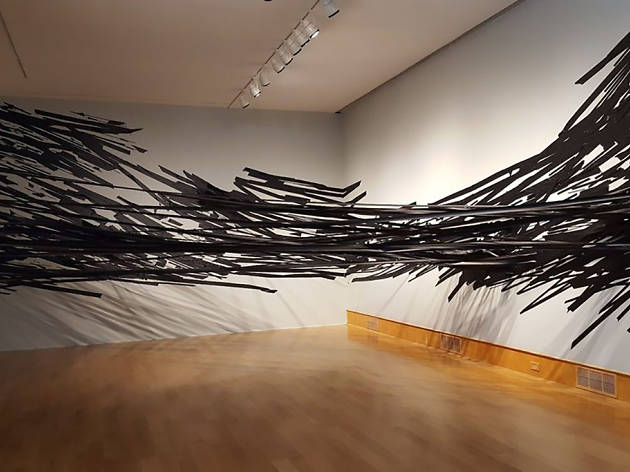 Photograph: Courtesy Yelp/Krystyn M.
What is it: Completely free and utterly inspiring, the Des Moines Art Center showcases works by Grant Wood, Georgia O'Keefe and Frank Hopper, among others.
Why go: View the world class art any Tuesday through Sunday and swing by Chef's Palette for lunch between displays.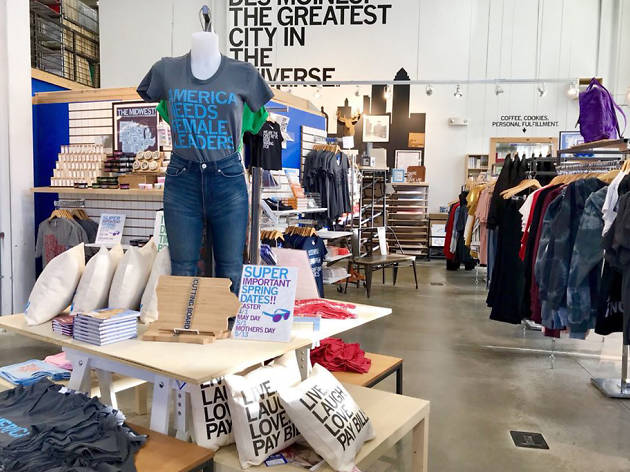 Photograph: Courtesy Yelp/Kara D.
What is it: Since 2005, Mike Draper and company have been selling sassy-sloganed T-shirts in the heart of the East Village. Popular designs include "Iowa: 75% Vowels, 100% Awesome;" "Keep it Clean: This is Earth, Not Uranus;" and "Someone in Des Moines Loves Me."
Why go: With outposts in Kansas City and Iowa City, plus a robust online business given their politically-relevant conversation-starting apparel, office supplies and barware, this hipster haven is trendier than ever and is the spot to score fun souvenirs.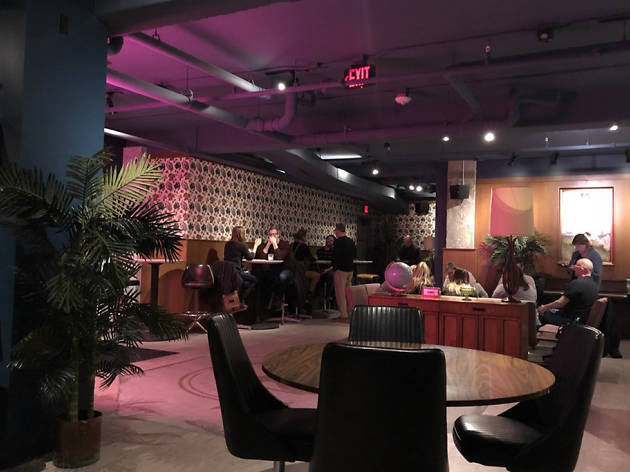 Photograph: Courtesy Yelp/Aimee D.
What is it: This trendy and timeless cocktail lounge has called the former Des Moines Register building its home since April 2017. Adorned almost entirely in antique shop finds from around the state, the mid-century modern vibes throw it back to the Mad Men era.
Why go: Sure, the space is historic and the venue is oh-so-Instagrammable (notice the neon sign with a Jack Kerouac quote: "The prettiest girls in the world live in Des Moines"), but the real appeal here is behind the bar. Each spirit-forward drink is hand-crafted and you will definitely get your money's worth. Don't leave without trying an Editor's Note, a lovely libation featuring bourbon, apricot liqueur, smoked apple bitters and a slice of fresh apple.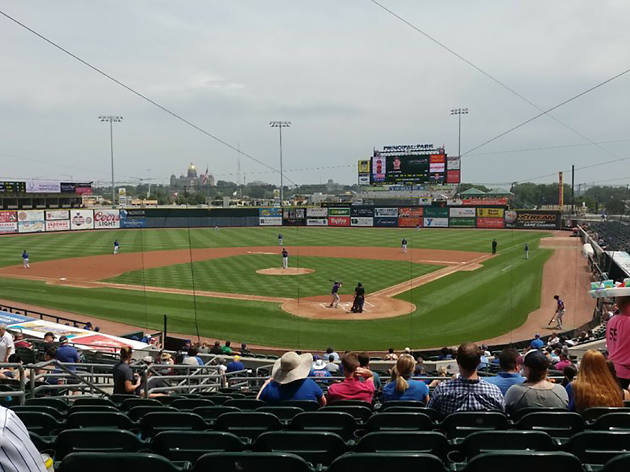 Photograph: Courtesy Yelp/Thai B.
What is it: Cheering for the division Triple-A Chicago Cubs team is among the cheapest tickets in town, about $5 each. To top it all off, every Friday night match-up ends with a colorful fireworks display.
Why go: In line with the city's "better together" mindset, 2,500+ Iowa Cubs season ticket holders each receive a ticket to an Iowa Wild hockey game (and vice versa). This grand slam steal, plus the upgraded facilities, 50-year-strong baseball team and an MLB partnership inked through 2020, make this a top-tier sports city.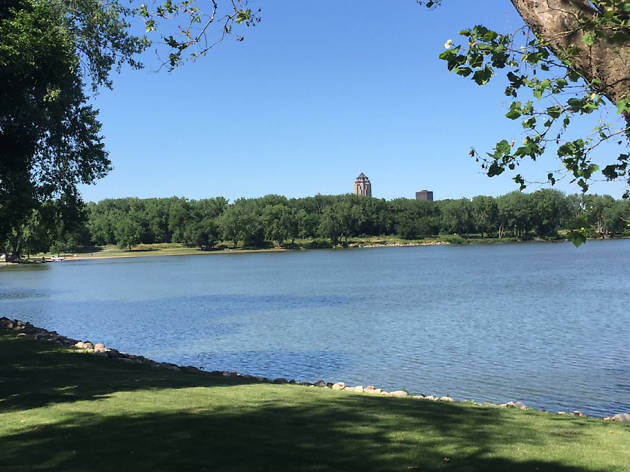 Photograph: Courtesy Yelp/Emily S.
What is it: Options abound at this 167-acre southside public park. Train for your next race, catch up with a pal while circling the 1.9-mile lake-adjacent trail or try your hand at fishing.
Why go: Start any Saturday from June to September with an hour of yoga in the park and then come back at sunset for a lap along the romantically lit-up paths. If you're interested in actually getting out on the water, canoe, kayak, sailboat and stand-up paddle board rentals are available at the concession building.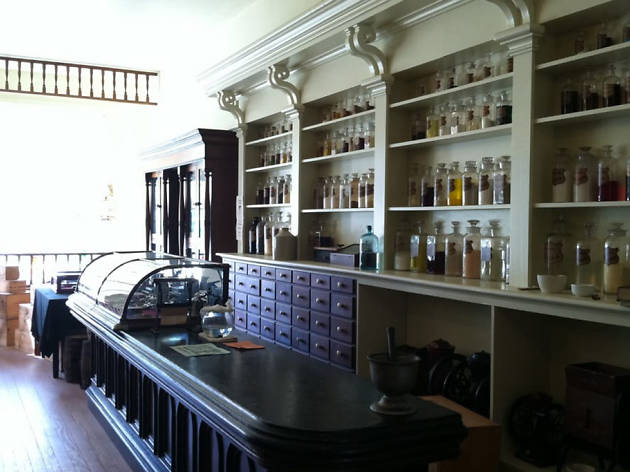 Photograph: Courtesy Yelp/Yoshiko T.
What is it: Step back in time at this historical museum on the west side of the Des Moines metro. The 500-acre campus is a tribute to the state's devotion to agriculture and is home to three separate, interactive areas (indoors and outdoors) that allow you to experience life as a 1700 Iowa farmer, 1850 pioneer and 1900 horse-powered harvester.
Why go: Take a peek at the upcoming event calendar to plan a day around your old-school interests, whether that means riding in a Ford Model-T, cheering in the stands at an 1875-style baseball game or experiencing an 1850 wedding reenactment.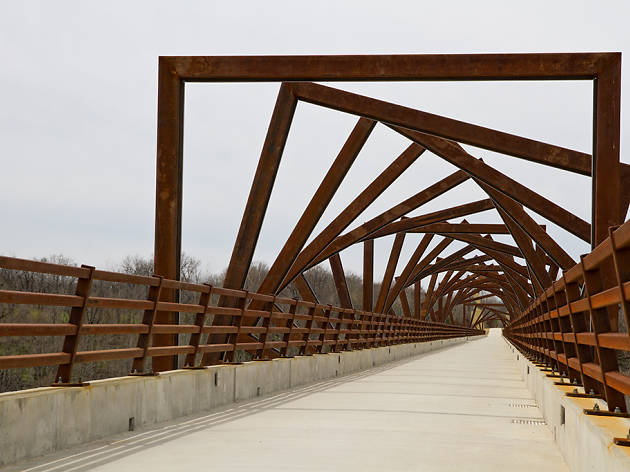 Photograph: Courtesy cc/Flickr/Jason Mrachina
What is it: You've probably heard about the covered bridges in Madison County. But with bicycling among Iowans' favorite pasttimes, this 25-mile trail that's perfect for a post-dinner ride reigns supreme.
Why go: The trail officially runs from Woodward to Ankeny. The highlight is the half-mile, 13-story high Trestle Bridge. "Here to There," an art installation that spans the Des Moines River crossing, includes 43 diamond-shaped LED lights that make for the perfect photo opp.
More of the best in Des Moines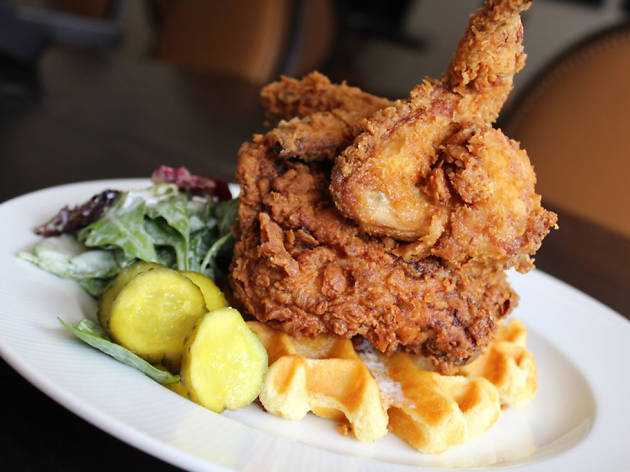 Photograph: Courtesy Yelp/Bubba
One scroll through our list of best restaurants in Des Moines will convince you that Iowa food is about much more than just corn, pork and fried food on a stick