The 12 best places for afternoon tea in Dublin
Fancy a pick-me-up? Take a peek at the best spots for afternoon tea in Dublin, from upscale hotels to stylish cafes.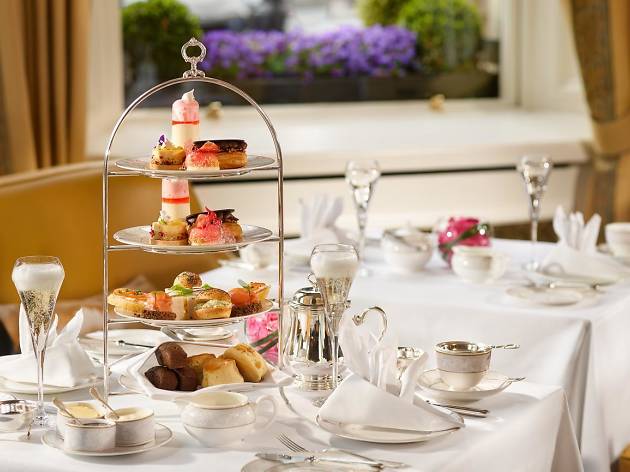 Historically, Dublin doesn't always buy into British traditions, so when it adopts a fabulous idea like afternoon tea, it does so with a definite Irish stamp. From incorporating quality domestic ingredients – like St Tola goat cheese and Glenilen clotted cream – to emphasising the social buzz of this feast of a 'linner', don't expect things to stay olde worlde. With this freer rein, the city's coolest bar and restaurant hotspots have joined in with upscale hotels to offer their version of afternoon tea. The result? Visitors will quickly find there's loads more to Dublin than Barry's Tea. So go on, go on, go on, go on…
Best places for afternoon tea in Dublin
1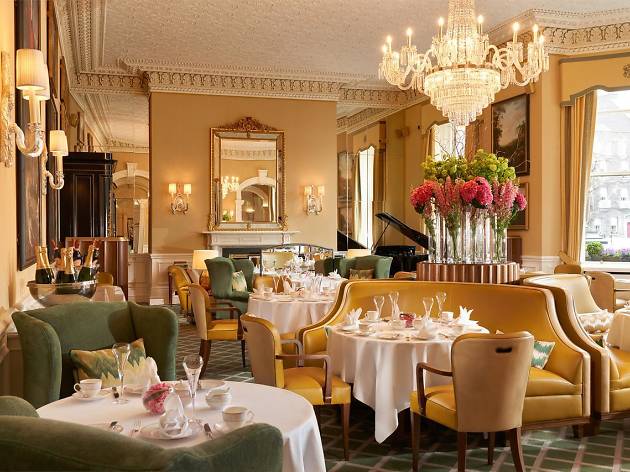 Photograph: Courtesy Booking.com
Why go? Get your posh on at this history-drenched five-star hotel. You'll feel richer just by taking a plush velvet seat in the busy Lord Mayor's Room alongside old-moneyed elders and affluent residents. The Shelbourne's elegant afternoon treats are mostly traditional but Irish twists – like the Castletownbere Salmon with Guinness bread – gives the British version a run for its money.
Price? Blow-out
2
Photograph: Courtesy Yelp/Gigi L.
Why go? Unfussy afternoon tea, made with love. Hidden away on a back lane behind a stationery shop, The Cake Café is a wee gem of a bohemian bakery. Their afternoon tea offers a mini selection board of the day's sandwiches and cakes, served with a glass of prosecco and hot drink. To add to the Irishness, it might well come with soup, because why not.
Price? Budget
3
Photograph: Courtesy Yelp/Em K.
Why go? Enjoy a few cocktails in the name of afternoon tea. Part club, part restaurant, but mainly a hangout for beautiful people, House's proposition is loosey-goosey enough to throw in an afternoon tea without raising eyebrows. With chilled-out beats on the soundsystem, the vibe lends itself to one of their specially-concocted afternoon tea cocktails. Try the Bramble, made with gin and blackberry liqueur, to get the tea party started.
Price? Mid-range
4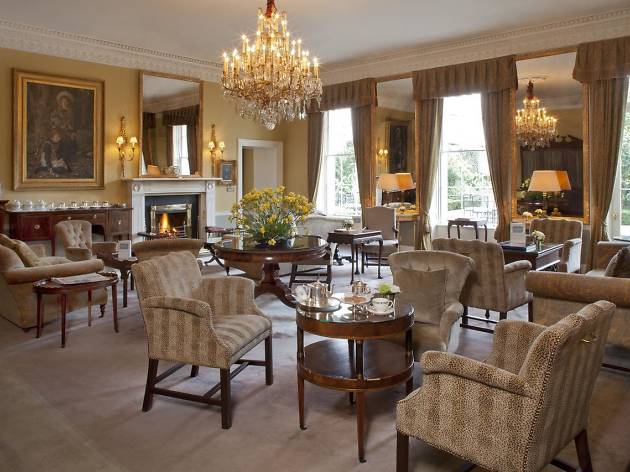 Photograph: Courtesy Booking.com
Why go? The Art Tea is almost too beautiful to eat. Almost. The precision-cut sandwiches and crumbly scones with homemade lemon curd and raspberry jam are impressive, but it's the sweet course that'll have you furiously Instagramming. It's inspired by some of the 90 pieces of art work around Dublin's most formal hotel, making the Art Tea a feast for the eyes as well as the tastebuds.
Price? Blow-out
5
Photograph: Courtesy Yelp/Ellen S.
Why go? Because mini-food tastes so much better than normal food. Within the peaceful oasis of the Chester Beatty Library, the Silk Road Café's afternoon tea is a traditional in portion size only. Forget egg sandwiches and dive in to globally inspired bite-sized treats like mini stuffed aubergines, chicken paella pots, and honey and lavender mousse, with halal, veggie and celiac alternatives available. Served on gingham tables with mismatched crockery, it's cuteness overload.
Price? Budget
6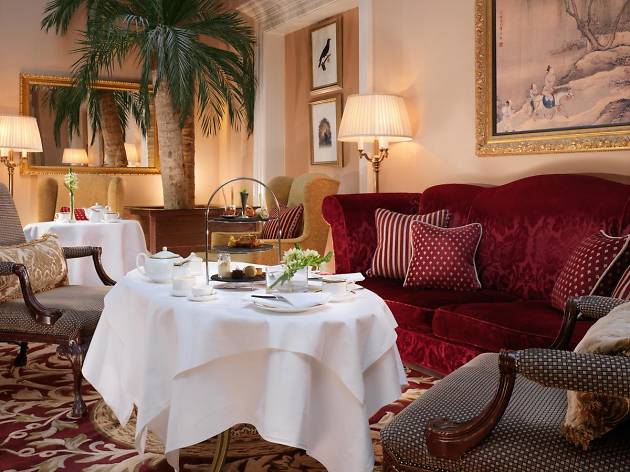 Photograph: Courtesy Booking.com
Why go? For the light, airy setting and inventive treats. Good weather is rare in Dublin, so make the most of it from the Atrium Lounge, where afternoon tea is served with views of the sky above. But it's not easy to take your eyes from the table; there's thick hunks of smoked salmon, goat's cheese in basil wafer baskets, and even the sugar cubes are presented on skewers.
Price? High-end
7
Photograph: Courtesy Booking.com
Why go? Because fellas deserve afternoon tea indulgence too. If finger sandwiches are too dainty for manly hands, The Morrison's Gentlemen's Tea is the answer. In the hotel's stylish surrounds overlooking the Liffey, treats include a 3oz steak sandwich, paprika chips and a smoked rasher and cheddar scone, washed down with a bottle of Wicklow Wolf beer. They're also accommodating to special diets – just give them a heads up.
Price? Mid-range
8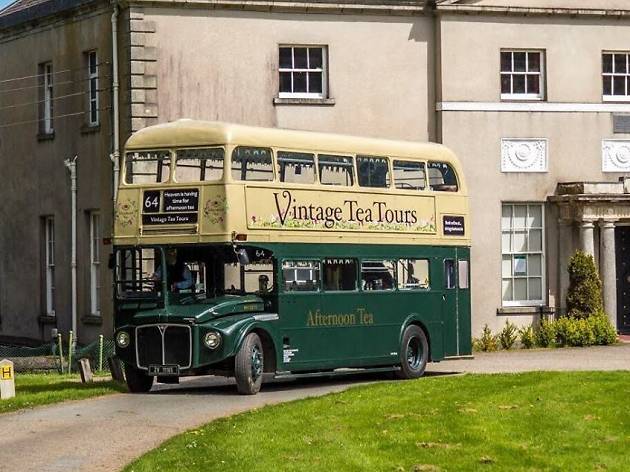 Photograph: Courtesy Vintage Tea Tours
Why go? Perfect for multitaskers, tour Dublin's sights while enjoying afternoon tea. Efficient or decadent? We can't decide. Either way the Vintage Tea Tour takes in Dublin on an actual 1961 Routemaster piped with jazz music and complemented with traditional afternoon tea, to evoke the spirit of yesteryear. Best of all, hot drinks are served in an unlikely-to-spill reusable mug that guests keep. Bus tours will never feel the same again.
Price? High-end
9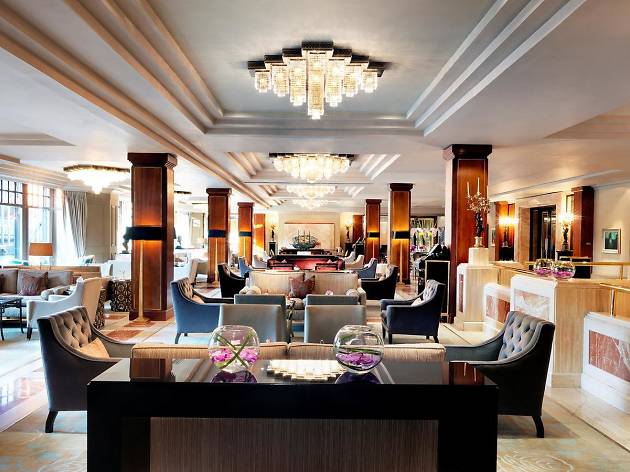 Photograph: Courtesy Booking.com
Why go? For five-star elegance in a relaxed setting, veer off Grafton Street to find the Westbury, offering all the fanciness without the formality. Tea is served in its bright first floor lounge, and it's so expansive that staff are usually happy to leave guests to catch up, leaf through magazines or people-watch for hours on end. Most importantly, they have an actual Champagne trolley.
Price? Blow-out
10
Photograph: Courtesy Yelp/Melanie M.
Why go? Pick from over 250 loose leaf teas at this independent café. Centrally located, Oolong makes the most of its expert selection of globally-sourced teas with its traditional afternoon menu. The limited space and basic set-up means it isn't designed for lingering, but what it lacks in pomp it makes up for in tea. Lots and lots of tea.
Price? Mid-range
11
Photograph: Courtesy The Restaurant by Johnnie Cooke
The Restaurant by Johnnie Cooke
Why go? Take a divine pit stop at Brown Thomas, Dublin's premium department store. Based in the spiritual home of Coco Chanel and Tom Ford, it's no surprise this afternoon tea is a snazzy offering. They team up with fancy brands like Belvedere Vodka and Godiva to create a themed menu that includes a cocktail, Teehaus Ronnefelds tea plus lavish appetisers and pastries. Batteries recharged, it's time for shopping round number two.
Price? High-end
12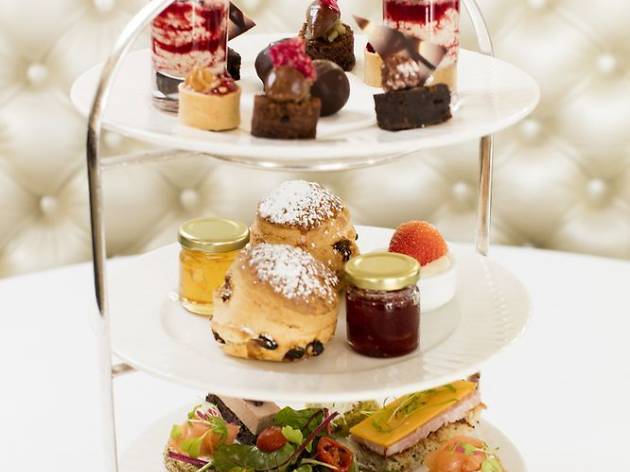 Photograph: Courtesy Dylan Hotel
Why go? While away an afternoon in the bold contemporary setting of The Dylan. Well known as a neighbourhood hotspot for affluent southsiders, it's no wonder afternoon tea is a feature at The Dylan. Given the clientele and the cosy, exclusive atmosphere, the emphasis is more on enjoying an unhurried tea than indulging in carbs. But we'd dare anyone to leave a lick of their creamy white chocolate mousse.
Price? High-end
Fancy something stronger?
If there's one thing that Dublin isn't short of, it's bars. Ireland's capital has long been famed for its drinking scene, but while the city is filled with classic pubs, the last few years have seen a surge of new and exciting bars pop up.