48 Hours in Düsseldorf
Experience the best of the city, including standout museums, offbeat cafes, late-night hangouts and shopping locales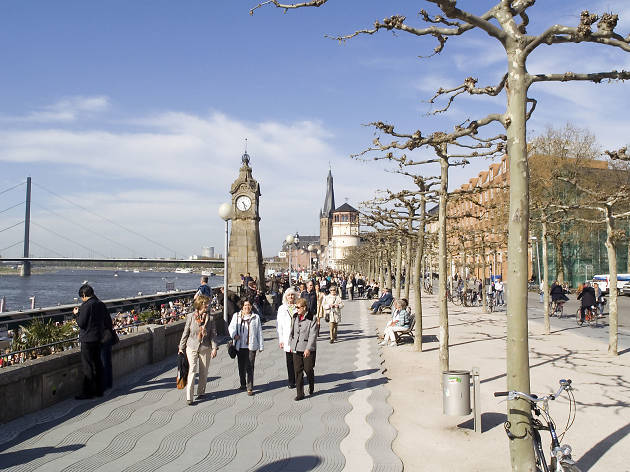 With its world-class museums, futuristic architecture, sprawling gardens and rich historical center, this cosmopolitan city on the Rhine surprises with its wealth of attractions, things to do and sightseeing options. Toss in upscale shopping, Michelin-starred restaurants and a buzzing nightlife scene, and compact, easily walkable Düsseldorf will keep you plenty busy from morning 'til night.
48 hours in Düsseldorf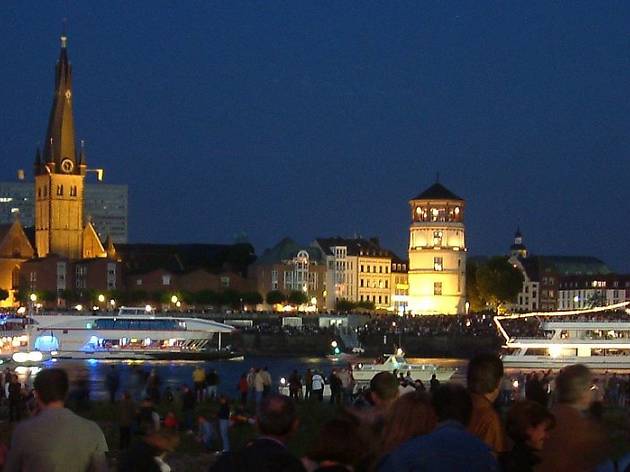 Photograph: Rainer Driesen/Wikimedia Commons
Known as the "longest bar in the world," the historic city center of Altstadt is Düsseldorf's party district, with some 300 brewpubs, clubs and cafes packed into a half square mile. Come evening, Old Town gets particularly rowdy, with crowds crawling from one bar to the next, downing many a glass of the famed local brew, Altbier. The best place to try the amber-colored "Alt" is at one of the five breweries still producing it onsite, from the traditional Zum Schiffchen to the more modern Brauerei Kürzer.
Bars and pubs, Cocktail bars
Tucked inside the Kunsthalle, a concrete brutalist cube showcasing contemporary art, the legendary Salon des Amateurs mixes cool visuals and sophisticated beats in a small, unassuming space. A café by day and electro-lounge on Friday and Saturday nights, Salon des Amateurs attracts an arty crowd who come for cutting-edge local and international DJs. The music keeps spinning until 7 am; things get particularly buzzy around 3 am, when most pubs in the Altstadt have closed.
Things to do, Markets and fairs
Get your hands on some fresh produce for brekky from the long-running Carlsplatz Market. Situated south of Altstadt, the plentiful stalls sell fruit and veg, fish, meat, flowers, cheese, wine and loads more. Plus, if you aren't staying somewhere with the facilities to keep and cook your own meals, you can pick up something ready-made. Evertzberg specialises in Mediterranean breads, while KaffeeReich provide the perfect brew to wash it down with – they even roast their own beans onsite.
Attractions, Public spaces
On Sundays the stores are closed in Germany, so Saturdays are all about shopping. Along the nearly mile-long Königsallee (better known by its nickname, Kö) you'll find exclusive designer boutiques like Chanel, Cartier and Karl Lagerfeld, as well as big chains like H&M and Zara. It's also home to the fancy retail complexes Kö-Galerie and Kö-Bogen, a modern marvel designed by Daniel Libeskind. Just off the main boulevard, look for the concept store Beyond Studios, brimming with Scandinavian labels, and Fashion Clinic, a well-curated boutique stocking avant-garde designers like Rick Owens, Viktor & Rolf and Vivienne Westwood.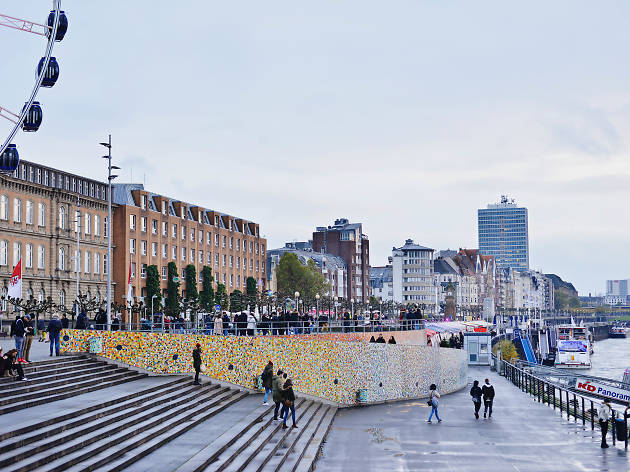 Photograph: Marco Verch/Flickr
Take a walk along the wave-patterned pavement or under the shady, tree-lined gravel path of this mile-long, Rhine-fronting pedestrian thoroughfare. The Rhine Embankment Promenade starts in the Altstadt at Burgplatz, a historic square that's home to the city's landmark Radschlägerbrunnen (cartwheeler fountain). As you head upriver toward the iconic Rheinturm (TV tower), stop for a drink at one of the many waterfront cafés—most are clustered around the Burgplatz pier, where boat cruises depart. Finish among the shiny modern architecture of the redeveloped harbor, Medienhafen.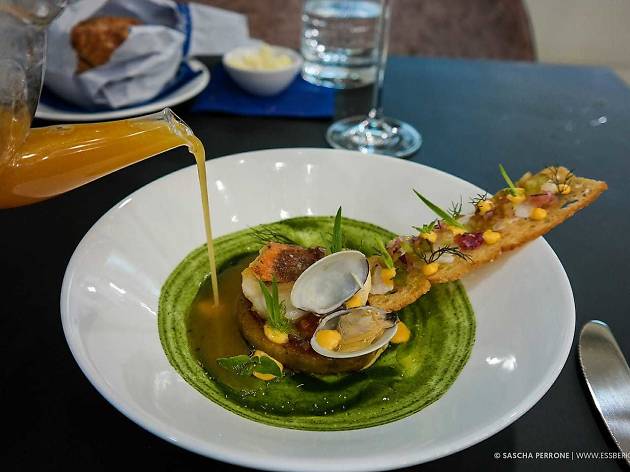 Restaurants, Contemporary European
Awarded its first Michelin star just one year after opening, Fritz's Frau Franzi, set inside the boutique Hotel Fritz in central Carlstadt, features experimental yet wholly approachable cuisine, with affordable small plates ideal for mixing and matching. Chef Benjamin Kriegel employs seasonal ingredients and surprising flavor and texture combinations—like fried perch served with celery three ways: sous vide, mashed and marinated in oxtail stock—all artfully presented like small jewels. The space is trendy but not overly so, with long, royal-blue benches and plush gold armchairs anchored by a wall of glass-encased flowers.
Bars and pubs, Cocktail bars
Set in the Rheinturm, the iconic needle-shaped TV tower, sleekly designed Bar & Lounge M 168 gets its name from its sky-high location: 168 meters (or around 550 feet) above Düsseldorf. Soak in the twinkling lights of the city through floor-to-ceiling panoramic windows while sipping finely crafted classic cocktails from its extensive, nicely priced drinks menu. No need to rush: the bar stays open until 1 am on weekends.
TV chef Tim Mälzer opened Hausmann's in 2012, bringing a modern twist on traditional German cuisine to a rustic dining space in Altstadt. The Sunday brunch, served from 10am to 3pm, is particularly popular, with lots of regional specialties like breads and croissants from nearby bakery Bastians, homemade jam, an ever-changing selection of sausage (sourced from local purveyors), plus the restaurant's famous Sunday roast. A glass of sekt (German sparkling wine) or beer is included in the 24.50 € price.
Among Düsseldorf's 26 world-class museums, one is a particular standout—the Kunstsammlung Nordrhein-Westfalen. Inside, the K20 is home to an impressive collection of 20th-century masterpieces from Pablo Picasso, Henri Matisse, Andy Warhol and Jackson Pollack, as well as famed German artists Joseph Beuys and Gerhard Richter. Its sister museum, K21, focuses on contemporary art, with paintings, photography, video and installations from top international artists spread across five levels. The highlight here is Tomás Saraceno's enormous climbable steel web, stretching beneath the grand glass cupola of the neo-Renaissance former Parliament building. A shuttle bus (free with a combination ticket) ferries you between the two museums.
Attractions, Parks and gardens
After a morning spent museum-hopping, get some fresh air with a stroll through the Hofgarten's tranquil green space in the heart of the city. Germany's first and oldest park spans nearly 70 acres, with a mix of formal French gardens and pastoral English-style landscapes bisected by the scenic Düssel canal, from which city got its name. Paths wind beneath centuries-old trees and over charming pedestrian bridges, past sweeping meadows, quiet ponds and ornate fountains. Keep your eye out for the many monuments and important sculptures along the way.
Looking for more things to do?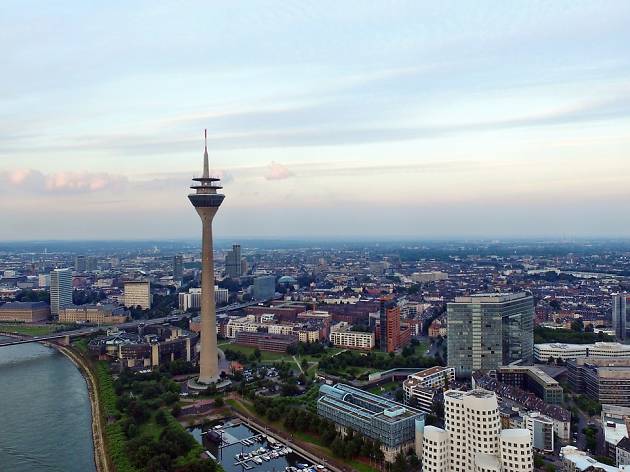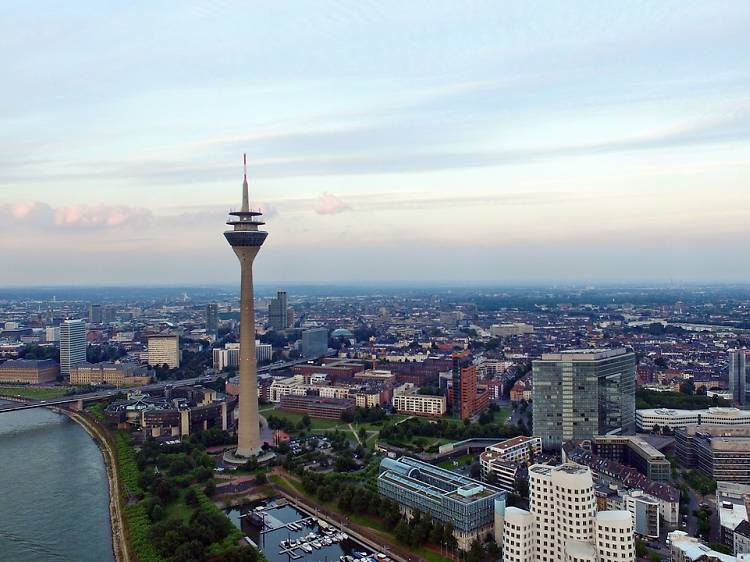 This medieval city on the banks of the Rhine recently celebrated its 730th birthday, but Düsseldorf isn't resting on its historic laurels. With a slew of cutting-edge architecture and a booming arts scene both above and below ground, the capital of the of the North-Rhine Westphalia state is fast becoming one of Germany's most lively metropolises.