British-born filmmaker Edgar Wright has made some of your favorite movies—you just might not know it. Shaun of the Dead (2004), the final word in zom-coms, is his. So is the hyperactive cop-movie parody Hot Fuzz (2007). And the video-game–styled romance, Scott Pilgrim vs. the World (2010). His again.
"I got offered a couple of franchise movies that people would be shocked that I passed on," Wright says over the phone from Los Angeles, not explicitly mentioning his departure from Ant-Man over creative differences. But he sees those skipped gigs as a blessing in disguise: "If it's the choice between doing 'number three' in an existing series or having the opportunity to do an original film, I have to grab [the latter] with both hands," explains Wright. "It's my duty to film history."
Wright does that duty honorably with yet another utterly unique comedy. Baby Driver—the zippy tale of an Atlanta getaway-car driver (played by cherubic Fault in Our Stars heartthrob Ansel Elgort) and his attempts to escape the criminal underworld—slayed initial audiences at March's SXSW Festival. And for once, the prerelease buzz is underselling the film: Wright has reinvented the car-chase movie, infusing it with La La Land's effervescence and a wallpapered-with-pop-tunes kick that's all his own.
"People have a sort of unspoken fantasy about being in a high-speed police chase," offers the 43-year-old filmmaker, with a chuckle. (His love of car-chase movies extends back to his teenage years and an obsession with Walter Hill's 1978 cult classic, The Driver.) "That's why it's a staple of cinema. I don't think anybody would actually do it, but everybody thinks about slamming their foot on the accelerator when that police car pulls up with its lights on."
Star Elgort has his own reasons for wanting to play the title role (yes, the hero really goes by the name Baby). "Any young guy dreams about being amazing in a car," he admits. "Obviously, I didn't get to do all the driving scenes myself, but it's really cool to see yourself as a badass onscreen—definitely a young boy's fantasy come true."
"He isn't really a tough guy—he's a kid."—Elgort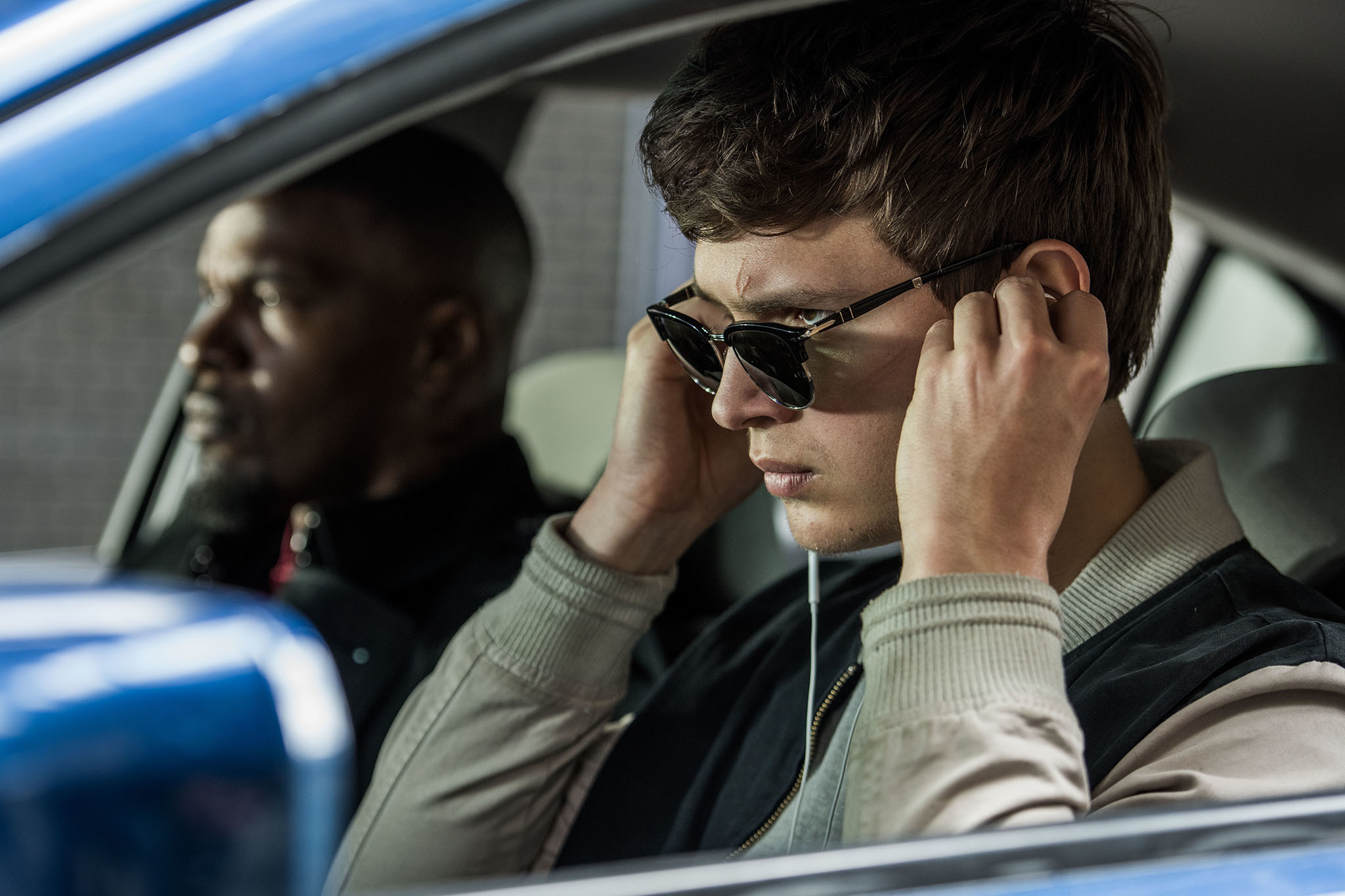 Photograph: Wilson Webb
Elgort, 23, wouldn't mind a pivot at this point in his young career, you sense. (He's quick to offer the rebellious Marlon Brando in The Wild One as an inspiration.) And with Baby Driver's deliriously choreographed action sequences anchored by Elgort's cool stare, the actor unleashes his inner Steve McQueen.
"Just because he doesn't have words doesn't mean he's not a multilayered character," Elgort says of Baby, an orphan grown into a loner who's constantly plugged into several iPods, head bobbing as he weaves like a maniac through traffic. Only the unexpected affections of waitress Deborah (Downton Abbey's sylphlike Lily James) skids him to a halt in his sneakers. "He isn't really a tough guy—he's a kid," adds Elgort.
The movie lived in Wright's mind for almost 20 years. Even more unusually, he came up with his film's dynamite playlist—from Queen's strutting cock rock and the Beach Boys' innocent harmonies to that ultimate driving tune "Radar Love"—before he wrote a single scene. "Music, for me, is a motivator," says Wright. "I can't focus unless I have the right mood going. And to make a movie that's essentially about that—music as both a salve and an obsession—I thought would be fascinating." True to that spirit, the director says Elgort even auditioned to a Beach Boys track during their first meeting.
Both Wright and Elgort see Baby Driver as a potential breakthrough. It's the director's first feature made in the U.S., and for the moment, both seem to be holding on to the small pleasures that might fade with fame. Elgort, a Manhattanite, still goes to Saigon Market on 12th Street and University Place (to "people-watch," he says) or to Amsterdam Billiards (110 E 11th St; 212-995-0333, amsterdambilliards.com) to cue up a rack in relative anonymity.
Wright, meanwhile—an artist who has consistently mined laughs from the seam between starry-eyed fantasy and the unvarnished truth—has made his most personal film to date, about a daredevil who needs to go his own way. "It's sort of a vagabond lifestyle," he says of his job, pausing for a moment of modesty. "If that means I'm a Hollywood director, then great," he says. "Being okay with reality is the path to happiness."
Baby Driver opens June 28.