You might know the 39-year-old Irish-German actor Michael Fassbender from one of the staggering 26 movies he has made since his breakthrough with Steve McQueen's IRA prison drama 'Hunger' in 2008. Or perhaps as Magneto in the 'X-Men' movies. Or as the Apple founder in 'Steve Jobs'. Or as a vicious plantation owner in '12 Years a Slave'. You may have seen him opposite his girlfriend Alicia Vikander in this year's major weepy 'The Light Between Oceans', or in last year's rough and raw movie version of 'Macbeth'.
Now, Fassbender is both producing and starring in 'Assassin's Creed', an adaptation of the mega-selling computer game. He plays a character who tumbles through various time periods, from Inquisition-era Spain to twentieth-century California. As we talk about the film, it also becomes clear that the fact he's also a producer on it is a massive deal to him. If it goes well, it could even mean we'll see him acting less. He's not disappearing, though. He's already shot Ridley Scott's 'Prometheus' sequel 'Alien: Covenant', which comes out next summer, as well as an adaptation of the Jo Nesbø novel 'The Snowman'.
So before he can slip into a back office for good, we've quizzed him on 'Assassin's Creed' and got him thinking about life when he was a young actor in London, newly arrived from Ireland, broke and struggling to become the huge star he is now.
Do you ever stop working? It looks like you've been making movies non-stop for almost a decade now.
'It's been pretty full-on. I had a ferocious appetite and energy for it, and I went at it like a maniac. But I'm going to take some downtime now. The last five years, I was verging on being a workaholic. I've just been going from film to film.'
Your new movie 'Assassin's Creed' is based on a computer game. Were you a big gamer?
'Yeah, I played video games in my teens in Ireland. We never had one at home. My friend had an Atari and I would go round to his place to play it. I played arcade games too.'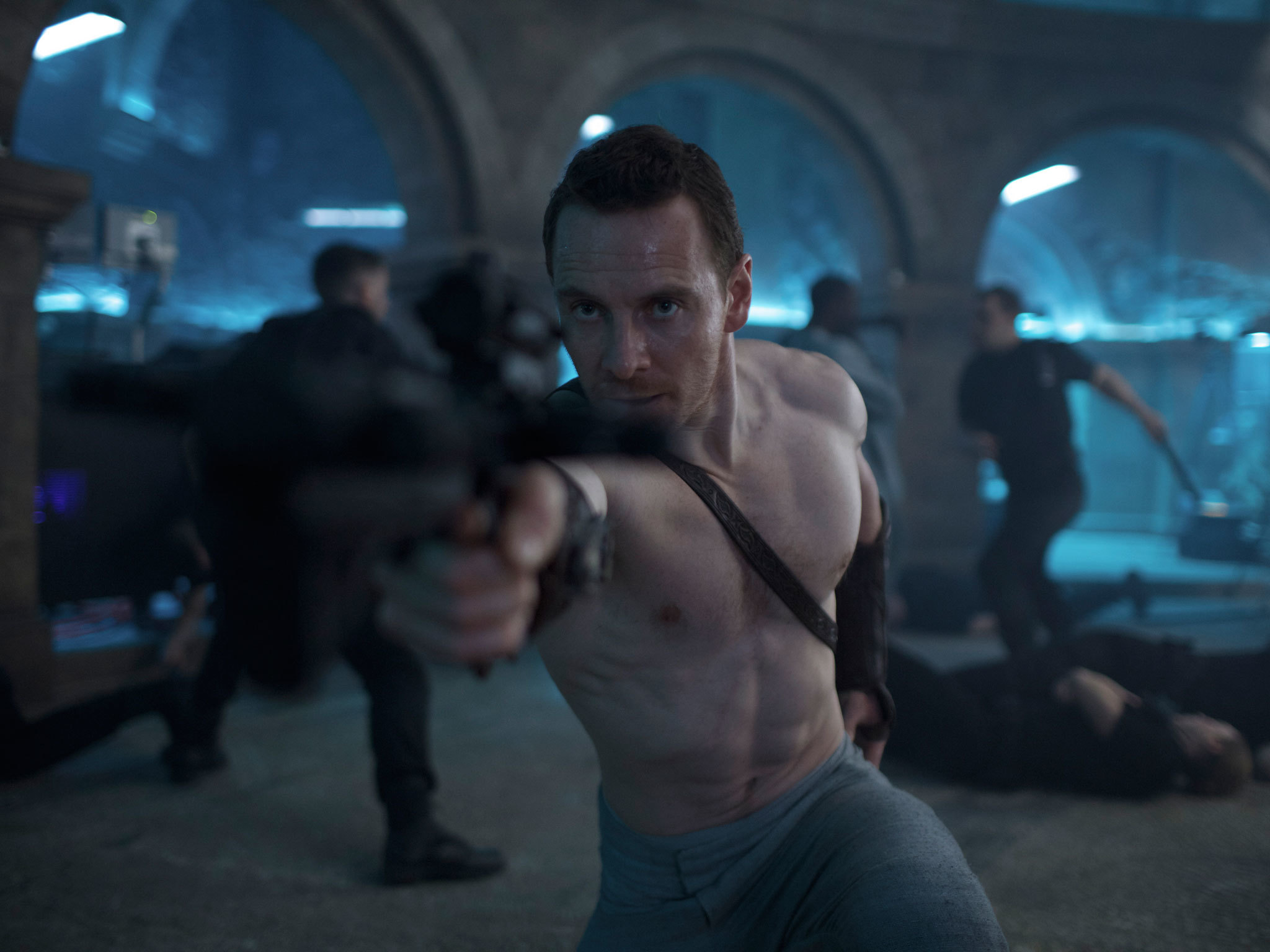 'The last five years, I was verging on being a workaholic'
'Assassin's Creed' isn't your first crack at acting and producing at the same time. You put on a stage production of 'Reservoir Dogs' when you were 18. That's quite a precocious thing to do.
'I didn't know what I was doing, but we put so much work into it. I remember we all put on black suits and black ties and went around town putting flyers on car windscreens. We even carried toy guns with us – you probably couldn't do that now.'
What kind of teenager were you?
'I wasn't super-popular and I wasn't a total geek. I was somewhere in the middle. I was a geek but I got along with people. I loved my music. That was when music defined you. You were a goth or a grungehead or a metalhead, and from 15 to 17 music was a big part of me. Then, at 17, I discovered acting and that became all-consuming. That was what I wanted to do, and I went for it. I wasn't very academic, I was pretty average. The same with sport, too.'
How do you spend your downtime now?
'Surfing, which is a fairly new thing for me. I started about four years ago. It's an immediate unplug. I learned all over the place but did a stint for ten days at a friend's house in Brazil. I broke the back of it there. That was just before shooting "X-Men: Days of Future Past". I also like racing. I go karting when I get a chance.'
Are you a risk-taker?
'I don't want to get hurt, that's for sure! I'm not very good at pain. Some people have a relationship to it. I don't. But I've always loved cars. Being a racer was a dream as a kid.'
You got the gang from last year's 'Macbeth' back together for 'Assassin's Creed'. Same co-star, Marion Cotillard, same director, Justin Kurzel. Was it a big step up for everyone involved?
'Yeah, we'll see if it pays off or not! We wanted to make something on a big scale, but perhaps with something a little more to it. I always said "The Matrix" was a good template. That was a film where something changed. The thing that excites me about "Assassin's Creed" is this idea in the story of DNA memory. For me, that anchors the fantasy in science and can make people believe in it.'
So you're not a fan of big fantasy movies?
'A lot of what's out there is very similar. These CGI action set pieces that just sort of go on and on… I find it all numbing. We have relatively little CGI in this film – lots of real action and fights, and very little green screen.'
Your mother is Irish. Your father is German. You live in London. How do you feel about Brexit?
'Gutted. Just gutted.'
At least you've already got an Irish passport...
'I've actually got a German passport! I've been meaning to get an Irish passport for years and just never got around to it. The thing I love about London is the mix: the mix of all the different cultures and religious backgrounds. That's what inspires me. For the next generation, the idea that if I had a son or a nephew they could easily go and work abroad like that, the ease of movement through Europe – that alone was worth staying in the EU for.'
'The thing I love about London is the mix of all the different cultures and religious backgrounds'
When did you move to London?
'I was 19. I applied to drama schools in the UK and got into Drama Centre (then in Chalk Farm). That's when I came over here. It's been my home for 20 years. I've lived in most parts. I started out in West Norwood. Then I was in Streatham, then Clapham, then Tottenham, then Walthamstow, then Chalk Farm, then Holloway Road, then Camden Town, then Hackney and Dalston and Homerton. I remember moving around every six months just because I could get a good deal in various places. I had a friend who was an estate agent and he used to move me around places.'
Are you still an east Londoner?
'I am. But I don't know how long I will be. It's an hour-and-a-half to any of the studios, so that's three hours in a car every day getting to and from work. Most of the studios are out west.'
What do you remember of the London you experienced when you first moved here?
'It was depressing, exciting, lonely. Just not having any money. It took me a while to get to grips with London. It was probably about four years before I started to feel like it was my home.'
How did you make money as a student and young actor in London?
'I did bar work, I worked in warehouses unloading lorries, I did market research for the Royal Mail and briefly for Dell computers. I did a tiny stint labouring. After drama school, I did some theatre, but then I had to work nights and had no energy for auditions. So I gave that work up and then I got an audition for "Pearl Harbor" and bagged the "Band of Brothers" gig on TV. I thought: This is it! Spielberg! Tom Hanks! I've made it! So I went to the States after that, lived in LA for three months and… nothing. It was years and years of little bits here and there. A bit of "Holby City", a bit of "Sherlock Holmes". Very sporadic work until I started to build some momentum around 2005. And in 2007 I got "Hunger".'
Now that you're producing movies, can you see yourself giving up acting?
'I can see it. I'm not ruling it out. I'm not saying it's going to happen, but a part of me thinks you have a time as an actor when you're at your best. There's a journey to it, and then it's downhill.'
So it's something you think about: reaching your peak as an actor?
'I guess I ask myself: Why have I worked a lot? Why have I attacked the work with such a frenzy? Maybe I wanted to leave a body of work behind? Maybe it's because I worked for quite a while to get to this position. I don't know. I'm definitely going to take some time off acting now. I've given it everything up to this point.'
'Assassin's Creed' is in UK cinemas from New Year's Day.