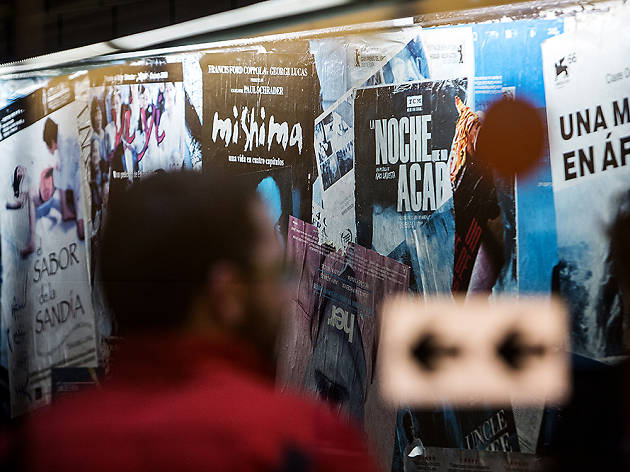 The guide to flirting (and maybe more) in Girona
Seven places in the city that make it easy to find a one-night-stand, future exes or even that someone special
Let's speak plainly: Girona doesn't make it easy to practise the age-old art of picking people up. On the one hand, Girona nights are full of possibilities for meeting people but as everybody knows everybody else, you're setting yourself up for rapid detection and exposure from the very first exchange. As a result, if looking for someone to get it on with is something of a must for you, the best approach is to go to those places that favour more subtle approaches. What's more, it's worth remembering that Girona is also the capital of poise, which makes it a great place for some sneaky flirting.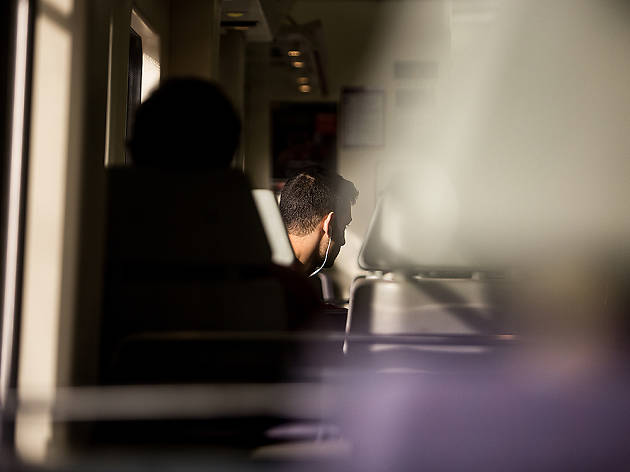 © Carles Palacio
The old-school train (towards Girona)
The train has always been an ideal space for using a phrase as pedestrian as, 'What a coincidence! Lucky I met you to help make the journey more entertaining'. The film 'Before Dawn' has done a lot of wrong (we can't all be Ethan Hawke and Julie Delpy), but it's also made it acceptable to start uninhibited conversations while the train races along. But take care, this behaviour has some basic rules. It's much better on the old-school train than the high-speed AVE, more than anything for the question of duration, and much better too if the train is heading to Girona. The reason is simple: in Barcelona there are too many stations for getting off the train, and it's much more complicated to extend your chances as far as a bar, whereas in Girona you're going to get off right in the middle of the action.
There's nothing better than a good film in its original language to show yourself off as a culture vulture. In Girona, cinephilia has a name: the Truffaut, home to independent productions and meaningful cinema. Quite apart from the screenings themselves, the building's vestibule is the perfect place to start conversations about the sociopolitical dimension of the Iranian melodrama, or pronounce yourself a fan of screenings in 70mm without having any idea what you're talking about. Let's be honest, picking someone up has a lot to do with the art of fiction - get things off to a good start by wearing a 'Jules et Jim' T-shirt (even if you've never seen it).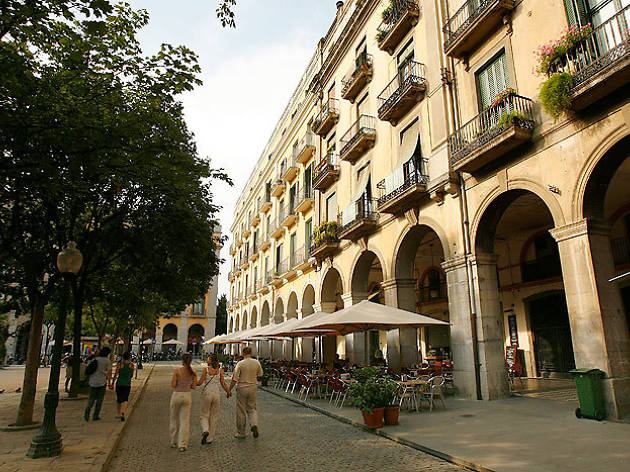 © Aniol Resclosa
The terraces on Plaça de Sant Agustí
Even though they're a regular cause for administrative headaches, bars with big terraces are all over Girona. And in particular the ones in Plaça Sant Agustí (as well as Plaça de la Independència) have a marvellous set-up for strolling around, and seeing and being seen - during the weekend, half the city passes through. All of which means they provide an exceptional excuse for furtive looks and practising the unisex sport of either parading in front of the people sitting down, or sitting down yourself to identify future objectives. In Girona, some people have been doing this for half their lives.
Don't let its label as the 'most romantic restaurant in Spain' scare you. Le Bistrot is the eatery in Girona with the most suitable atmosphere for creating future relationships. The French ambience, accompanied by the sensation that if you're there it's because you have something to say, greatly multiplies your chances of success. This restaurant brings together locals and visitors on a daily basis, and its basic merit comes from the fact that even its pizzas are sophisticated. If you're not really an interesting person, don't worry: Le Bistrot will make you seem as though you are. And it seems more expensive than it really is, which is always a bonus when seeking conscious coupling.
There's an old maxim according to which in Girona the best anatomies come from the Arts sector - which means its faculty is a temple for their exploration. It doesn't matter what age you are (because at any point in your life you can pass youself off as a person willing to learn), the Faculty of Arts is the meeting place for insubstantial but very promising conversations about the ups and downs of existence, and the irrefutable need to go out during the week. In particular, the steps that lead up to the Faculty, with their ceremonial character, are the nerve centre for these educational encounters. Sit down, look worried, and sooner or later you'll end up speaking to somebody. Hint: it's worth carrying a laptop bag, even if it's empty.
It's renowned as a meeting point for people of the same sex, but it's worth remembering another of the fundamental characteristics of this park: it's where people go to run to burn off the excesses of the night before. But you don't actually have to be a runner, of course. It's simply a question of going there, sitting down on a stone bench below the plane trees and, when someone goes by who you're interested in, make it seem as if you've already done your 50th lap. There's something about those circular tracks that makes it very easy to find people. And if you strike gold and enjoy a night of alcohol-fuelled hedonistic passion, remember there's always La Devesa to burn off the excesses once more.
A city like Girona, with all its architectural heritage, is full of evocative spaces and unbridled romanticism. But as some of those spaces have now turned into stereotypes or are uncomfortable to visit if you're not a tourist (if you suggest going for a stroll at the Muralla at night to a potential partner, don't fool yourself – you'll seem like Hannibal Lecter), the best thing is to play the discovery card. The gardens of Torre Gironella have just the right note of authenticity to enable you to show someone around them and not seem like an unqualified guide. And its brightly coloured benches are perfect for playing the part of a sensitive type who reads Kafka in the middle of the day.