Glasgow's best burgers
Time Out Glasgow's guide to the best burgers in the city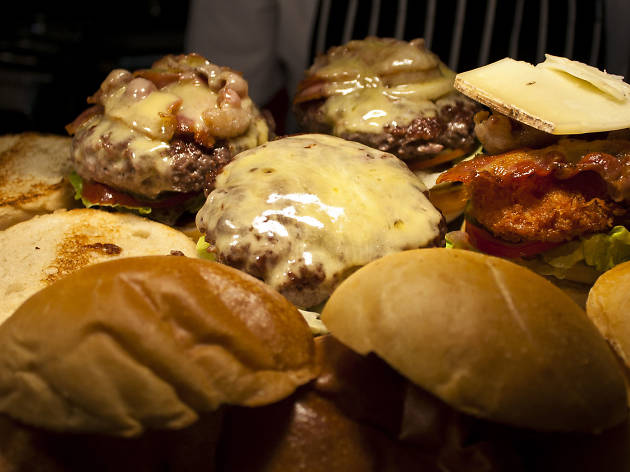 From top-notch restaurants doing them well to venues where the patty and bun are their bread and butter, burgers are big things in Glasgow. With the fast-food chains being shown up by joints putting more than a little bit of TLC into their carefully crafted creations, the humble burger is enjoying pride of place at the forefront of the buzzing US-influenced food scene. And it's probably wise not to listen to those naysayers predicting the end of a trend - when they taste this good, burgers aren't going anywhere. Take a look below for our favourites, or have a look at our steak restaurants list instead.
The best burgers in Glasgow
Another bar more synonymous with Glasgow you will surely struggle to name. Steadfastly doing its thing at the Charing Cross end of Sauchiehall Street since 1991, in recent years the famous Nice'n'Sleazy has transcended its status as an indie dive-bar and musicians' haunt to become many things to all kinds of people. Meathammer Ltd are in charge of the kitchen, doing a range of inventive and blockbusting burgers – including the award-winning Lucretia (with pulled pork, chorizo, burnt pineapple, chilli jam and hot buffalo sauce), one of several worthy successors to the much-missed Sleazy Burger (RIP).
Read more
The sister restaurant to the venerable Ubiquitous Chip, and its increasingly popular young sibling the Hanoi Bike Shop, Stravaigin is a reliable West End eatery. Their classic, chunky burger is one of the city's best - go for the 12oz option and throw in your choice of cheddar, bacon, fresh chillies, tomato and ginger pickle and kimchi. Or all of them, of course.
Read more
Lebowskis' self-styled 'legendary' burgers live up to their name. They're among the best burgers in town, in variants from beef to chicken, coley, pork and mushroom, each served with crisp lettuce, beef tomato and red onions, and accompanied by hand-cut triple fried chunky tats. 28 optional additional toppings from Lockerbie mature cheddar to Ayrshire bacon and spicy marinara sauce give you near limitless choice when it comes to pimping your patty.
Read more
Besides excellent beer, their pub grub menu also includes one of the most highly-rated burgers in town - the Inn Deep burger. It comes in steak, piri chicken, sweet potato and bean or halloumi varieties, served on a brioche bun freshly-baked in-house, with sides of chips and salad and optional toppings from haggis, black pudding or chorizo to cheddar cheese, jalapenos or caramelised onions. Deciding how to configure your burger is probably the only choice at Inn Deep more difficult than deciding what to wash it down with.
Read more