Heads up! We're working hard to be accurate – but these are unusual times, so please always check before heading out.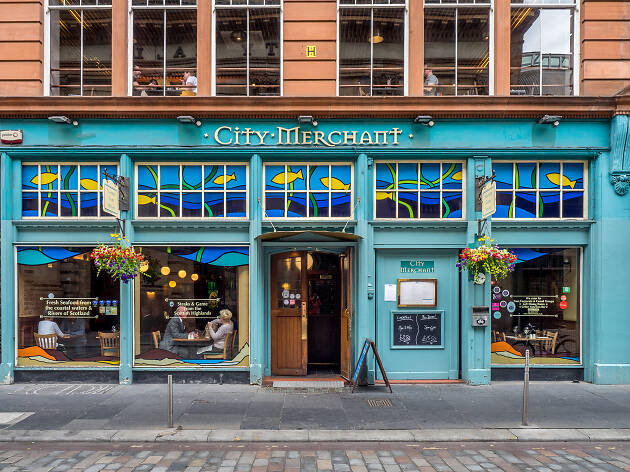 The 16 best pubs in Glasgow
Fancy visiting the tiniest pub in Scotland? Squeeze in – then try somewhere else on our pick of best pubs in Glasgow
While there aren't as many pubs as there once were in Glasgow – a time when drinking was practically as much of a religion here as religion itself – pub culture remains an important part of city life for generations young and old. From historic old haunts to trendy new drinking dens, pre-clubbing hotspots to family-friendly gourmet destinations, the best pubs in Glasgow are certainly diverse. And we must say they're also rather good. Grab a pint, or indeed a cheeky half, at these top-rated spots around town – and then why not treat yourself at one of the best cocktail bars in Glasgow?
RECOMMENDED: Full guide to the best bars in Glasgow
Best pubs in Glasgow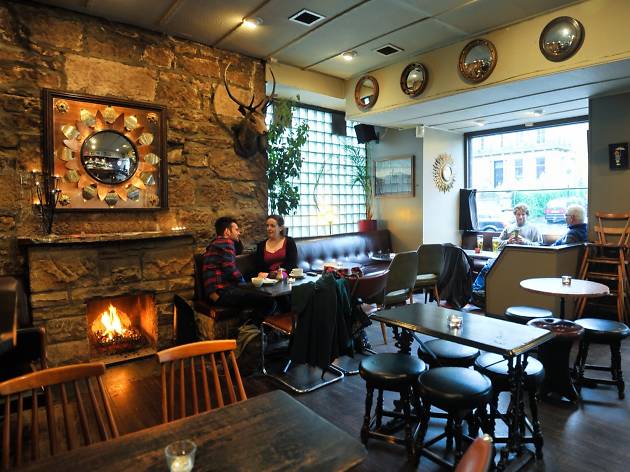 One of the West End's cosiest wee pubs. Once a spit-and-sawdust boozer called The Western, this Great Western Road establishment attracts a mixed clientele that includes suits, fashionistas, students (ranging closer to the postgraduate end of the spectrum) and dogs – there always seems to be at least one dog in here – all rubbing shoulders in living room-sized confines, by the heat of an open fire in winter time. Expect chat from more than just your immediate company during a long session behind steamy windows.
Probably no other recent bar opening quite captures Glasgow at its coolest and most contemporary than Bananamoon, a joint venture between West End restaurant mogul Fergus McVicar (Chinaski's, Tabac, Alchemilla) and DJ institution Optimo (whose responsibilities have included installing a top-notch sound system). Occupying a neat corner location on Great Western Road adjacent to St Mary's Cathedral, it's impossible to miss the bright green frontage, neon lighting and long outdoor bench seats. Inside, it feels more Berlin than Glasgow, with retro wood-paneling and vintage tables, and a bar that looks like it belongs in someone's '60s home. The cocktails are superb. Beers range from Norwegian blondes to heavy-hitting Belgians, IPAs, stouts and porters. Bananamoon's also a great place to hang out by day, when you can indulge in coffee by Papercup and pasties from Freedom Bakery.
From its bunker-like structure to the font used on its signage, the fixed tables inside and the central, circular bar, The Laurieston is precisely the kind of place that looked modern in the 1960s – and here's hoping that this cult institution, regularly ranked among Glasgow's best pubs, never changes. Not far from the Sub Club nor the O2 Academy music venue, the venue's crowd is much more diverse in age than the look of the place might suggest. The same goes for the beer – alongside your basic lagers and stouts, you'll get the likes of Fyne Ales from Argyll and Jaw Brew ales from Renfrewshire, with a convivial atmosphere and stylistic time travel thrown in for free.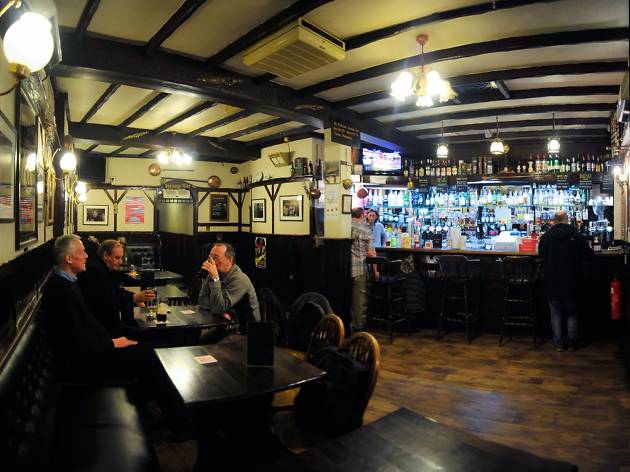 The Doublet prides itself on being a rock of friendly tradition in the West End's ever-shifting pub scene. It's one of the last of a dying breed, the traditional West End boozer. Describing itself as a 'pub for conversation', it's been run by the Don family since 1961 and has a faithful clientele of all ages from students to hipsters to silver-haired gents. Generally speaking, you'll find most of the former in the upstairs lounge and the latter downstairs in the main bar but, as the night winds on, the two crowds tend to merge, with interesting results.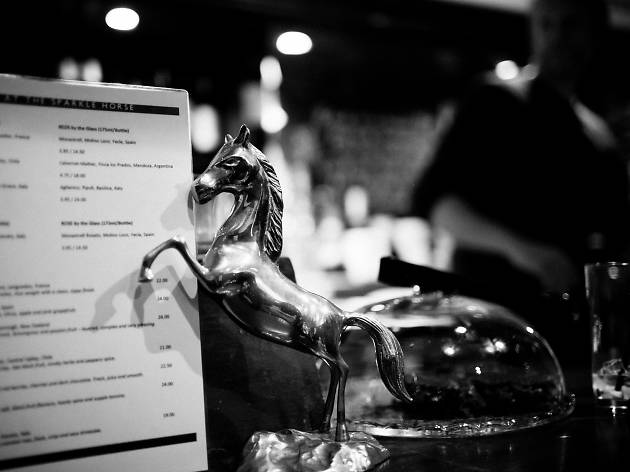 This pub's transformation since December 2012 could hardly have been more complete, nor as warmly welcomed. Previously the dowdy old Dowanhill, it's now the much cooler, worldlier, more relaxed and welcoming (yet still satisfyingly) simple bar-restaurant The Sparkle Horse. Named after the late Mark Linkous's venerated American indie rock band, this is a family-friendly, community-spirited hangout with music at its heart (owners include members of cult Glasgow band Bis). The Monday-night pub quiz is legendary and always hotly contested.
A bar more synonymous with Glasgow is hard to imagine. Steadfastly doing its thing at the Charing Cross end of Sauchiehall Street since 1991, in recent years the famous Nice'n'Sleazy has transcended its status as indie dive and musicians' haunt to become many things to all kinds of people: a place for great food, drinks, DJs, live music, dancing and just general hanging out from noon until 3am seven days a week. Dimly lit, with a stylish-yet-careworn vibe between its colourful murals, funky low-hanging lamps and beat up leather booths and stools and scuffed wooden tables, the ground-floor café-bar is a buzzing place where rarely a dull moment passes day or night. New beers and deals appear all the time, super-cheap white and black Russians remain a permanent fixture and, yes, they still sell Buckfast.
Open since 1884 and showing its age in its ancient frontage and signage, The Allison Arms on Pollokshaws Road – or the Ally, as it is affectionately known – could easily be mistaken for the sort of roughspun pub nobody below retirement age ever frequents. But, in truth, it's a much-loved neighbourhood haunt for people of all ages – the place where the old boys meet the cool kids and all get along just fine. There are around 100 independent distillery gins to work through and fridges full of craft and German beers. The U-shaped bar makes for a good atmosphere. Whether for a quick pint after a walk in Queen's Park (dogs always welcome) or pre-show drinks before heading round to the nearby Tramway, or even to take part in the notoriously tricky pub quiz, the Ally's always worth a visit.
A south-side sister venue to the Sparkle Horse has recently arrived in Govanhill, doing just as its older sibling did and reviving an old neighbourhood corner bar which was well on its way out. The formula is much the same: a contemporary but thankfully not heavy-handed refit, a welcoming, more youthful but by no means exclusive atmosphere, quality beer and great (not to mention inexpensive) food. And, perhaps most importantly, a fiercely competitive Monday night pub quiz. Why do other pubs have to make things so complicated?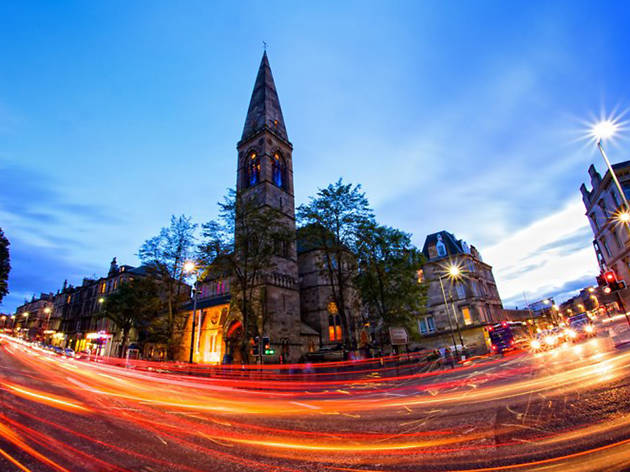 Òran Mór could barely have any more strings to its bow: pub-restaurant, brasserie, music venue, theatre, nightclub – there seems to be no containing the inexorable expansion of this hugely successful venue. It's one of the few places in the West End with a proper late licence – until 2am weekdays and 3am on the weekends – and so can get especially busy after midnight. The Whisky Bar is the main boozer, where you'll find a good range of beers and spirits, as well as a menu of hearty pub-grub classics.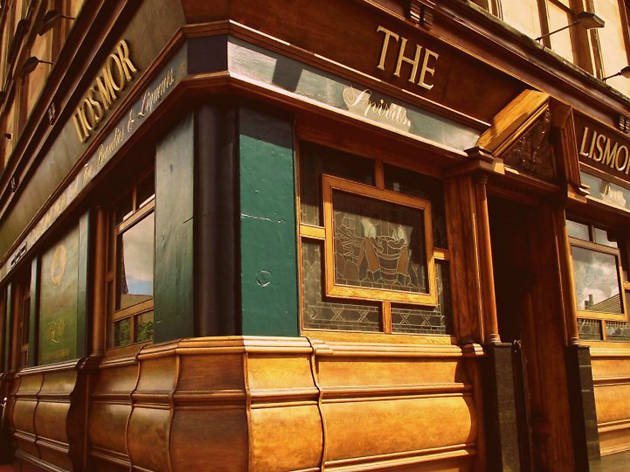 Named after a small Hebridean island, this self-styled 'Highland pub in the middle of Glasgow' resists the trend of gentrification in West End watering holes by keeping it old-school: good beer and whisky, good atmosphere and a little traditional music. Opened in 1996, well before Partick Cross started to experience a trendy resurgence following its post-shipbuilding industry slump, the Lismore has built up and maintains a mixed and faithful clientele – from students enjoying better-than-average prices to hardy silver-haired drinkers getting in a cheeky hauf an' a hauf (a whisky with a half-pint of beer chaser).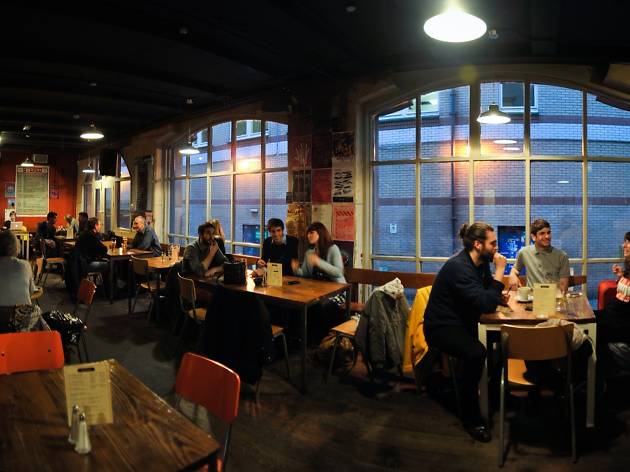 Stereo has become one of the most happening alternative café-bars and gig/club venues in the city since moving into town from the West End in 2007. A very central location – just north of Central Station – in concert with great food and drink offerings, a diverse programme of entertainment and events keep the place buzzing from noon until 1am (except Fridays and Saturdays, when the venue closes at 3am). The style is bright, colourful, shabby-chic, between mismatched old tables and chairs, and gig and club posters lining the walls down the deep winding stairwell to the basement venue. The cuisine is all vegan and full of flavour and freshness. The beer range is broad, with plenty of local brews on tap and in bottles – all vegan, naturally.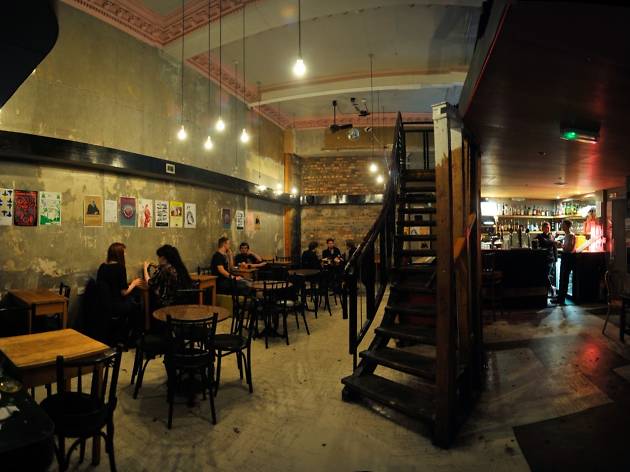 Immediately opposite Stereo and owned by the same people, The Old Hairdresser's started life in 2011 almost as an overspill for its sister-venue. Since then, it's steadily been building its own identity, both as a laid-back café-bar and as a leftfield gallery and music venue. The ground-floor café-bar is so rudimentary in décor and setup – mismatched tables and chairs, bare walls, a tiny bar doing a limited range of beers and ciders – you could be forgiven for thinking it's a pop-up rather than a permanent business. The DIY events space upstairs is a spacious and cheap blank canvas for art exhibitions, club nights, gigs and theatre productions. It all adds to the trendy, relaxed feel.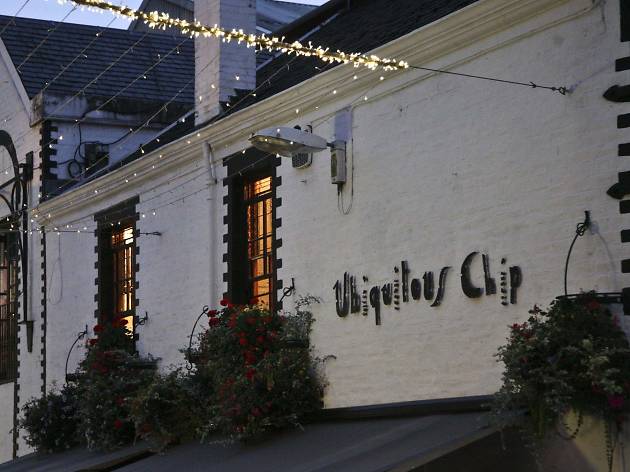 There's so much more than fine dining to be experienced within this Glasgow institution of more than four decades, which also has several excellent bars. The Big Pub upstairs, with its open fire and great drinks selection, marries a village ambiance with cosmopolitan cool. Elsewhere in the warren-like building, you'll find the smaller Corner Bar and the smaller still Wee Pub – the smallest pub in Scotland, in fact. There's also a rooftop terrace hidden away atop the stairs, which is lovely on balmy summers evenings. With its 1am licence – a little later than many of its neighbours – the Chip can get particularly lively in the last hour before closing.
The proposition here is simple: a traditional bar with truly great beer, an excellent whisky selection and good bar food. The location, close to the Mitchell Library but overlooking the M8 motorway, may slightly work against it but we imagine that it does a good job deterring city centre fashionistas and West End hipsters – which can only be a good thing. Once inside, just rejoice at the ever-changing selection of well-kept cask ale and ask yourself if you can justify clootie dumpling and custard to follow the chilli con carne.
When this bar opened on Argyle Street more than 15 years ago, its design was innovative and striking. With rocks on the wall, a bar made of reclaimed materials, exposed stone and other features, it was like finding a pub inside a Neolithic chambered cairn. It hasn't changed much since then – except grown older and less shiny – but with a few decent beers on draught and one of the best whisky selections in the city, the Ben Nevis remains an interesting place to go for a drink. It also hosts folk music sessions.
Between Trongate and the Clyde, the Scotia claims a heritage that goes back to the 18th century and for major chunks of the 19th and 20th centuries it sat next to a theatre that's now long gone. It may not look like much from the outside but this pub can make a genuine claim to be the city's oldest. Expect wood panelling throughout, old photos around the walls, a basic bar menu, folk music at the weekends, cask ale on draught – Ossian from Perthshire perhaps – and always a special offer on a single malt whisky.
Worked up an appetite?
Glasgow's food scene hasn't always had the best reputation – we're talking about the home of the deep-fried Mars Bar, after all. But anyone who truly knows it will tell you Scotland's biggest city boasts a thriving (and vastly underappreciated) culinary culture.