The 10 most-Instagrammable places in Hamburg
Take your grid to the next level with snaps of these visually stunning historic and modern buildings, bridges and more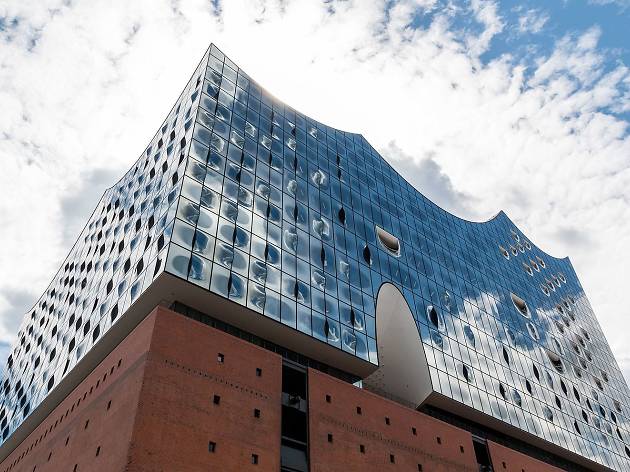 A salty seafaring life is deeply embedded into the cultural web of Germany's second largest city. With more bridges than Venice and Amsterdam combined, Hamburg is shaped by its bodies of water—something the city's 1.7 million inhabitants take full advantage of. Celebrated as a music metropolis, the city is also home to numerous photo-inducing cultural centers and museums, mixed in with historic (some reconstructed) and contemporary landmarks. From a miniature journey through countries around the world or the wave-like roof and sculptural glass facade of the city's new concert hall, to a landmark tunnel that runs through the depths of the earth, find the most Instagrammable places in Hamburg here.
On a beach you'll never swim at, a lean man in Speedo-like swim trunks towels off his hair while his family looks on–just one tiny scene at Miniatur Wunderland. Located in Hamburg's historic Speicherstadt district, this exhibit of a miniature world spread out over 1,350 square feet draws 1.3 million visitors a year, with the world's largest model train display (50,000 feet) and an international journey that goes from America to Germany, Scandinavia, Austria and Italy. From snow-glazed alpine panoramas to cityscape shots of Hamburg (the biggest city in Minatur Wunderland) to the realistic air traffic flying into Knuffingen Airport, the photo ops are overwhelming. One unique perk: With 385,000 LEDs, the world switches from day to night every 15 minutes–meaning you don't have long to wait for the perfect lighting conditions to return.
In January 2017, Hamburg celebrated the opening of one of the largest and most acoustically advanced concert halls in the world, the Elbphilharmonie. With its wave-like roof and sculptural glass facade by Swiss architecture firm Herzog & de Meuron, the concert hall is a striking landmark perched on top of one of Hamburg's largest warehouse buildings. A great place to catch the building in full glory is across the Elbe, at the Theater im Hafen. To soak in some of the interior architecture without a concert ticket, visit the public viewing area inside–it extends around the whole building. While you won't be able to see the auditorium, which seats 2,100, you can order a coffee or a glass of wine at the snack bar and enjoy panoramic city views from cafe-style seating.
Park Fiction
Sprouting from a harborside park in St. Pauli, Hamburg's red light district, plastic palm trees reach for the sky. Park Fiction is an art project conceived as a symbol of resistance against development plans for the waterfront plot–which the initiative successfully changed after ten years of struggle. Now the community space, officially inaugurated in 2005, hosts film screenings and events, as well as those looking to enjoy lunch on a magic carpet of planted grass. Stand between the palm trees for a portrait shot with an unexpectedly tropical backdrop.
Speicherstadt
Toasted as the world's largest historic warehouse complex and one of Germany's first hi-rise buildings, the Speicherstadt is a stately sprawl of 17 Gothic red brick-style buildings named a UNESCO World Heritage site in 2015. Built between 1885 and 1927 in the heart of Hamburg's port, the complex extends over 2.8 million square feet. Over the years, it has held coffee, tea, cocoa, spices, tobacco and oriental carpets in its 3.2 million square feet of storage area. Today the buildings are highly coveted real estate. The good news is that several tourism outlets are now tenants–among them Hamburg Dungeon, Miniatur Wunderland and the Speicherstadtmuseum (where you can dive deep into the complex's history). You can get a great shot from any of the nearby bridges–the Michaelisbrucke is a good bet.
Twenty statues of kings and emperors from the German Empire preside over the richly decorated sandstone facade of the Rathaus Hamburg–which seems more like a castle than a government building. However, this 1897 example of Neo-Renaissance architecture serves as the seat of Hamburg's state parliament and administration. Blue skies are best to catch the royal mascots—and the 370-foot-high tower dominating the skyline of Hamburg's city center—in full glory. Stroll into the courtyard recalling an Italian piazza to see the Hygieia fountain. Operating in memory of an 1892 cholera epidemic, it's named after the Greek God of health. Monday through Sunday from 8am to 6pm, guided tours are offered of the expansive interior of at least 647 rooms (we're saying 'at least,' because a hidden chamber was uncovered by chance in 1971). Among the photo-worthy highlights: intricate wood carvings made by Hamburg orphans, ornate walls clad in leather, silk and oiled felt, and that secret room.
Santa at Rathausmarkt
Three times a day, Santa and his reindeer rise over the Rathausmarkt (City Hall Marketplace) at Hamburg's main Christmas market in the historic square facing Rathaus Hamburg. With stalls springing up at the end of November and remaining open until just before Christmas, the Rathausmarkt Christmas market claims to be less commercialized than the city's competing Christmas markets, and each year draws nearly 3 million visitors by peddling arts and crafts and unusual gifts categorized by the slogan "art not commerce." Santa and his sleigh–an installation wired over the square–are best shot at dusk, when the sleigh's lights blink on. Once you've got that photo, sink your teeth into a piece of Nuremberg gingerbread and wash it all down with Rathausmarkt mulled wine.
Alte Harburger Elbbrucke (Old Harburg Bridge)
Composed of 1,555 feet of steel stretching over the Southern Elbe and accessed via an imposing sandstone gate, the Alte Harburger Elbbrucke was completed in 1899 in what is now the Port of Hamburg. For many years, traversing under its steel arches was the only way for road vehicles to reach Hamburg's city center. Today this bridge is restricted to pedestrians and cyclists—so you can snap it and its scenic views at your leisure. Note the stone portals with their Wilhelmsburger and Harburg coats of arms; they were designed by Hubert Stier in tribute to Hamburg's city gates. Fun fact: The bridge once had a footpath cantilevering sideways—however, after a renovation that spanned 15 years, it was removed.
Skulpturenpark Entenwerder
A gathering for creative types, swimmers and the boating community, Skulpturenpark Entenwerder (Sculpture Park Entenwerder) is a sun-splashed installation on a pontoon directly on the Elbe River in the Rothenburgsort district. A landmark both by water and by land, it consists of Entenwerder1, a cafe housed in two pink-painted shipping containers, and The Golden Pavilion, a structure of perforated copper sheet metal that was part of Münster's 2007 sculpture exhibition. In one of the cafe buildings, a wall is clad in wood strips painted a wild spectrum of colors—there's the backdrop for a great portrait shot. Picnic-style outside seating delivers an excellent view of Hamburg boating life. If you're lucky, you'll catch sight of the HafenCity River Bus—a freaky boat-bus hybrid that travels by land and by sea.
Komponisten-Quartier
Celebrating Hamburg's rich music history, the Komponisten-Quartier (Composers' District) is a civic planning success story consisting of a cluster of museums dedicated to music in Hamburg-Neustadt (Hamburg New Town). The first museum, the Brahms Museum, opened in 1971. It was followed by the Telemann Museum, the Carl Philipp Emanuel Bach Museum, and the Johann Adolf Hasse Museum. Then, the Felix Mendelssohn Museum and the Gustav Mahler Museum. All the museums are in reconstructed townhouses of wealthy Hamburgers on the south side of Peterstrasse. Turn your lens on the half-timbered and gabled accents—they are beautiful and historically accurate.
St. Pauli-Elbtunnel
To see one of Germany's—and Europe's—most prized civil engineering landmarks, you'll need to head on down to the depths of the earth. Opened in 1911, and with a breadth of nearly 1,410 feet, the St. Pauli-Elbtunnel is found nearly 80 feet below the surface, underneath the River Elbe. A protected monument since 2003 (and also known as Old Elbe Tunnel) the St. Pauli-Elbtunnel was the first river tunnel on the continent. The St. Pauli-Elbtunnel is best seen on the weekends, when there are fewer cars (and less exhaust).
Looking for more scenic attractions around town?
Think you've seen all there is to see? Think again. With more bridges than Venice and a notably crisp, northern light, Hamburg is a city defined by its proximity to—and the presence of—water, from the raucous Sunday morning Fischmarkt to the picturesque Strandperle beach. Between its scenic waterfront views and unique buildings, you can bet there's plenty worth posting.