The best attractions in Hamburg
Navigate your way through the canal-dotted city for a strong dose of culture, history and no-holds-barred nightlife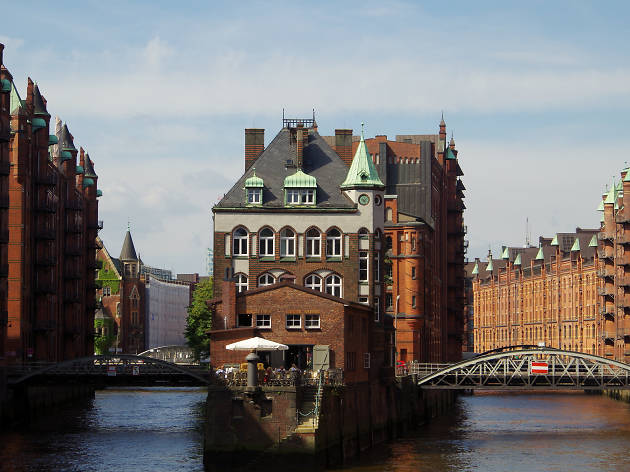 Known as harbour city, millionaire's metropolis, media capital, anarchist hub; Germany's second-largest city is an intoxicating mix, where the North Sea winds carry a prosperous Hanseatic trading history, as much as a bawdy nightlife and long tradition of leftist dissent. With more bridges than Venice and a notably crisp, northern light, it is a city defined by its proximity to—and the presence of—water, from the raucous Sunday morning Fischmarkt to the picturesque Strandperle beach. Life at sea still defines much of Hamburg's nightlife, too, and a full city experience will take in at least one walk along the red-light Reeperbahn, as well as a stroll through the Schanzenviertel, the traditional–if now much gentrified–heart of Hamburg counter-culture. Meantime, the Hamburger Kunsthalle and proud new Elbphilharmonie promise world-class art, music and architecture in knock-out waterside locations.
The best attractions in Hamburg
1
The ornate, neo-Renaissance Town Hall of the Free and Hanseatic City of Hamburg is a good place to get your bearings and a grip on the city's proud, prosperous identity. At the heart of the Altstadt, the elaborate, towering building is a vast sandstone statement of wealth, sovereignty and Hamburg's historic membership in the Hanseatic League, a confederation of independent city states which dominated Baltic maritime trade for some three centuries. The building is fronted by a mosaic of Hamburg's patron goddess, Hammonia, as well as the city's coat of arms and the Latin city motto: Libertatem quam peperere maiores digne studeat servare posteritas, "The descendants shall seek worthily to maintain the freedom achieved by their forebears." The Rathaus is one of the few historic buildings in Hamburg to have survived Allied air raids during World War II, including the infamous "Operation Gomorrah," which killed 42,600 Hamburg citizens.
Read more
2
Don't forget to pack your swimwear; Strandperle is Hamburg's beloved city beach location. This sun-kissed spot directly on the Elbe boasts deck chairs, umbrellas and a laid-back bar serving beer, wine, cocktails and simple food, from a fish sandwich to a hearty dish of chilli con carne. Unsurprisingly, it's particularly popular on warm weekends and evenings, but it's open throughout the year (in winter with a heated marquee), and a perennial favorite for Hamburgers young and old. The views across the harbour, with its giant cranes and container terminals, may not be everyone's idea of picturesque, but they're certainly pure Hamburg; for some locals it's even the perfect backdrop for an engagement or wedding. Service at Strandperle is friendly, if sometimes slow, but this isn't a place to rush through anyway: Sit back, relax and watch the ships go by.
Read more
3
It was several years late on completion and ran ten times over budget, but strains to patience and purse strings are largely forgiven now that Hamburgers can swoon up at the "ElPhi." On a peninsula of the Elbe river, the Herzog & de Meuron-designed building combines the red-brick Kaispeicher, formerly Hamburg's biggest warehouse, with a soaring, new, glass-fronted structure on top. As well as its three concert venues, the building accommodates a hotel, residential apartments and various eateries, and is the unquestionable showpiece of a broader rejuvenation plan for the "HafenCity" district, not to mention the new star of Hamburg's skyline. There's still fierce competition for concert tickets, but the public access "Plaza" viewing platform allows for both an impression of the building's interior and 360-degree view of the city and harbour. There are also guided tours outside of performance hours, available to book online or at the ticket office. If you want to keep things more spontaneous, just swing by and admire from the outside; with its roof contoured like wave crests and its façade of 1,000 curving window panels reflecting the sky, sunlight and water, much of ElPhi's impact is exterior; as hefty as an Atlantic liner, as aqueous and shimmering as the sea.
Buy tickets
Read more
4
There's a distinct English country flair to Jenischpark, with its rolling green acres, woodland paths and stately Jenisch House. The oldest landscaped park in Hamburg, it's a particularly popular spot for summer picnics, but a beautiful place throughout the year, not least of all at autumn or winter twilight, when the sturdy oak trees turn to silhouettes against the fading sun. Originally the country seat of a wealthy Hamburg merchant, Jenisch House is now a museum specializing in Northern German art and culture, especially of the 19th century, with a ground floor of original Empire and Biedermeier furnishings. For those more inclined towards the 20th century, the low-rise Ernst Barlach Museum down the slope is a serene modernist enclave showcasing the work of sculptor Ernst Barlach, best known for his expressionist, anti-war works. The museum café, with ground to ceiling windows looking out onto the park, is a lovely spot for a reflective coffee.
Read more
5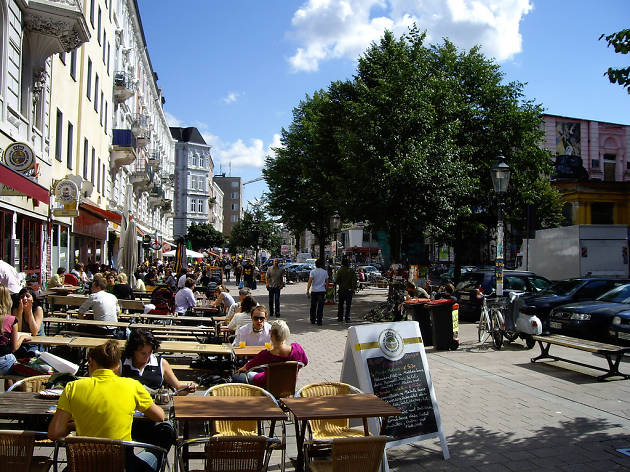 Schanzenviertel
The traditional beating heart of Hamburg counter-culture and center of the much-publicized violent protests during the G20 summit, the neighbourhood of Schanzenviertel holds on hard to its alternative credentials. In reality, despite the smashed-up stores of summer 2017, the neighbourhood is more characterized by third-wave coffee shops and vintage lamp stores than hubs of anarchic dissent. High-consuming hipsters and media professionals have long moved into the "Schanze" and, as the story always goes, priced out the anarchists and students that originally gave the district its interest and edge. Only the run-down Rote Flora, a former neighbourhood theatre (now long-contested squat and cultural space), remains a real center of activism and protest. Nevertheless, Schanzenviertel remains a lively and charismatic district, with a thriving bar scene, several good and reasonably priced eateries, and many independent retailers, as well as the Saturday Flohschanze flea market.
6
Depending on how late last night was, or whether you went to bed at all, an early morning visit to the Sunday Fischmarkt is a legendary Hamburg experience. It's been doing brisk, fishy business since 1703, with raucous criers promising all the bargains and bawdy banter you could wish for. Of course, there's fish in abundance—smoked, fresh, pickled—alongside plenty of flowers, fruit, vegetables, second-hand fare and even livestock. For the unwearied Reeperbahn reveller, the neighbouring Fischauktionshalle promises to keep the party flowing with beer and live rock bands. For those looking for a more restorative breakfast, there are plenty of nearby cafés. The Fischmarkt is open from 5am in summer, 7am in winter, and closes at 9:30am throughout the year.
Read more
7
The Kunsthalle is one of the most important museums in Germany, with astonishing holdings through 700 years of European art history. There are star turns from the Elders Cranach and Holbein, Baroque big-hitters Tiepolo and Canaletto, and a lustrous line-up of Dutch Golden Age artists such as Rembrandt, Pieter de Hooch, and Anthony van Dyck. The 19th-century French and German collection is also particularly strong, featuring Paul Gauguin, Paul Cézanne, Éduouard Manet, modernist pioneer Max Liebermann, and Caspar David Friedrich in all his Wanderer above the Sea of Fog glory. The Kunsthalle's contemporary gallery features leading examples of Pop art, Arte povera, minimalism and conceptualism, as well as specially commissioned pieces, such as Jenny Holzer's LED Ceiling Snake, a ticker-tape of characteristic truisms between the Kunsthalle's old building and new wing. Alongside the permanent collection, the Kunsthalle's exhibition program is excellent, with thematic as well as period- and artist-specific shows, and a strong run in exhibitions of women artists to offset all those Old Masters.
Read more
8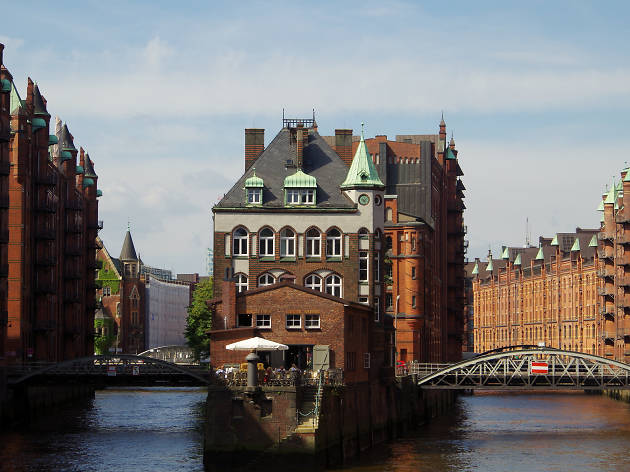 Speicherstadt
The remarkable red-brick Speicherstadt is the largest warehouse district in the world. Built between 1883 and 1927, it spans some 26 hectares in a grid of canals, bridges and multi-story buildings providing both land and water access. Tons of coffee, tea, cocoa, tobacco, spices and textiles all passed along these channels, and though today the Speicherstadt is less bustling hub of global trade than UNESCO World Heritage Site, it's still infinitely evocative of Hamburg's trading repute—and of a time when far-flung fabrics and flavors were still a thing of luxurious thrill. The area's architecture does a whole lot more than portside pragmatism, with a stylish run of Neo-Gothic gables, towers, alcoves and glazed terracotta elements, all particularly atmospheric when illuminated at night.
9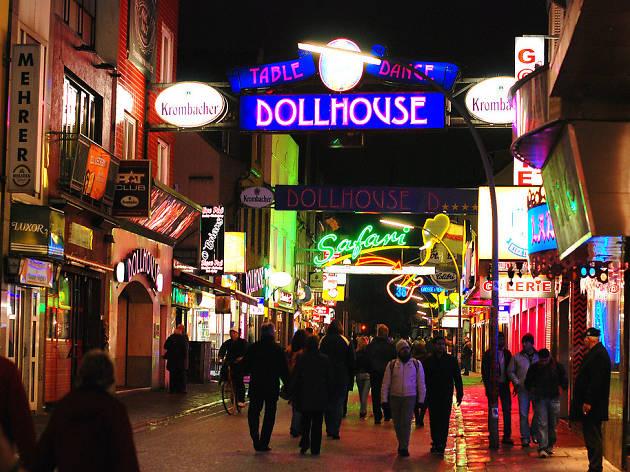 Reeperbahn
Hamburg is a harbour city, and has all the nightlife provisions to prove it. The Reeperbahn is its most renowned party–and prostitution–thoroughfare, where motley hordes of punks, pimps, bachelorette parties and posh law students looking to let their hair down roam along the fluorescent strip of fast food chains, late night pharmacies, sex shops and sweat-steamed clubs where everyone's woozily dancing to Stevie Wonder. This is Hamburg in rough, ready and garish glory—and a must-see for a complete impression of the city. You'd do well to keep an eye on your valuables, but the vibe is far more upfront than uneasy seedy, with more people leering towards you for a drunken sing-along than anything malicious. True kneipe classics in the area include Alt Hamburger and Zum Silbersack, while the Beatles famously played in various clubs along the Große Freiheit.
10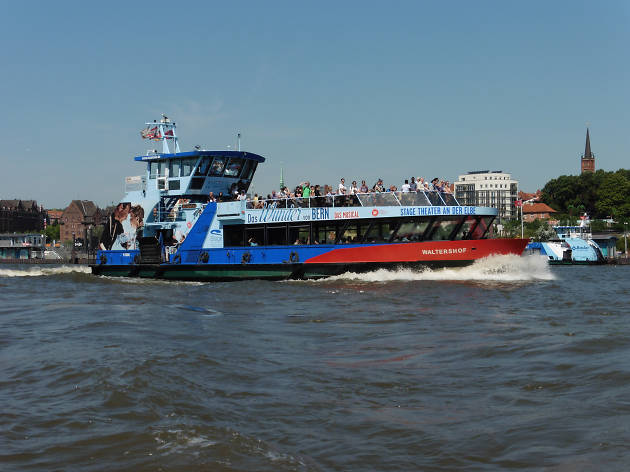 Ferry 62
It's well worth seeing Hamburg from the water to get a sense of the vast harbour infrastructure (the third-largest in Europe) and the aquatic network that runs throughout the city. Unless you really want running (mostly German) commentary, the regular public ferry 62 is just as good—and much cheaper—than the official harbour tours. A round trip will start and end at Landungsbrücken, and takes in stops including Altona, the Fischmarkt, Fischereihafen and Neumühlen, where you'll find the famous Strandperle. Other highlights en route include the Dockland office building, a prow-like beauty of a structure, and the Oevelgönne Museum Harbour, where some 20 vintage boats are anchored. The ferry is yours to ride with a standard HVV (Hamburg public transport) ticket, and you're free to hop on and off anywhere along the route.
Looking for more things to do?
Only in Hamburg can you take a stroll down the infamous Reeperbahn Red Light district, glimpse a miniature world on a gigantic scale and drink a gin basil smash at the bar that claims to have invented it.
Read more