Heads up! We're working hard to be accurate – but these are unusual times, so please always check before heading out.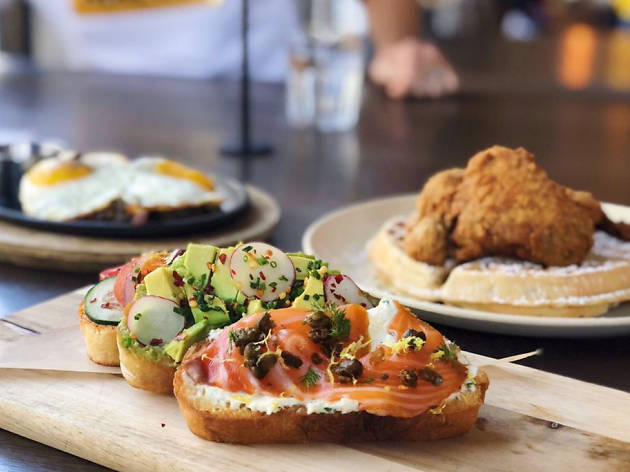 The 10 best brunch restaurants in Houston
Take your pick from the buzziest, booziest and best brunch in Houston for all your am favorites
Houston is often touted as being one of the most exciting food destinations not just in Texas, but in the entire country. Well-known chefs and food writers consistently praise the city's swanky, diverse international dining scene – in addition to traditional Texan fare, Houston is home to truly excellent Vietnamese, Italian, Cajun, South African, Thai and Lebanese food, to name just a scant few of the city's culinary traditions and top restaurant offerings.
This high-profile foodie reputation extends to brunch, too, of course. In fact, there are a near-obscene number of great brunch spots in H-Town, from delightfully long-standing cafes to new, intensely hip establishments. Brunching is quite the popular thing to do here, and a great thing to do with kids if you're looking to plan a weekend family outing. Anywhere you go is likely to be jam-packed, but hey, that just means more time for pre-meal champagne cocktails and bottomless Bloody Marys (for the adults, of course).
Best brunch in Houston
Photograph: Courtesy Yelp/Max's Wine Dive
What is it? A hip mini-chain with delightful comfort food and a surprisingly affordable menu.
Why go? If you're looking for a place to soak up last night's debauchery, Max's Wine Dive is your go-to. There's no need to look at the menu, you'll have the Famous Southern Fried Chicken: jalapeno-buttermilk marinated chicken, crispy home fries, Texas toast, collard greens and chipotle honey. It's sheer perfection.
Price Bracket: Average
Photograph: Courtesy Yelp/Maria P.
What is it? A cozy converted house in River Oaks with classic, standout brunch items and an adorable patio.
Why go? With a menu this good, it's nearly impossible to decide what to get. Will you have the Gulf Coast Beignets, with flavorful crab, shrimp, andouille, corn and roasted red pepper remoulade? Will it be the silky Braised Oxtail and Eggs, or the killer Shrimp and Stone-Ground Cheese Grits? We don't envy you this choice. Just make sure to procure a reservation well in advance.
Price Bracket: Pricey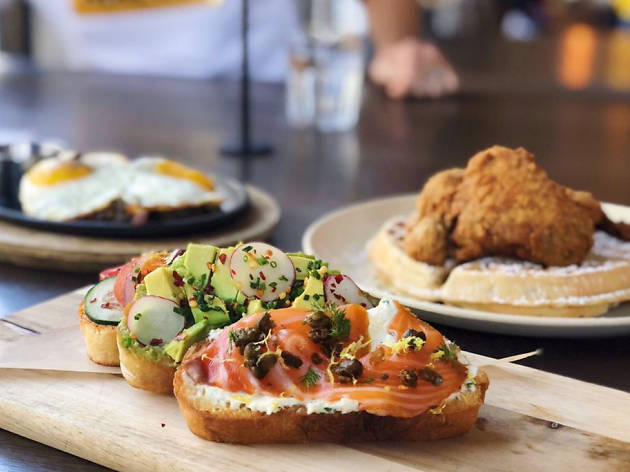 Photograph: Courtesy Yelp/Annie Q.
What is it? A lively, bustling café in the East Downtown area.
Why go? This charming European-style café and bakery serves a fabulous weekend brunch with standards like Migas (that's soft-scrambled eggs, fried tortilla chips, onions, peppers and salsa, for you non-Texans), the Breakfast B.L.T and Chicken & Waffles. The best thing on the menu is the Avocado Toast, but you can't go wrong with anything you order at Tout Suite.
Price Bracket: Average
Photograph: Courtesy Yelp/Rob S.
What is it? James Beard Award-winning chef Hugo Ortega's eatery.
Why go? Named one of the 38 best restaurants in the nation by Eater, Hugo's is a revelation; it stands out even in a city crawling with incredible Mexican cuisine, and the brunches here are legendary. Come here for the bountiful Sunday buffet and load up on endless amounts of chilaquiles, tamales and chile rellenos while enjoying the sweet sounds of Viento, the house band.
Price Bracket: Pricey
Photograph: Courtesy Yelp/Areanne D.
What is it? A casual, family-style restaurant is a hometown favorite among the local brunch crowd.
Why go? The Breakfast Klub boasts an inventive breakfast menu that includes Pork Chops and Eggs, French Toast, "Katfish" and Grits (the real star here!), several delectable breakfast sandwiches and even Green Eggs & Ham. Plus, the staff is super friendly, and the atmosphere is warm and welcoming. There's always a line out the door and around the building, so try to come during non-peak times, or just prepare to wait.
Price Bracket: Average
Photograph: Courtesy Yelp/Kristin G.
What is it? The new gal in town, located on Montrose and billed as "American cuisine with European refinement".
Why go? Emmaline opened in 2017 to widespread critical acclaim: Houstonites can't get enough of this chic new brunch place. Not only is the dreamy, black-and-white décor reminiscent of the best bistros in Paris, but the food here is truly inspired: Just thinking about the Pastry Cream Stuffed French Toast (maple-cured pancetta, lemon curd, strawberry sauce, and a dollop of pure heaven) is enough to make your mouth water. Emmaline makes for a great brunch date spot.
Price Bracket: Pricey
Photograph: Courtesy Yelp/Belly G.
What is it? A down-home, unpretentious, Southern-style spot in the heart of the Museum District.
Why go? If you're in the mood for simple yet upscale Southern fare like Fried Green Tomatoes, Chicken Fried Steak or Country Benedict, Lucille's is the perfect choice. In addition, thanks to the restaurant's convenient location in the Museum District, this is a great place to fuel up before sightseeing for the day.
Price Bracket: Pricey
Photograph: Courtesy Yelp/Wendy T.
What is it? A fantastic Midtown restaurant and bake shop that puts its own spin on traditional brunch dishes.
Why go? At Weights + Measures, the dishes may seem familiar at first, but there's usually a twist: Think avocado toast with harissa, bacon and fried eggs with peanut butter and Nutella, and cake donuts with fried chicken and maple hazelnut syrup. This unique menu, combined with the scrumptious locally roasted coffee and espresso, easily render this one of H-Town's all-time best brunch hangs.
Price Bracket: Pricey
Photograph: Courtesy Yelp/Brennan's
What is it? A French-Creole restaurant with some of the tastiest Gulf Coast seafood in the city.
Why go? Let's get this out of the way: Brennan's is an extravagance. From the seriously elegant menu food to the live jazz band, this lovely brunch restaurant in Midtown doesn't cut corners. The menu is outstanding, and includes the requisite shrimp and grits, turtle soup and wood-grilled oysters – to name a few exceptional dishes among many.
Price Bracket: Pricey
Photograph: Courtesy Yelp/Michael S.
10. The Pass & Provisions
What is it? A trendy space on Montrose that caters to the young and hip.
Why go? Brunch is technically served at the Provisions part of this dual-establishment, which also includes The Pass, the pricier of the two. Provisions has a weekend-only menu that includes Southern faves like sausage gravy and biscuits, along with artisanal cocktails and fresh baked items like bagels and kolaches. Yum!
Price Bracket: Average
Looking for more dining options?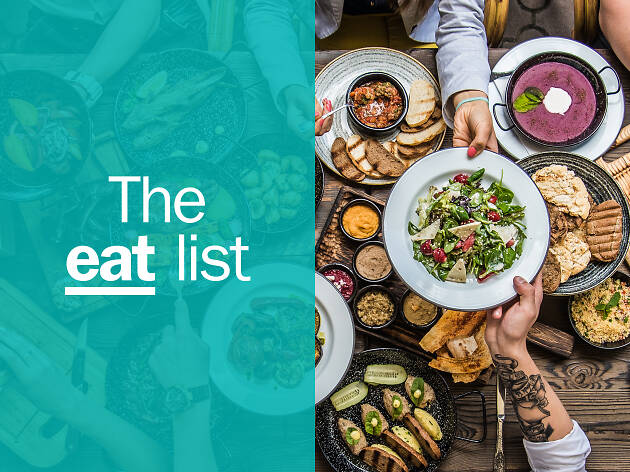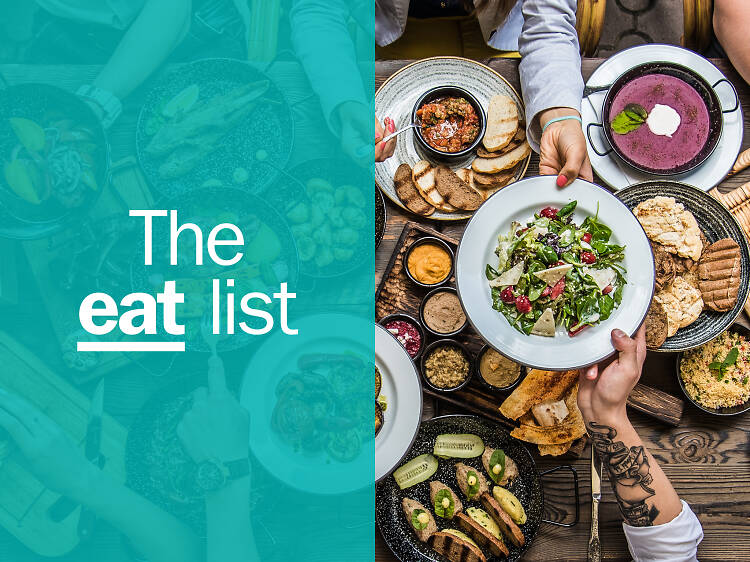 In a sprawling metropolis like Houston, the restaurant scene is as varied and interesting as the city itself. Get your knives and forks ready, because here's our list of best restaurants in Houston.