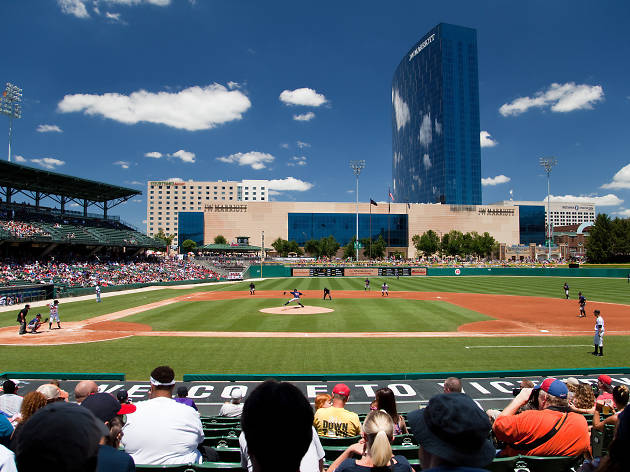 The 24 best things to do in Indianapolis
Take a peek at the best things to do in Indianapolis, from top museums and attractions to live music and restaurants
Indianapolis may have once been mockingly known as Naptown to its residents, years ago, but over the last decade the city has quietly become one of the hippest destinations in the Midwest. On any given night, you'll find local and national bands playing at clubs across town, while crowds pack venues to see local theater groups perform.
Breweries are popping up seemingly in every corner of the city—more than 30 and counting—each capturing its neighborhood's distinctive spirit and vibe. Indianapolis was once a culinary wasteland with little beyond chain eateries to choose from, but dozens of exceptional restaurants have since popped up to ravenous crowds' delight. In fact, there's so much going on in the city, you might just need a nap at your hotel to recover.
Best things to do in Indianapolis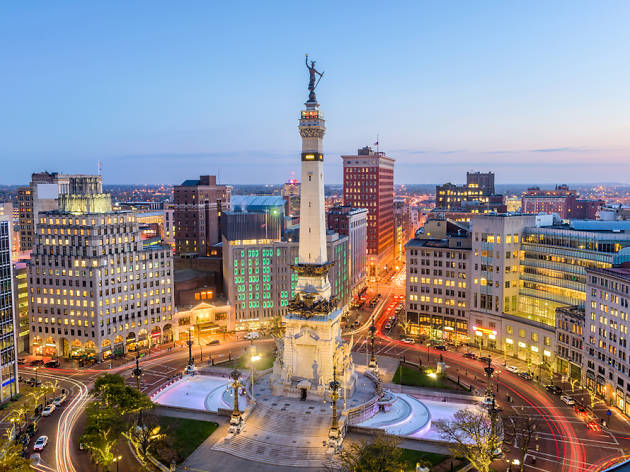 Shutterstock
Get started at Monument Circle
It's fitting that Monument Circle lies in the center of Indianapolis, as all activity seemingly revolves around it. During the spring and summer, traffic is routinely blocked off and any number of festivals and events take place on the brick streets. Explore some history in the Colonel Eli Lilly Civil War Museum on the lower level, then make your way up to the observation deck 275 feet above, where you'll be greeted by a gorgeous, 360-degree view of the downtown skyline. During the holiday season, the Monument is decorated with lights, becoming the state's largest Christmas tree.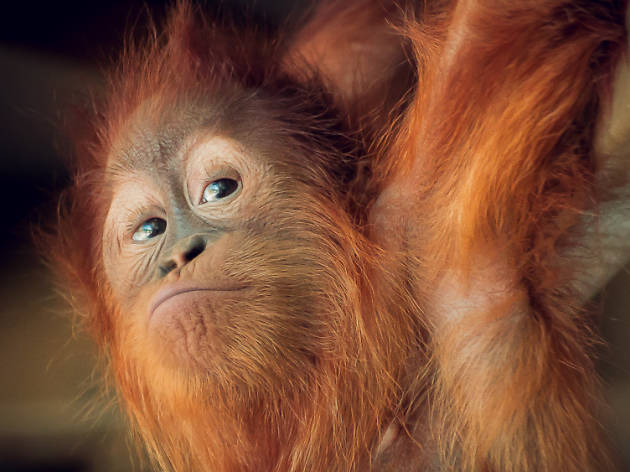 Photograph: Courtesy CC/Flickr/Ryan Summers
Monkey around with the orangutans at the Indianapolis Zoo
Home to one of the largest groups of orangutans in North America, the International Orangutan Center gives zoo visitors a chance to get up close and personal with the primates… except when they're climbing on ropes more than 70 feet off the ground! You can also interact with these intelligent apes via interactive touch screens located around the exhibit. Afterward, visit the Dolphin Pavilion in the Oceans building, where you can watch the Atlantic bottlenose dolphins frolic above you thanks to a unique underwater viewing dome.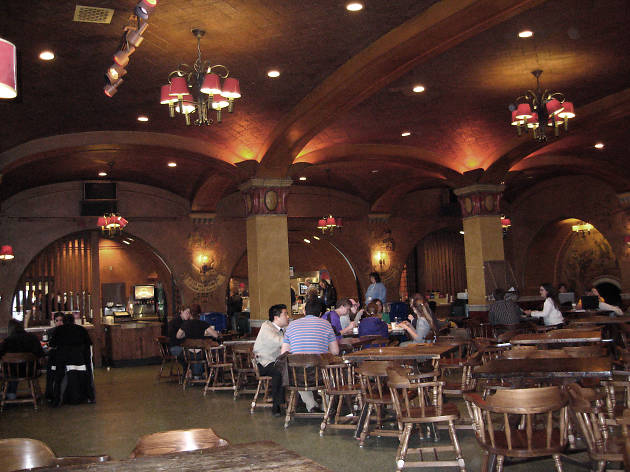 Photograph: Courtesy CC/Flickr/Chadmagiera
Drink in both history and beer at the Rathskeller
Indianapolis is justifiably proud of its most famous literary son, Kurt Vonnegut. Knock back a few drinks at this German-themed restaurant located in a historic building designed by Vonnegut's grandfather; skip the formal dining area and head straight to the Kellerbar, a throwback to the pre-World War II beer halls where you're served German-style beer in glass steins bigger than a newborn baby. After a pilsner or two, step outside the Athenaeum and look to the southwest, where you'll see a 38-foot tall mural of the famed author himself on the side of the Massala Building.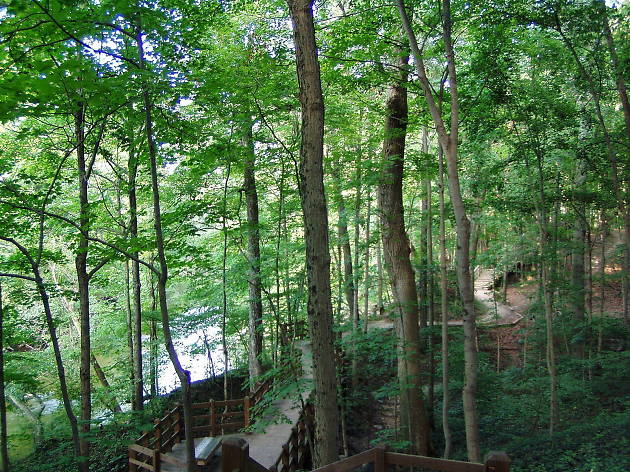 4. Fort Harrison State Park
Hit the trails in Fort Harrison State Park
Named after our 23rd president Benjamin Harrison and affectionately known by locals as Fort Ben, this state park offers Indianapolis residents and guests a relaxing urban oasis. Hikers, bikers and equestrians flock to the dozens of miles of both paved and natural-surface trails, surrounded by canopies of walnut and maple trees. Autumn visits are rewarded with spectacular explosions of color. When you've had your fill of serenity, visit the Museum of 20th Century Warfare to view military weapons, uniforms and displays from the last century.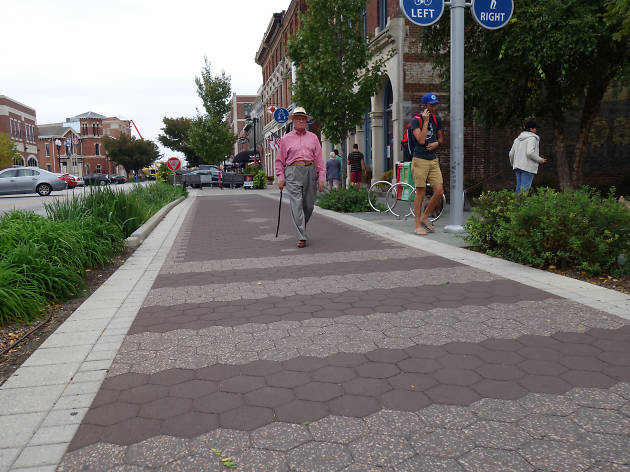 Photograph: Courtesy CC/Flickr/Greg Raisman
5. The Indianapolis Cultural Trail
Pedal past the city's treasures on the Cultural Trail
The Cultural Trail traverses through downtown Indianapolis and into the city's hippest neighborhoods and arts districts such as Mass Ave and Fountain Square. More than $4 million in murals, sculptures and public art are scattered along the trail. Be sure to stop at the Glick Peace Walk to relax at one of the dozen sculptural gardens with luminaries representing men and women like Susan B. Anthony, Jonas Salk and Booker T. Washington who made peaceful contributions to humanity. If your legs get tired, rent an Indiana Pacers bike-share bicycle at one of 29 stations strategically placed throughout the trail.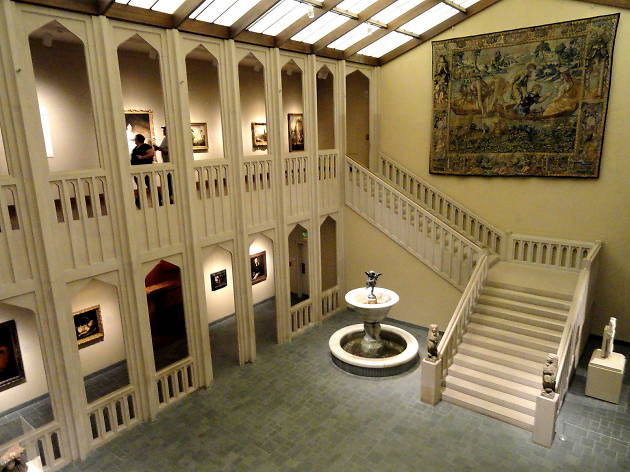 Stroll through the gardens at Newfields
The Indianapolis Museum of Arts rebranded itself as Newfields last year, to better symbolize its goal of combining art with nature. On a spring or summer day, it's hard to beat a stroll through the rows of blooming roses, tulips and other flowers. The 100 Acres Art and Nature Park features dozens of art installations designed to be eye catching, thought provoking functional play equipment. End the trip with a visit to Newfield's Beer Garden. Open Thursday through Sunday, the beer garden serves Sun King Brewery's exclusive Among the Leaves saison, which you can only sample at that location.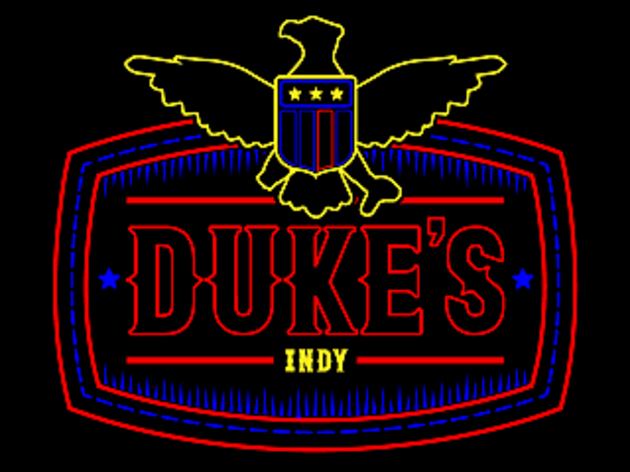 Photograph: Courtesy Duke's Indy
Kick up your heels at Duke's Indy
Indy's newest honkytonk may be a bit off the beaten path, but it's well worth a visit. Every Saturday night, Duke's brings in a mix of local stalwarts like Stockwell Road and Hank Haggard, as well as nationally touring acts such as the Banditos. (A word of advice—if you're tempted to chat while the band is roaring, look above the stage for a neon-lit, somewhat profane reminder to stay quiet.) A great selection of classic country vinyl and Duke's tasty Hatch Smash Burger with green chilies provides a great reason to stop in even when there isn't a live band.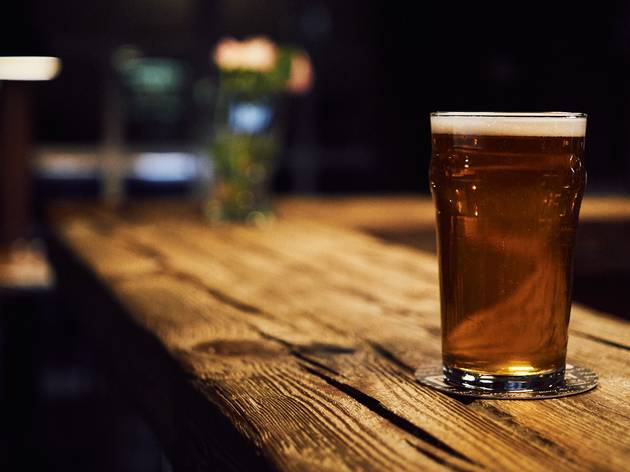 8. Indianapolis Greenways
Bike to the breweries on the Indianapolis Greenways
Bikes and beer seemingly go hand in hand, so it's no wonder that self-guided bike-path brewery rides are so popular with Indy cyclists. The easiest itinerary has riders sticking to the Monon Trail and starting at either Cannon Ball Brewing to the south or Union Brewing to the north, and working their way down the trail, one flight at a time. Within a block of the trail, beer-loving bikers will come across more than a half dozen breweries and craft taprooms, including Bier Brewery, Big Lug Brewing, Broad Ripple Brew Pub, 3 Wisemen, and Triton Taproom.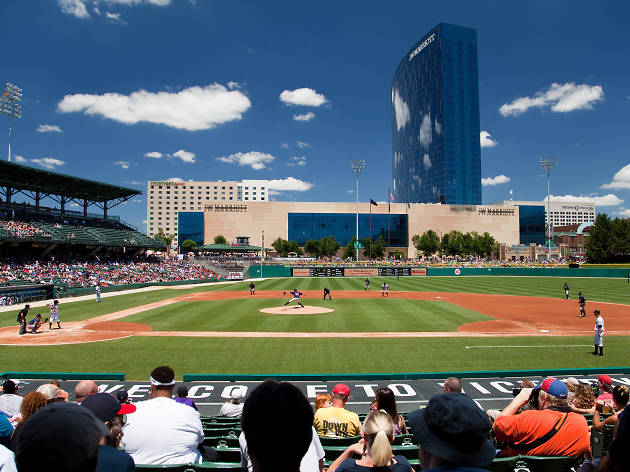 Photograph: Courtesy CC/Flickr/Roger Gerbig
Take in an Indianapolis Indians game at Victory Field
Named the best minor league ballpark by Baseball America magazine, Victory Field doesn't have a bad seat in the house. On Mondays, come with an empty stomach and gorge yourself on $1 hot dogs, sodas, popcorn, sodas and more. Select businesses around town offer 2-for-1 discounts on tickets to Tuesday games. After Sunday games, kids can run the bases for free. But the main attraction is the action on the field; the Indianapolis Indians are perennially one of the best teams at the AAA level, with many players just a phone call away from the big leagues.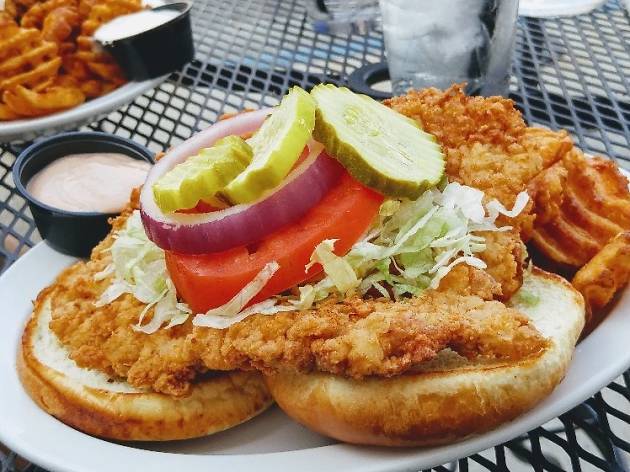 Photograph: Dawson's on Main
Sample Indiana's official state sandwich at Dawson's on Main
Many restaurants claim to have the best pork tenderloin sandwich in Indy, but Dawson's delivers. Each pork patty is pounded thin and nearly as large as a dinner plate, then breaded, deep fried and served on a brioche bun. Be sure to wash it down with one of the well-curated craft beers on tap or, if you must, an ice-cold bottle of Budweiser. Located within an easy walking distance of the Indianapolis Motor Speedway, Dawson's is an ideal spot to unwind after a day of practice or racing.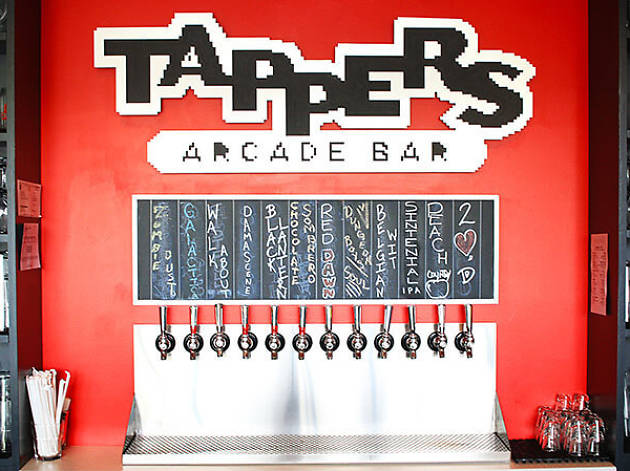 Photograph: Courtesy Tappers Arcade Bar
Relive your childhood video game addiction at Tappers
Did you use to horde quarters all week, only to blow them all playing Joust at your local arcade? Welcome to your Valhalla. Tappers has dozens of vintage arcade games, like Dragon's Quest, Centipede and Tron, all free to play. (You still must pay to play pinball, unfortunately.) So instead of filling the machines with money, you can fill yourself with Tapper's wide selection of craft beer.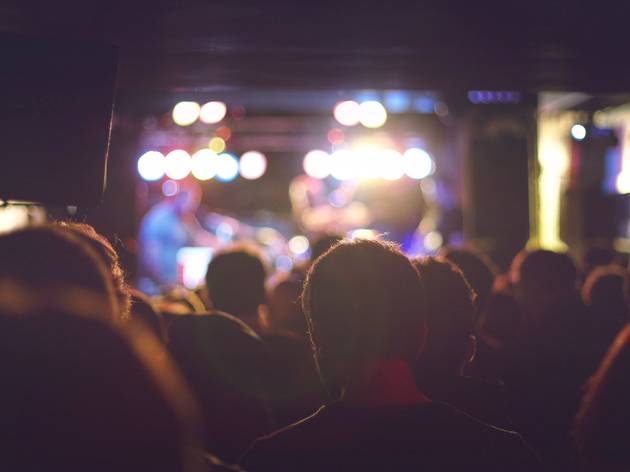 See your next favorite band at the Hi-Fi
Nestled in the hipster enclave of Fountain Square, the Hi-Fi is one of the most intimate venues to see live music in the city. Everyone from country-music legend Marty Stuart and his Fabulous Superlatives to Old 97s frontman Rhett Miller and up-and-coming artists like Tyler Childers have played the venue within the last year.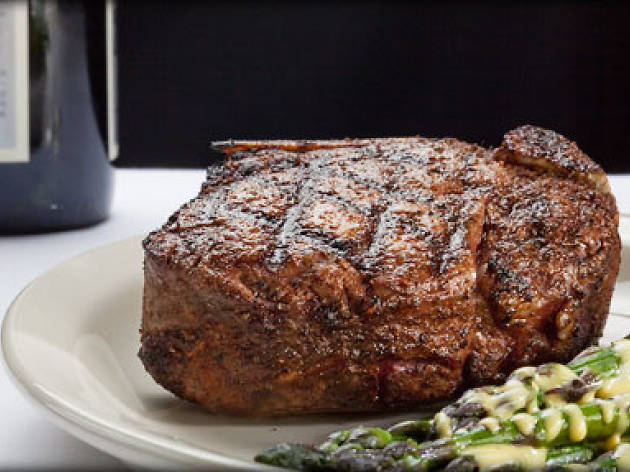 Photograph: Courtesy St. Elmo's Steakhouse
13. St. Elmo's Steak House
Open up your sinuses with the Signature Sauce at St. Elmo's
Ask any Indy resident where to get the best steak in town, and it's almost guaranteed they'll say "St. Elmo's." On any given night, you'll find the city's celebrities and movers-and-shakers huddled around a table imbibing a ribeye or porterhouse. It's an unofficial law that every meal must start out with St. Elmo's signature shrimp cocktail appetizer, with a sauce that will have you reaching for your water glass after the first bite.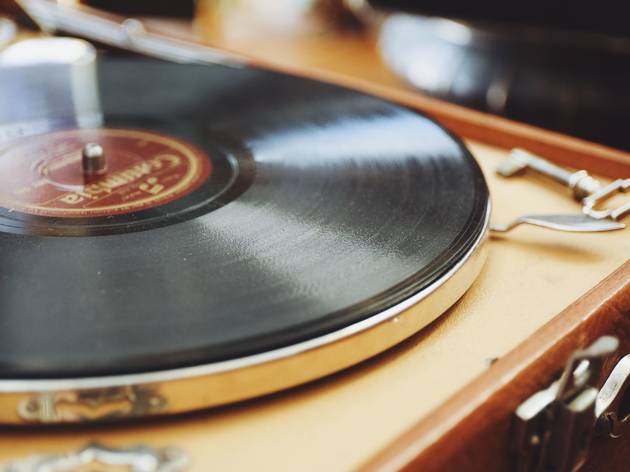 Find a better musical experience than Spotify at Luna Music
Music fans can—and do—spend hours perusing the new and used vinyl racks at this SoBro landmark. Luna Music staff are renowned for their musical knowledge and can often help you identify that song you heard a snippet of at the end of that one movie you saw last year. Live in-store performances from performers like Hiss Golden Messenger, Damien Jurado and Richard Edwards, formerly of the locally legendary Margot and the Nuclear So and So's happen regularly, but space can be at a premium.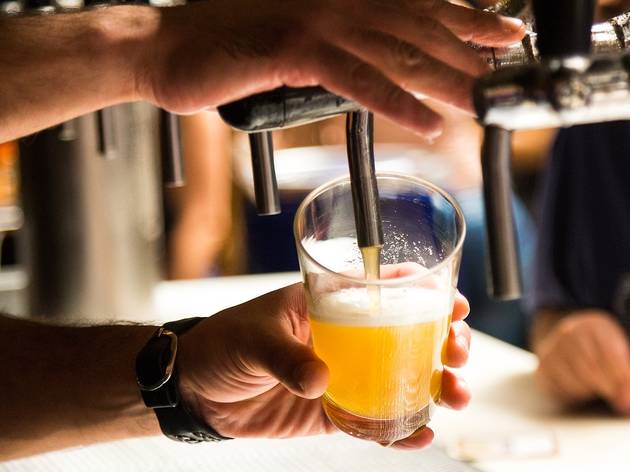 Down an Indiana-brewed pint at Tomlinson Tap Room
Located in the historic City Market building downtown, it's fitting this bar is a visual throwback to a pre-Prohibition beer bar with lots of dark wood and glass. If you're looking for a bottle of Bud or Coors Light, you've come to the wrong place; Tomlinson Tap Room serves up only pints of Hoosier-brewed beer. The draft list changes weekly. Be sure to grab some tasty Indian grub from the Spice Box downstairs before heading up, as the Tap Room doesn't serve its own food.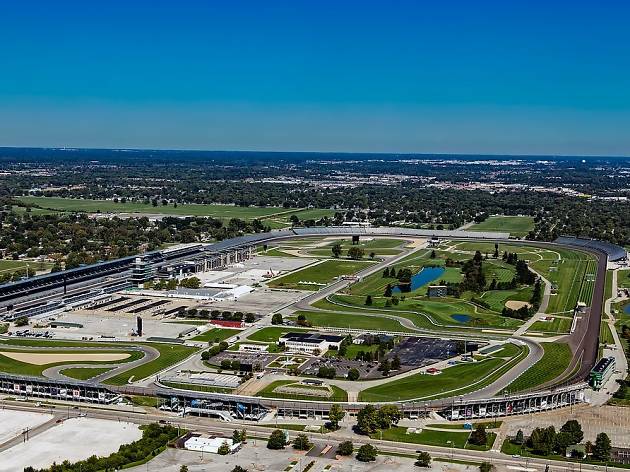 16. Indianapolis Motor Speedway
Kiss the bricks at the Indianapolis Motor Speedway
Indianapolis is synonymous with the famed 2.5-mile track that holds the world's largest sporting event every Memorial Day weekend. Visit and see winning cars from not only the Indy 500, but also the Brickyard 400 and other races at the Indianapolis Motor Speedway Museum. A tour of the speedway culminates in your own "kiss the bricks" moment usually reserved for winners of the race. Looking for a thrill that's the next best thing to actually being in the race? Hop in a two-seater IndyCar and take a few laps around the track at 200 mph.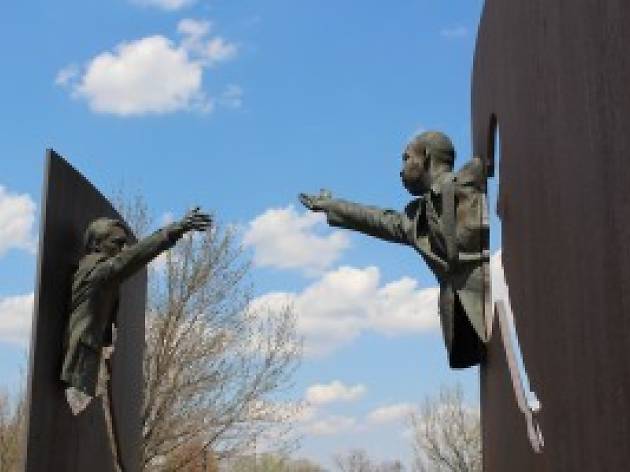 Photograph: Courtesy Kennedy King Memorial
17. Kennedy King Memorial
Relive a pivotal moment in history Kennedy King Memorial
Fifty years ago, hours after Dr. Martin Luther King Jr. was shot at his hotel in Memphis, Democratic presidential candidate Robert Kennedy broke the news to a shocked crowd at 17th and Broadway streets in Indianapolis. Kennedy's speech calmed the grief-stricken throng and saved Indianapolis from the violence the plagued much of the country. The essence of the moment is captured in bronze and steel at the Kennedy King Memorial in Dr. Martin Luther King Jr. Park. The sculpture shows the two men reaching out to one another over a walkway, symbolizing reconciliation and striving for peace.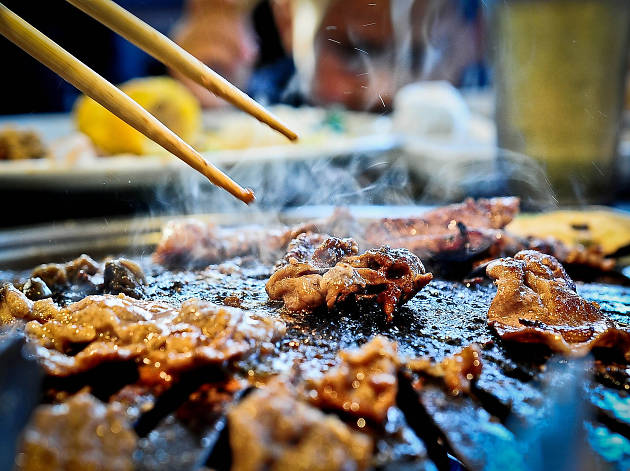 Photograph: Courtesy CC/Flickr/Bensonrongg
18. Mama's Korean Restaurant
Discover true international flair at Mama's
The exterior of the restaurant might not look like much, tucked in-between a liquor store and a locksmith in a ramshackle strip mall, and the inside is a bit dated as well, but you'll soon learn the best dining experiences come from the food on the table, not the walls surrounding it. Cook your own savory Korean barbecue at your table or order the Bebeem Bop which comes in a sizzling hot stone kettle. A karaoke machine sits in the corner of the banquet room, and on the weekends, you'll often find Korean ex-pats belting out K-Pop hits.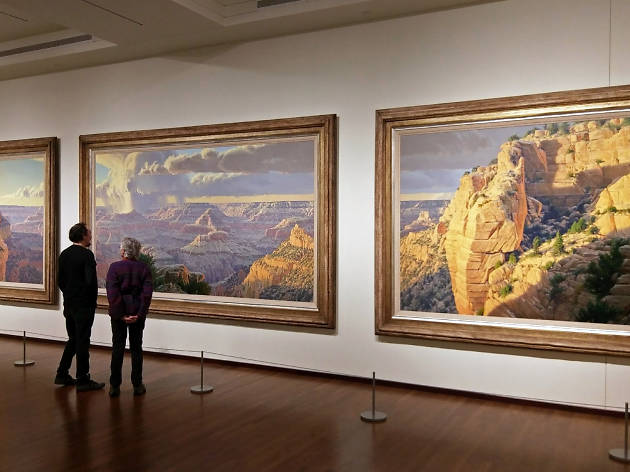 Photograph: Courtesy CC/Flickr/David Abercrombie
19. Eiteljorg Museum of American Indians and Western Art
Experience the art of the American West at the Eiteljorg
Indianapolis might seem like an unlikely home for a museum dedicated to the American West, but the Eiteljorg earned acclaim for its eclectic collection of art by Andy Warhol, Georgia O'Keeffe, Frederic Remington, Kay WalkingStick and others. It hosted a traveling exhibit of Ansel Adams' photography, but has also examined through art and artifacts what it was like being Jewish in the Wild West. It doesn't always look at the West through a historical prism either; its contemporary collection of art explores modern-day Western culture by a diverse group of artists working in many different and exciting mediums.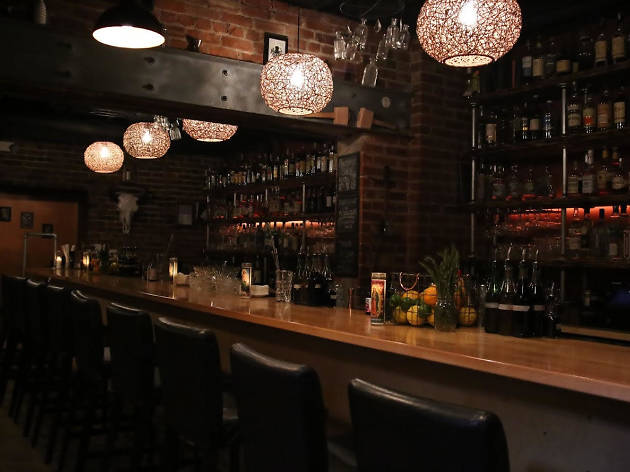 Photograph: Courtesy Libertine Liquor Bar
Discover advanced mixology at the Libertine
Walking down into this basement bar in the Mass Ave arts district, you get the sense that you're in for an adventure. Craft distilled spirits line the industrial-chic shelving behind the wood bar, while the brick walls and dim lighting give the space a cozy feel. Order a traditional cocktail like a Manhattan or a special concoction created by one of the Libertine's expert bartenders; we're currently partial to the Sophia, made with Port-finished bourbon, crème de peche, dry vermouth, and Cocchi Americano.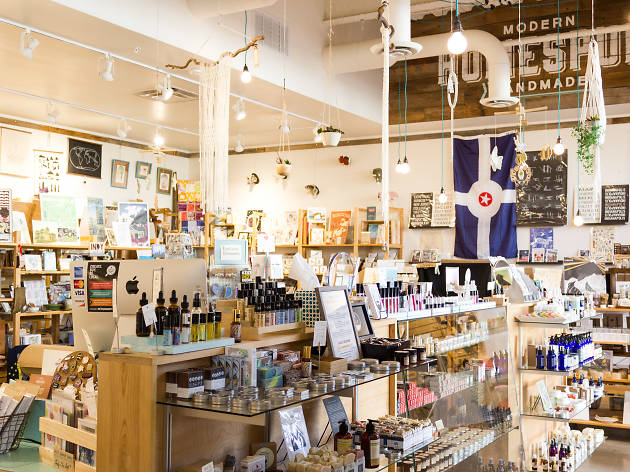 Photograph: Amanda Dowdal Creative
21. Homespun: Modern Handmade
Find a unique memento of your visit at Homespun
Looking for some souvenirs to remember Indy? This shop in the trendy Mass Ave arts district offers items made primarily by Indiana artisans—more than 300 creators in all. From clothing to cutting boards, jewelry to jams, most items have a distinct Hoosier flair.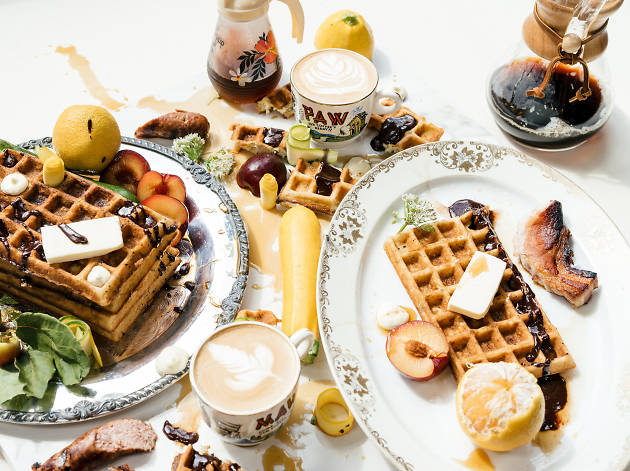 Photograph: Mallory Talty
Brunch so hard at Milktooth
Since it opened in 2014, Milktooth has been the brunch spot to simultaneously impress your out-of-town guests while recovering from a hangover. Owner Jonathan Brooks and Chef Josh Kline have won acclaim from national culinary magazines for their innovative take on upscale comfort food. The menu changes regularly, based on what's in season and the chef's whims, so cross your fingers the scrumptious Dutch-baby pancake is listed. Milktooth doesn't accept reservations or call-ahead seating, so be prepared for a wait on the weekend.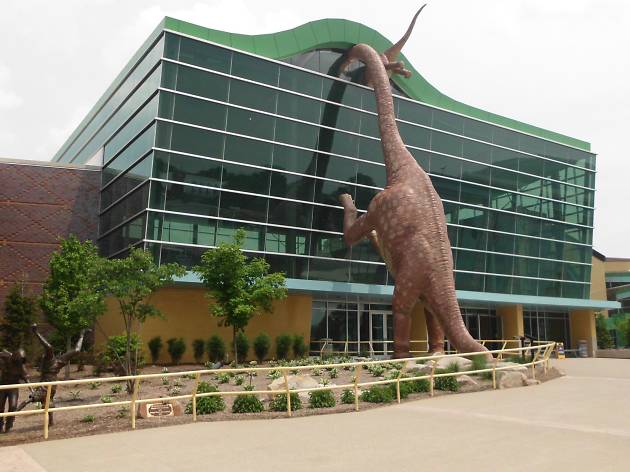 Photograph: Courtesy CC/Flickr/Delta
23. Sports Legends Experience at the Indianapolis Children's Museum
Get active at the unique Sports Legends Experience
Want a more active experience for you and your kids? This new interactive exhibit at the Indianapolis Children's Museum allows your family to take part in several fun, sports-themed activities. Race them around a track in pedal-cars, kick a field goal or try to hit a hole-in-one on a miniature golf course. There are dozens of games to try, segmented by age and skill level. Afterward, explore the entire facility, which is the largest children's museum in the world.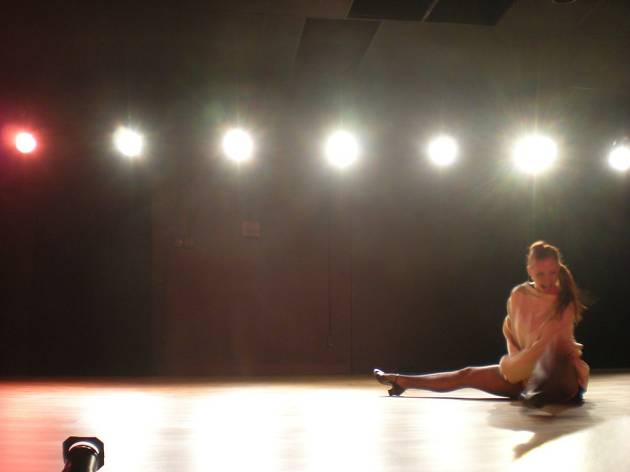 Photograph: Courtesy CC/Flickr/Sarah Stierch
Take in a show at White Rabbit Cabaret
There's always something different happening at this smallish venue in Fountain Square. In any given month, you can find yourself competing in a drunk spelling bee or dating show, listening to a nationally known comic or musical performance, or taking in burlesque show with a live band. One thing is a constant: you'll never be bored, no matter what's happening onstage.
More of the best in Indianapolis
Indy's growing food scene has stirred up attention, with pop-up dinners and food events taking place around the city, and top chefs and restaurants getting noticed by the James Beard Restaurant & Chef Awards.
Book a surprisingly affordable stay in a modern boutique hotel or luxurious chain, then take the money you save and spend it on exploring all the city has to offer.
Best selling Time Out Offers