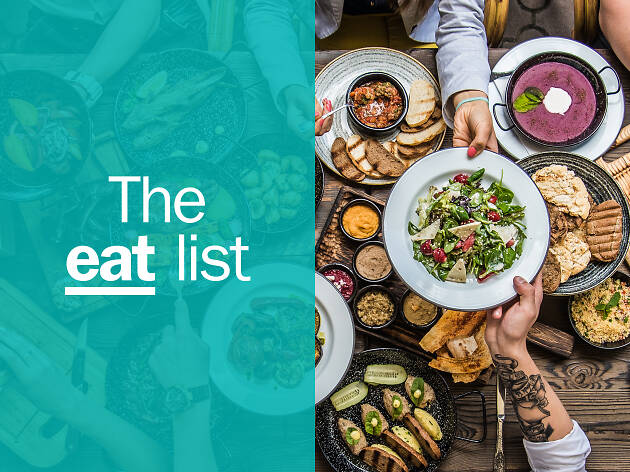 The 15 best restaurants in Indianapolis
The best restaurants in Indianapolis include everything from historic food halls to James Beard-nominated restaurants
The Greatest Spectacle in Racing tends to dominate Indy's list of things to do in the springtime, but visitors to the Circle City have more on their minds these days than just the Indianapolis 500. The national media has discovered Indianapolis, and magazines from Forbes to Food & Wine have had something to say about the city's transformation. The growing food scene has stirred up attention, with pop-up dinners and food events taking place around the city, and top chefs and restaurants getting noticed by the James Beard Restaurant & Chef Awards.
And it's easy to get a taste of Indy. Visitors can sample the food scene with a culinary tour along the city's innovative Cultural Trail, explore the happening downtown dining districts and head out into the neighborhoods to eat like a local. The state's signature "Hoosier hospitality" is authentic, and travelers to Indy will likely take notice, from the moment they book a hotel to closing time at the neighborhoods bars. Plus, Indianapolis remains an affordable city, and its walkable downtown and easy-to-navigate layout makes the city particularly friendly to visitors.
Best restaurants in Indianapolis
1
Photograph: Courtesy Milktooth
This "fine diner" serves only breakfast and lunch in a renovated garage on Indy's happening Virginia Avenue. Chef/owner Jonathan Brooks, a 2015 Food & Wine magazine best new chef and a James Beard semifinalist, has gained plenty of attention for his offbeat take on the most important meal of the day. You'll find Dutch baby pancakes topped with a variety of sweet and savory additions like Manchego, grapefruit and shaved Brussels sprouts, as well as such items as a smoked Great Lakes whitefish salad and spicy miso soup, along with sorghum glazed bacon, a killer burger and to-die-for sweets from acclaimed pastry chef Zoe Taylor.
2
Photograph: Courtesy Yelp/Marissa F.
One of Indy's first restaurants to gain national attention, Bluebeard's name is a nod to Indy native Kurt Vonnegut; you'll spot typewriters scattered throughout the bar. The menu is eclectic, and the cocktail menu enticing, so the tab can add up when you want to try just one more thing. But you can get several snacks or something from the small plates menu – like filet tartare or grilled octopus – for under $20. Large plates are mostly in the $30s. Don't miss the bread from adjoining Amelia's bakery, and if the weather's good, try for a table outside on one of the best patios in the city.
3
Photograph: Courtesy Yelp/Gilia C.
After a recent ownership change, Tinker Street has bounced back with executive chef Braedon Kellner now a co-owner with longtime restaurateur and original Tinker partner Tom Main. The two run the cozy, neighborhood restaurant, which has become known for its high-energy vibe, well-curated wine list and creative menu, with most starters – such as pork rillettes or tuna tataki – under $10 and large plates – like a Berkshire pork chop or Muscovy duck breast – under $30. It's a dinner-only, 21+ establishment, and only takes reservations for large parties, but attention to hospitality and a complimentary flute of bubbles eases the wait for a table.
4
Photograph: Courtesy Yelp/Taylor S.
This Japanese-inspired, seasonally focused restaurant, the latest from well-known James Beard semifinalist chef Neal Brown, features kappo-style a la carte options with shareable plates for the table at $15 and under, a sushi menu that focuses on sustainably sourced fish and a reservation-only omakase tasting menu (for $65 or $85). At lunch, Moon Rabbit Ramen, a sort of restaurant within a restaurant, serves several varieties of delicious broth and noodles. Try the sweet, crispy karaage too. Keep an eye on the restaurant's Facebook page for info on after-hours karaoke.
5
Photograph: Courtesy Yelp/Lindsay F.
James Beard semifinalist chef/owner Steven Oakley competed – and won – last year on the Food Network show Beat Bobby Flay with one of his classic appetizers, a shrimp corndog. The whimsical dish has been such a hit that the chef says he can't take it off the menu. The line-up of beautifully plated dishes includes a variety of sharable plates under $10, as well as more traditional soups, salads, sides and entrees. Don't miss the signature butternut squash soup, Stanley's meatloaf or the beef short ribs – or go for a delicious vegetarian option. Oakleys is also open for lunch and hosts a complimentary wine tasting on Tuesdays.
6
Photograph: Courtesy Yelp/Sara P.
Originally located in much smaller digs, Rook has evolved from a tiny banh mi joint to a spacious restaurant with a beautiful open kitchen. Located in the busy restaurant district along Virginia Avenue, Rook has become known for an inventive Asian-inspired menu. Chef/owner Carlos Salazar creates a seasonally changing line-up of dishes that might feature a karaage rice bowl, his signature pig-face hash, a variety of steamed buns, coconut curry ramen or even a burger. Rook also features an excellent cocktail menu with a variety of gin-focused drinks, whose names might match the restaurant's hip-hop soundtrack.
7
Photograph: Courtesy Yelp/Olivia M.
Part of restaurateur Martha Hoover's Café Patachou empire, this "urban kitchen with a mission" really does have a serious goal – proceeds from the cafeteria-style restaurant on Indy's Monon Trail supports the Patachou Foundation, which serves fresh, restaurant-quality afterschool meals to at-risk and food-insecure kids. The Public Greens menu from chef Tyler Herald offers snacks, salads, bowls and full plates with a variety of proteins at an under-$20 price point. The restaurant makes use of its microfarm just across the trail from the restaurant and, like all of Hoover's Patachou family of restaurants, supports local farms and maintains an extensive sustainability program.
8
Photograph: Courtesy Yelp/Ryan N.
In the midst of the northside's Fashion Mall sprawl, Late Harvest Kitchen chef/owner Ryan Nelson has created a modern American restaurant with global influences and a Midwestern perspective. A north African vegetable tagine might coexist on the menu alongside rabbit biscuits and gravy, chicken schnitzel and potatoes Minneapolis. Prices for entrees typically top out in the upper $20s. Don't miss the excellent cocktail menu (and be sure and ask about the secret bar burger). And save room for the restaurant's popular sticky toffee pudding. Enjoy your meal and top-notch service on the beautiful patio, one of the best in town.
9
Photograph: Courtesy Yelp/Stephanie S.
For dinner-only Vida, restaurateur Mike Cunningham took a shaky old building in the Lockerbie neighborhood and rebuilt it into the city's only AAA Four Diamond restaurant, one that wins kudos for its wine list and its live wall of growing herbs and greens. Vida is helmed by chef Thomas Melvin; the chef's tasting menu is available for tables at $85 per person – or splurge with wine pairings for $155. Pastry chef Hattie McDaniel is getting plenty of attention too. Don't miss her bourbon maple-glazed ricotta doughnuts.
10
Photograph: Courtesy Yelp/Cynthia E.
The Meridian Restaurant & Bar
This white-tablecloth restaurant located on historic North Meridian Street has a bit of a lodge atmosphere, with exposed beams and a stone fireplace accenting the building, parts of which date to the 1880s. The Meridian has a lovely outdoor patio, perfect for a leisurely meal, but the restaurant has also become something of a power lunch spot for business meetings. Dinner entrees include lamb loin chops, pork tenderloin and wild boar Bolognese. The Meridian also offers an cheaper bar menu with such snacks as smoked salmon strudel, fresh-cut fries and sesame-crusted pork belly, great for a late evening bite.
11
Photograph: Courtesy Yelp/Ericka D.
Backroom Eatery at Nicole-Taylor's Pasta & Market
Chef Tony Hanslits has been a driving force on the Indianapolis food scene for 30 years, both as a chef and a culinary school instructor. Now he and wife Rosa operate Nicole-Taylor's Pasta & Market where they sell house-made pastas, fresh mozzarella cheese and other specialty foods. They also operate the Backroom Eatery, which serves a changing lunch menu Tuesday through Saturday. But they may be most famous for their demos and dinners. These booked-in-advance, 10-seat private events are served around the chef's kitchen prep table almost every Friday and Saturday night and sell out over a year in advance.
12
Photograph: Courtesy Yelp/Sari Melissa G.
The city's first public market opened here in 1866, and the Indianapolis City Market today operates as a downtown food hall. You'll find some of the city's best vegetarian and vegan fare at Duos and Three Carrots. Indian food is available at Spice Box, soups – including the famous My Dad's Sweet Corn chowder – at Circle City Soups and pastries and breads from Circle City Sweets and Boulangerie. Gomez Barbecue serves up smoked meats, and Three Days in Paris wraps up tasty ingredients in crepes. Lots of other vendors operate in this historic market, and you can even have a local brew at the upstairs Tomlinson Tap Room.
13
Photograph: Courtesy Yelp/Tray A.
In operation since 1905, this Kosher-style deli has become famous for its corned beef and pastrami sandwiches, piled high on rye and topped with mustard – although the Food Network's Marc Summers (who hails from Indianapolis) is partial to the peppered beef sandwich, featured on "The Best Thing I Ever Ate." Or go old school and try a chopped liver or smoked tongue sandwich. Customers also line up for such classic cafeteria fare as spaghetti and meatballs, stuffed peppers, roast turkey and liver and onions. And don't skip dessert. Shapiro's is also known for its cheesecake, rugelach and other sweets.
14
Photograph: Courtesy Yelp/Katlyn D.
The Indianapolis westside is home to more than 100 ethnic eateries, markets and bakeries, and more than 70 languages are spoken in the area, now known as the city's International Marketplace neighborhood. One of the most popular restaurants in the area, Lucky Lou draws diners for its dim sum (every day except Wednesday). Be aware that on weekends there can be a significant wait; give it a try on a weekday and you can still enjoy such dim sum favorites as barbecue pork buns, shu mai, green beans and tasty desserts.
15
Photograph: Courtesy Yelp/Lindsay F.
This just-opened Meridian-Kessler neighborhood eatery from food entrepreneur Kimbal Musk gains a mention for its focus on local food, affordable prices and its support of Learning Gardens in 31 local schools. With locations in Colorado and Tennessee as well as Indianapolis, Next Door's menu includes a variety of snacks, soups and salads under $12, with most sandwiches, bowls and burgers under $15. To create Indy's Next Door, Musk's Kitchen Restaurant Group revamped an empty former grocery and energized the corner at 46th street and College Avenue. The entrepreneur also recently opened the more upscale sister restaurant Hedge Row on downtown's Mass Ave.
More of the best in Indianapolis
Indianapolis may have once been mockingly known as Naptown to its residents, years ago, but over the last decade the city has quietly become one of the hippest destinations in the Midwest. In fact, there's so much going on in the city, you might just need a nap at to recover.
Book a stay in a modern boutique hotel or luxurious chain, then explore all the city has to offer.