Four exciting exhibitions by Israeli artists to kick off the New Year
After all that partying, it's time for some art appreciation. Get in touch with your artsy side at these new exhibitions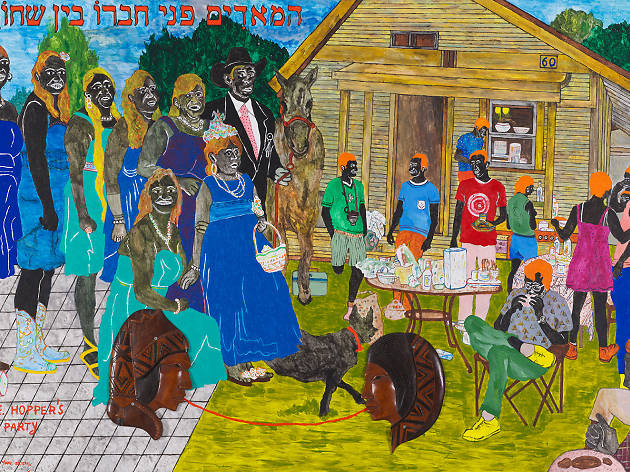 Hannukah, Christmas and Sylvester call for a week-long adrenaline rush. Why not wind down with some good old fashioned art appreciation. The new exhibits at some of Israel's top museums like the Tel Aviv Museum of Art, the Eretz Israel Museum and the Design Museum Holon have pulled out all the stops with these new and exciting exhibitions. With top Israeli artists, modern ideas and boatloads of creativity, why not start 2017 off with a bang.
New exhibits to check out this January
Carnival, circus, comedic.
These are the best words to describe the humorous – sometimes grotesque – style of painter, Yair Garbuz. His third solo exhibition at the Tel Aviv Museum of Art will take place in the Marcus B. Mizne Gallery, Marc Rich and Gabrielle Rich Gallery and the Main Building and is by no means any exception. In "I am Painters," the veteran artist's virtuosity and ease with the Hebrew language and painting styles alike are more solidified than ever. From Egyptian and Greek vases, to the Middle Ages, Russian avant-garde, abstract, surrealism and art on the periphery, Garbuz' "I am Painters" forces the audience to delve deeper into the understanding of humor through imitation as a sort of satirical theatrical endeavor.
"Humor knows how to penetrate the dark cracks" – Yair Garbuz
This winter, jute sacks 'Produced in Ghana' transform the walls of the Herta and Paul Amir building into a politically powerful exhibition.

When in India, Bangladesh or their final destination in Ghana, Africa, these jute sacks are a drab everyday staple. Made up of coarse unappealing fibres, they commonly serve as vessels for transporting cocoa or coffee. However, once stripped from their utilitarian-nomad life cycle and transposed into another world, their artistic potential becomes boundless. Ghana native, Ibrahim Mahama, brings these branded, depleted sacks to the forefront in his installation titled 'Fracture', pasting them over buildings in various cities worldwide – from Accra to Venice to Michigan and now, Tel Aviv.
See more Israeli art