How to pull the ultimate Tel Aviv all-nighter
We've got the craziest, most energetic, party-packed hour-by-hour guide to a perfect night out in Tel Aviv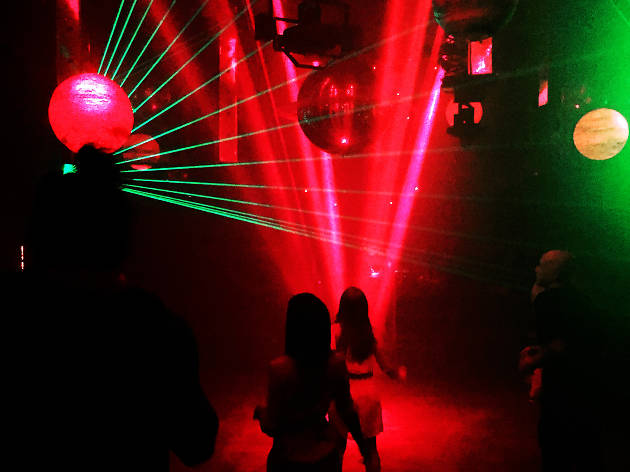 There are two ways to handle the city that never sleeps: become a hermit with a side of extreme FOMO, or hit the town hard...then harder...then eat, rinse, and repeat. YO(t)L(v)O - you only TLV once, and one all-nighter in the nonstop city is all you need to fall in love with the Tel Aviv nightlife scene and never want to leave. Time Out Israel knows how to party like it's nobody's business, so we promise you're in good hands with our hour-by-hour guide to the ultimate Tel Aviv all-nighter. After all, you can sleep when you're dead.
On your marks...get set...go!
Beer Garden is the place to go when you're wandering around Kikar Dizengoff, especially during happy hour. The food & drink establishment has named their happy hour, 'Happy Garden,' and from 18:30-20:30, 'tis a happy garden indeed. The popping locations believes in the 'go-big-or-go-home' mentality, offering 50% off the entire menu. We highly suggest you make reservations, especially if you're a large group because the place fills up fast and to the brim. It comes as no surprise though – ideal locations, deals this good, and one of the best varieties of beer in Tel Aviv are hard to pass up. 'Come on, get happy!'
Standing smack dab in the middle of Dizengoff, its prime location is only one of the aspects that make Concierge a must-visit on your next ladies night. You'll be captivated by their dazzlingly vibrant drinks like the electric "blue heaven" with vodka, blue Curacao, vanilla and citrus, or the "deep purple," a gin-based cocktail that steals your attention with its beet infused vanilla syrup. Don't miss their sophisticated food menu as well. Enjoy the intimate indoor scene or sip in style on their elegant patio, either way the modern twist on a vintage style will have you coming back for more…and more…and more.
This grungy-but-hip club pulls focus on the music, rather than the extravagance that embodies many of Tel Aviv's nightclubs. Sure it has a certain je-ne-sais-sleaze to it, and it's smoky, but the musicians are uber-talented and the sound is ear-thumpingly clear. Drinks are available at the bar until the early hours of the morning.
Beit Hapsanter is a mysterious little bar located on one of the most lively streets in Tel Aviv. Although their official hours say otherwise, Beit Hapsanter claims to "never close," allowing guests to keep drinking and dancing until they can't possibly take anymore. With a dark, funky decor and electronic house music creating a distinct atmosphere, Beit Hapsanter will keep you returning. Described as having a "Berlin vibe," this is not your typical Tel Aviv bar!
What Billie Jean lacks in size it makes up for in energy. This dance bar is a popular place for those who like to move. An alternative to the higher-end clubs on Rothschild Blvd, you can find patrons here dancing to 90s hip hop and a mix of American and Israeli top 40 hits. Billie Jean is not for the shy or weak of heart, it's not uncommon to see guests getting down on top of the bar here. If a wild good time is what you're seeking, Billie Jean is the place for you.
Nightlife lovers have no fear, Sputnik is here! With multiple rooms and a massive outdoor garden, there is a cozy spot for everyone to have a drink or get wild on the dance floor. Those looking for strong drinks, loud music, and a party till the sun comes up have found their home.
Nightlife, Late-night bars
Set in south Tel Aviv where Allenby Street meets Yehuda Halevi, this new-ish hangout haven has a certain mysticism, charm and rapture to it. It's a two-level bundle of pure joy with a subterranean courtyard and staircase, a tiny misshapen dance floor and spirited ambience. It even has a vintage clothing store hidden within its labyrinth of rooms. Say the magic words, "Kuli Alma," to any local and you'll immediately make it into the cool books of Tel Aviv.
Nightlife, Late-night bars
Oh if the walls could talk! BuXa is renowned for its ultra mod contemporary art lining its chic walls, and ultra cool contemporary beverage list filling the bellies of locals and tourists alike. This trendy vibe and hipster lair shouldn't deter you from experiencing Israel's up-and-coming underground DJs stretching their talents across the decks. Hang out in the yard on the top floor, dance the night away on the lower floor or simply perch yourself at the bar chatting to night crawlers for the evening – the world is your BuXa.
Located between some of Tel Aviv's highly acclaimed nightlife joints, Alphabet just off Rothschild Boulevard renew their DJ lineup weekly so there's no time for the mundane. The darker, more intimate dancefloor makes this spot one of the most magnificently designed mini clubs in the world, letting their sound system breath inside its smaller walls with ease, flair and vibrancy.
© PR
Time to venture out a tad further. Hidden next to the new construction on Menachem Begin, you will find a 5-star underground club called Beit Maariv. The owners of the place didn't hold back on any expenses; giant speakers all around the club make you feel every heartbeat of quality techno music as if it were your own.
Show more
See more Tel Aviv nightlife