Heads up! We're working hard to be accurate – but these are unusual times, so please always check before heading out.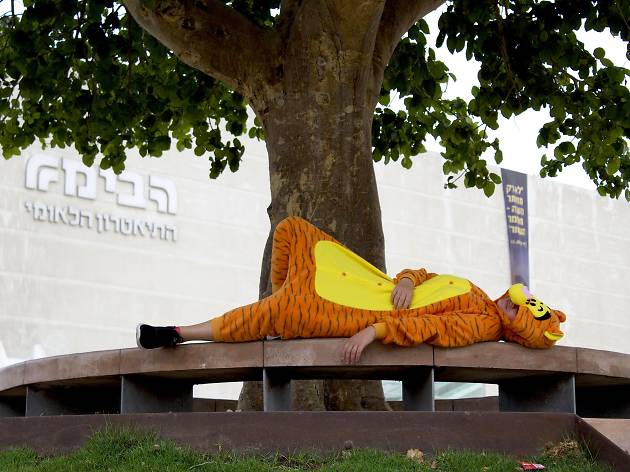 Nap time: the best spots around Tel Aviv to take a nap
They claim Tel Aviv is the city that never sleeps, but no one said it was the city that never naps
There's nothing better than some quick shut eye to get through an active day in the nonstop city. Since field studies are the most reliable forms of research, I studied the fields of Tel Aviv (both figuratively and the grassy kind), letting its most enticing nap spots call out to me. After much deliberation and some surprising scientific discoveries, which both supported and rejected my hypotheses, the results are in. Behold! The best places in Tel Aviv to take a nap – from the best parks in town to hotel rooftops, beachside parks, and a very suggestive slide inside Dizengoff mall.
Nothing like a quick catnap...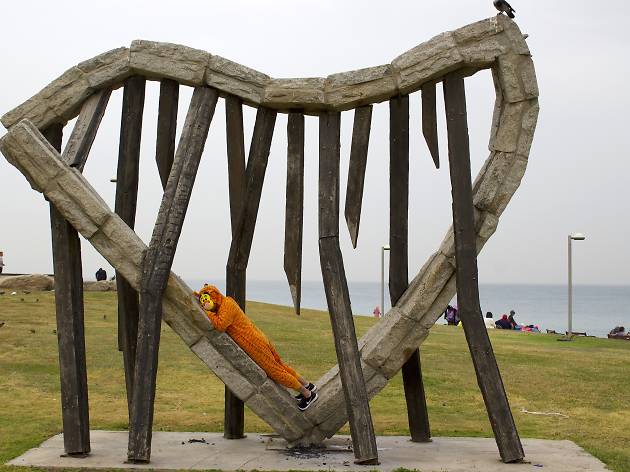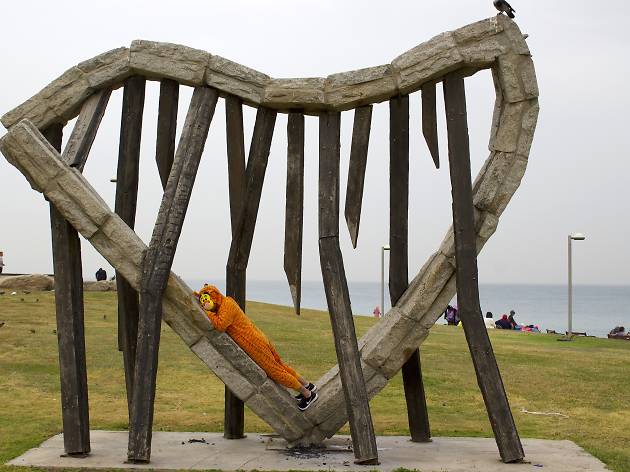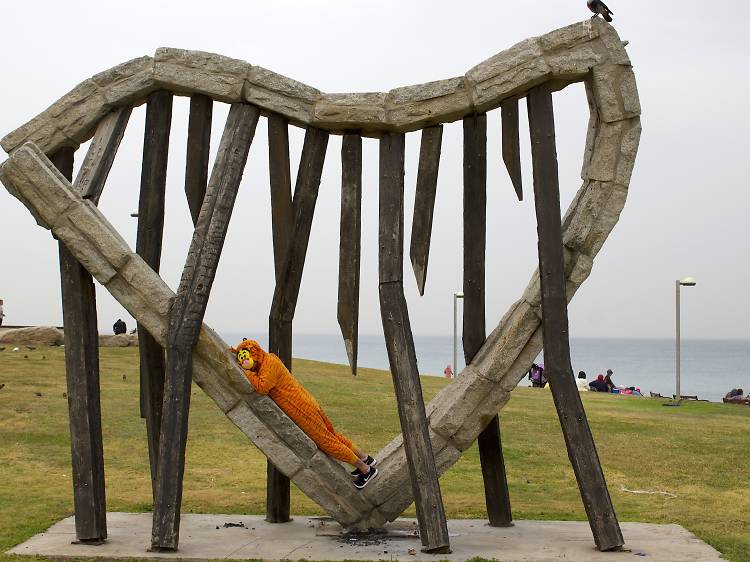 © David Benardete
Location: Charles Clore Park
Overall comfort: 5/5 (once I accepted the groans coming from the shirtless man meditating beside me as soothing rather than weird)
Sun exposure: maximal, shade nowhere in sight
Noise Level: minimal (except for the shirtless man)
Nap Quality: I never let the 'balagan' of parents, children, and hungover 'young professionals' scare me off, because just beyond the endless beach strip is a green oasis just for me (and everyone else who has discovered it in plain sight). While I usually share the space with a cast of unique characters, like Mr. Zen yoga master, the giant statue at Charles Clore park is the perfect place for a quick catnap, especially on Shabbat. After a sunny power nap, I am invincible and ready to take on the world, one overcrowded beach at a time.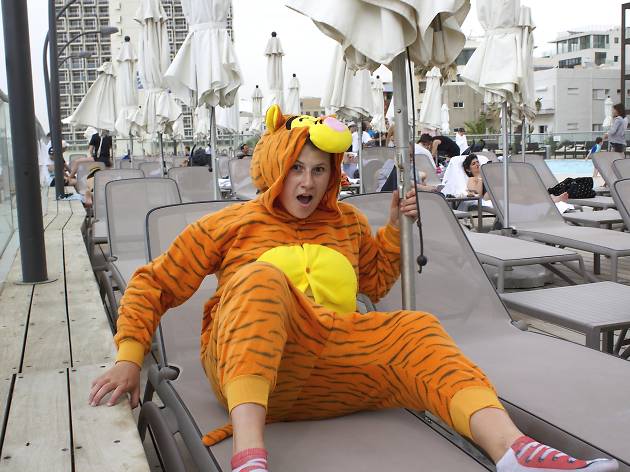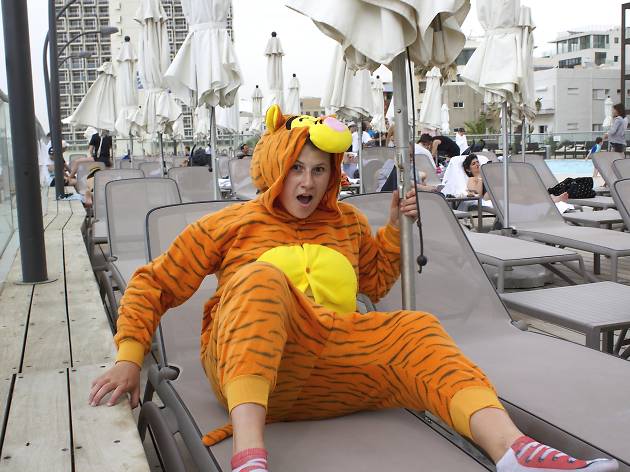 © David Benardete
Nap type: "The Short and Sweet"
Location: rooftop pool at the Sheraton
Overall comfort: 4.5/5 (lounge chairs came equipped with free towels; pillow mints would have elevated comfort level to a 5/5, just saying)
Sun exposure: maximal, with a perfect sunset view
Noise level: minimal, besides the screaming hotel staff telling me to "scram!"
Nap Quality: Though difficult to slip past security, this rooftop gem is perfect for a minute nap and a mojito...no not 'minute' as in small, 'minute' as in 60 seconds – the time it took for the burly hotel security guard to notice me sticking out like a sore thumb against a backdrop of sophisticated European couples. Was it the stutter at the bar when they asked for my room number that gave it away? Or maybe the flashy Tigger onesie?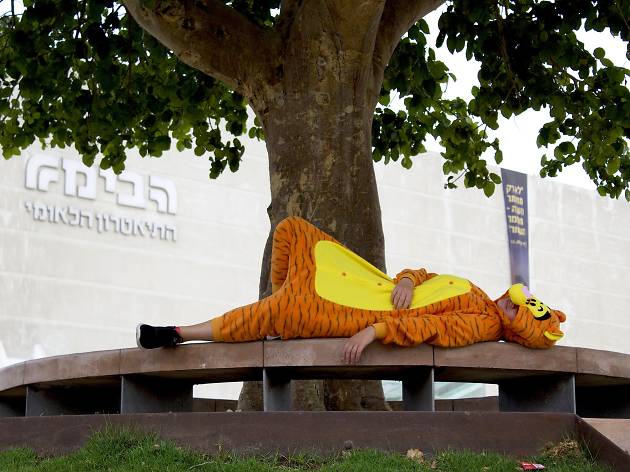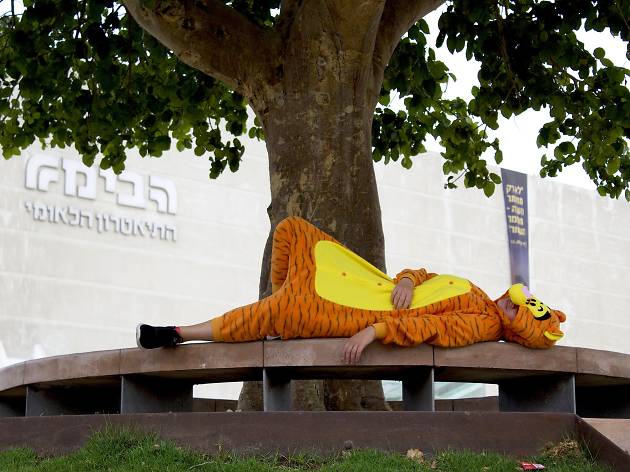 © David Benardete
Nap type: "Misery loves company"
Location: Habima Square
Overall comfort: variable
Sun exposure: horrid, unless you hop the fenced-off stone steps to the one tree in sight (of course, I did)
Noise Level: loud, yet oddly soothing
Nap Quality: Sometimes, I just want to be in the company of a million strangers. It's a stark contrast to my winter hibernation regiment, consisting of me, myself and a twin bed, since nothing larger can fit inside my studio apartment. Habima Square offers the perfect taste of Tel Avivian meets tourist, with an open invitation to run away from civilization when the going gets tough. You went to the Culture Palace this weekend, eh? Me too!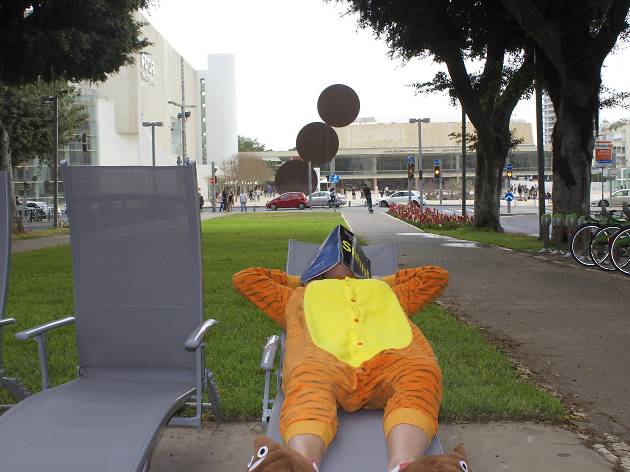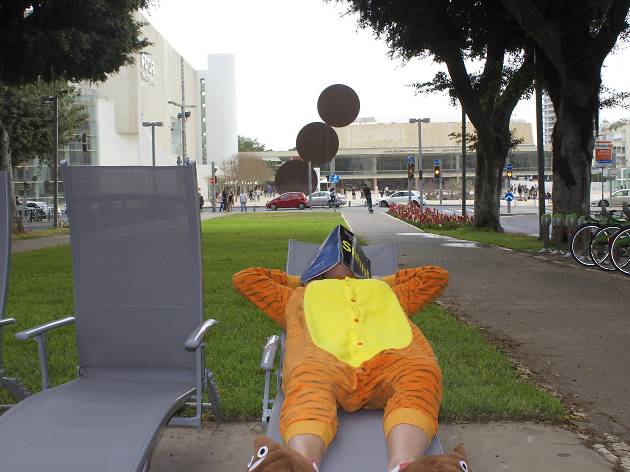 © David Benardete
Nap type: "The People Watcher"
Location: lounge chairs on Rothschild Boulevard
Overall comfort: 4/5 (one step down from a lazy boy, one step up from those inflatable vagina-shaped beach chairs)
Sun exposure: a perfect balance between shade and sun
Noise Level: an imperfect balance between temper-tantrum throwing children and well-behaved elder couples on an afternoon stroll
Nap Quality: With my sand phobia, I have a hard time giving into the 'beachy-keen' lifestyle that swallows up Tel Avivians 2/3 of the year. That doesn't mean I can't appreciate a good lounge chair once in a while. The recliners on Rothschild Boulevard are prime for lounging about, while watching the passersby. If you're a people-watcher like myself, you'll never want to leave the hustle and bustle of families, couples, skaters and bikers zipping by – greater entertainment value than Netflix. "Look at me Mom, I left my bed this weekend...(to lie on a similar one 50 meters away)."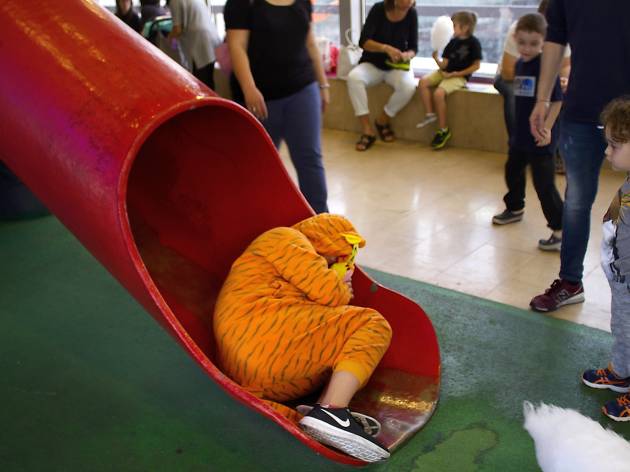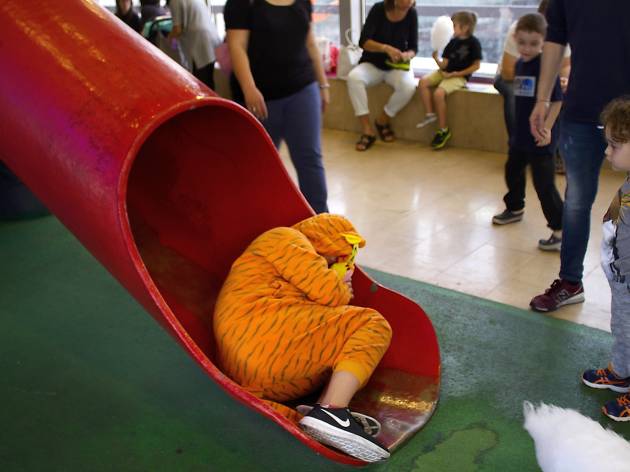 © David Benardete
Nap type: "Naptime Nostalgia"
Location: elephant butt slide inside Dizengoff Center
Overall comfort: 3/5 (what the cold plastic slide lacks in physical comfort, it makes up for in emotional comfort)
Sun exposure: nonexistent (yet I wore a thick coat of pasty SPF-50 anyways, to keep consistent with my 8-year-old self)
Noise Level: on a scale from 1-to-unbearable...torture from A Clockwork Orange
Nap Quality: As a kid, no trip to the mall was complete without a stopover at some sort of indoor playground; I'd climb that stairway to heaven, brave the slide's cold, dark and unforgiving tunnel entrance, and leave it all out there – including a layer of skin – as I scraped down the slide, resenting my mother's choice to dress me in shorts that day. And so, after a long day of (window-)shopping (I'm a journalist in Tel Aviv, who are we kidding), the elephant slide inside Dizengoff Center practically pulled my weary legs towards it. Cackling children struggled to squeeze past me every 5 seconds, angry parents shook their heads in anger, but I held strong. I know my civilian rights and that elephant butt slide was mine to nap on.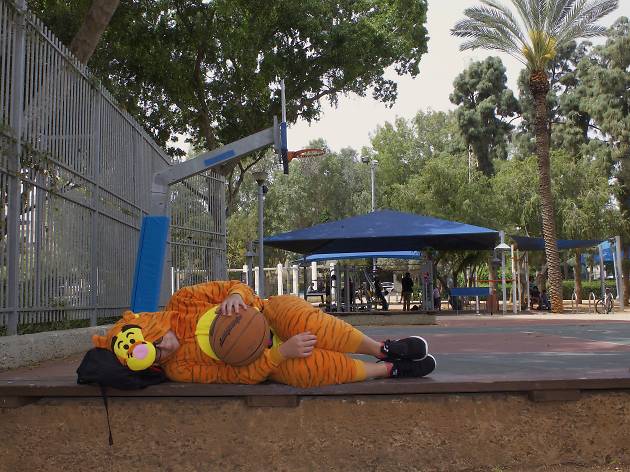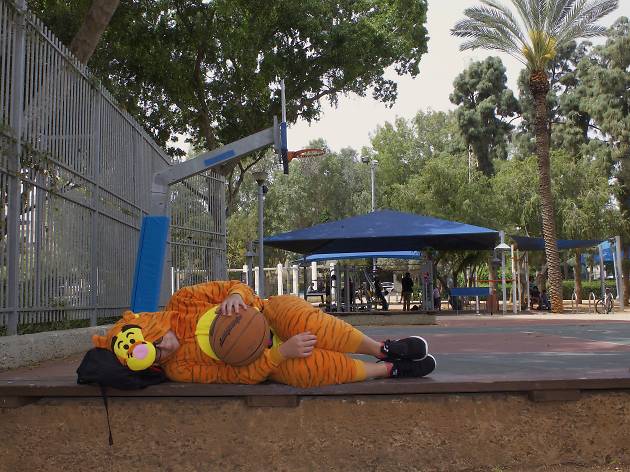 © David Benardete
Nap type: "The Sixth Man"
Location: park bench at Gan Meir
Overall comfort: 2.5/5 (expect splinters and occasional balls to the face)
Sun exposure: low, mostly shaded
Noise Level: variable, avoid peak after-school hours and yappy puppy adoption days
Nap Quality: Years of warming the bench for those split seconds of timeout where the starting lineup needed to take a seat has finally paid off. I got reacquainted with old reliable and popped a squat on a bench in Gan Meir facing the basketball court. While the country may have differed, the bench-ridden shame was all too familiar.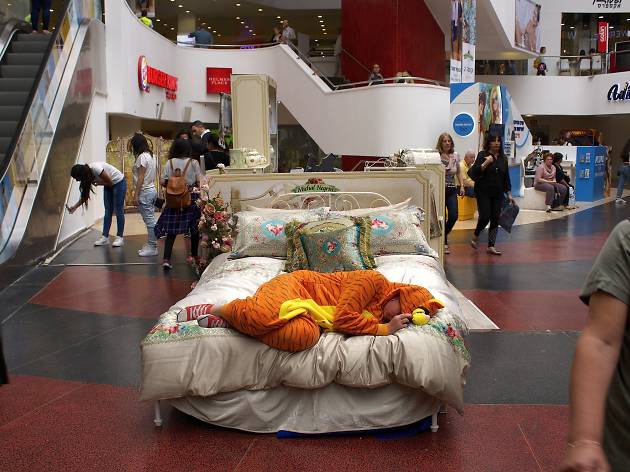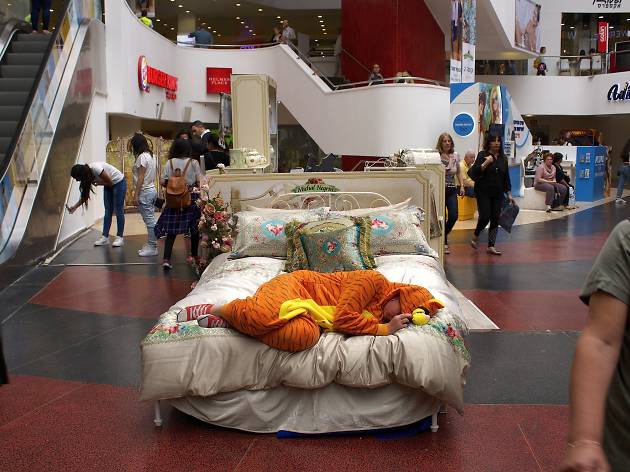 © David Benardete
Most unexpected: the popup bedroom display in the basement of Dizengoff Center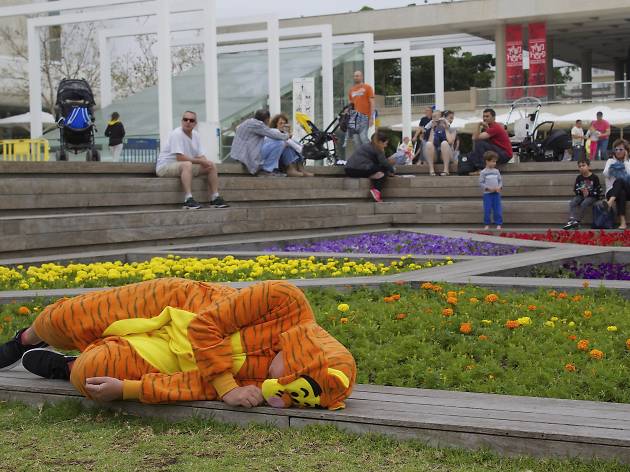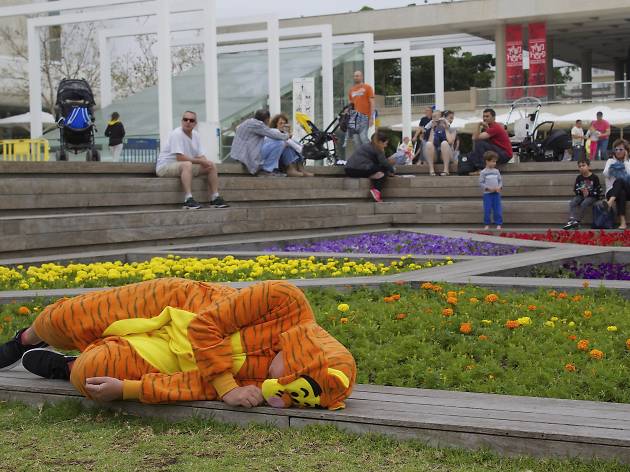 © David Bernadete
Most courageous: Habima's flower patch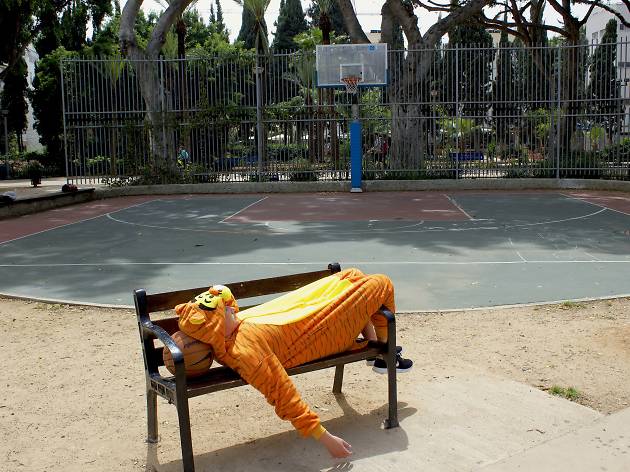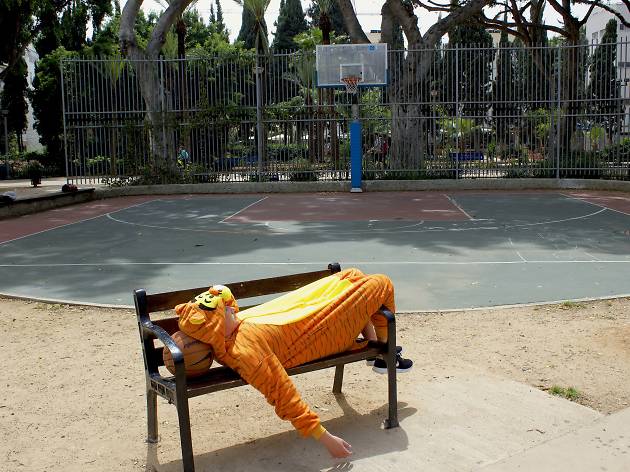 © David Benardete
Most Improved Player: Gan Meir
Show more
See more things to do in Tel Aviv