6 restaurants in Tel Aviv to share tapas
You'll never want to tap out at these tasty tapas spots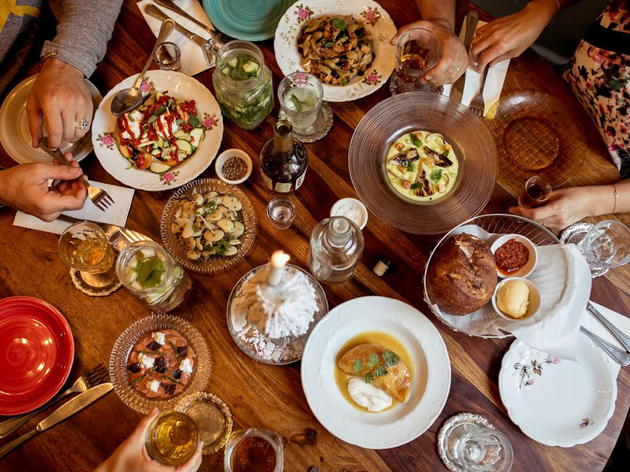 Besides slurping a single strand of spaghetti until your lips meet in the middle like they do in Lady and the Tramp, there's nothing more romantic than a night out with fine European and Israeli wines and Spanish sharing bites. Or maybe you're not looking for a perfect first date...maybe you're out with your girlfriends and just want some communal nibbles to go with your sangria cocktails. Whatever the occasion, we recommend reserving a table at one of these best restaurants in Tel Aviv serving up tapas and let each bite transport you to Spain.
Care to share?
Evoking the 2008 film, the name Vicky Cristina is only missing Barcelona — though that's exactly what you'll get when you make your way to the sensuous tapas and wine bar located on a beautiful patio under a lush, ancient ficus tree — the oldest in the city, in fact. Grab some paella de marisco, ceviche, or beef fillet at Vicky, the tapas bar, or a jug of sangria at Cristina, the wine bar — or better yet, go for both and get a true taste of Spain. You'll be coming back here weekend after weekend.
Restaurants, Mediterranean
Chef Avivit Priel Avichai (formerly of Tapeo) and her partner Limor Lami opened Ouzeria less than ten years ago to much critical acclaim. Known as a modern "hamara", a meeting place to drink, play and discuss life, Ouzeria is the classic Florentin neighborhood joint. At Ouzeria Avivit and Limor serve original, Mediterranean-style cuisine accompanied by a simple decor and an appealing long bar offering a selection of anis beverages. Take a seat at the assorted tables beside large windows looking out on the colorful Levinsky district, and soak in the uniquely Israeli atmosphere of the neighboring market. The playlist of music travels from east to west, new to old, encompassing world music, Middle-Eastern music and on to innovative contemporary tunes. Avivit and Limor's goal was to create a refuge from the activities of the day, and they have successfully done so.
On the corner of busy Ben Yehuda, you'll find this cozy Spanish bar, ideal for clearing your mind with excellent food and an atmosphere that flows with your mood. There's plenty to choose from including smoky, flavorful, Spanish small plates, vegetables on the plancha, tortilla de patatas, roasted asparagus and the old favorite, patatas bravas (fried potatoes topped with aioli and homemade ketchup). On Saturdays, reserve your spot at the hugely popular "drunken brunch" where drinks flow and the lively vibe make this a favorite weekend hangout.
One of Tel Aviv's hippest restaurants, Cafe Europa is a must stop for those looking to eat and drink the best of what Israel has to offer. Start your evening off with a special dinner based around local Israeli flavors, and continue to a wild night in their second floor cocktail bar. With a signature green gin cocktail – the perfect refreshing mix for the Tel Aviv summer, you'll be sipping all night long. You're welcome to sit under the old tree in the yard, at the bar on the top floor, or on the balcony overlooking the entire restaurant. Cool breezes and rich Mediterranean and world music will make your evening magical.
A few blocks away from busy Rothschild Boulevard, you will find this hidden gem of Italian small plates or snacks known as "Cichetti." Owner Avi Kashi opened Cichetti because he wanted a place where people could come in and casually taste a selection of delicious bites. That's exactly what you should do.
See more restaurants in Tel Aviv