8 indie Tel Aviv restaurants you must try immediately
Foodies, pay attention: you're about to meet your match (made in heaven)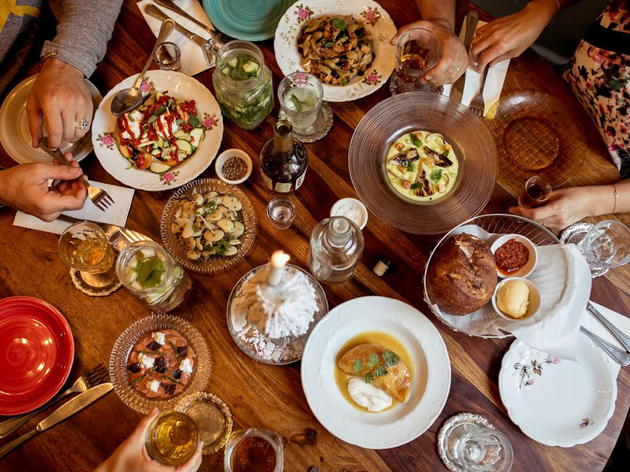 What is an indie eatery you might ask? These are smaller, more intimate restaurants, usually run by super-talented cooks who don't call themselves chefs, even though we think they should! Whether you are looking for a delicate taste of Tel Aviv nightlife with perfect food and a bottle of superb Israeli wine to pair, or you're aiming for a full dinner but one that comes with happy music, cool staff and the vibes to match, we've got just the thing for you. Here are the top indie restaurants in Tel Aviv you must visit right now.
Tel Aviv's top indie eateries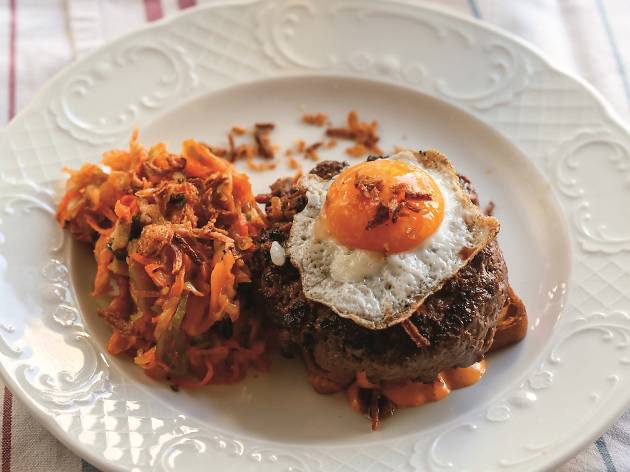 With an ever-changing menu, numerous specials and unique dishes, Brut is guaranteed to provide satisfying sustenance. The wine bar is run by professionals, so there is no need to hesitate to ask  any questions or seek tips and advice if you are not a wine expert. The environment is calm and charming while also feeling sophisticated and sexy, creating the perfect setting for a romantic night out or a casual evening with friends after work. The food menu is simple and tasty, offering warm pastas and crisp salads. When it comes to wining and dining, Brut is a no-brainer.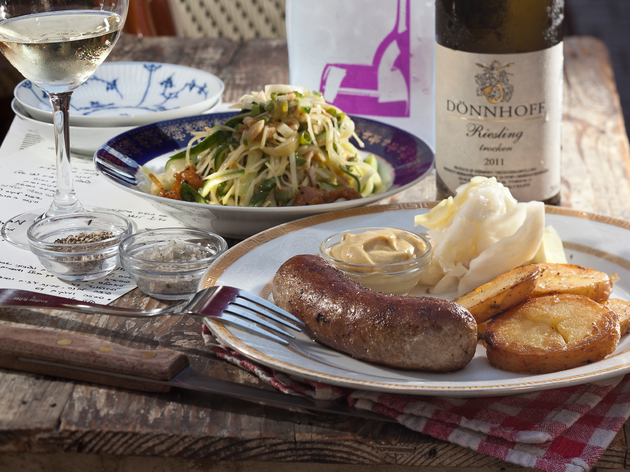 Locals know this is the place to try creative, well-executed food straight from the neighboring open-air market of Shuk HaCarmel. This is the kind of place where anything you taste will hit the mark. Creative dishes and incredible wine list make HaBasta the place to go for a complete dining experience.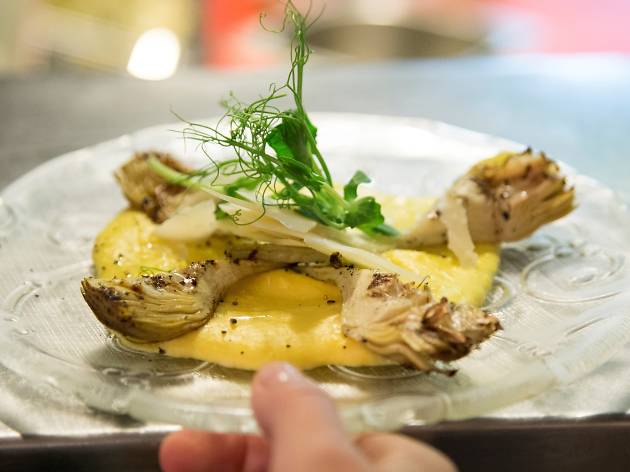 Chef Avivit Priel Avichai (formerly of Tapeo) and her partner Limor Lami opened Ouzeria less than ten years ago to much critical acclaim. Known as a modern "hamara", a meeting place to drink, play and discuss life, Ouzeria is the classic Florentin neighborhood joint. At Ouzeria Avivit and Limor serve original, Mediterranean-style cuisine accompanied by a simple decor and an appealing long bar offering a selection of anis beverages. Take a seat at the assorted tables beside large windows looking out on the colorful Levinsky district, and soak in the uniquely Israeli atmosphere of the neighboring market. The playlist of music travels from east to west, new to old, encompassing world music, Middle-Eastern music and on to innovative contemporary tunes. Avivit and Limor's goal was to create a refuge from the activities of the day, and they have successfully done so.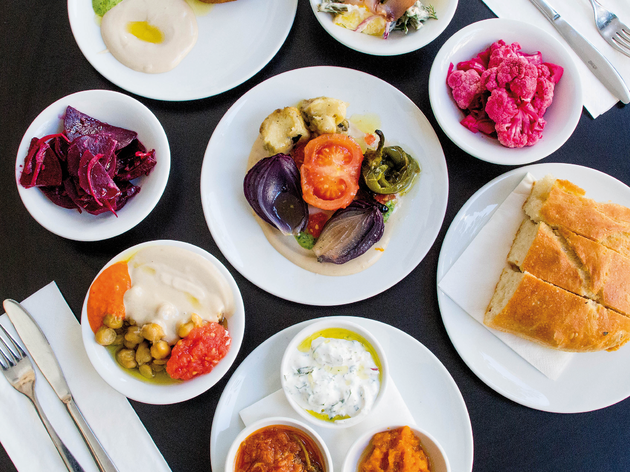 Effortlessly fashionable, this restaurant and bar serves up ethnic cooking with the best local ingredients and a meticulous attention to detail. Eclectic spices, fresh breads from the Tabun (clay oven) and modern takes on Mediterranean comfort food, make it one of the top prize winning restaurants in the city.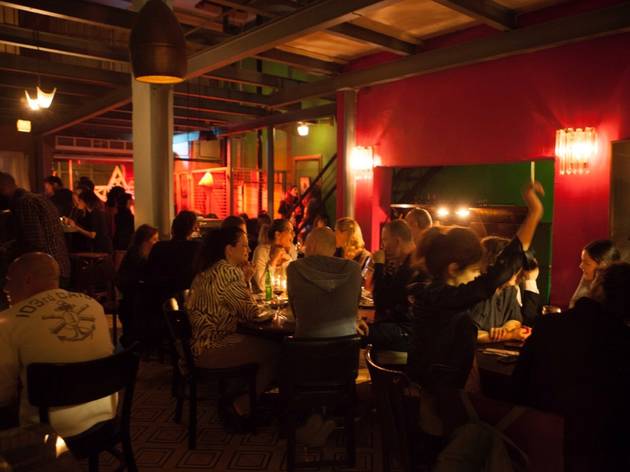 Under the passionate direction of Chef Noa Levi, the daily menu is a celebration of tastes and textures. With Levi's accurate and creative sense of the raw and the cooked, one can indulge in either rich stews or sparkling salads, Mediterranean sea-food or traditional Moroccan Shabbat dish - all based on the various cuisines & cultures found here in Israel. In 1998, Orit Revivo, then a radio broadcaster, and Alma Fogiel, then a film student, met in Jerusalem where they  opened their first restaurant. To much success they then moved to Tel Aviv, their current home, Stop by this special spot for beautiful food in a gorgeous setting.
Bar à Vin has mastered the art of plating, enticing diners with its photo-ready meals before they take the first bite. A wine bar that is also a restaurant, Bar à Vin takes its inspiration from French cuisine. Here, you will find Middle Eastern fusion, with dishes bringing a delightful mix of Paris and Tel Aviv to the table. As the name suggests, Bar à Vin serves the finest wines from all around the world, including many local Israeli wineries. Come for a glass, stay for the tapas and wow all your foodie friends with the pictures.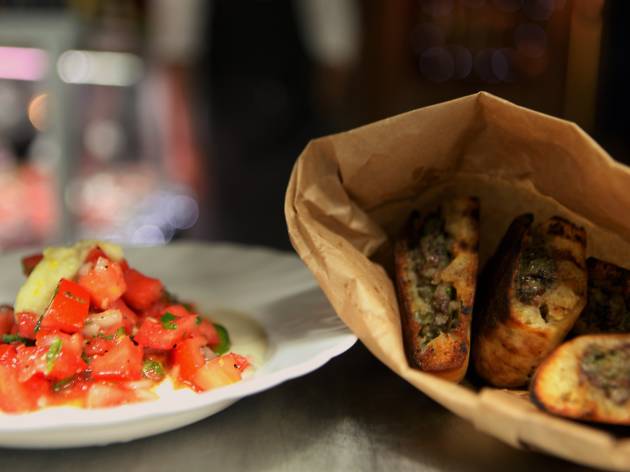 Located in an alley just next to the Carmel Market, M25 features one of a kind Israeli dishes. Cooking up some of the freshest meat, direct from the market, carnivores can rejoice and enjoy the delicious and juicy flavors. The menu is changed daily and written on a blackboard on the wall usually featuring a large variety of meat dishes and a salad or two. Once comfortable in this bohemian environment, get your steak knifes ready as the delicious meats are going to be cooked to perfection. Those looking for an authentic Tel Aviv experience with food fresh from the market have found their home, so venture down the dark alleyway to this Middle eastern retreat and make sure to come hungry.
See more Tel Aviv restaurants