Seven restaurants abroad where you can get an authentic taste of Israel
A true taste of the Middle East thousands of kilometers away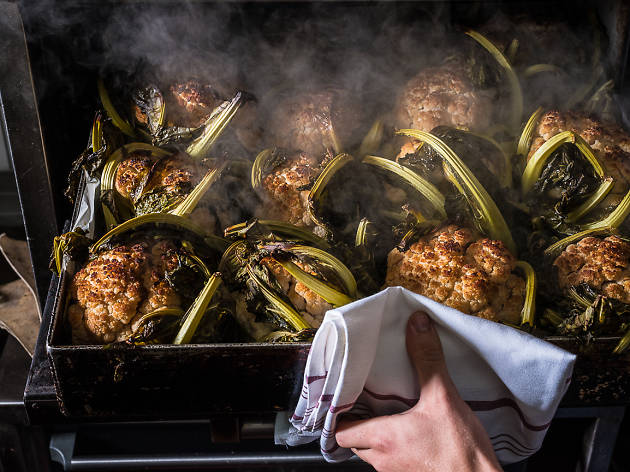 Israeli cuisine has crossed international borders and today, restaurants serving the original or local variations on the theme can be found in many places around the world. Jerusalem's Mahane Yehuda market has made its way to London, everything in a pita has reached Australia and recently, New York, and there is even shakshuka in Barcelona. Savor the tantilizing flavors of these seven Israeli chefs at their restaurants outside of Israel.
A taste of Israel overseas
1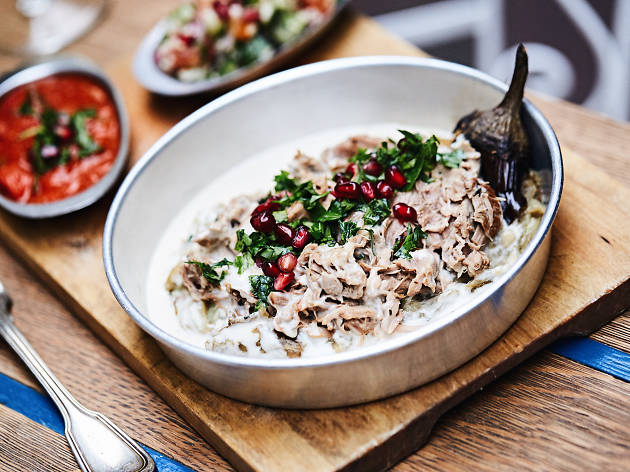 In the heart of Budapest's Old Jewish Quarter, which has become the city's contemporary nightlife center, there's a place that's more than just any old restaurant. Mazel Tov's mix of exposed white walls, high ceilings, and greenery combine into an intimate atmosphere and welcome refuge from the bustle of the surrounding city. The menu consists of well-loved Mediterranean Israeli dishes like matbuha, taboula, falafel in pita, and shawarma alongside vegan burgers, smoked pastrami sandwiches, or fusion dishes, with an Israeli brunch tacked on for good merit every weekend. The place becomes a resto-bar in the evenings, with live musical performances made better by a festive cocktail or a glass of wine.
mazeltov.hu
There's no one in Israel who doesn't know Eyal Shani. In recent years, Miznon's magic has broken out of Israel's borders and conquered foreign lands. Against the background of noisy music and an open bar which has already become his restaurants' trademark, Shani serves fluffy pitas filled with cooked vegetables, meats, fish, and seafood. "Run-over" baked potatoes, candied sweet potatoes, and whole-roasted cauliflower worthy of an orgasm all await hungry audiences, waiting impatiently for their name and order to be called out while soaking up the happy atmosphere. A Nutella and "trail of bananas" pita dessert completes the oh-so Israeli experience on the other side of the world too.
miznonnyc.com
Restaurants, Mediterranean
When Chef Assaf Granit's restaurant opened a little more than three years ago, the Evening Standard characterized the place as "a bit radical and youthful, with a noisy, informal atmosphere." From that time right up to the present day, The Palomar, located in Soho in the heart of London's entertainment district, has only been gaining momentum. The cheerful atmosphere of Jerusalem's Mahaneyuda restaurant has been moved over to the British capital, succeeding in getting the Brits out of their standard reserve. The sensual aromas of pita fresh from the oven flow out of the open kitchen, with warm kubaneh and a contemporary take on baba ganoush to pair. Squid hummus and masabaha, fish cured in za'atar and almonds, and of course, the shakshukit and polenta in a jar all transplant the tastes of Jerusalem straight to London where they are unanimously embraced by locals and tourists alike. Nigella Lawson, Britain's television goddess of food, used "wonderful" to sum up her visit to the place, and Vogue said that it was "great fun sitting at the bar and watching London's most colorful chefs do what they know best."
thepalomar.co.uk
The Israeli chain that turned breakfast into a luxury item that lasts all day (and night) long arrived in the capital of Germany, conquering Berlin with its winning 24/7 concept. The restaurant, located in the city center, walking distance from the Kufurstendamm, is designed to mimic a comfortable living room – with soft armchairs to sprawl out and delicious smells that whet the appetite from the adjacent bakery. While businessmen and women can wake up early in the morning to a classic Israeli breakfast of an omelet, salad, cheese, and tahina, partygoers treat themselves late at night to hearty and indulgent meat-heavy breakfasts in the best German tradition. Take a break from touring the city that doesn't stop even for an instant and fall back in love with a glorious tower of pancakes.
he-il.facebook.com/benedictberlin
5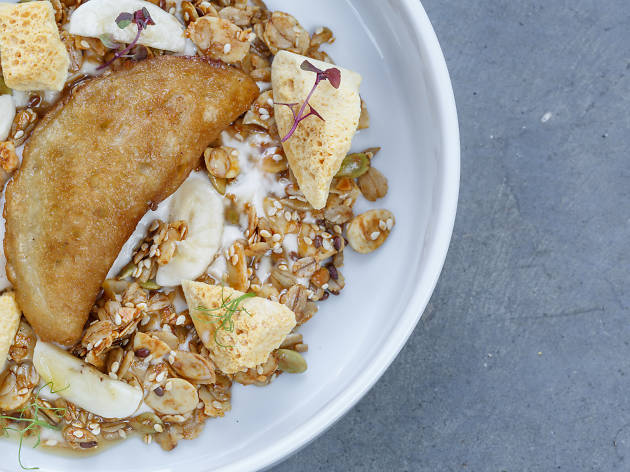 © Orit Arnon
Israeli cuisine is taking over New York. The much-respected list that includes Chef Nir Mesika's prize-winning Timna and Chef Meir Adoni's Nur has been joined by Chef Elior Balbul, who in the past was Adoni's sous chef and acting chef of the prestigious Catit. The talented young Balbul, with his endless love for cooking, decided to show New York that it's possible to create Israeli cuisine that is contemporary, colorful and kosher – something that was missing in the five boroughs. Balbul's food draws inspiration from the cuisines of North Africa, Europe, and the Mediterranean, all connected to world culinary trends. Alenbi Modern Israeli Cuisine opened this past November in Brooklyn's Jewish-traditional Crown Heights neighborhood, drawing interest that transcended religions and ethnicities. Bask in the flavorful falafel tartare with tahina, sumac, amba and pita, or choose from a varied menu, including: Israeli souvlaki, ariis, and frenna bread, Ceviche Yam Tichon, and cured beef tongue. Alenbi treats their decor very seriously, as can be expected in the world's culinary capital.
alenbikitchen.com
6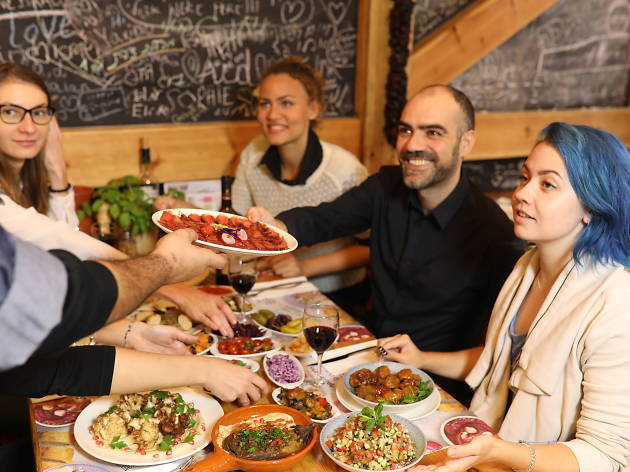 Barcelona is one of the most diverse cities when it comes to everything that touches food. The markets, bars, and restaurants offer everything imaginable, from tiny tapas alongside a glass of wine to Michelin-star restaurants. Shaq Shuq creates unbreakable bonds between Spaniards and Israelis, providing an answer for locals and visitors seeking kosher food like they'd get in Jerusalem, Tel Aviv or Haifa: baladi eggplant with tahina and chimichuri, mixed beef or fish on the grill, cauliflower drizzled with tahina and pomegranate seeds, shakshuka, and even schnitzel alongside hambuergas, the local take on hamburgers, with 15 kinds of salad. Take-away can be ordered for Shabbat.
shaqshuq.com
7
© Ran Mendelson
Or2k, Kathmandu, and Pokhara, Nepal
Everyone who has traveled in the East knows that after a few weeks, the enthusiasm for local food gives way to yearning for the taste of home. Ad Levinger learned this on his own when he got to Nepal after years of living in the United States. As an artist, he fell in love with Nepalese culture, its colors, and its people, and decided to open a go-to place for Israeli atmosphere and food. He opened Or2k in Kathmandu and Pokhara in partnership with Oded Becker and several locals, and together created a kind of home away from home. Tahina, hummus masabaha, falafel, jahnun, Israeli salad, labane, bourekas are all served in a warm and embracing atmosphere facing the spectacular Nepalese landscape. Even Israelis who aren't hungry will be overjoyed to sit and exchange experiences over a nostalgic cup of tea, and for a few minutes, return back home to Israel.
Or2knepal.com
On your way back? Check out the best chef restaurants in Israel