The paper posse: shopping in Tel Aviv for ephemera and cards
These local specialty boutiques will have you wrapped around their ribbons, sketchbooks, stamps and more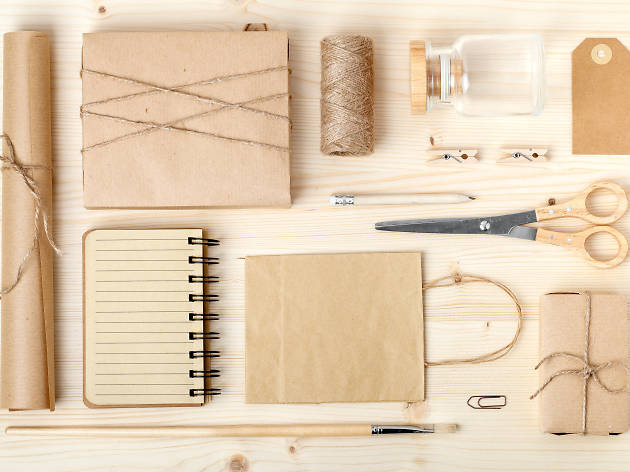 If wrapping paper makes you giddy, you never give a gift without a thoughtfully handwritten card or letterpress prints make you weak at the knees, then these specialty shops are just what you have been looking for. Tel Aviv may be a bit slow on the pick up when it comes to what may be deemed "frivolous tchotchkes" but true collectors know where they can be found, and the designers and ephemera lovers who have opened up the first shops in the city have been lovingly welcomed by the niche group of paper lovers who frequent the charming spots to update their offices, pencil cases, desks and writing rooms. For those seeking even more Israeli designer shopping head to Neve Tzedek for high end housewares shops, and for art and quirkiness lovers, look no further than these communal cultural hubs with artistic roots at the helm.
Shopping in Tel Aviv for letterpress prints, papers and cards
Shopping, Arts, crafts & hobbies
From posters to table cloths, Yooletta blows you away with their exciting designs, especially with the spring-themed floral iPhone cases. The colorful patterns had a vintage feel to them, ranging from flamingos to bicycles. It is a welcome reminder of the kids' playroom wallpaper your grandmother picked out years ago. We recommend: fill up your basket with roles of sticky tape and themed rubber stamps for an afternoon of DIY 'Happy Birthday', 'Thank You' or 'Congratulations' cards.
Shopping, Arts, crafts & hobbies
Whether you're a born creative soul or just feeling spontaneously crafty, go and check out the Papier design store in the heart of Tel Aviv for collections of paper and lifestyle products fit for all your gift-giving and paper-loving needs. Papier is the proud lovechild of Sharon Brunsher and Shiran Rockaway, whose impeccable tastes and fashion design educations resulted in a very chic aesthetic. We recommend: First, spend an hour browsing the paper goodies and use the store's monochrome interior for a perfect instagram shot. Then walk out with a framed print to spruce up your bedroom.
Shopping, Gifts and stationery
Pulp is exactly the makeover your office supplies need. With bright colors and geometric designs, Pulp offers monthly planners and desk organizers you'll actually want to use. Not to mention the pulp designers know that the best ideas are born at 2am, and sell dream journals with eccentric overs and lit up pens for those dream-becomes-trilogy moments. The Pulp brand is held by the Covo and Federbush families, who share a passion for paper goods and compliment each other's expertise in product design. We recommend: the hexagon shaped mechanical pens look like crayons for adults, specially those with a wood print finish.
Show more
See more shopping for gifts in Tel Aviv