22 fall AF things to do in Israel to welcome the autumn leaves
We've assembled a complete list of things to do in the Holy Land to take advantage of the much-deserved cooler weather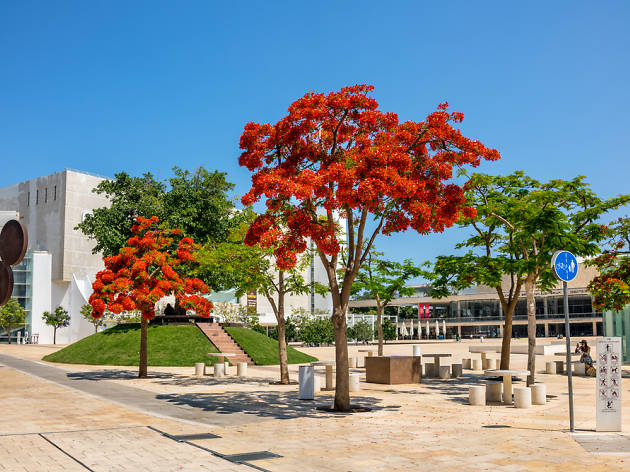 It's official! Fall is here, and much overdo (as always). What better way to say goodbye to the uncompromising heat than with a long, long list of activities, events, resort getaways and pumpkin-inspired desserts? Shove those bikinis back in your bottom drawer, say goodbye to that beach bod, and let the beautiful foliage win your hearts over with our 31 fall AF things to do in Israel this autumn.
Best things to do in Israel this fall
Sports and fitness, Gyms and fitness centers
If you've got fitness ADD Nordau House is for you. Their long list of class options includes yoga, TRX, cycling, running, HITT-based classes and classes that combine multiple disciplines in the same session (think cycling followed by TRX training). The unisex décor and tough loving instructors – many of which are Nike master trainers – make this studio popular with both men and women.
21
© Shutterstock
Go on an apple picking adventure
Connect to your kibbutznik–and the land's–roots, with an apple-picking experience suitable for the whole family. Located in the Golan Heights, Bustan Bereshit offers the opportunity to pick seasonal fruit, as well as activities such as tractor rides, grubbing on personal pies and even soap-making workshops. September is a prime month for picking apples, so get up there while you can!
Bustan Bereshit. Located 2km north of Kibbutz Ein Zivan (04-6993612)
As a former art gallery, the October bar maintained the artist mentality, creating timeless masterpieces—only this time they are presented in the form of food. Though presented as a bar, the venue's three owners (all born in October) sought to include delicious food on their menu. With tasty nibbles like leek fritters smothered in yogurt sauce, you can't go wrong. And the locals love it! Don't let the name fool you either. October bar is not only an autumn amenity. This gem of a spot is open all twelve months of the year.
While the White City has its own charm, there's something magical about slipping away from the hustle and bustle to a quieter, more peaceful environment. With its gargantuan erosion crater offering kilometer upon kilometer of arid land just waiting to be explored at the wake of dawn, to the crystal clear night skies free from urban pollution at dusk, Mitzpe Ramon offers just the nature-infused cure to relax, reflect, and recharge before returning to the nonstop city.
Jaffa's Milk & Honey distillery made history yesterday when it launched the first single malt Israeli whiskey. Was it worth the three year wait? The nose makes a promise, then it raises questions - and then comes a long extension that produces a taste for more. But wait, the taste of this liquid called "The First Israeli Malt Single" is currently the least relevant thing - and not because it is bad, God forbid.
Museums, Science and technology
The Eretz Israel Museum is more than a series of exhibits exploring the history and culture of Israel. Inside the multidisciplinary museum sits a magical place that is literally "out of this world." At the Planetarium you can sneak a peek at the stars the same way that Galileo did through his telescope. Watch a riveting presentation about the mysterious galaxies that exist all the while spinning in revolving seats or learn about Israel's first ever astronaut, Ilan Ramon, and view real time pictures of outer space provided by NASA. The Planetarium is a great place to bring your children and also expand your adult minds to the boundless worlds of science. English presentations are available by reservation.
Attractions, Wildlife centers
In the center of Israel lies the Utopia Orchid Park, an enclosed and air-conditioned site with the sounds and smells of a tropical rain forest. The park is surrounded by big green hills, each with a different activity, including a two-level labyrinth, a French classical maze, and an herb path with seven biblical species. Within the garden itself there are thousands of beautiful and exotic orchids as well as other tropical plants, including carnivorous ones. There are also animals throughout the park, a reservoir and a performing water fountain.
Tel Aviv isn't all hots guys and hummus. Their international cuisine game is getting stronger by the second, and now includes a handful of incredibly spice-packed Indian restaurants. Whether you duck into the locally loved Ma Pau, just steps from both the Great Synagogue and Shuk HaCarmel, or spice up your life with a curry stewed up by the Captain himself in Sarona Market, our suggestions for the best restaurants in Tel Aviv serving Indian cuisine include everything from a vegan restaurant on King George to a South African Tel Aviv street food fave.
From a two minute jaunt over to the happening Rothschild Boulevard to breathing in the aromatic chaos of Jaffa's Flea Market, our handpicked boutique hotels are set in the heart of Tel Aviv and Jaffa's major hubs. Including specialty amenities, classic Israeli breakfasts, Israeli fashion designer decor and the city at your doorstep, each of these hotels in Tel Aviv offers their own distinctive style sealed with a Tel Avivian stamp of approval.
Shhh! Don't tell anyone, but Time Out Israel has rounded up the finest speakeasy bars in Tel Aviv. Step out of your cozy café comfort zone and into the roarin' American jazz age at these hidden bars where the art of mixology is no joke, especially at the newest addition: Butler. When you're sick of the Lonely Planet tourist traps and looking for a more exciting evening out, why not dive into the coconut infused "Pearl Diver" at the Louisiana themed French 57 or spice it up with a chili-salted passionfruit margerita at The Prince. You don't need to bob your hair or put on a flapper skirt to enjoy these whimsical bars. All you need is a thirst for discovery that's itching to be quenched.
Italy has the best espresso you say? You think France has a monarchy over the café au lait? Clearly, you haven't discovered the right Israeli bakeries and cafés yet...and not just Israel. Jerusalem cafés, in particular, have been steaming up the best cappuccinos ('café hafuch' in Hebrew), the richest seasonal sachlab and the most thirst-quenching iced coffees for ages. Whether you're a Jerusalem native coffee novice, or you've come from a long week of sightseeing in the Galilee or the Negev, these cozy cafés will hit the spot, warm the soul and feed your coffee addiction like never before.
Show more
See more things to do in Israel