7 local desserts worth every calorie
Indulge in these seven desserts in Tel Aviv, one for each day of the week
Even in our wellness-obsessed world there comes a time when you have to throw caution to the wind and fall head first into a mouth-watering
dessert
that's as high in calories as it is in delectable flavors. Let Tel Aviv prove its worth as more than just
ice cream parlours
and froyo. Bring on the sugar high at these White City cafés,
bars
and
restaurants
with the tastiest
Italian
tiramisu, creamiest cheesecake and Israel's take on the famous British banofee pie. Though
sharing is caring
, you'll want these calory-rich desserts all for yourself.
A dessert a day keeps the doctors away
1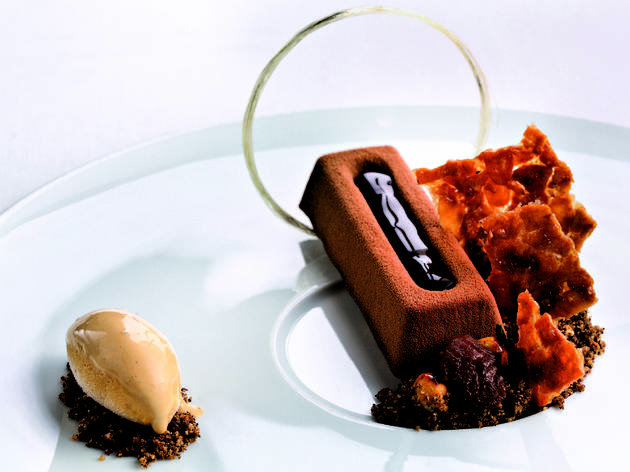 Blue Sky's Manjari Bar
Meir Adoni (aka Israel's answer to Jean Georges) is the force behind four of Tel Aviv's most popular food establishments: Catit, Mizlala, Blue Sky and Lumina. It's at Blue Sky, however, that you'll find what is arguably his best dessert. The restaurant, located on top of the Carlton Hotel on the 15th floor, looks out onto Tel Aviv's coastline on one side and onto the urban landscape of the city on the other side. While you can stop in for a full three course meal, Blue Sky also offers small plates and cocktails – or you can skip all that and just order the Manjari Bar (NIS 73). The multi-textured dessert consists of a Manjari chocolate bar, amarena sauce, amarena cherries financier, nuts crumble, almond tuile, cherries macaroon, caramelized hazelnut and tonke beans ice cream. It comes beautifully presented and it also happens to be kosher.
Eliezer Peri St, Tel Aviv (03-5201830)
2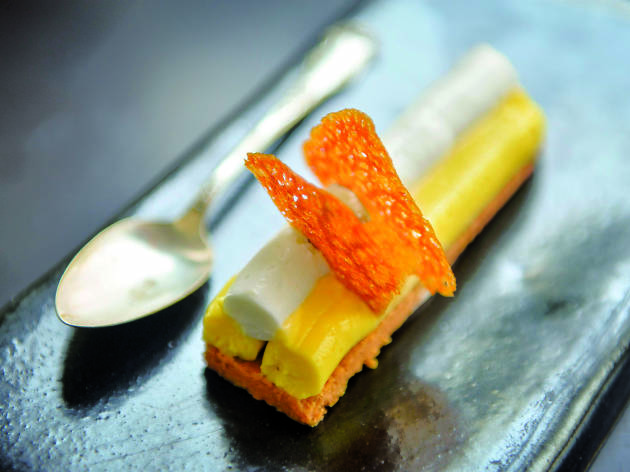 Aria's Passionfruit and White Chocolate Cake
The great thing about Aria is that you can indulge in their passionfruit and white chocolate dessert (NIS 48) and then dance off all the calories at their downstairs bar/lounge. So what are you waiting for? The cake is made with slivers of passionfruit cream and white chocolate mousse, both of which comes served on hazelnut crunch and with slightly sour passionfruit sorbet.
66 Nahalat Binyamin St, Tel Aviv (03-5296054)
3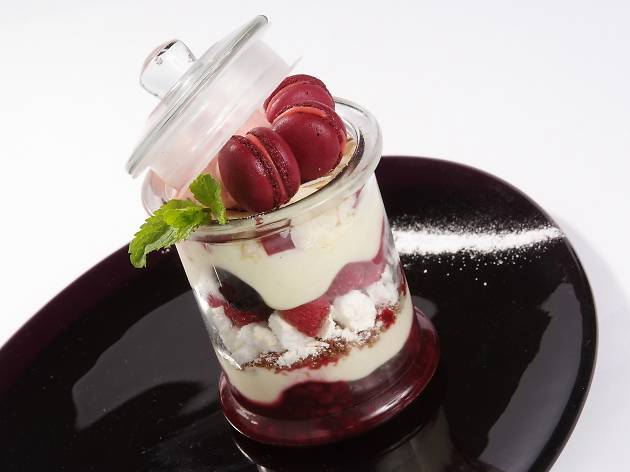 Messa's Exotic Dessert
Messa's signature dessert is a strawberry-macaron-cream dessert served in a mason jar and it's a worthy choice, but it plays second fiddle to the real star. You'd be remised to leave the longstanding trendy, highbrow establishment without ordering their most exotic dessert. The fruit you see in this dessert is a bit misleading. This isn't anything high in nutritional value, instead it's a mouthwatering combination of cream, mango passion fruit mousse cake, orange and pineapple chips (NIS 64). Note that the centerpiece of the eatery is a long, white central table with high-back chairs – stylish yes, but comfortable no. For comfort and privacy ask to be seated on one of the outlining tables when making your reservation and don't forget to leave time to check out their adjoining bar/lounge.
19 HaArba'a St, Tel Aviv (03-6856859)
4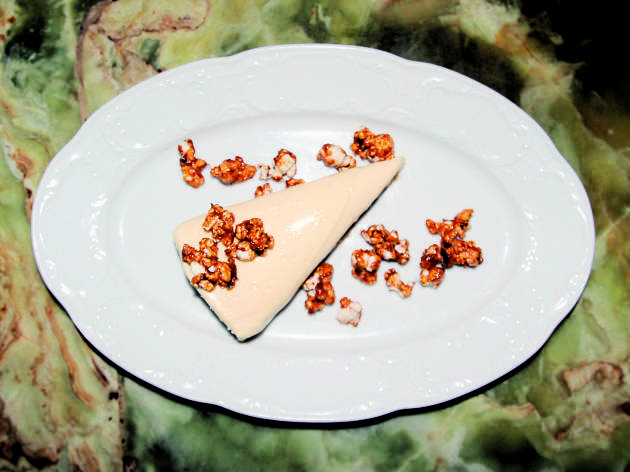 Café Europa's Cheesecake
When a Tel Aviv restaurant can master a New York-style cheesecake you know they're on to something. It should therefore come as no surprise that absolutely everything on Café Europa's menu exceeds expectations. The only criticism – bigger portions, please! The menu is divided by prices with dishes ranging from NIS 32 to NIS 62. We suggest ordering up everything that catches your eye (remember portions are small, especially by Israeli standards) but make sure to leave room for one dessert, namely the aforementioned cheesecake (NIS 42). Served on its own, it would be a winning dessert, but adding caramelized popcorn and popcorn cream to their cheesecake makes this an exclamation point to any meal. Meanwhile, their churros, chocolate brioche, strawberry shortcake and lime-berry-cream dessert are all worth silver medals. Basically, arrive with a group and order everything on the menu.
9 Rothschild Bvld, Tel Aviv (03-5259987)
5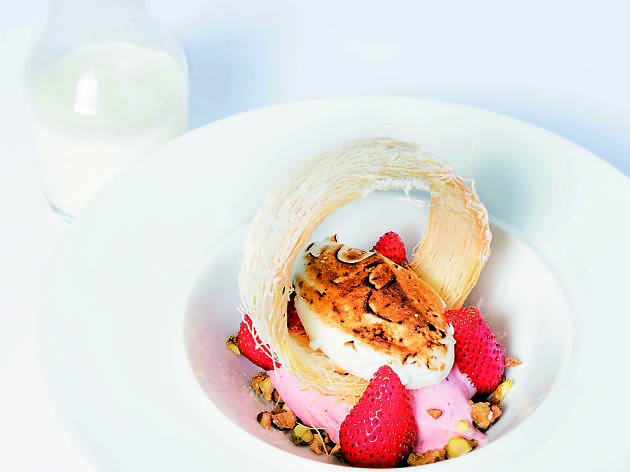 Pastel's Floating Island
If you're looking for a date spot or the kind of place where you could go with a big group and actually speak without shouting, Pastel is a fantastic option. It's also sun-drenched, has ample outdoor space as well as an outdoor bar and has comfortable seating, which is important because after chowing down on the modern brasserie's eats you'll want to linger longer and order dessert. Namely their Floating Island (NIS 44), which is actually a combination of two classic desserts: one Mediterranean and the other western. It's made up of strawberry sorbet, Amarena cherries, a soft and burnt meringue, kadaif and malabi soup. There's an illusion of a floating island after the server pours the "soup," which is spiced with rose water, once the dessert hits your table.
27 Sha'ul HaMelech St, Tel Aviv (03-6447441)
6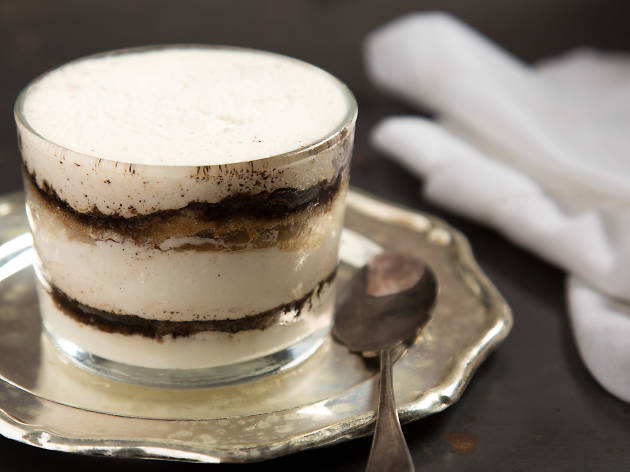 Bakery's Tiramisu
As far as tiramisu goes, there is a lot of competition in Israel. Ouzeria and Bindella Osteria put up a good fight, but ultimately the Bakery - part of the restaurant and hospitality group behind some of Israel's most well-known establishments (think Hotel Montefiore, Coffee Bar and Brasserie) beat out the competition with their version of the classic dessert. They get brownie points for stocking it in two sizes (a small for one, NIS 26, or a large for six, NIS 140) and for selling it at both Delicatessen and their various Bakery locations. Expect layers of sponge cake soaked in coffee and amaretto liqueur, mascarpone cream and cream Zabaione. You won't find a better version in Italy.
Delicatessen, 79 Yehuda HaLevi St, Tel Aviv (03-9681010); or Bakery, various locations in Tel Aviv.


7
Room Service's Hello to the Queen
Sometimes a person just wants to go on an all-out binge, and for those cases, look no further than Room Service. While their Hello to the Queen dessert (NIS 58) is meant for sharing, it's worth risking a serious sugar coma and keeping it to yourself. Made with caramelized bananas, toffee sauce, butter streusel, vanilla ice cream and whipped cream, all of which is covered in chocolate sauce, it's pure heaven for a sugar lover. It's also exceedingly reasonably priced given its oversized proportions. To mitigate the nutritional bang, Room Service offers a number of delicious and healthy (yup, not an oxymoron) savory options to have before your major indulgence. Among their stand outs are their tuna tartar, salmon fillet and quinoa salad. This is one of those trendy-casual Tel Aviv restaurants that tends to be full no matter the hour, so try and make a reservation.
245 Dizengoff St, Tel Aviv (03-5329654)