Interview: Yeşim Akdeniz
As the victims of a world governed by the rule of "out with the old and in with the new," we're guaranteed to form a connection with Yeşim Akdeniz's new show 'Club Dystopia'. Jbid Boyacıyan speaks with the artist about her work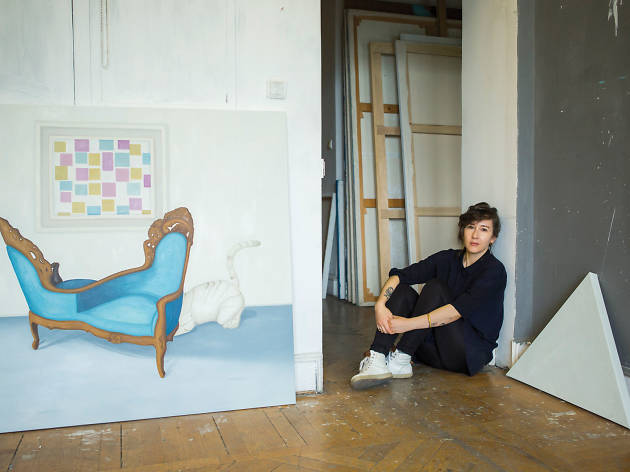 An artist whose works have been shown in various institutions such as MAK Museum and Stedelijk Museum, Yeşim Akdeniz now invites us to join her at Club 'Dystopia'. Comprised of the artist's surreal compositions, this club features public buildings constructed in the 1930s to introduce modernity into the lives of Turkish people. As Akdeniz reconstructs buildings such as the Taksim Belediye Gazinosu, a once-popular restaurant and nightclub, she also provides clues about what the future might hold.
Your figurative style has been compared to that of Giorgio de Chirico. How do comments like this generally affect an artist?
"In contemporary art, everyone's work can cite, mention or, as you said, bring to mind the work of someone else. This is because we compose most of our works by reference. Imagine the history of art as a network: in reality, all works are somehow connected to one another."
You have works that were inspired by luminaries like Edgar Allan Poe, Freud, Frank Lloyd Wright and Pier Paolo Pasolini. How do you feel about the new generation of artists?
"The new generation of artists will be much more intelligent, satirical and overall brighter. Then they'll look back and draw inspiration from us. That's just the way it goes…"
Your paintings often feature human figures – you've even painted yourself in the past. Are there protagonists to your symbolic narratives?
"When composing my paintings, my starting point is the unconventional connections between the objects in this world and how my perception relates to these connections. To build on what we said before, you could also imagine our planet as a network where all stories are actually connected to one another."
Your works evoke a sense of mystery, unease and a little fear – emotions that are inevitably passed on to the viewer. It's like those dreams where everything's going along as usual when suddenly unexpected events transpire.
"I love hearing comments like that. If my paintings are able to evoke such intense emotions in the viewer, it means I've managed to influence someone."
In 'Club Dystopia', places like Taksim Belediye Gazinosu and Çubuk Gazinosu are brought back to life in a fairytale-like narrative. Why did you choose to focus on venues instead of your usual human figures this time?
"Most of my paintings in recent years have focused on modern architecture and its decline in different geographies, as well as the altered fate of these buildings due to social, political or economic factors. Though no longer relevant, Taksim Belediye Gazinosu was once the symbol of early- Republican-era policies in Turkey. The same goes for Ankara Çubuk Barajı Gazinosu and the Ankara Exhibition Hall. The show is partially about the similar fates of buildings from this era."
In a past interview you said, "If you can turn unfavorable circumstances into art, it means you're able to utilize your talent." Would you say that 'Club Dystopia' was inspired by unfavorable circumstances?
"Doing art in a country like Turkey already means being stubborn about continuing work in spite of everything. One of the paintings in the exhibition is called 'Last Dance in Taksim'. This painting depicts Taksim Belediye Gazinosu, a restaurant and nightclub that was once all the rage for introducing the city to a whole new style of entertainment with its modern design and waiters in tailcoats. Yet both this painting and its name have a whole new connotation for me due to all of the recent terrorist attacks. After all, are there any of us who don't wonder whether it's our 'last dance' each time we're going to Beyoğlu these days?"
In 'Club Dystopia' you also touch upon the manipulation of memory through the transformation of one's environment. Are we guilty of over-normalizing everything?
"What we call 'social engineering' is something that involves generating new realities for society by creating imaginary enemies out of scenarios that are only half-true. I personally haven't become desensitized to anything. I think it has a lot to do with the fact that I haven't watched TV in eight years."
Club Dystopia is at Pi Artworks from May 13-Jun 25.