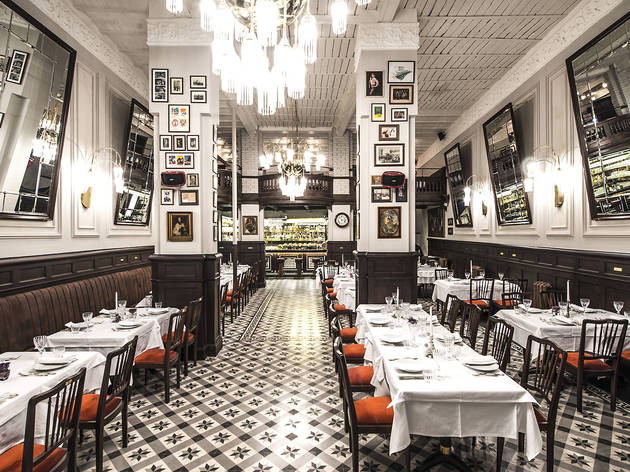 How many Istanbul restaurants do you know that have managed to stay open for decades while preserving their historic character? You could probably count them on one hand. Until 2011, Russian restaurant Rejans was among these eateries, yet after it became unable to financially support itself in the same building it occupied for over 80 years, it was quietly shut down and Istanbullus ended up losing one of their oldest eateries.
Thankfully the story didn't end there – only the protagonists changed, with the folks behind 360 Restaurant setting out to bring this historic restaurant back to life. 1924 is an eatery that combines the old and the new, paying tribute to Rejans without completely relying on the past. Even the commemorative plaques featuring the names of celebrities who have visited over the years (like Agatha Christie and Greta Garbo) are still there. By contrast, the wooden wall panels are brand new, the dining hall is decorated with old photographs and images from Russia, and the bar resembles a modern cocktail hub where various homemade vodkas are on display.
The menu has also been renewed and the aim of 1924 is to offer an assortment of classic Russian dishes, so you'll find traditional eats like borscht soup, beef stroganoff and chicken Kiev. If you're looking for small bites, don't limit yourself to the mezes and starters: the Russian dumplings called pelmeni are also perfectly shareable, especially the variety with leeks and sour cream. The restaurant also draws inspiration from Eastern European cuisine to add color to the menu, as Russian fare on its own might seem a bit too "country" for a restaurant like 1924. The most exciting part of the menu is the dessert section, which includes delights like the chestnut cream profiterole and the crêpe suzette. 1924 is a place to visit for its historic feel as well as its good food.
Venue name:
1924 Istanbul
Contact:
Address:
Olivya Geçidi No: 7, Beyoğlu
İstanbul


Opening hours:
Mon-Sat 18:30-23:00. Closed Sun.