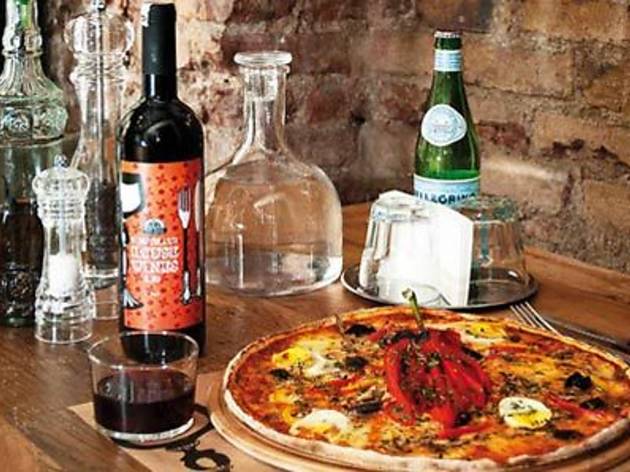 49 Pizza, mainly based on Pizza, is one of those places that wins your heart at first sight with its amazing atmosphere and mostly home-made daily dishes. Number 49 on Turnacıbaşı Caddesi, 49 Pizza's pizza-heavy menu starts off with a Bozcaada-style breakfast. Local cheeses, jams, island tomato paste, and the other items you've come to expect all feature in the breakfast line-up. The focus of the breakfast, however, is the eggs. Served on pizza dough and cooked in a stone-oven with mushrooms, tulum cheese, bacon, sucuk (Turkish pepperoni) or bresoala.
Among the appetizers feature a cheese plate, salads and focaccia with parmesan. Main courses include 18 varieties of pizza. Five of these include ham or salami containing pork, while others include everything from mozzarella, tulum cheese, emmentel, mascarpone, gorgonzola, vegetables, mushrooms, artichoke hearts and more. Our favourite pizzas include the Tulumi with caramelised onion, sun-dried tomatoes, and tulum cheese, fresh thyme, mozzarella and home-made tomato paste; the Pizza 49 with special 49 sauce, mozzarella, bresoala (without cumin paste), fresh mountain thyme; and if you like pork, the Da Soho with parma ham, roasted capsicum, parmesan, mascarpone, arugula, mozzarella and home-made tomato paste. Pizza is delicious and filling but remember to leave room for dessert; most notably the Nutellasimo which is kind of a pizza itself.A quarter-moon shape and covered in sugar and cinnamon, this calzone is full of Nutella and mascarpone—little else needs to be said about this really.
The drinks menu is made up of only beer and Turkish wines.
Venue name:
49 Pizza
Contact:
Address:
Turnacıbaşı Caddesi 49, Çukurcuma
İstanbul


Opening hours:
Mon-Fri 10.30-23.00, Sat-Sun 10.30-00.00.