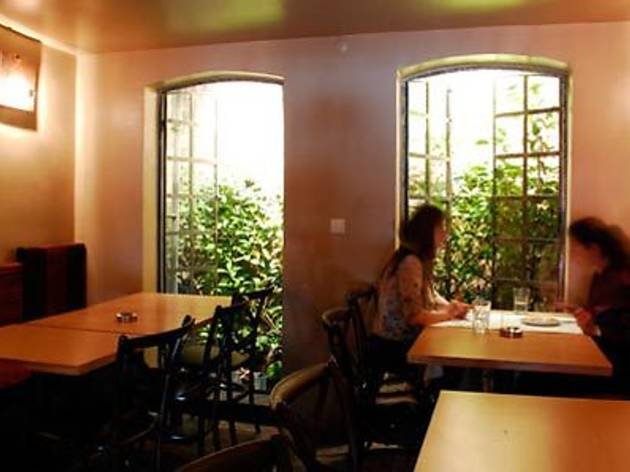 Ece Aksoy, who gives her name to Ece Bar in Kuruçeşme, is only managing this small venue in Beyoğlu now.
There is a gloomy romance in the atmosphere in this venue that is decorated by Berna Bora. The other details in the decoration gives you the sense of tavern in a historical inn which is adopted to 21st century. If you want to peek at the kitchen where Ece Hanım's magic happens, the kitchen door is always open.
There are 7-8 different types of olive oil and pot dishes served everyday. The standard menu offers soups, salads, baked mücver, grilled börek, falafel, garlic meat balls, Onno's patato, famous Ece Aksoy "sahan köftesi" (meat balls cooked in a frying pan), meats and noodles. We especially recommend the noodles cooked with lemon peel and wine and Bolu noodles with walnuts. There are also special types of mantı in the menu like the pink mantı (filled with smoked red peppers), green mantı (filled with spinach) and regular mantı, which is white and filled with meat. Another thing other than their colours that makes these mantı choices differ from the others is that they are huge. So huge that every portion has only one mantı! As dessert, you can have the mastic gum flavoured pudding, semolina with fruits and rosehip syrup or chocolate soufflé.
During the summer, you can have a seat outside the restaurant but don't worry if you can't find a place outdoors because the front windows can be opened all the way to make you feel like you are outside. Besides all these, what's really great about 9 Ece Aksoy is its entertainment. You can keep the fun going after your meal!
Venue name:
9 Ece Aksoy
Contact:
Address:
Oteller Sokak 9, Tepebaşı
İstanbul


Opening hours:
Mon-Sat 12.00-02.00; Sun 17.00-02.00.