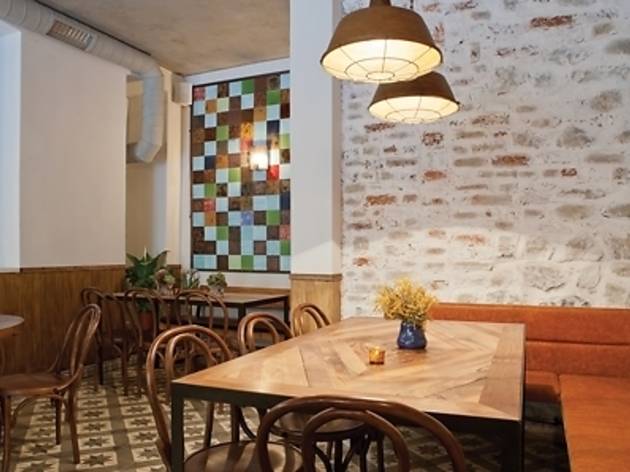 Among the designer studios and residences on Serdar-ı Ekrem, one of Istanbul's trendiest streets, you'll now find a place serving up new and different tastes. The new Galata resident, Aheste, takes up a small and simple space in the famous Doğan Apartment, where chef Sara Tabrizi (previously of the nearby Georges Hotel's in-house restaurant, Le Fumoir) joins up with Volkan Karabal on a venture to promote a slow food experience.
The interior is reminiscent of something you might see on New York's Lower East Side: small but not stuffy. With seven tables of varying size and a comfy leather sofa, you can either come with friends and talk all afternoon, or alone and enjoy the simplicity. In fact, the establishment's entire philosophy seems to hinge on this languid pace: slow food, slow lifestyle and its inherent enjoyment. The young team is warm, friendly and attentive.
With a focus on organic, local and seasonal produce, Aheste's menu is proportional to its size and split into three parts: breakfast, on/between bread and salads. A different menu for the evening features various meze, exemplifying how this boutique cafe transforms after dark into a meyhane.
For breakfast, you can find quiches, cakes, tarts, muffins, granola and jams. At lunch, indulge in a whole-wheat sourdough bread bruschetta and a salad. We had the bruschetta with smoked sea bass, arugula, pink tomatoes, avocado, red onion, olive oil and lemon, which was complimented well with their homemade lemonade. Other options that caught our eye were the artichoke confit with basil, Erzincan cheese, walnuts and fennel-infused olive oil or the köfte (meatballs) with slow-cooked eggplant, red pepper and arugula, topped with a sour pomegranate molasses. The house recommendation is the fresh green salad with smoked bulgur and grilled vegetables. The on/between bread selections are served on a wooden block, and the combinations of cold toppings on warm bread are compatible and satisfying, despite the small portion sizes.
At night, Aheste borrows from Turkish, Iranian, Ottoman, Armenian and Greek kitchens, giving the mix a modern twist. Alongside cold starters like harissa (Tunisian hot chili sauce) carrots with spiced yogurt and sea bass ceviche are hot dishes like the calamari with hummus, sweetbreads, grilled tongue and anchovy-spinach puree.
The desert menu is limited, but the pickings are special. The carrot cake is a bit heavy but delicious nonetheless. The mosaic cake is also noteworthy. Lunch items come in at around 20 TL each, while the evening menu ranges from 15 to 30 TL per plate.
Venue name:
Aheste
Contact:
Address:
Serdar-ı Ekrem Sokak, Doğan Apartmanı 30A
İstanbul


Opening hours:
Daily 10.00-00.00