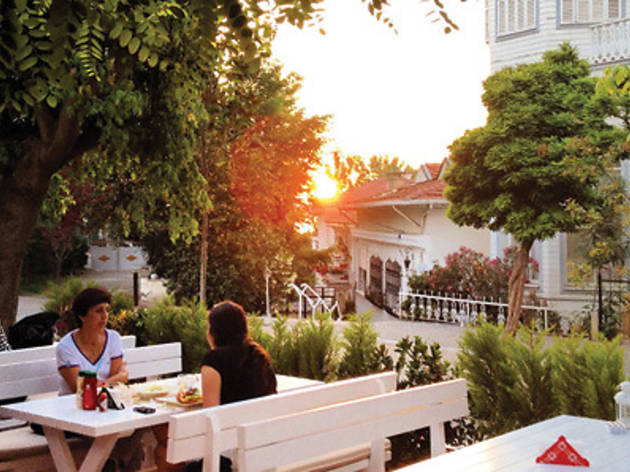 This newcomer to Büyükada suits the island's nostalgic flair and architecture well. Opened by brothers Serdar and Serhat Akinan, Akasya was designed as part bistro, part meat restaurant and, in the evenings, maybe even a little bit of a jazz club.
The owners try to use organic ingredients as much as possible, sourcing the vegetables from their own garden in Çatalca and the meat from local butchers. They sell what they don't use, such as the olive oil, original Italian pasta, olive marmalade and paste, organic tomato paste and bottles of wine that populate the charcuterie area. Young chefs Selin Çakan and Mert Karuk occasionally venture out of the kitchen to chat with the customers and inquire about their meal.
Based on their recommendation, we tried the sigara böreği (feta cheese-stuffed filo dough, rolled like a cigar and fried), meat patties with a sauce of tomato and beğendi (eggplant puree) and stuffed mushrooms. Each is proof positive that the chefs manage to add something new to familiar recipes. Except for the meat and meze options, they've successfully adapted Italian cuisine to the menu, our favourite flavour being the lasagne with lamb tenderloin, which pairs well with the Suvla Wines on offer.
On your visit, be sure to try Karuk's specialty, the mousse with whipped cream and a surprise finish that we won't spoil.
Venue name:
Akasya
Contact:
Address:
23 Nisan Caddesi 49 (next to Splendid Hotel)
İstanbul


Opening hours:
Daily 12.00- 02.00.