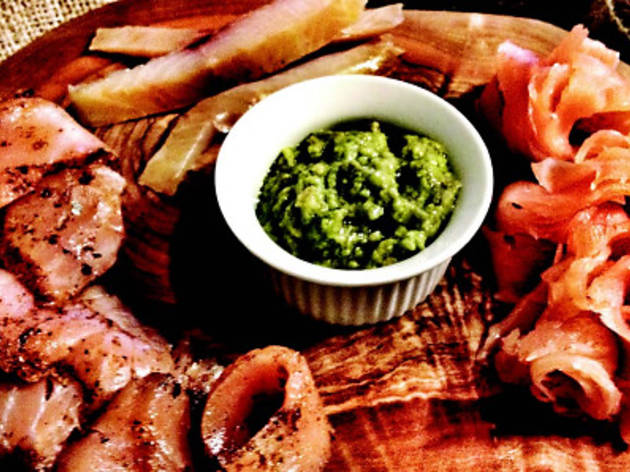 Time Out says
We have good news and we have bad news. The bad news is that Galata Şarküteri in Kuledibi has closed. The good news, however, is that a new charcuterie has opened in its place: Anjel. This is a small shop at the entrance of Doğan Apartment. The one or two stools outside make it look like a low-key esnaf(tradesmen's) shop. The owner, Celine Kaya, is a young, energetic woman who, upon taking some classes at Mutfak Sanatları Akademisi (Culinary Arts Academy), quit her job as an advertiser and got to work opening Anjel when she heard that Galata Şarküteri was set to shut down.
The shop gets its name from Celine Hanım's grandmother. The décor is quite simple, with the centrepiece being the large wrought iron tree that hangs on the wall as a token of good luck. The wooden service trays, rectangular water bottles and flat enamel plates that remind us of our grandmother's house are chic details that lend the charcuterie a decidedly unadorned feel.
Some of the cheeses and cold cuts you'll find at Anjel are Parmesan, Brie, Roquefort and Burrata as well as smoked sirloin steak, tenderloin pastrami, dry Balkan meat, smoked salmon, prosciutto and bresaola. Although we can readily vouch for their taste, we must admit that the variety is quite limited. That said, the pear chutney and delicious strawberry jam with vanilla-lavender we paired with the cheeses, as well as the homemade tahini-cinnamon granola bars we couldn't get enough of, are perfect for breakfast.
Celine Hanım and her partner worked hard to determine what kind of cuisine would best suit the classic charcuterie products; one of them wanted to focus on specialty dishes, while the other believed that traditional homecooked flavours were the way to go. As you probably already guessed, the result is a middle-of-the-road selection. In addition to olive oil dishes and daily homecooked meals like chickpeas with meat or eggplant stuffed with minced meat and rice, Anjel also offers more exclusive dishes like poached sea bass and a chicken-avocado sandwich with pesto sauce. Whatever is fresh in the market that week is what you'll be served here, with everything bought daily.
In terms of the olive oil dishes, we particularly recommend the roasted eggplant salad with honey – you probably haven't tasted something close to Anjel's well-balanced blend of smoke and honey. If you're a fan of thick, garlicky and lemony hummus, the Israeli hummus you'll find here might disappoint, since it's less salty than sweet, more runny than thick. You'll also find lentil patties, kidney bean stew and fresh peas in olive oil at Anjel, though what we really recommend you try is the stuffed artichoke. From what Celine Hanım tells us, they prepare about 90 orders of this dish a day. If you're in luck, you just might get to taste the stuffed linden tree leaves from Burgazada in olive oil, which is a good, fragrant alternative to the grape-leaf version. And if you happen to be there during teatime, don't even think about leaving without trying Anjel's lemon cake with poppy seeds.
Details