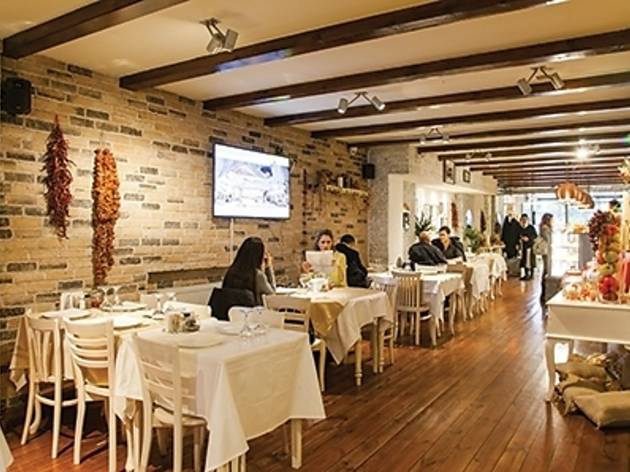 Time Out says
When everyone starts raving on about a band, film, holiday destination, book, or, in this case, a lahmacun joint, you can't help but think "come on! It can't be all that!" In fact, with so many people claiming that Ar-Ruha serves "the best lahmacun in the world," there was as much excitment as suspicion when we first took our seats.
For starters, people like to stretch the truth for the sake of using a superlative or to make their only weekend activity sound cooler than it actually was. You don't really expect to find a lahmacun paradise in a place like Tes¸vikiye. And finally, from the outside, the restaurant doesn't look likely to be the best of anything at all.
But have a seat in its surprisingly lush interior and wait for the food to arrive... Rest assured, despite the hype Ar-Ruha's lahmacun hasn't yet received anywhere near the amount of praise it truly deserves. After buying the meat straight from the butcher, the chef minces the lamb meat himself and applies fresh tomatoes (no cheap tomato paste here) and home made red pepper coming straight from Urfa.
It makes a difference even the most amateur palate can feel. And for those who don't particularly enjoy the smell of lamb, the freshness of the produce goes a long way to making the difference. Coming out of the kitchen furnaces, the 8 TL lahmacun is very filling and comes with a salad. The spicy-lahmacun as well as the veggie version are also highly recommended. Lightly spiced and soft in consistency, the boiled ic¸li ko¨fte, or tillo, is another must-try (6 TL).
Of course, the menu offers more than just lahmacun and ic¸li ko¨fte. Aubergine kebab (18 TL), olive and egg c¸igˆ ko¨fte
(20 TL), onion kebab plaDattMeario (22 TL) are available but you need to call at least three hours advance to have the Urfa delicacies prepared for you. If your stomach still has room left, you can go for the town's famous dessert, a sugary crepe called s¸ıllık tatlısını (14 TL). Ar-Ruha also delivers home, a good thing to know when you're craving a good lahmacun but are feeling too lazy to move from your sofa. Seda Pekc¸elen

Details