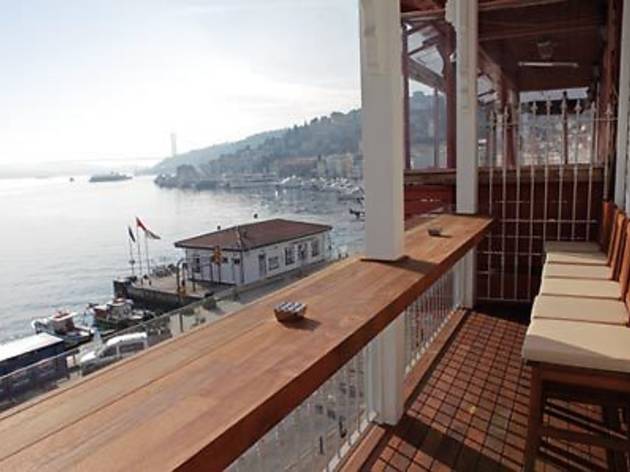 Time Out says
As you walk through the front door of Sur Balık Arnavutköy, you're greeted first by an alcove and, past that, the interior seating area. The outdoor seating area is covered for the winter. There is a wine cave, featuring mostly local wines in Kavaklıdere and Doluca brands, which can all be ordered by-the-glass. There are also French, Italian, Californian and Chilean wines, with the best sellers being Chianti and Pinot Grigio. The venue is completely accessible. The first floor is crisp and fancy, while the top floor has a more casual vibe, featuring a bar and barstyle seating on the balcony-ideal for smokers. The terrace on the fourth floor is open in the summer and can host up to 130 people. Pictures and photographs of old Istanbul line the walls, except for the LCD screens on each floor that display swimming fish on Aquavisionthough we're at a loss as to why anyone would prefer to watch fish over the calm Bosphorus waters. Sur Balık Arnavutköy's kitchen is built, literally, in the sea. An obscene amount of concrete was laid to block out water from seeping through the kitchen walls in order for it to work.
What makes Sur Balık Arnavutköy different from the slew of fish restaurants in the region, according to Tasasız, is that the kitchen crew was selected individually based on their specialized cooking techniques. One experienced chef strictly does traditional buğulama (fish stew made in a covered pot), while another creates meze dishes. This means that each time you visit Sur Balık Arnavutköy, you're assured that the quality of the dish will be the same. As for the fish, the restaurant has several purveyors, and some are even brought from as far as Bodrum. However, no fish is kept on ice. At the end of the day, the fish that don't get cooked is given back to the guy who brought it in that morning, which means the fish don't go to waste and don't get frozen.
At Sur Balık Arnavutköy, you'll find classic meze dishes, such as midye tava (mussels stuffed with rice and pine nuts), as well as some rare and ambitious plates. The superbly done balık mantı (roughly, fish ravioli), served with yoghurt and red pepper flakes, is a great alternative to the original Turkish dish filled with meat. Another specialty of the restaurant, is the mouth-watering marinated sea bass with basil pesto. A must-try for vegetarians, those who aren't fans of fish or who just want to eat healthy in general, is the meze dish featuring kaya koruğu, a spicy and tangy herb indigenous to the Aegean region that is frequently used in pickling.
Sur Balık Arnavutköy offers a mix of Turkish desserts, such as quince dessert and şekerpare (mini cakes with syrup and ground pistachio), alongside international favourites such as soufflé. The soufflé here isn't any old chocolate cake served with vanilla ice cream. It is what a soufflé should be, a dessert oozing with chocolate that is far from cakey, served with thick cream and powdered sugar. However, the most exciting sweet find at Sur Balık Arnavutköy is the tahini profiterole, a one-of-a-kind light dessert with just enough lemon tang to rival its chocolaty counterpart.
From the Menu
Fish mantı 10 TL
Sea bass dolma 10 TL
Kağıtta levrek (sea bass cooked in parchment paper) for two 90 TL
Tahini profiterole 5 TL
One glass of rakı 8 TL
Details