As Haute As It Gets: Arola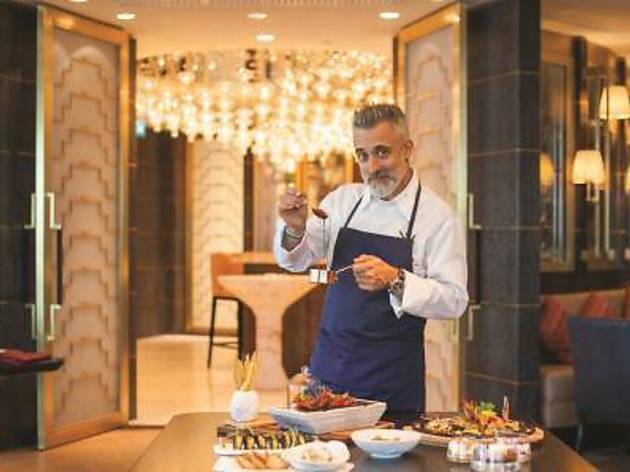 Time Out says
By René Ames
Sergi Arola's rock'n'roll personality and apparel – tattoos, leather jacket and all – is obviously the reason why he is known as the "Rock Star Chef." That, plus the fact that early on in life, the now 47-yearold celebrity chef had nursed the ambition of making it big as a rock star.
But perhaps what first needs to be mentioned regarding Sergi Arola is the fact that this disciple of Ferrán Adrià and Pierre Gagnaire has now joined the two gurus in the pantheon of Modernist Cuisine. Or, that he rocked his gastronomyobsessed home country of Spain when he garnered a second Michelin star in 2000, shortly after opening the restaurant La Broche in Madrid, an honor which was again bestowed upon him in 2009, a year after he and his wife opened the small Sergi Arola Gastro, also in the Spanish capital. The 'Spanish National Gastronomy Award' and International Gastronomical Society's 'Prix de L'Art de la Cuisine aux Chefs de l'Avenir' are other accolades he has received since he ventured on his own culinary path. Meanwhile, his second venture located at the fashionable Hotel Arts in Barcelona, the eponymous Arola has been getting high ratings from customers and reviewers alike since its inception in 2004. So much so, that it has become the business model for a growing number of dining spots in the world that bear his celebrated name: Ibiza, Lisbon, Penha Longa, Sao Paolo, Santiago, Mumbai, Verbier and, since September last year, Istanbul.
Our local Arola, the flagship restaurant of the spanking new Raffles Istanbul at Zorlu Center, carries on with the formula of the Barcelona locale, and offers a mainly tapas menu, which the chef regards not only as "a set of dishes but a way of life", and deemed well-suited for Turkey and its similar meze culture. Following the template of all Arolarun properties, the restaurant is marked by cutting edge and eclectic aesthetics. Designed by the London-based Gallery HBA, the 74-seater Arola Istanbul was built on a "sense of anticipation and discovery" while hinting at native cultural references. Despite many visual elements – from two startling floor-to-ceiling sculptures at the entrance, to jewel-colored drop lanterns, back-lit pattern cut-outs of Turkish kilims on the ceiling and Alhambra-inspired Arabic shapes on the walls – the overall ambiance of the place was surprisingly relaxed and cozy.
The small dishes, witty interpretations of traditional Catalan and Mediterranean recipes, have been prepared by Omar Mosquera - a talented Catalan chef brought in from one of Sergi Arola's projects - and laid out in a casual manner, albeit with a predetermined order. This is, after all, the establishment of a celebrated Michelin-star chef; so everything has to have a rhyme and reason. First to arrive, was a special treat - a line of seven Bodrum green and black olives and a small shell-shaped bowl holding crispy prawn crackers.
Four lightly toasted coca bread (a Catalan fiesta staple), a tiny transparent jar of tomato salsa, small bowl of flavored salt and a small bottle of extra virgin olive oil were served as another house treat. And this one was a confirmation of the chef's Catalan origin. Pa amb tomàquet literally means "bread with tomato" which is simply bread rubbed with salsa, sprinkled with salt and drizzled with oil.
But it's interesting that the chef has chosen to introduce this typical and unpretentious Catalan way of eating bread as part of his repertoire of interactive tapas to customers paying fine dining prices. It makes for a good understanding of the mindset of Sergi Arola, who's obviously mixing tradition with a modern approach and a touch of irony.
Amuse-bouches:
Gazpacho shot with beetroot foam
Presented in a shot glass, it was refreshing to drink in one gulp, with delicate hints of tomato and beet along with other ingredients.
The foam provided a subtle earthiness. Rating: ***
Japan burger
A tiny morsel of marinated tuna was pan-seared only on one side, the other left raw then sandwiched between two lira-coin-sized toasted bread dipped in squid ink. There was a gorgeous burst of flavors from such a tiny source: sour, bitter, and acidic. Rating : ***
Main dishes:
Veggies mix
A colorful vegetable box where mini veggies, either raw or cooked, looked like they were growing from an edible soil of finely chopped almonds and dehydrated black olives; this was easily Arola's most playful signature creation. Dipping any of the carrots, green asparagus, baby leeks, fresh sprouts, tempura eggplants or cherry tomatoes into the "earth", we discovered a damp layer of romesco sauce underneath. The quintessential Catalan sauce is made of roasted pepper, onion and tomato blended with hazelnuts, walnuts and almonds, and dressed with an olive oil emulsion. Taste buds on high alert! Rating:***
Porcini mushroom carpaccio
Thin slices of porcini mushroom were marinated in slow temperature then dressed in pine nut vinaigrette and topped?with roasted pine nuts and chestnuts, creating a subtle combo of earthy and nutty aromas, flavors and different textures. Rating: ***
Seafood Cocktail
The cocktail, served in a small round bowl, turned out to be a sea urchin and king crab salad. The crabmeat could be tasted when blended with seed bread, boiled egg, tomato and mayonnaise then finished with a dome of "tomato air", an emulsified foam from dehydrated tomato, sparkling water and soy lecithin. Rating:***
Prawn Ravioli
The "ravioli" was made of prawn meat and a filling of sautéed porcini mushrooms and beetroot. The "ravioli" had an 'Escabetxe' sauce, an acidic vinegar base sauce that balanced the faint sweetness of the prawn. "Beetroot air" foam covered parts of the plate. Rating : ***
Bravas "Arola"
Arola's version of this popular Spanish bar appetizer was simply the best I've eaten anywhere. Two neatly cut and cored potatoes have been fried to achieve dual textures: smooth on the inside and crisp on the outside. They were set crowned with the garlicky aioli sauce while inside was a spicy tomato sauce that gave a nice cayenne kick when eaten in one bite. Rating: ***
Bocata de Calamares
The chef elevated this common sandwich into haute by using two thin toasted ink bread slices to sandwich a crunchy deep-fried squid giving it a tangy sweetness of lemon compote. Rating: ***
Lobster Rice
Hot when it was brought?in a small paella dish, it was decorated with the peeled and reconstructed shells of two Iskenderun (Turkish) prawns and a lobster. An absolutely stunning presentation. The paella was wonderfully al dente and perfumed with lime zest. The lobster stock used in cooking and the prawn meat were easily discernible. An amazing dish. Rating: ***
Desserts:
Vanilla bombs
Balls of crème Anglaise glazed in vanilla with raspberry filling were brought in round wooden container with a glass cover to amp their "hauteness". Rating: **
70% Chocolate
Grilled bread dipped in the richness of dark chocolate drizzled with virgin oil and sprinkled with the chef's salt. Rating:***
Molecular Fruit Salad
This was a showstopper of a dish, grabbing the attention of everyone around. A?large platter-like serving dish contained dehydrated fruits on a bed of dry ice that a waiter ceremoniously poured water on to start the process of osmosis, which rehydrated the fruits, along with the spices and mint granite. The water also released an eerie sci- fi smoke from the ice. A dazzling end to a dazzling evening. Rating: ***
Details