As Haute As It Gets: Ferahfeza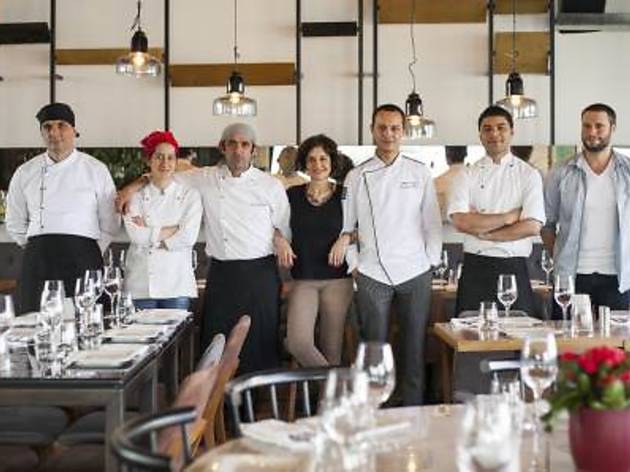 In late August last year, Ferahfeza opened its fifth-floor elevator door in a former bank building in Karaköy without the fanfare typical of openings in the über-cool neighborhood. The five partners - Handan Özbek, Ahmet Ahmet Özbek, Gamze Ineceli, Selim Asena and Ertan Akis - didn't plan a soft opening but a short operational dry run. To their great surprise, however, the place was packed within a week and the phones were ringing off the hook for reservations.
Happily, the first three of the above-mentioned owners are used to running a popular business, so they didn't panic at the mounting pressure of an eager crowd wanting to get to know their latest project. The siblings Handan and Ahmet as well as Creative Director Gamze have seen it all happen before. Leb-i derya Richmond and Leb-i derya Kumbaraci, the two other dining establishments they are involved in, also had their moments being on the list of the city's must-do places. Unlike the two Leb-i deryas, Ferahfeza has ample space in front of the bar area where the high tables and chairs are set up to accommodate those who drop in without prior notice. And despite the area being occupied to the hilts on the weekend, the eight-meter-high ceiling gives it a vertical breathing space.
That feeling of space, after all, is what the compound word "ferahfeza" is meant to suggest. As explained by Gamze, "ferah" is openness while "feza" is space. It's used to refer to the universe. Or when one looks up to the sky, sees the infinite space and feels its openness, followed by a sense of being relaxed and comfortable. The concept of an easy or leisurely place is what the multi-discipline design agency I-AM focused on. They've created a unique environment that makes use of its two sides, one facing the Galata Tower and, the other, the historic peninsula. No other restaurant in the city can claim to offer these two spectacular views in one setting. I-AM also set up an open kitchen on one side of the room for diners to see the action there while waiting for their orders to appear. On the opposite side is an L-shaped bar where bottles adorn sleek grid-like metal and glass shelves. With all the visual elements of the interior design as well as the movement of the working wait staff and a trendy crowd to eyeball, one is not likely to feel bored at Ferahfeza.
The restaurant serves Pan-Mediterranean cuisine encompassing the various flavors and techniques of countries belonging to the region, from Lebanon to Portugal. Sounding ambitiously wide-ranging, it only begins to impress when one finds out that all the ingredients being used to recreate regional favorites are exclusively sourced from Turkey. An example was the risotto dish in the menu using local arborio rice instead of Italian or Spanish. Using locavore-fresh ingredients gives the food discernibly authentic flavors. "Go back to the basics of tastes, enjoy food as it is meant to be and do not mask it as something else" is how Gamze explains her approach, implemented by her collaborator chef Ozhan Siratoğlu.
I was informed that young Ozhan had left for a six-month Turkish military service and a new chef, Volkan Karatas was hired, in Gamze's words, "to augment and compliment" the restaurant menu that includes her and Ozhan's signature dishes. Out of curiosity, I came by to check out the result.
Dinner Notes:
To arrive at the review rating of each dish, I base my evaluation on concept, execution and originality - with each criterion assigned a star.
Star Rating: * Almost haute // ** Haute enough // *** Really haute
Marinated scallop, sea bass, tuna in olive oil, lime, sea salt, watercress sprouts***
Lined up on a long oval platter with the sprouts giving visual texture and the olive oil dressing defining their shapes, the trio of fish came so incredibly fresh that - and it could be an overactive imagination on my part - I could actually taste sea water; yet they weren't fishy at all. Now this makes an excellent case for Ferahfeza's new concept of "authentic food tastes über alles."
Baked goat cheese, phyllo pastry, toasted sesame, yapincak grape molasses, crispy mint***
The various elements in the composition of this simple dish added up to an interesting and winning sum. The molasses provided a sweet balance to the tart goat cheese inside the crispy baked phyllo while the mint added a subtle aromatic twist.
Spiced calamari, sautéed spinach, spring onions***
The squid, supposedly coming from Babakale near Asos, had a pleasant slightly sweet flavor that went along with the five different aromatic spices that it was sprinkled with. It lay on top of sautéed spinach and spring onion that gave the dish a wonderful complexity.
Silky peppered shrimp, cumin and lemon-zested hummus cream***
The hummus, the chickpeas of which were blended with root veggies, tomato, pepper and a dash of toasted cumin, didn't have the usual heavy consistency, as done in most Mediterranean places. Instead, it was meant to be a light creamy sauce to dip bread in while eating the plump sautéed shrimps.
Red-wine roasted octopus, baked bean casserole, fresh thyme***
Placed on top of baked bean casserole, the octopus, in its chewy glory, exuded a delicious smokiness that was complimented by the scent of fresh thyme.
Grilled Aegean grouper, sautéed chard, Dardanelle tomato comfit**
The fish was perfectly cooked but the chard still had a residual bitterness and less refined flavor than I would have liked. The tomato comfit however gave a welcome sweet punch to the dish.
Citrus-zested mascarpone ice cream***
This homemade ice cream had such creamy goodness because of the mascarpone. For my money, it was the best ice cream that I've tasted in Istanbul.
Venue name:
As Haute As It Gets: Ferahfeza
Contact:
Address:
Kemankes Caddesi 31
İstanbul


Opening hours:
Mon-Thurs (17.00-02.00); Fri-Sat (17.00-03.00); Breakfast on Sundays (10.00-14.00)