As Haute As It Gets / Ristorante Italia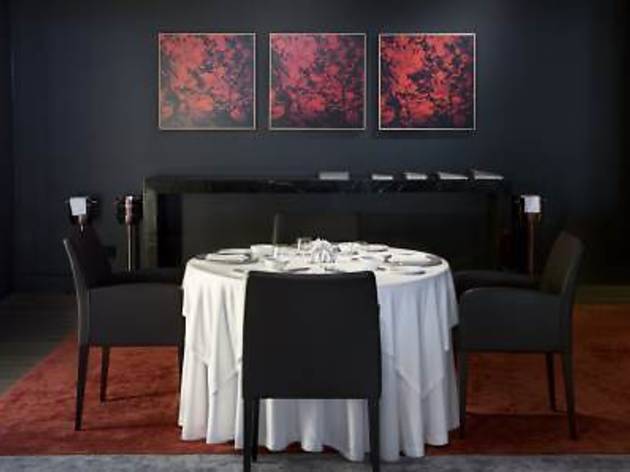 By René Ames
Among the local outposts of well-known foreign celebrity chefs and restaurateurs that have cropped up in Istanbul in the last five years, none has sent local epicures into a tizzy of high expectations than the Ristorante Italia Di Massimo Bottura at Zorlu Center. The restaurant after all, bears the name of one of the world's most celebrated culinary masters who was honored with the-prestigious 2014 White Guide Global Gastronomy Award that placed him right in the impeccable and redoubtable company of Gaston Acurio, David Chang, Alain Passard, René Redzepi, Fergus Henderson, Charlie Trotter and Ferran Adrià -the latter being one of his early mentors along with Alain Ducasse.
It is the first eatery that 52-year-old Massimo Bottura opened outside his native city of Modena and only the third one during his 19-year career, which was another cause for eager excitement despite the pre-opening announcement that the 88-seater restaurant wouldn't share the same concepts with the triple-Michelin-starred Osteria Francescana and the brasserie-style Francheschetta 58.
Ristorante Italia certainly lives up to your expectations. What was written and said about the chef's personal involvement in setting up the aesthetic environment for his food was all there to see: the interior furnishings displaying a distinctive Italian flair for earthy and neutral colors that included lighting by Davide Groppi, lounge furniture from Bottega Veneta and chocolate brown leather chairs by Poltrona Frau. A bit of brightness came from the few contemporary paintings by Carlo Benvenuto hanging on the black walls and a huge salmon and white mosaic-patterned vase by Giuliano della Casa, which was reportedly hand-carried by Bottura himself.
The restaurant has two dining spaces: a main one located inside, and a roofed terrace overlooking the Zorlu gardens and the distant Bosphorus for the warmer days. As for Massimo Bottura's much-vaunted avant-garde reinvention of traditional Italian Cuisine, he was sticking to his trademark "Tradition in Evolution" culinary approach. Tradition was very much evident in the a la carte menu of reworked classic recipes listing their regional provenances. And the dishes of the degustation menu displayed evolved deconstruction of familiar dishes. The only deviation from the original Modena concepts was the sourcing of local ingredients for the dishes. Other than that, and even though the food was not prepared by Bottura himself but by a trio of young Italian chefs that he personally trained to fill in during his frequent absences, it was authentically representative of what one could imagine the acknowledged best chef of Italy has been churning up in his two older kitchens.
This favorable impression was especially bolstered by the friendly, attentive and knowledgeable service overseen by the sommelier-manager Ibrahim Kemer, a recent winner in the 2014 Young Sommelier Competition of the Chaine des Rotisseurs, who look after the restaurant's cellar of over 2000 wines.
Dinner Notes:
Bread, grissini with olive oil *
The bread and grissini was brought with extra-virgin olive oil and 10-year-old balsamic vinegar from Bottura's own Villa Mondodori line of artisanal products. The olive oil had a moderate fruitiness and a balanced spiciness. The balsamic vinegar, on the other hand, had a delicate acidity coupled with an intense woody flavor.
Chef's welcome trio of amuse bouche:

Mozzarella in carrozza **
A chewy fried croquette stuffed with anchovies. I liked that the fish taste didn't overpower the Fiore di latte.
Tartare Mediterranea ***
Chopped tenderloin was mixed with aromatic herbs and seasoning, giving the meat a gentle spiciness. The mixture was molded round.
Sarde in saor ***
A flattened fried anchovy fillet was topped with caramelized red onion and pine nuts and given a built-in citrus flavor of dried grape fruit.

Octopus Lasagna - Islands ***
Pieces of octopus were cut wafer thin and arranged on top of a layer of sliced cucumber, boiled potato, and olives. It was dressed with two dollops of no-egg mayonnaise made from octopus brine and olive oil and arrange on the plate like a modern painting. I found this a novel and refined version of the Sicilian popular dish and made me an instant Bottura believer.
Salted cod and chicken peas - Basilicata ***
Presented in a shallow round bowl, a small piece of salted cod was placed on cream made of chickpeas and onion juice cream to balance its saltiness.
Spaghetti Cetarese - Campania ***
A small twisting mound of Neapolitan semolina spaghetti, perfectly al-dente, sat in the center of a shallow bowl and was generally sprinkled with crunchy breadcrumbs. The Cetarese pesto that defined this pasta dish was made from the juice of anchovies added with pine nuts and parsley. An absolute marvel.
Cuttlefish gnocchi ***
Not part of the tasting menu, this was an extra and tasty treat from the kitchen. The gnocchi containing cuttlefish was drenched in smooth guazzetto sauce made from tomatoes and garlic and served with crunchy bread.
Vitello tonnato - Piemonte **
A well-known Piedmontese recipe, the cold veal tenderloin was thinly sliced and accompanied with mayonnaise-like sauce flavored with tuna. While the meat was perfectly braised and was buttery soft, this was the only dish in the menu that stayed close to its classic original.
Lamb belly - Sicilia ***
The lamb belly was slow-cooked to crunchy perfection and given the nice combo of aromas from fennel, orange and black olives. It was plated with the meat juice spilling to a creamy sauce.
Pre-dessert ***
As a small display of molecular gastronomy by the chef, an orange juice and olive oil foam was offered on a martini glass. It turned out to be an effective palate cleanser to ready one's taste buds for the shock of the sweet.

Millefoglie - Trentino ***
Thick cream and fresh strawberries were sandwiched by mille-feuille discs and artfully presented with painterly strokes of strawberry and mint reductions on the plate,
Venue name:
As Haute As It Gets / Ristorante Italia
Contact:
Address:
Ristorante Italia EATALY İstanbul Zorlu Center AVM, Zincirlikuyu
İstanbul


Opening hours:
Tue- Sun. Lunch 12:00 to 15:00; Dinner: 19:00 to 22:00