As Haute As It Gets: Spago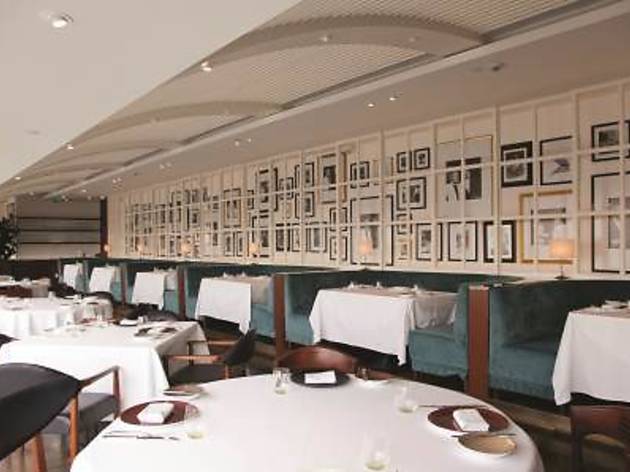 When the ultra-luxe St. Regis Istanbul along with its signature restaurant Spago, formally opened last month, I first wondered whether Wolfgang Puck's "California Nouvelle" cuisine and concept of fun fine dining would be an awkward fit for such a ritzy hotel like a St. Regis branch.
However, a look at the history of the elegant Midtown Manhattan hotel, which was founded in 1904 by the wealthy John Jacob Astor IV, teaches you that the business has always been aimed at the steady stream of local and visiting luminaries, such as Marlene Dietrich, Salvador Dali, John Lennon and others who called it their transient home.
For its part, the two- Michelin-starred Spago has always been a magnet for Los Angeles's brightest stars since its inception in 1982, and even more so after it moved to Beverly Hills in 1997. Spago's Austrian-born American chef Wolfang Puck himself became a celebrity who has had the privilege to serve his cutting-edge fare at the star-studded post-Oscar Governors Ball for the past 20 years.
One can therefore surmise that the St. Regis Istanbul would be all glitz and glamor but no high profiles were in sight when I arrived for an early dinner at the rooftop eatery a little before their official opening. Only in the main dining room, tastefully arranged and decorated by award-winning Turkish designer Emre Arolat, aqua velvet-covered banquette booths lined a white wall with framed pictures of some of Wolfgang Puck's memorable Hollywood moments and famous clientèle.
If Wolfgang Puck has always seemed ready for prime time, Spago Istanbul's service staff was simply not ready for their close-up during our visit. The quality of the service, or lack thereof, was simply unexpected from Spago's first international outpost. Mind you, even there, complaints about the service can be found piling up in Internet forums.
During our dinner, aside from an ordering problem at the bar, there were precious faux pas that would be great fodder for a comedy film. What especially took the cake - pun intended - was a wine- paired degustation dinner where the supposedly sommelier-selected wines never made their way to our table. Instead, a waiter came up to bring a wine list after every course was served; an odd timing that didn't only distract conversation but especially muddled our appreciation of Puck's downright delicious culinary creations. As it has to be said, soft-opening gaffes notwithstanding, the mostly Asian-inspired and devotedly locavore food served without any superfluous gimmickry at Spago Istanbul left us awe-struck.
Dinner notes
To those wondering how I arrive at the rating of dish I review, I'm basing my evaluation on concept, execution and originality - with each criterion assigned a star.
*: Almost Haute
*: Haute enough
**: Very Haute
***: Really Haute
Bread platter *
People who've eaten in the Beverly Hills restaurant have gushed over how they've never waited for
a refill of their bread plates. You could have the same satisfaction here, with somebody coming around with a bread platter of warm crispy herbed foccacia topped with caramelized onions and drizzled with olive oil, plain ciabatta and an aromatic German blitz bread.
Spicy Tuna Tartare, Sesame-Miso Cones ***
This fantastic opener made me swoon and immediately let go of any regret for coming to Spago. A flour cornetto was filled with sushi-grade tuna tartare mixed with scallions held together by spicy chili mayonnaise and soy- wasabi sauce then topped with orange roe, diced pickled ginger and spicy daikon sprouts. The fish and roe offered a profusion of flavors and textures while the crispy sesame- seeded cone bits had the faint sweetness of miso.
Scallop "Carpaccio", Cucumber, Young Onions, Wasabi-Kosho Ponzu ***
Thinly sliced tender scallops were artfully and colorfully arranged on one side of an earthy round plate topped with rolled veggie ribbons, a radish coin and pretty lavender- colored flowers. Wasabi infused the sauce with a delightful kick and brought out the scallops' freshness and sweet taste.
Maine Lobster & King Crab "Louis" Cocktail, Spicy Tomato-Horseradish ***
A small mound of mixed sweet and chewy crustacean meat dressed with chives and the classic "Louis" sauce came on a large green-bordered white plate. Diced avocado gave the meat a smooth buffer, while a layer of the tomato- parsley relish and endive leaves on top made for a beautiful presentation.
Hand Made Tortellini Pasta, Sweet Peas, Marjoram, Parmigiano Reggiano *
Three bigger-than-usual cream-colored tortellini, stuffed with sweet pea purée and goat cheese, were served in a cream sauce with shredded Parmigiano. This was a tasty yet too simple a dish for the diners who came to be wowed by the chef's prodigious talents.

Steamed Sea Bass "Hong Kong" Style, Garlic, Chili Oil, Ginger, Bok Choy, Snap Peas **
Puck's version of this popular and rather ubiquitous Chinese dish was made very haute in the presentation. A small slab of sea bass, its supple flesh intact from light steaming and silver scaled skin invitingly facing up, was placed on a bed of saute´ed vegetables and mushrooms in a tangy soy -garlic-red beans sauce.
Filet Mignon Steak 'Au Poivre' ***, Armagnac- Peppercorn Sauce Aligot *
This was more like a two- part dish than a single one. As a garnish to the excellent steak, the "aligot," an old French recipe of purée stuffed with fresh cheese came in its traditionally heavy consistency. It was delicious but could have easily been a dish by itself like it is in the French Auvergne region. That said, it would be hard to find a better "steak au poivre" in town, especially with its wonderful Gascony brandy sauce.

Dark chocolate crémeux, raspberry and rosewater sorbet, chocolate streusel, caramel crème fraiche ***
The cake was shaped like a gold bar on top of which perched three raspberries. On its side was a scoop of raspberry and rosewater sorbet that imbued the richness of the cake's chocolate cover with fruitiness and a faint floral whiff. A crumbly streusel stuck out from the cake like a mast. Unlike cloyingly saccharine desserts, it was a perfect cap to the various flavors that preceded it.
by Rene Ames
Venue name:
As Haute As It Gets: Spago
Contact:
Address:
The St. Regis Istanbul Mim Kemal Oke Cad.35, S¸is¸li, 34367,
İstanbul


Opening hours:
Lunch 12:00 - 15:00; Dinner 18:00 - 23:30