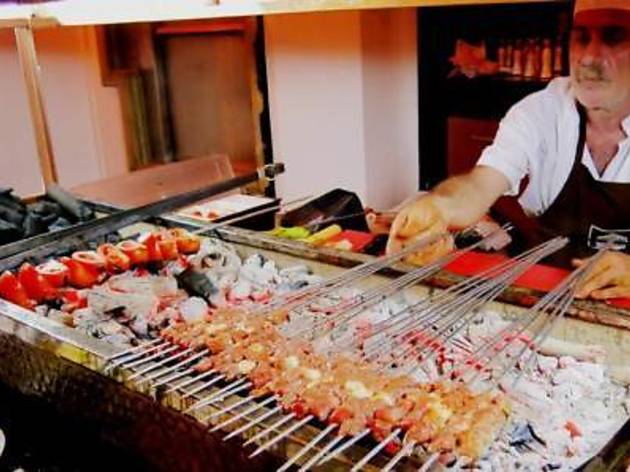 Time Out says
By: Selim Dirapo
Even as the various neighborhoods in Beyoğlu soar in popularity, İstiklal Caddesi remains the beating heart of the district. Situated on the bottom floor of the historical building that houses the Goethe Institute in Galatasaray, Avlu Ocakbaşı is a "new generation meyhane" that beckons us back to İstiklal. At Avlu, you won't hear old gramophone records cranking out the classics of sanat music (Turkey's traditional melodramatic drinking soundtrack); instead, it's the artists of the '90s Turkish pop like Sezen Aksu whose music accompanies young patrons for dinner. This unusual playlist will have you swaying in your seat as you wrap your Adana kebab in flat bread or chase your glass of rakı with şalgam. While all of the meat, spices and şalgam come from Adana, the kitchen stands as a testament to Istanbul's cosmopolitan character, where a kebap usta from Urfa teams up with an Armenian meze master.
The resulting menu is as colorful as it is intriguing: you can sample the Armenian haydari (13 TL) – an eggplant-based dish – or the gavurdağı salad with tomatoes, cucumbers, walnuts and pomegranate molasses (12 TL), then move on to warm Aegean meze (20 TL) before devoring the Adana kebab (21 TL). Avlu's signature dish is the Adana kebab with chicken and cheese (25 TL) – a good choice for those in the mood for something different, but if you ask us, the best kebab to try at Avlu is hands down the küşleme (47 TL), a soft, fat- and nerve-free cut of lamb akin to a beef steak. If you happen to visit Avlu with a large group, you can also try the kebab platter Ruh Öküzü (115 TL).
More than simply putting a modern twist on meyhane culture, Avlu seems poised to become a joint favored by the new generation. The fare is fine enough to please any true Adana resident, and the 90s nostalgia alone makes it worth a visit.
Details