Beeves Butcher & Steakhouse / Şaşlık Kebap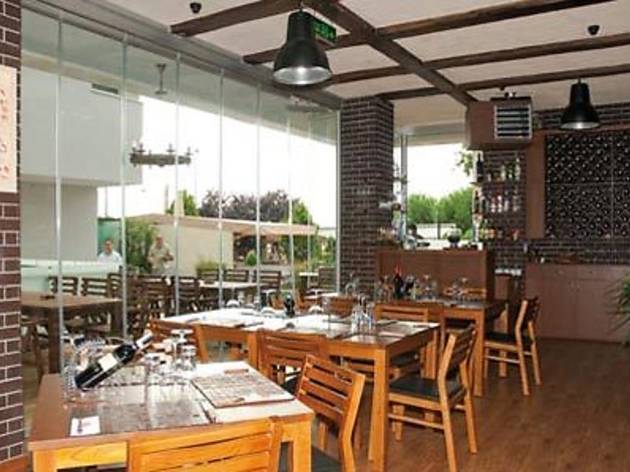 Time Out says
Beeves is the type of place, spread out over a large area, where people can spend long hours. The owner wanted to put the extra floor in the building - which encompasses 1,250 square metres -to good, meat-related use. Keeping in mind the fondness that Turks have for kebap, there is also an "ocakbaşı"(fireside grill restaurant) that women could frequent, as well. This is how the recently opened Şaşlık Kebap came into being.
The décor features mostly wooden furniture and cappuccino tones. This floor incorporates both a fireside grill and a stone oven.
The menu features an emphasis on Antep cuisine, with the ordering style following the custom: meze (Turkish appetizer dishes), then soup, warm appetizers from the stone oven, kebap and, at last, dessert. Of course, we're not complaining, since it's hard to get tired of Antep food. The meze dishes are also delectable, and they all come highly recommended, from the Antep pickles, organic sundried tomatoes with walnuts and the special Şaşlık-style eggplant in creamy yogurt to şakşuka (a dish made with eggplants, peppers and onions) and hummus with pastrami. The Armenian pilaki (cold stew of beans with olive oil and onions), Antep-style stuffed peppers with olive oil and fava beans, all of which are among your usual meze variety, are listed under the olive oil dishes category here at Şaşlık Kebap. Don't forget to order a classic Gavurdağı salad to share. Another good option is the fattuş salad, which has its roots in Lebanese cuisine; it is a blend of fried croutons with fresh salad ingredients. As for soup, we highly recommend yuvalama, which is served with small round bits of dough consisting of rice, ground beef and eggs in boiled yogurt with mint. Make sure to leave room for the snack-sized lahmacun (thin pieces of round dough topped with minced meat commonly referred to as "Turkish pizza"), semsek (a pastry with cheese) and pide varieties that follow the meze dishes. When it's finally time to taste the headliner of the menu, take your pick from any of the kebap choices such as Şaşlık, Adana, Urfa, beyti or eggplant kebap. Specialty kebap dishes served at Şaşlık include the keme kebap, a kind of mushroom kebap particular to Antep; Ali Nazik, kebap with beğendi (cream sauce with eggplant puree); yogurt kebap and Aleppo-style kebap. As for dessert, katmer, a traditional Antep dessert with dough and pistachios; Antakyastyle künefe (warm dessert made out of cheese in a sweet pastry) and semolina dessert with ice cream are all classics, though we also recommend that you don't leave without trying the quince dessert served with tahini and vanilla ice cream.
From the Menu
Organic tomato spread with walnuts 6 TL
Fattuş salad 7 TL
Şaşlık kebap 18 TL
Şaşlık grated pumpkin dessert 8 TL
Details